Those looking for a cute, minimalistic board that comes with a great set of accessories that look fashionable might find this product by Peak a great choice.
If you're looking for a well-made inflatable SUP that provides ruggedness, stability, and ample capacity to carry gear or your pet, you will want to check out the Peak Expedition Inflatable Paddle Board.
Our experts have tested many inflatable paddleboards, and this one is undoubtedly a keeper.
This affordable paddle board is ideal for getting out on the water. Whether it is your 1st time or just looking for another SUP to add your fleet, you will want to check out the expedition.
Features Peak Expedition Inflatable Paddle Board
The thickness is ideal for the balance vs. Maneuverability ratio.
It is an excellent choice for everyone: starting and already experienced.
The thickness makes it stable enough for two people, a person, a pet, or a heavier person.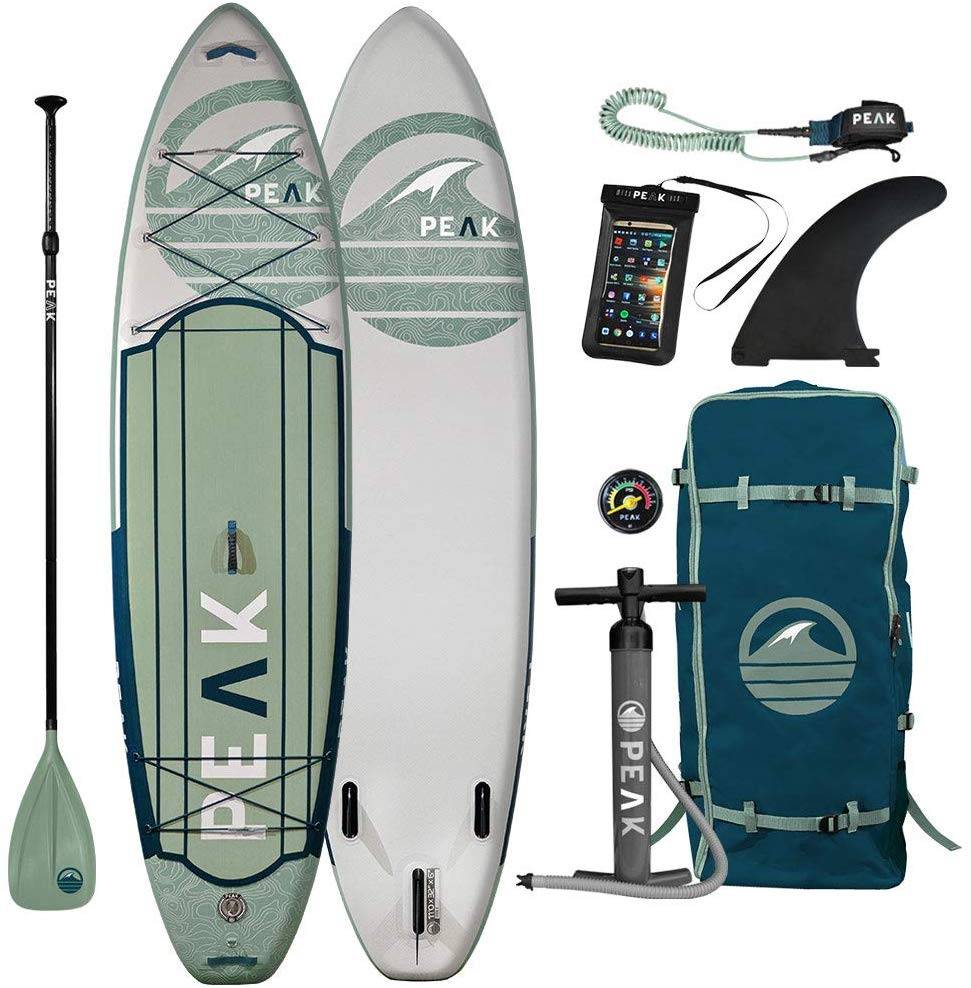 Read Next- Peak Inflatable Paddle Board

You can do any activity with this board: fishing, touring, snorkeling, spearfishing, fitness, yoga.
It's a one-size-fits-all because of its practical design and all of its qualities.
We're not saying that it's perfect, but we're saying that it's pretty close.
Not only is it suitable for younger people because of its stability, but it's also great because it's light.
The whole board, inflated, weighs about 10 kilos only, and this is an excellent number for a board this big.
With the board, you are getting a whole set full of accessories.
You're getting a paddle, a coil leash, a pump (which isn't fantastic, according to the reviews, so that you might need a stronger one), as well as a fin (great for extra balance), and a waterproof phone case to capture those fantastic moments.
The board itself is made from military-grade PVC material, which will work against any bumps, lumps, and dents, as well as breaks.
Read NEXT – Wavestorm Expedition SUP Stand Up Paddle Board
Design Peak Expedition Paddle Board
This is undoubtedly a feature-packed paddleboard in the price tag. Paddlers say that it is enjoyable for many hours, thanks to its brushed EVA foam pad that feels good under your feet.
Combining it with stability makes it acceptable for all kinds of different activities – fishing, fitness, or even bringing a pet with you.
You get two bungee-corded storage spaces on the deck. The front one is bigger, six d-rings, while the one at the tail is smaller, with four d-rings. The combination of these 2 lets you bring all you need, including crates, water bottles, dry bags, or anything else.
There's also an additional D-ring behind the valve, used to connect the leash you get. In terms of looks, paddlers say it stands out on the water. Both blue and green colors are very stylish, and all the included gears come in colors to match, offering the board a sleek feel.
Build Quality
To make any inflatable piece worth going for, brands like Peak knew that it was necessary to build a board that was solid enough to take some abuse while still making it affordable for new paddlers looking to get into the water fun.
The Peak Expedition Inflatable Paddle Board comprises top-quality military-grade PVC material that ensures the SUP is demanding and hard once fully inflated. The material is quite durable, and it is meant to last for years if it is rightly cared for.
One more thing about this Peak Expedition Inflatable Paddle Board is the drop stitch that holds all of the SUP's parts together in a way that makes it seem like one piece, which is a sign of pro and precise body build.
The Peak Expedition Inflatable Paddle Board is built using multi-layers to make it stiffer, thicker, and ultra-durable. Therefore, and are a recommendation, being a super friendly user will only serve to prolong your SUP's life span.
Read Next – Peak Titan Royal Multi Person Inflatable Stand Up Paddle Board
Main Features
The features of a particular paddleboard are one of the things that can make or break the deal.
Because of this, the Peak Expedition Inflatable Paddle Board was carefully made so that you can fully enjoy each minute you spend on the water.
Compared to several other inflatable boards, this is a complete package, both in terms of the things you get on the SUP itself and the board accessories you get with it.
Take a quick look at what Peak Expedition Inflatable Paddle Board offers:
Two bungee-corded storage spaces for securing your essentials
A traction pad designed of brushed EVA foam prevents you from slip
Tripper fin system improved tracking and maneuverability
Center fit is adjustable to make packing the SUP easier
D-ring in the back for connecting the included ankle leash
Grab handles at the tail and nose for dragging the board
Carry handle in the center for picking up the board
The package consists of a pump, backpack, a paddle, and an ankle leash
Performance
To start with, this Peak Expedition Inflatable Paddle Board is something when it comes to balance. The width of the board is a big plus. Being 11′ long 32″ wide is not something to take lightly. It makes it very solid stable, as it also helps the paddler pick up the primary ways of SUP boarding in no time.
The thickness of the board and its stiffness leave no space for flexing even when you reach max weight capacity.
The Peak Expedition Inflatable Paddle Board would remain stable and easy to enjoy with a stunning response to the paddle and body movement even if there were two riders or extra cargo on board.
Furthermore, this paddleboard is not wobbly at all. It tracks elegantly in flat water thanks to its navigation system, as it helps you maintain body balance thanks to the thick traction pad and to how big and wide it's.
All in all, and honestly, there's no problem whatsoever with this paddleboard that can affect its performance. It is vital, smooth, and pretty responsive in different ways.
Read Next – Peak 10'6 Navigator Super Duty REVIEW
Packages Included 
A peak lineup of boards emphasizes overall value, and the Peak Expedition Inflatable Paddle Board includes a full range of accessories.
It comes with a travel backpack made to keep your paddleboard and all of your accessories together in 1 place, and this bag makes it easy to transport and store the paddleboard.
Also included are a 10 feet coiled ankle leash, GRI high-pressure double-action pump with integrated pressure gauge, and 9 inches nylon snap-in center fin.
Peak also provides a full range of replacement parts if you lose everything down the road.
As a bonus, Peak Expedition Inflatable Paddle Board also throws in a waterproof dry bag so that you bring your mobile along and record your paddling fun without the worry of damaging it.
What if like 
It comes with a complete accessories package
Acceptable stability makes it super beginner-friendly
Supreme build quality
Plenty of space for all the accessories
Big weight capacity lets you bring another paddler or a pet with you
Two fine color options to pick from
You get the waterproof dry bag as a gift
What if you don't like 
No repair kit is included in the package
The board has a carry handle, and there are front and rear bungee cords that make it much easier to bring stuff along.
11′ in length 32″ in width, this board is ideal for all types of activities, and it is possibly the best-rated board out there.
Keep in mind that the design, for some people, is too colorful. It's all up to personal preference.
Read Next – Peak Titan Royal Multi-Person Inflatable Stand Up Paddle Board
Peak Expedition Inflatable Stand Up Paddle Board — Durable Lightweight Touring SUP with Stable Wide Stance — 11' Long x 32" Wide x 6" Thick (Moss)
out of stock
as of September 28, 2023 12:35 am
PEAK Inflatable Stand Up Paddle-board REVIEW
The Peak Expedition Inflatable Paddle Board is durable and versatile.
The inflatable design takes up less space in your vehicle. The rugged construction provides stability rigidity in flat water and choppy conditions.
It's also lightweight so that it can be taken anywhere you go to enjoy nature!
Read Next – Peak 10′ Yoga & Fitness Inflatable Stand Up Paddle Board
The Peak Expedition Inflatable Paddle Board is an excellent option for anyone who wants to explore the world of stand-up paddleboarding.
It's lightweight, durable, and perfect for use in any environment, including surfing!
If you're looking for an affordable and high-quality inflatable SUP board with wide enough dimensions to make it stable on the water, this is one of your best options.
Make sure to check out our video review below, where we go into more detail about what makes this board so great before making your decision.
Happy paddling!
Roc Inflatable Stand Up Paddle Boards W Free Premium SUP Accessories
3 used from $215.95
Free shipping
as of September 28, 2023 12:35 am
Peak Expedition Inflatable Stand Up Paddle Board — Durable Lightweight Touring SUP with Stable Wide Stance — 11' Long x 32" Wide x 6" Thick (Moss)
out of stock
as of September 28, 2023 12:35 am
SereneLife Inflatable Stand Up Paddle Board (6 Inches Thick) with Premium Accessories & CarryBag | Wide Stance, Bottom Fin for Paddling, Surf Control, Non-Slip Deck
2 new from $259.99
9 used from $161.45

as of September 28, 2023 12:35 am
Vilano Navigator 10' 6" Inflatable SUP Stand Up Paddle Board Package
out of stock
as of September 28, 2023 12:35 am
SereneLife Inflatable Stand Up Paddle Board (6 Inches Thick) with Premium SUP Accessories & Carry Bag | Wide Stance, Bottom Fin for Paddling, Surf Control, Non-Slip Deck | Youth & Adult Standing Boat
3 new from $229.99
6 used from $169.95
Free shipping
as of September 28, 2023 12:35 am
FunWater Inflatable Stand Up Paddle Board 11'×33"×6" Ultra-Light (18.5lbs) SUP for All Skill Levels Everything Included with 10L Dry Bags, Board, Travel Backpack, Adj Paddle, Pump, Leash
2 new from $199.95
6 used from $182.01
Free shipping
as of September 28, 2023 12:35 am
Peak Titan Inflatable Stand Up Paddle Board — Multi-Person SUP with 500 lbs Capacity and iSUP Accessory Bag with 2 Paddles, Pump & More — 12' Long x 45" Wide x 8" Thick
out of stock
as of September 28, 2023 12:35 am