Those looking for a cute, minimalistic board that comes with a great set of accessories that look fashionable and might find this product by Peak a great choice.
This is a 6″ thick board that can carry up to 350 lbs!
Features Peak Expedition Inflatable Paddle Board
The thickness is ideal for the balance vs. Maneuverability ratio.
It is an excellent choice for everyone: those who are starting and already experienced.
The thickness makes it stable enough for two people, a person, a pet, or a heavier person.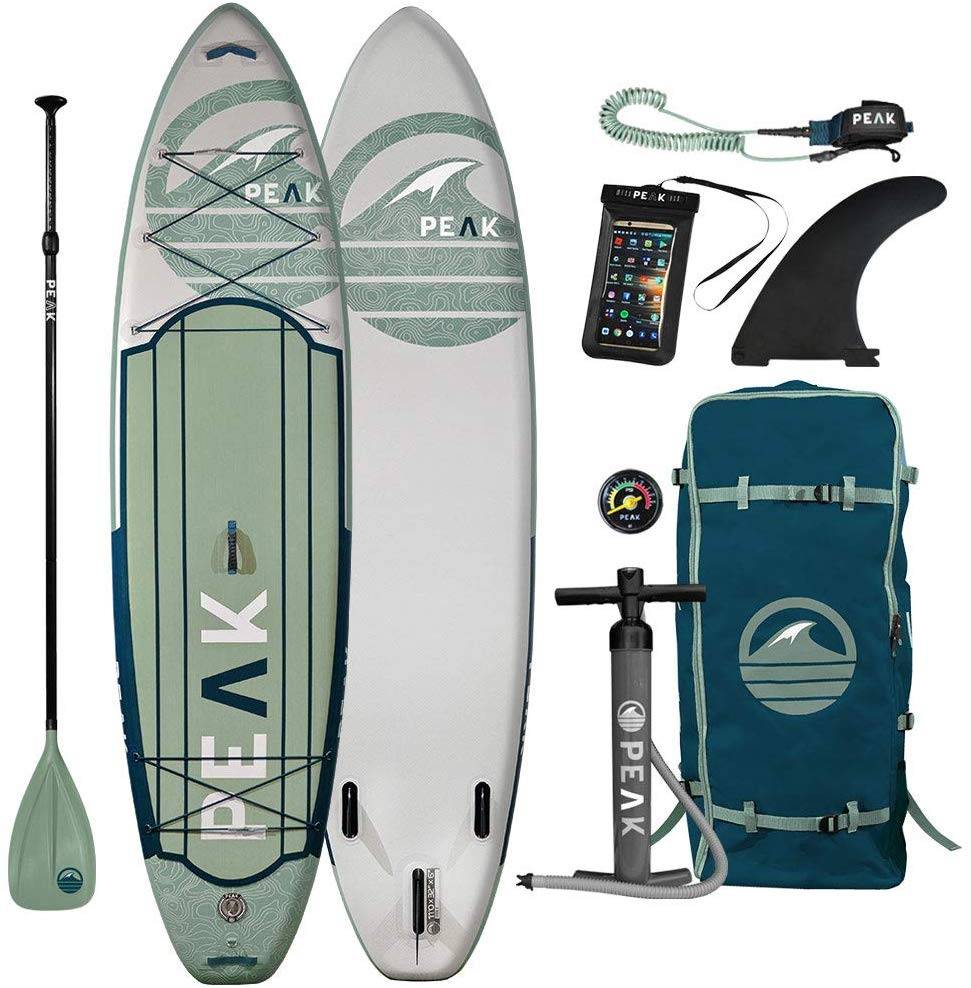 Read Next- Peak Inflatable Paddle Board

You can do any activity with this board: fishing, touring, snorkeling, spearfishing, fitness, yoga.
It's a one-size-fits-all because of its practical design and all of its qualities.
We're not saying that it's perfect, but we're saying that it's pretty close.
Not only is it suitable for younger people because of its stability, but it's also great because it's light.
The whole board, inflated, weighs about 10 kilos only, and this is an excellent number for a board this big.
With the board, you are getting a whole set full of accessories.
You're getting a paddle, a coil leash, a pump (which isn't fantastic, according to the reviews, so that you might need a stronger one), as well as a fin (great for extra balance), and a waterproof phone case to capture those fantastic moments.
The board itself is made from military-grade PVC material, which will work against any bumps, lumps, and dents, as well as breaks.
You won't have any issues with that.
The board has a carry handle, and there are front and rear bungee cords that make it much easier to bring stuff along.
11′ in length, 32″ in width, this board is ideal for all types of activities, and it is possibly the best-rated board out there.
Keep in mind that the design, for some people, is too colorful. It's all up to personal preference.
Read Next – Peak Titan Royal Multi-Person Inflatable Stand Up Paddle Board
Peak Expedition Inflatable Stand Up Paddle Board — Durable Lightweight Touring SUP with Stable Wide Stance — 11' Long x 32" Wide x 6" Thick (Moss)
out of stock
as of December 29, 2021 8:37 pm
PEAK Inflatable Stand Up Paddle-board REVIEW
The Peak Expedition Inflatable Paddle Board is durable and versatile.
The inflatable design takes up less space in your vehicle. The rugged construction provides stability rigidity in flat water and choppy conditions.
It's also lightweight so that it can be taken anywhere you go to enjoy nature!
Read Next – Peak 10′ Yoga & Fitness Inflatable Stand Up Paddle Board
The Peak Expedition Inflatable Paddle Board is an excellent option for anyone who wants to explore the world of stand-up paddleboarding.
It's lightweight, durable, and perfect for use in any environment, including surfing!
If you're looking for an affordable and high-quality inflatable SUP board with wide enough dimensions to make it stable on the water, this is one of your best options.
Make sure to check out our video review below, where we go into more detail about what makes this board so great before making your decision.
Happy paddling!
Last updated on December 29, 2021 8:37 pm