As a manufacturer, ISLE has made itself one of the sturdiest and most respected reputations in the world of inflatable SUPs thanks to the best quality they offer, the innovation in forms of their designs, and of course, the reliability of their products.
Features ISLE Megalodon Inflatable Paddle Board
In this review, we will discuss the ISLE Megalodon Inflatable Paddle Board and see what way it'd be your next water board if that makes sense.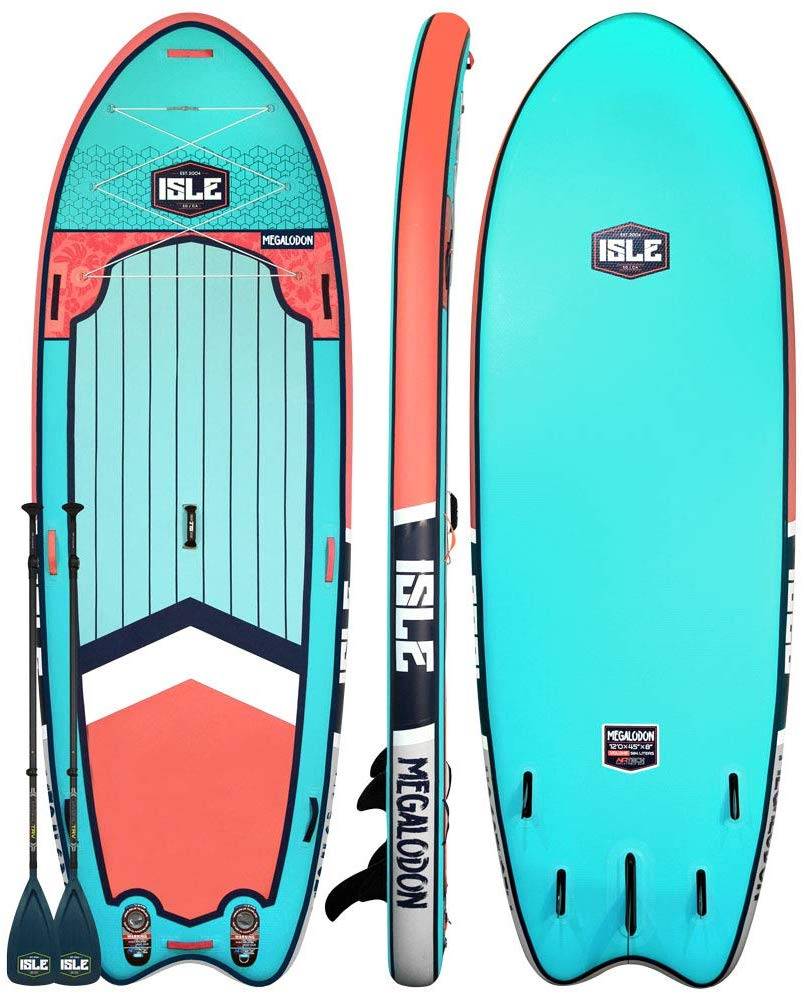 Measurements
Since you are here, I will assume that you already have a decent idea about inflatable stand-up SUPs and how they work.
This board comes in 2 different sizes; the first is 12ft long, 45″ wide, and 8″ thick. This is far as any paddleboard could ever go.
Do you know what having a 45″ wide and 8″ thick paddleboard means?
It means that it is nearly impossible to lose stability or end capsized in water.
It is like an ultimate paddleboard that will carry you through any water in complete support and balance.
ISLE Megalodon Inflatable Stand Up Paddle Board & iSUP Bundle Accessory Pack — Up to 1,050 lbs Capacity — Durable, Lightweight with Stable Stance — 12' L x 45" W x 8" Thick
$1,245.00


$

1,045.00
in stock
as of September 9, 2022 3:45 pm
Read Next – What is the best stand up paddle board for beginners?
Quality
Having tried several SUPs throughout the last few years, one can say that we have an idea now about what a fine SUP is.
As an instance of pioneering companies, ISLE chooses the best quality materials and latest technology overall to make their SUPs.
The company utilized an air tech fusion line to build this board. If you asked, it is a procedure where the drop stitch material is coated with some singular seal and bonding layer and then fused with a high-quality PVC layer for maximum toughness and stiffness.
This method removes any possible human mistake because it takes place in a machine designed to do the job efficiently and perfectly.
Performance
The ISLE Megalodon Inflatable Paddle Board is a balance artist par excellence, and anybody who would try its two versions will approve of this. This SUP is highly durable in different water conditions, making it one of the most versatile giant SUPs ever made out there.
This SUP could be utilized to practice yoga, go fishing, or go a long way touring, and you name it.
Read Next – Soopotay Stand up Inflatable SUP Paddle Board
Pros
Featured with a big EVA traction pad
It comes with a range of neoprene padded carry handles
Spacious bungee system
Extremely durable material
Cons
Read Next – Best Isle SUP Boards
How To Set Up Your Inflatable Stand Up Paddle Board
Final words ISLE Megalodon Inflatable Paddle Board

All in all, this is an ideal option for anybody who is looking for the best quality paddleboard at a reasonable price.
Read Next – Hydro-Force Oceana Paddle Board Review
ISLE Megalodon Inflatable SUP Review
Big stand-up paddleboards are in trend now as more people prefer to go paddling with their families. It is a fun paddleboard type that has grown in acceptance over the past few seasons. Seeing the urge, more companies are making larger models for multi-paddler. There are plenty of things one can do with these oversize inflatable stand-up paddleboards, and it is an excellent means to create unforgettable memories with friends and family.
One such giant stand-up paddleboard is ISLE Megalodon iSUP which comes in 2 different sizes. These two sizes are 12′ and 15′. The ISLE Megalodon 12′ paddleboard is perfect for tandem paddleboarding and families or small groups. On the other hand, the ISLE Surf Megalodon 15′ paddleboard is ideal for large families or more prominent people.
So, as you can already guess, today, we will review the ISLE Megalodon inflatable stand-up paddleboard in the article below. Let's dig deeper to know more about the board below…
Overview of ISLE Megalodon Inflatable Paddle Board
The ISLE Megalodon paddleboard is an enormously big stand-up paddleboard designed for a larger group of people. ISLE Surf and stand-up paddleboard deliver the Megalodon paddleboard in both 12 feet & 15 feet versions.
As with every single inflatable paddleboard of ISLE, the Megalodon 12′ & 15′ sports a striking design, and it is offered in 2 beautiful color options: Grey and Aqua.
The Megalodon iSUP from ISLE is a great all-around board for stand-up paddleboard fishing, fitness workouts, paddling around kids and pets, or simply for the on-the-water party fun.
The board's top comes with a brushed EVA foam deck pad, eight grab handles, and a center-carrying handle for easier moving around the water.
There is a big 6-point bungee storage area for uses like stash dry bags, flip flops, backpacks, snorkeling gear, and so many more at the Megalodon board's nose.
Also, on the board's underside, there is a 5-fin set up along with four permanently fixed fins and a large detachable center fin for better tracking performance and stability.
The ISLE Megalodon board features 2 Halkey-Roberts inflation valves at the board's tail, and two double-action pumps to accelerate the inflation procedure. Let's now check out the highlights of this board below.
Read Next – DRIFT 10'8″ Inflatable Stand Up Paddle Board
Grab Handles At The Nose And Tail
The strengthened grab handle of the board makes transporting it with loaded equipment along docks, shore breaks, or riverbeds very easy. You can also use these handles as tie-up points for a leash or docks.
Read Next – ISLE Pioneer Inflatable Stand Up Paddle Board & iSUP Bundle
Six Point Front Bungee Cord
Stretchy bungee cords allow riders to grab and go with easy and safe gear access. You can efficiently attach extras such as a camera, sunglasses, snacks, etc.
Rounded Carry Handles
The improved and new rounded handle adjusts to your grip and makes the transportation process a breeze. Around the handle, there is a smooth neoprene cushioning that makes it easy to hold the handles when wet or in the iciest conditions.
Grooved EVA Traction Pad
The soft fleecy EVA traction pad has grooves now for additional traction and the highest comfort under your feet.
It is non-abrasive when you do knee paddling or simply relax on the deck to make sure you have a comfortable, smooth ride.
Dual High-Pressure Valves
A high-pressure, quality inflation valve is there for around 17 PSI pressure. Gets into an open and closed position for rapid, simple inflation and deflation.
Rail Mounted Grab Handles
The strengthened grab handle makes the transporting process with full gear along docks, shore breaks, or riverbeds very simple. You can also use it as a tie-up point for a leash or docks.
Read Next – Best ISLE Paddle Board Inflatable
Package Included With:
Paddleboard
2 Adjustable Travel Nylon/Carbon SUP Paddles
2 High-Pressure Hand Pumps
Nylon Snap-In 1 All-Around Center Fin and four side fins
Specifications
Material Drop stitch construction and High-density PVC material
Dimensions
12'0″ long x 45″ wide x 8″ thickness
15'0″ long x 56″ wide x 8″ thickness
Maximum Weight Capacity 450 lbs & 1050 lbs
Carry Handles NINE (9) Neoprene Padded Handles
Recommended PSI Pressure 15 PSI
Number of D-rings Total 8 D-rings
6 (six) D-rings on the board's nose linked with the bungee cord
2 (two) additional D-rings on the tail.
Volume 584 L & 730 L
Fins 5 (FIVE) Fins
Warranty 2 months ride & love it guarantee
Read Next – Best Isle SUP Boards
Features Of ISLE Surf Megalodon Paddle Boards
Ultra-stable for additional fun
It fits multiple people easily
Multiple carries handle for easy carrying
High-pressure, quality inflation valve for up to 17 PSI pressure
Several carry handles lined for no-stress and comfortable transport
Soft brushed EVA deck pad for highest comfort possible
Extensive Stretchy bungee system containing 8 D-rings
Five fins
Pros
It features numerous neoprene padding carry handles
There is a roomy front storage space (bungee system)
It is incredibly sturdy yet it is lightweight for its vast size
Easy to use (fold, pump up, and carry anywhere)
Two great sizes – 12′ for around 450 lbs and 15′ for about 1050 lbs
The package consists of 2 hand pumps and two paddles
It is featured with an enormous EVA traction pad
Lightweight for its size
Tons of storage space
Great for paddling with multiple persons, from friends to family members (or both)!
Cons
The pump could have been improved
Nothing much else, these paddleboards are fun for everyone!
ISLE Megalodon Inflatable SUP Review
We love this ISLE Megalodon paddleboard! While its 'multi-person stand-up paddleboard is a fresher category for SUPs, there is nearly no limit to exactly what you can perform on the board. If you're searching for a multi-person stand-up paddleboard to perform everything from kayaking, paddling around, practicing yoga the lake with multiple persons to go surfing small waves along with 2 to 3 of your family members or friends, both the Megalodon paddleboards are excellent choices for that.
The ISLE Megalodon paddleboard is a party stand-up paddleboard that makes the ocean, river, or lake a lot of fun when you have a massive group of friends or family members who wish to have an explosion on the water body.
Finally, we're surprised to see its advanced features and style in testing and reviewing the ISLE Megalodon paddleboards. We think these SUPs are indeed a game-changer for big groups of friends and families who love paddling and surfing.
You'll love them all over the place, from the ocean to the lake, and they will add a whole new means to enjoy surfing and paddling on the water.
BOTTOM LINE
The ISLE Megalodon paddleboard is a perfect board for families or friends, and anyone who loves to go paddling along with kids and pets. This paddleboard is highly stable and durable in different water situations, making it among the most all-around giant iSUP boards ever made.
You can use this inflatable stand-up paddleboard for practicing yoga, for going long-distance touring, or forgoing fishing. You name it.
Choppy water or Flatwater, this board nails it everywhere.