Women and teens absolutely love this paddleboard. It is a very professional board that looks very chic with the wonderful burgundy design that's going on.
In this Atoll 11′ Foot inflatable stand-up paddle board review, we tell you more about the board's technical specs and for who it is intended.
Features Atoll Foot Inflatable SUP
The dual-layer PVC that this board has makes the board much more sturdy but also 40% lighter than other boards, which, once again, makes it perfect for women, teens, and young adults.
Read next – IROCKER vs. Atoll SUP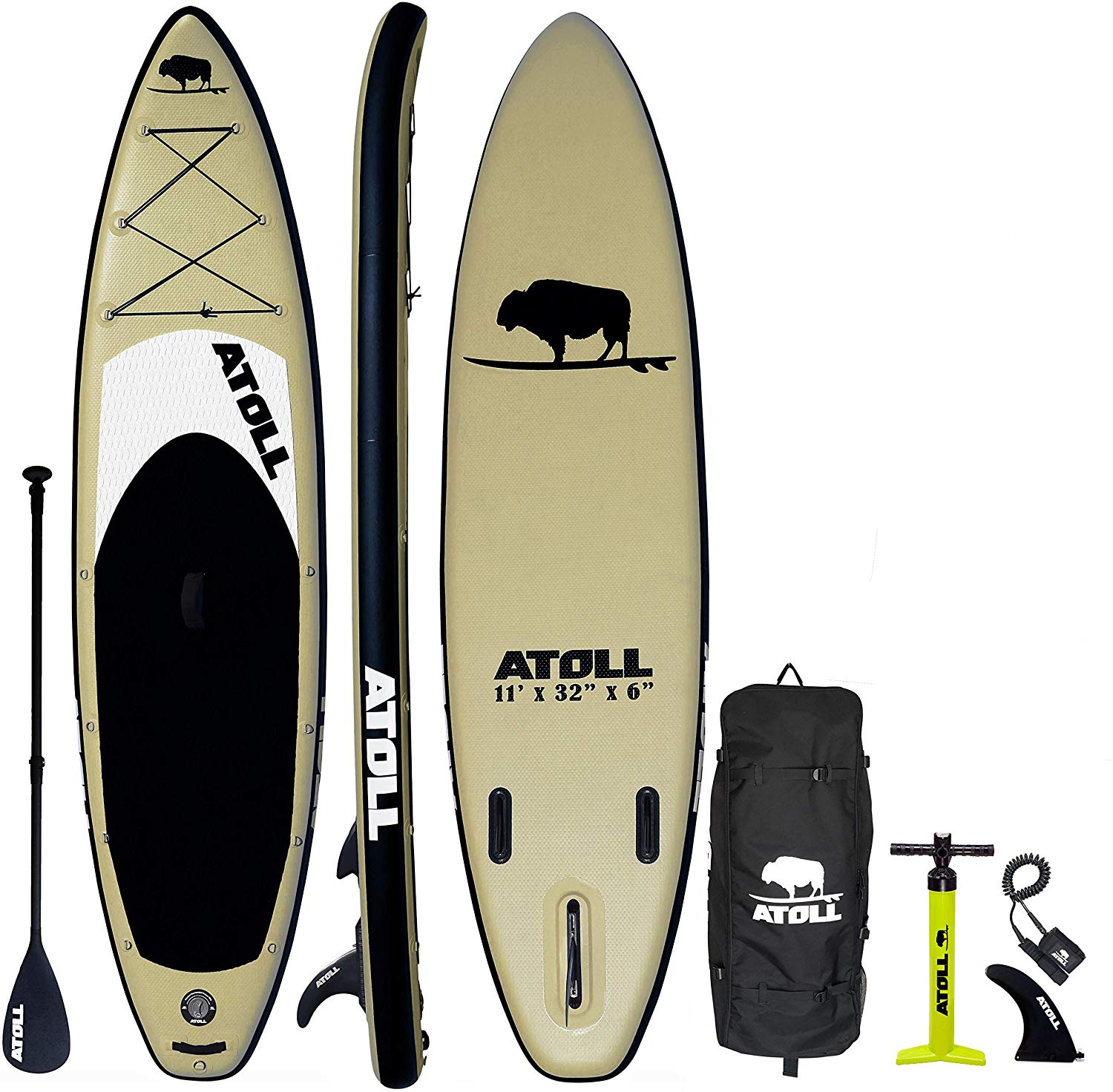 Package includes
The high-pressure hand pump inflates both when you are pushing up and down, making the inflating process 2x faster than the usual one.
You are also getting a travel backpack, a black aluminum alloy adjustable paddle that makes the experience much better.
It weighs a bit over 1 kilo. The backpack you are getting is made out of nylon, and it is great because it can store all of the above-mentioned accessories at once. The poly flex leash is one of the favorite things you will meet in this set too!
Read next – Atoll Paddle Boards Canada Review
Technical chars
The board itself is 11 feet long and 32 inches wide, making it perfect for various activities because it has better stability. You can do fitness, yoga, fishing, cruising… Anything you like, really.
The board can take up to 350 lbs, which means that you can bring your pet, your friend, or your family member with you.
The D-rings on the deck helps you tie down all of the things you are bringing with you, making this model perfect for longer, tourist-like cruises.
The board has a 2-year warranty, which will ensure that any issues you possibly encounter will be fixed quickly.
However, because of the durability this board has, we are sure you won't encounter any. You can find Atoll 11′ Foot on sale for only 625 $.
Atoll Inflatable 11 ft Paddle Board 101
Read next – Atoll 11′ Foot Inflatable Stand Up Paddle Board
$769.99
in stock
as of October 19, 2021 9:57 am
out of stock
as of October 19, 2021 9:57 am
Last updated on October 19, 2021 9:57 am