Women and teens love this paddle board. It is a very professional board that looks very chic with the beautiful burgundy design that's going on.
In this Atoll 11′ foot inflatable stand-up paddleboard review, we tell you more about the board's technical specs and for who it is intended.
Features Atoll Foot Inflatable SUP
The dual-layer PVC that this board has makes it much more sturdy but also 40% lighter than other boards, making it perfect for women, teens, and young adults.
Read next – IROCKER vs. Atoll SUP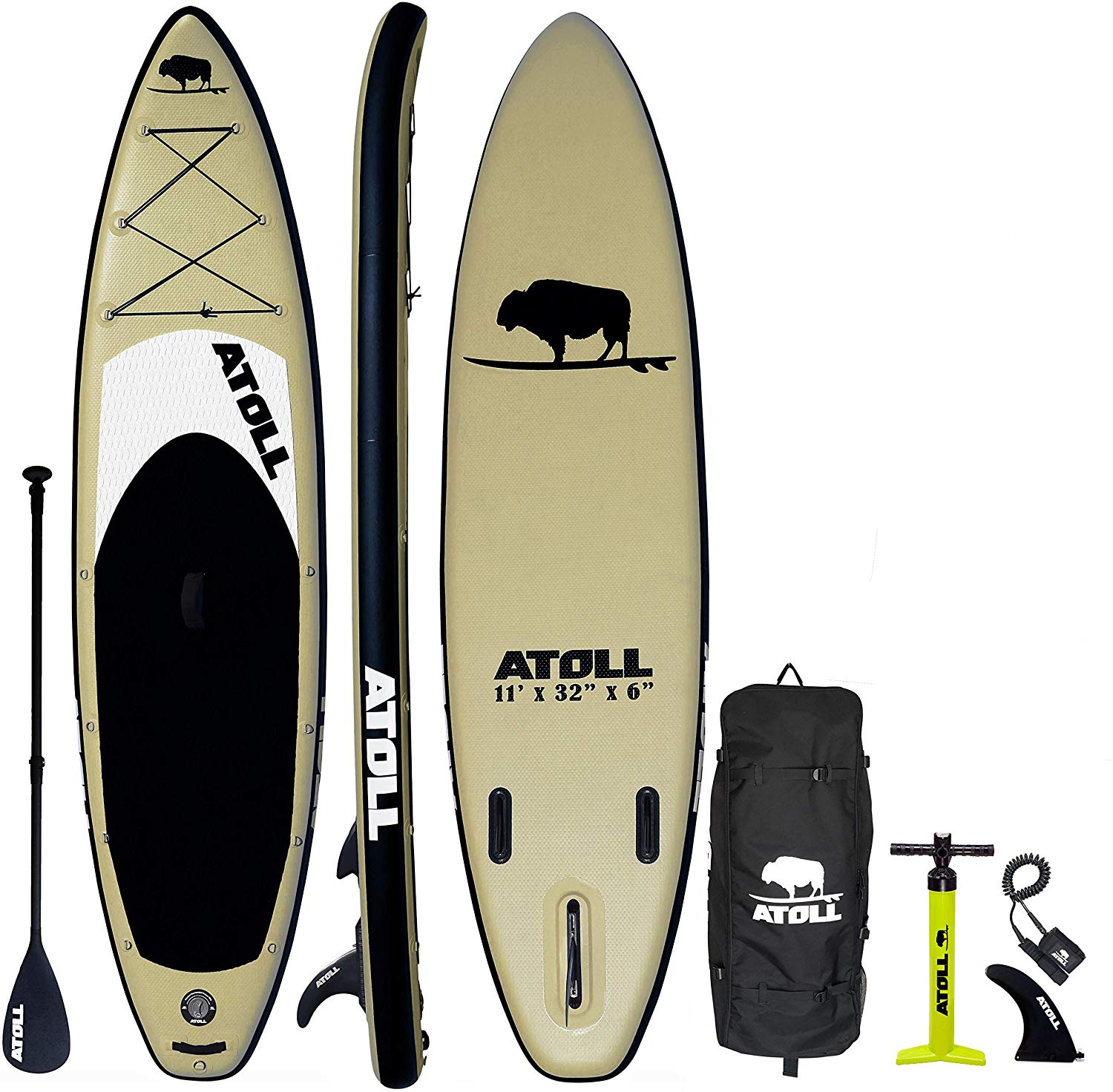 Package includes
The high-pressure hand pump inflates when you push up and down, making the inflating process 2x faster than the usual one.
You are also getting a travel backpack, a black aluminum alloy adjustable paddle that makes the experience much better.
The backpack you are getting is made out of nylon, and it is excellent because it can store all of the accessories mentioned above at once. The poly flex leash is one of the favorite things you will meet in this set too! It weighs a bit over 1 kilo.
Read next –Atoll Paddle Boards Canada Review
Technical chars
The board is 11 feet long and 32 inches wide, making it perfect for various activities because it has a better stability. So you can do fitness, yoga, fishing, cruising… Anything you like.
The board can take up to 350 lbs, which means you can bring your pet, friend, or family member.
The D-rings on the deck help you tie down everything you bring, making this model perfect for longer, tourist-like cruises.
The board has a 2-year warranty, ensuring that any issues you encounter will be fixed quickly.
However, because of this board's durability, we are sure you won't encounter any. You can find Atoll 11′ Foot on sale for only 625 $.
Read Next – Atoll Light Blue Inflatable SUP Review
Atoll Inflatable 11 ft Paddle Board 101
The Atoll is one of the best SUPs available and is well-loved by the padding community. I had a ton of fun testing it. And a few things stood out for me. The Atoll 11′ Foot Inflatable SUP balances speed, stability, and maneuverability well.
Its size and streamlined look make the Atoll 11′ Foot Inflatable SUP one of the most versatile SUPs. It glides fast enough to impress a professional paddler yet remains stable and comfortable for the average paddler. Anybody can use it for almost everything.
In this review, we detail what a paddle board is all about. Is the right SUP for you?
Read Next –  Your Guide to Paddle Board Size and Weight Chart
Why should you purchase Atoll Foot Inflatable SUP?
As mentioned, the Atoll 11′ Foot Inflatable SUP can do it all. Most people will love it, including heavier riders, families, yoga lovers, and anybody looking for top-quality SUPs. Bigger paddlers will want a SUP with a high weight limit.
And the Atoll 11′ Foot Inflatable SUP stands out in this department. It permits one rider up to 400 lbs. It also has been successfully water tested at 700 lbs with multiple paddlers. You can bring your pet, child, gear, or partner regardless of your measurement.
Stability is critical for new paddlers and yoga enthusiasts; you'll be comfortable on a paddle board that does not shake and one with a large enough surface for your poses.
I've paddled this SUP with my little daughter. Thanks to the weight limit, riders can now bring their children or partners for great company. This is an acceptable way to make memories while doing a fun workout.
Together we weigh nearly 300lbs. I did not have issues like sagging or riding low in the calm water. In terms of where to SUP paddle, the Atoll 11′ Foot Inflatable SUP will be a great option in most water conditions. You can use it in slow-moving rivers, calm lakes, and oceans.
Read Next – SUP Board Strangford Lough Northern
Design
One thing I love about this Atoll 11′ Foot Inflatable SUP is its clean and sleek design. No bold points, and the colors are muted. It's wonderful. The paddle board is available in the following colors – light blue, army green, aquamarine, and desert sand.
Several people love army green. These muted colors are great for outdoorsy riders who'll love the way the colors blend with nature. The light blue one looks good as well – they all do.
Read Next – FunWater Inflatable Ultra-Light SUP 10'6×33×6
Build Quality
The Atoll 11′ Foot Inflatable SUP is built using machine-laminated double-layer PVC. It's the strongest and lightest material available for making SUPs. The paddle board also features Korean drop stitch technology.
Almost each blowup paddle board you come across will be made using PVC. You might be led to think that their quality is not very different. But there is a reason why some are cheap and a few cost more – or why some last while others do not.
The construction technology and many PVC layers matters. The Atoll board features advanced double-layer PVC construction. These military-grade construction outcomes in top-quality SUP can take a beating.
The manufacturer also provides a two-year warranty that shows confidence on their part. Want to know rightly how durable the Atoll 11′ Foot Inflatable SUP is?
What's even more interesting is the weight of this paddle board. Despite being that rugged, it only weighs 21 lbs! The excellent build of the board improves rigidity and makes it simple to hold 700 lbs.
It's one of the lightest inflatable SUPs you'll come across. Carrying it's so easy. Even my kids have no issue taking the SUP among them.
Read Next – ISLE Megalodon Inflatable Paddle Board
Performance 
In terms of new paddlers, this Atoll 11′ Foot Inflatable SUP surprised us. This board comes with all the goodies you need to get started and to keep the paddleboard, making it a better option for new paddlers. We noticed the high pressure, which most riders tend to loathe, opting for a simple-to-use electric pump.
By hand, SUP can take around 10 minutes to inflate the board entirely. The collapsible paddle is a fine addition to the package. The SUP paddle breaks down into three pieces for easy storage and moving. The slide is removable 3rd fin takes a different design approach, as most other adjustable fins are screwed in place, while this one slides right in.
With this board, performance mainly depends on water conditions, but we can admit it does pretty well for both whitewater and calm conditions. The volume and length of the SUP improve durability, but the SUP does tend to act somewhat sluggish in choppy waters.
Tracking is good and super easy to maneuver, so even calmer waters. In the clear waters, it performs as expected. This is not SUP you can surf with; though it does handle choppy water conditions relatively well, it is not a solid performer if you are dealing with waves higher than 6', in which case the SUP's tracking is compromised.
If you are a new paddler, practice with the SUP in flat water before you take it out in any whitewater conditions. Its lightweight design tends to work against it in stronger currents, high waves, and high wind.
Read Next – Peak Titan Multi Person Inflatable Stand Up Paddle
What I like 
Versatile
Fine tracking
Slide-in fin design
Lightweight design
Packages come with tons of gears
What I don't like 
Sluggish in quick-moving water
Hand pump
End words…
This Atoll 11′ Foot Inflatable SUP lacks speed; it is definitely up for instability. The paddle board will work for both new and seasoned paddlers, but if you are looking for a quick board, you will need to continue your search.
The SUP's tracking ability stumbles in storing currents, making it a poor option for ocean use or whitewater conditions. The paddleboard is easy to handle in calm waters and provides fine tracking.
Read next – Atoll 11′ Foot Inflatable Stand-Up Paddle Board.
Is a SUP faster than a kayak?
A SUP is probably your best option if you are looking for a fast way to get around an island or reef. Compared to kayaks, SUPs are much quicker and allow you to cover more ground in less time.
However, SUPs can also be more dangerous if you don't know how to use them safely. Before heading out on the water, it's essential to understand the different types of SUPs available and their corresponding speeds.
The most common type of SUP is the touring board. These boards range in size from smaller beginner models that are about 18 inches wide and 26 inches long to larger versions that can reach 48 inches wide and 72 inches long.
Touring boards are typically designed for paddlers who want more stability and speed than a recreational kayak offers. They usually have a narrower beam and longer nose, so they can handle rougher waters better than recreational kayaks while still providing decent maneuverability.
The next type of SUP is the racing board. These boards are designed for speed and competition and often have a much broader beam and shorter nose than a touring board.
They're great for racing on flat water or river rapids, but they're not as stable in rougher waters, so they're not usually recommended for beginners.
The last type of sup is the inflatable board. These boards are made from thin sheets of plastic inflated with air pressure to create a sturdy platform for standing or walking on. They
Read Next – Best Atoll SUP Paddle Boarding UK Available in 2022
Are cheap SUPs worth it?
Suppose you're looking for an affordable way to get out on the water, as it may be the perfect option. While they don't provide stability and durability to more expensive boards, they're relatively cheap and easy to transport.
Plus, SUPs are great for getting up close and personal with nature.
Here are five factors to consider when deciding whether or not a cheap SUP is worth your investment:
Size and Capacity: Cheap SUPs tend to be smaller and less capable than expensive models. Make sure you're comfortable spending time on a board that's too small or weak for your needs.
Material: Cheap SUPs are often made from thin, lightweight fabrics that may not withstand abuse well. Check the construction quality before making your purchase.
Stability and Maneuverability: Cheap SUPs aren't as stable or maneuverable as expensive models. If you're looking for an introductory board, choose a cheaper option instead of spending extra money on a higher-quality model that won't meet your needs.
Durability: Cheap SUPs can be cheaply made and easily damaged, so choose one that will last long before investing.
Weight and Size: Some cheap SUPs are significantly heavier than expensive models, making them harder to carry around or slower to move through the water. Consider the weight and size of the board before making your purchase decision.
Atoll 11' Foot Inflatable Stand Up Paddle Board (6 Inches Thick, 32 inches Wide) ISUP, Bravo Hand Pump and 3 Piece Paddle, Travel Backpack and New Paddle Leash Included (Light Blue)
out of stock
as of March 8, 2023 7:04 am
Atoll Inflatable Stand Up Paddle Board SUP, (11ft. x 32in. x 6in.) ISUP, 3 Piece Paddle, Travel Backpack and Leash All Included in This copmlete iSUP Package (Atoll Aqua Marine)
as of March 8, 2023 7:04 am
What size is SUP suitable for beginners?
If you're a beginner who wants to get into SUP, the best size board for you may be an inflatable SUP. These boards are very forgiving and allow beginners to gain experience before investing in a more expensive board.
There are a variety of sizes and styles of inflatable SUPs to choose from, so find one that fits your skill level and budget.
One great option for beginners is the Atoll Foot Inflatable SUP. This board is portable and can be inflated with air, making it easy to take with you anywhere. It's also lightweight, making it easy to carry around. The Atoll Foot Inflatable SUP comes in four sizes: small, medium, large, and extra-large.
If you're looking for an intermediate or advanced board, consider buying an inflatable SUP designed specifically for that purpose.
These boards are made with heavier materials and have more features than beginner boards. However, they also can be more expensive than beginner boards, so it's essential to find one that fits your needs and budget.
Where are Atoll SUP boards made?
Atoll SUP boards are primarily made in China. However, some surfboards are also made in other countries. China is the world's largest manufacturer of inflatable boats and kayaks, so it is no surprise that Atoll SUP boards are manufactured there.
Most materials used in Atoll boards are imported from other countries, but the manufacturing process is standardized so that all Atoll boards have a similar look and feel.
To create an Atoll SUP board, several different pieces must be assembled. The deck, which is the main body of the board, is made out of vinyl or polyester material.
This piece is generally rectangular and measures about 22 inches by 8 feet. The rails on either side of the deck help to keep you stable while you're riding and provide a place to hold onto while paddling.
The hull is made of several different types of plastic and can range in color from yellow to blue. It typically measures about 36 inches by 12 inches and has several holes on either side that allow air to flow into and out of the boat. The deck can be attached to one or both sides of the hull using clips or buckles.
To create the Waveshop Foot Inflatable SUP Board, we start with high-quality materials from around the world, including bamboo for our decks and carbon fiber for our hulls, then standardize our manufacturing process, so you always have quality.
What PSI should my Atoll paddle board be?
For those looking for a low-cost, inflatable SUP that will provide plenty of stability on the water, the Atoll Foot is a great option.
This board is available in 8 and 10-foot lengths and features a durable PVC frame and EPS foam deck. Plus, it comes with a carrying bag and pumps, so you can immediately get on the water!
Atoll 11' Foot Inflatable Stand Up Paddle Board (6 Inches Thick, 32 inches Wide) ISUP, Bravo Hand Pump and 3 Piece Paddle, Travel Backpack and New Paddle Leash Included (Light Blue)
out of stock
as of March 8, 2023 7:04 am
Atoll Inflatable Stand Up Paddle Board SUP, (11ft. x 32in. x 6in.) ISUP, 3 Piece Paddle, Travel Backpack and Leash All Included in This copmlete iSUP Package (Atoll Aqua Marine)
as of March 8, 2023 7:04 am
ADVENOR Paddle Board 11'x33 x6 Extra Wide Inflatable Stand Up Paddle Board with SUP Accessories Including Adjustable Paddle,Backpack,Waterproof Bag,Leash,and Hand Pump,Repair Kit (Green)
5 used from $159.99
Free shipping
as of March 8, 2023 7:04 am
FAYEAN Inflatable Stand Up Paddle Board Round Board Includes Pump, Paddle, Backpack, Coil Leash,Fin and Universal Waterproof Case (Microphone)
as of March 8, 2023 7:04 am
FITPULSE Paddle Board Inflatable Paddle Boards for Adults Inflatable Sup Inflatable Stand Up Paddle Board Inflatable Paddle Board 10 Ft Stand-Up Paddleboards
3 used from $120.09
Free shipping
as of March 8, 2023 7:04 am
awesafe Inflatable Stand Up Paddle Board 10'x32''x6'' SUP with ISUP Accessories Backpack, Fin, Paddle, Double Action Pump, Leash, Waterproof Bag for Youth & Adult (Green)
2 new from $289.00
Free shipping
as of March 8, 2023 7:04 am
Atoll 11'0" Foot Inflatable Stand Up Paddle Board, (6 Inches Thick, 32 inches Wide) ISUP, Bravo Hand Pump and 3 Piece Paddle, Travel Backpack New Paddle Leash Included (Green)
3 new from C $932.75

as of March 8, 2023 7:04 am
Atoll 11'0" Foot Inflatable Stand Up Paddle Board, (6 Inches Thick, 32 inches Wide) ISUP, Bravo Hand Pump and 3 Piece Paddle, Travel Backpack New Paddle Leash Included (Aqua Marine)
3 new from C $1,537.95

as of March 8, 2023 7:04 am
Read Next – Aqua Marina Drift Fishing Inflatable Stand-up Paddle Board