The Atoll 11′ Paddle Board is a product of the Atoll Board firm, placed in California.
They boast of providing the top paddleboards in the market at an affordable price.
Features Atoll Foot Inflatable Stand Up Paddle Board
The Atoll inflatable is a premium paddleboard made with some of the top materials.
These materials and the wonderful construction make it lighter than comparable models.
It is meant to provide you the best user experience right from the moment you take it out of the box.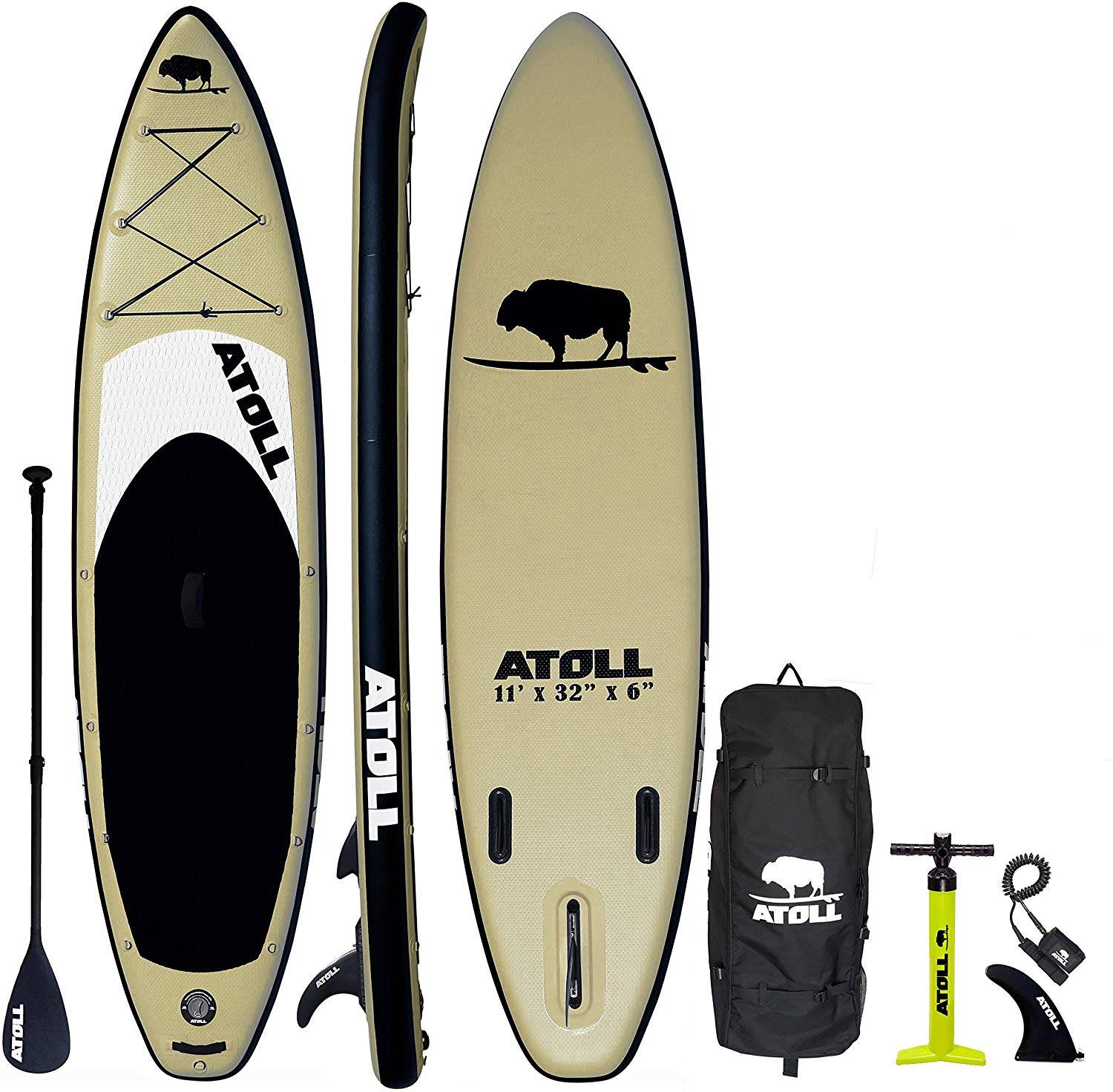 Highlights
Lightweight, 19lbs
Made of twin layer PVC and brand new fusion light construction
Top standard H3 valve
Has 15 D-rings
A backpack is made of heavy-duty nylon.
Packages contain paddle, backpack, repair kit, paddleboard, bungee tie-downs, Bravo hand pump, and leash
Tri-fin design for efficient and simple tracking
3 piece adjustable aluminum paddle
Eight-inch composite fin
A leash is ten foot long
Dimension: 11 x 32 x 6
Has universal fin box
Pros
This board embodies the real surfboard look, which is extremely uncommon amongst inflatable paddle boards out there.
It comes with every item you need to maintain, like a professional or beginner paddler.
This board has a weight limit of 230 lbs which means that a pet or toddler can accompany you without affecting performance.
Cons
The pumping will ultimately get on your nerves, so you should get an automatic pump and keep yourself the issue.
Plus, it fits excellent than the hand pump in the bag.
Specifications of the Atoll SUP
The package contains a manual pump, bag, detachable fin, leash, back and front bungee tie-downs  3-piece paddle, and repair kit.
The black aluminum alloy paddle is lightweight at two lbs of two ounces.
It permits you to paddle for long without getting fatigued, which is vital if you are going for a long SUP trip.
The 3 piece paddle is adjustable to provide you the freedom to pick the best length for you. Your children can also use it.
The top is covered with a white and black EVA foam pad to stop slipping and losing your balance when the board is wet.
The EVA top is also easy and soft on your feet.
The deck has fifteen D-rings for you to tie down cargo and paddleboarding essentials.
The iSUP is very durable.
The PVC material is super tough, and the board will stand in any extreme situation.
It is prone to dents and dings like a fiberglass board.
Every paddle dreads getting their board dented as sometimes the break can be irreversible.

Atoll's new flagship ISUP, the Cruiser Deluxe, is 11-foot x 6-inch x 32-inch ISUP, ready with everything you need to paddle that same day.
BRAND NEW Fusion Light Construction Technology has enabled us to create a board– 40% lighter than comparable models.
This Inflatable stand up paddleboard comes in at 21lbs.
Manufactured with a built-in state-of-the-art H3 valve.
It comes with a Bravo dual-action iSUP hand pump.
Replaceable and reliable and 3rd generation detachable fin, now compatible with Universal Fin boxes, no screws required.
The use of aftermarket river fins or larger race finds never been easier. Never again get stuck with proprietary fins.
The stock 8-inch double strength fin keeps this inflatable stand up paddleboard headed on its intended course.
The tri-fin design allows for the best tracking ( moving forward without turning).
Dual-Layer PVC, this board is wrapped with the second layer of patented PVC on the top and bottom of the board that creates a stiff, rigid, and sturdy ISUP.
EVA foam on the top: prevents ISUP riders from slipping and losing their balance.
Pressure ranges up to 15 psi with Korean-style drop stitching technology.
The package comes with a new sleek 3 piece lightweight fiberglass carbon hybrid paddle with a nylon blade.
Rugged and heavy-duty super strength Velcro LEASH NOW INCLUDED. Upgraded travel bag now comes standard with this inflatable stands-up paddleboard package.
Water tested at a remarkable 700 lbs.
The ever-evolving ISUP that rides like a hardboard
This dual-layer inflatable standup paddleboard is made with stronger than military-grade PVC.
Due to this, it's new to some as a "Hard Board Mimicker," having the rigidity of a hardboard but with all the benefits of an iSUP.
Atoll Boards; the preeminent leaders in style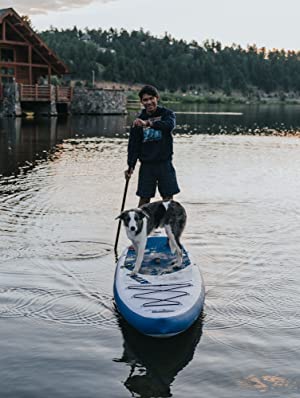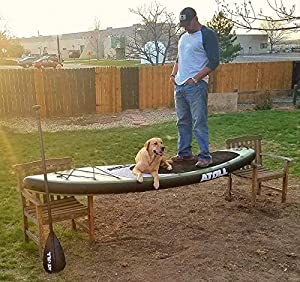 Atoll's determined team was the first to the market with their classic forest green colored board.
It didn't stop there, 15 d-rings were added, a lightweight nylon breathable bag large, and finally, the iconic Atoll Bison is now featured on the deck and bottom of the board.
Read Next – Atoll 11′ SUP Paddle Boards Review
All Atoll Isup board packages now use only the Universal (or US) fins and fin boxes.
The Universal Fin Box allows for the use of almost all aftermarket fins.
Flexible river fins now fit, 10″ iSUP race fins do too, as well as a host of aftermarket designs.
You are no longer stuck using only the stock fin that comes with your board.
The US fin is extra durable and designed not to break, even under the utmost stress. The fin box allows for 3 inches of movement, toward the center of the board or the rear, for different paddle conditions.
Don't worry about losing the side fins because they are attached.
The board for everyone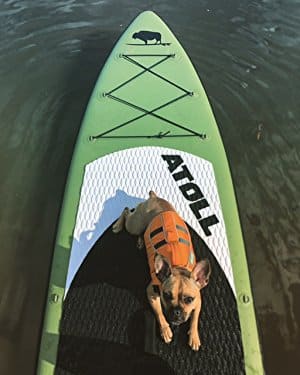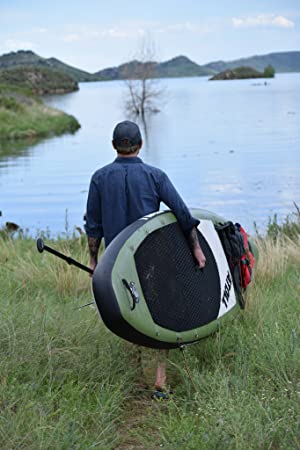 Team Atoll's 11′ footer has been tested by people of varying heights and has been water tested at 700 lbs.
From adults to children, this board can be enjoyed by everyone.
With its ultralight construction, maneuvering, transporting, and storing a board has never been easier.
Read Next – Atoll Paddle Boards Canada Review
Durability Test – Atoll Inflatable Stand Up Paddle Board
The tri-fin design allows for easier tracking in all water conditions.
Read Next – Atoll 11′ SUP Paddle Boards Review
Inflatable Stand Up Paddle Board - 10' Ft. Standup Sup Paddle Board W/ Manual Air Pump, Safety Leash, Paddleboard Repair Kit, Storage / Carry Bag - Sup Paddle Board Inflatable - SereneLife SLSUPB06
4 new from $307.99
7 used from $175.46
Free shipping
as of December 21, 2021 6:34 pm
Peak Expedition Inflatable Stand Up Paddle Board — Durable Lightweight Touring SUP with Stable Wide Stance — 10'6" or 11' Long x 32" Wide x 6" Thick (Moss, 11')
out of stock
as of December 21, 2021 6:34 pm
Roc Inflatable Stand Up Paddle Boards W Free Premium SUP Accessories
7 used from $253.95
Free shipping
as of December 21, 2021 6:34 pm
Inflatable Stand Up Paddle Board - 11' Ft. Standup Sup Paddle Board W/ Manual Air Pump, Safety Leash, Paddleboard Repair Kit, Storage / Carry Bag - Sup Paddle Board Inflatable - SereneLife SLSUPB08
4 new from $329.99
1 used from $279.99

as of December 21, 2021 6:34 pm
GILI Adventure Inflatable Stand Up Paddle Board: Lightweight, Durable Touring SUP: Wide & Stable Stance 11' x 32" x 6" Thick (Blue)
2 new from $599.99
Free shipping
as of December 21, 2021 6:34 pm
XtremepowerUS Premium Inflatable Paddle Board Set Adjustable Paddle Non-Slip Backpack Pump Bundle Accessory Pack (Mint)
out of stock
as of December 21, 2021 6:34 pm
FunWater Inflatable Stand Up Paddle Board 11'×33"×6" Ultra-Light (18.5lbs) SUP for All Skill Levels Everything Included with 10L Dry Bags, Board, Travel Backpack, Adj Paddle, Pump, Leash
as of December 21, 2021 6:34 pm
FunWater Inflatable 10'6×33"×6" Ultra-Light (17.6lbs) SUP for All Skill Levels Everything Included with Stand Up Paddle Board, Adj Floating Paddles, Pump, ISUP Travel Backpack, Leash,Waterproof Bag,
3 new from $239.95
3 used from $173.63

as of December 21, 2021 6:34 pm
FunWater All Round Paddle Board 11'Length 33" Width 6" Thick Inflatable Sup with Adjustable Paddle,ISUP Travel Backpack,Leash,High Pressure Pump w/Gauge and Water Proof Phone Case
3 used from $194.65
Free shipping
as of December 21, 2021 6:34 pm
Vilano Journey Inflatable SUP Stand up Paddle Board Kit
as of December 21, 2021 6:34 pm