If you're looking for a true deal, a bargain, Aqua Marina Breeze may be the one.
Many people aren't ready to invest in a premium board which can cost over $600: many are just beginning to get into paddleboarding, some people find it currently inconvenient…
Features Aqua Marina Breeze Paddle Board
Breeze by Aqua Marina is a great-looking one as well, being very popular amongst teens and young adults.
It's a double-wall drop stitch PVC material board, which won't let you down even in hard moments.
The non-slip deck pad is really important, especially to those who are just beginning to get into paddle boarding and those who are fans of sup fitness, yoga, sunbathing, and other activities.
You are getting accessories as well, so the deal is even better.
Balance
You're getting additional (three) detachable fins which will significantly improve your balance, a paddle, a carry bag a 20 PSI high-pressure hand pump (but since many people find a car pump more useful, you should probably get that one)…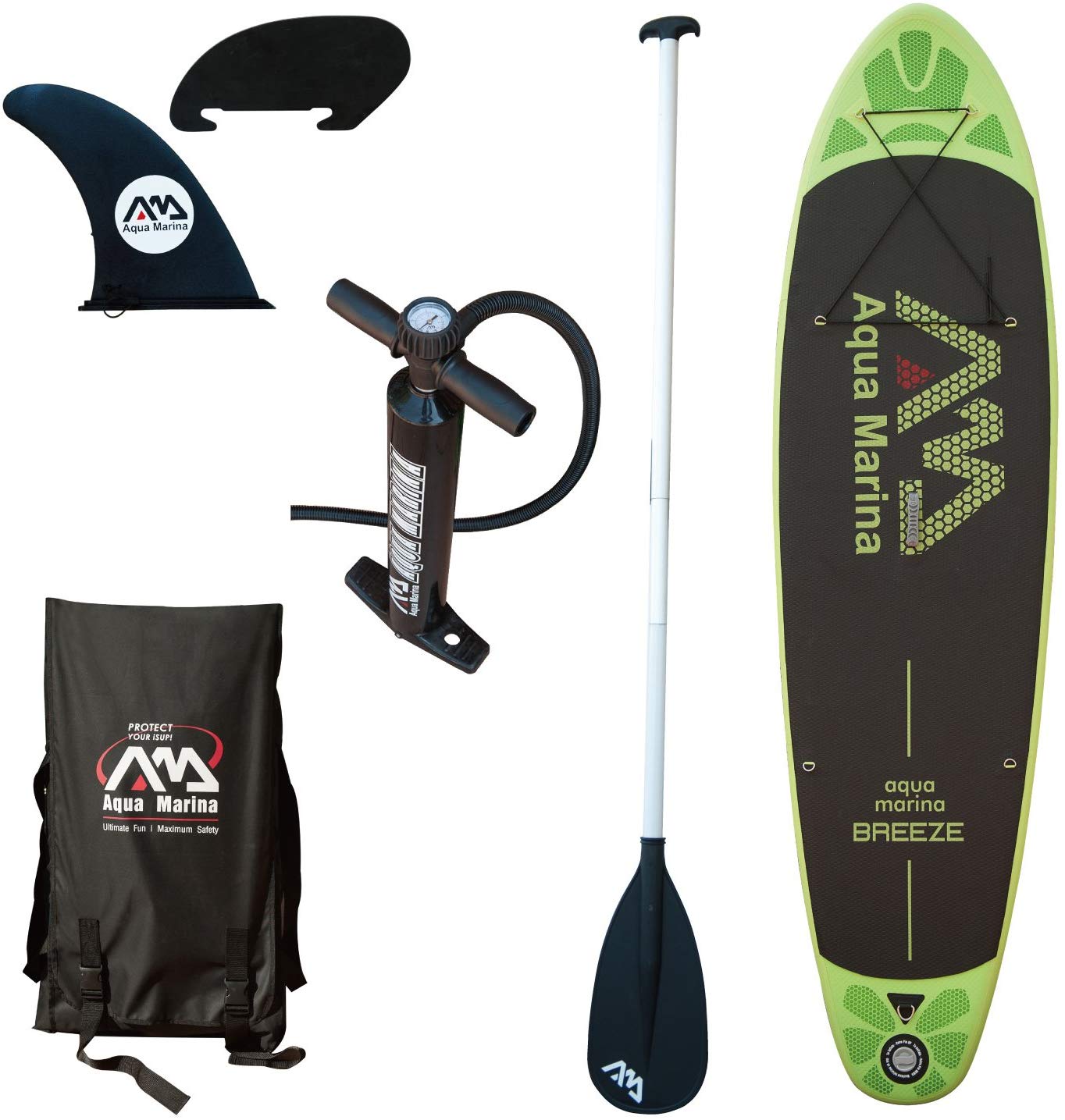 The Aqua Marina Breeze is an all-around, recreational, beginner-friendly multipurpose ISUP, that offers great portability without losing the features of a hardboard.
Usability
The Aqua Marina Breeze is a very user-friendly board. It can be easily set up in under 10 minutes, even do its recommended that you use an electric pump, to make it even easier.
It's great for the solo paddler, since its lightweight and can be easily carried around in the included bag.
The board is made out of double-walled stitched PVC.
This paddleboard offers a removable center fin, for the users that are looking for added speed and performance in the water.
Design
As well as a specialized design for users that want maneuverability as well as multipurpose capabilities, with its deck being made with a honeycomb groove designed for added traction, which offers a comfortable experience, even for users looking to sit on top of the board for extended periods of time.
The pointed nose and narrows down the back which allows for an amazing gliding experience, especially in calm water.
Portable
The 9'9" board is also a great choice for anyone who doesn't want to get a huge board but wants one that is portable.
The seven D rings and the onboard bungee make this board perfect for those who like to cruise, fish, have fun on the board and take long trips.
The weight limit isn't that high, though, it's 105 kilos (209 lbs) only, so it won't be a great choice for those who like to bring a friend along.
People find it really easy to transport and they enjoy the durability, but people are not happy about the fact that this board is slightly more narrow than your average choice.
However, if you don't mind that, you shouldn't be having any issues whatsoever.
Bear in mind that some people say that even 150 lbs can be tough on this board. It's more suitable for kids and teens.
Durable 10 cm thick '2-layer drop stitch material'.

EVA deck: foam surface for a pleasant feel.

Stainless steel D ring: at the rear to secure the safety lead.

Elastic bungee cords for the transportation of your items.

Optimum air pressure under all conditions, up to max. 15 psi.
Last updated on February 27, 2021 4:59 am