If you're looking for a premium set that seems to be great for everyone, the iRocker 11 paddleboards may be the one.
It's a really high-quality board made from great materials, and it can be used by people of all ages and levels of experience.
Featurs iRocker 11 All-Around Review
It's a regular 11′ board. It's 6" thick which is just about enough to give you enough balance, but it's also a perfect choice for those who wish to maneuver more with their board.
The weight limit is 210 kilos, which is exceptionally good, and this is why teens love this model: two or even three friends can fit on the board together without any issues.
In this iRocker All-Around review, we have to mention that it is very durable, and banging against debris won't be an issue for you.
With the iRocker 11 sup board, you are also getting a great paddle.
It's not one of those "extra accessories" that you get in sets, which are usually mediocre in quality.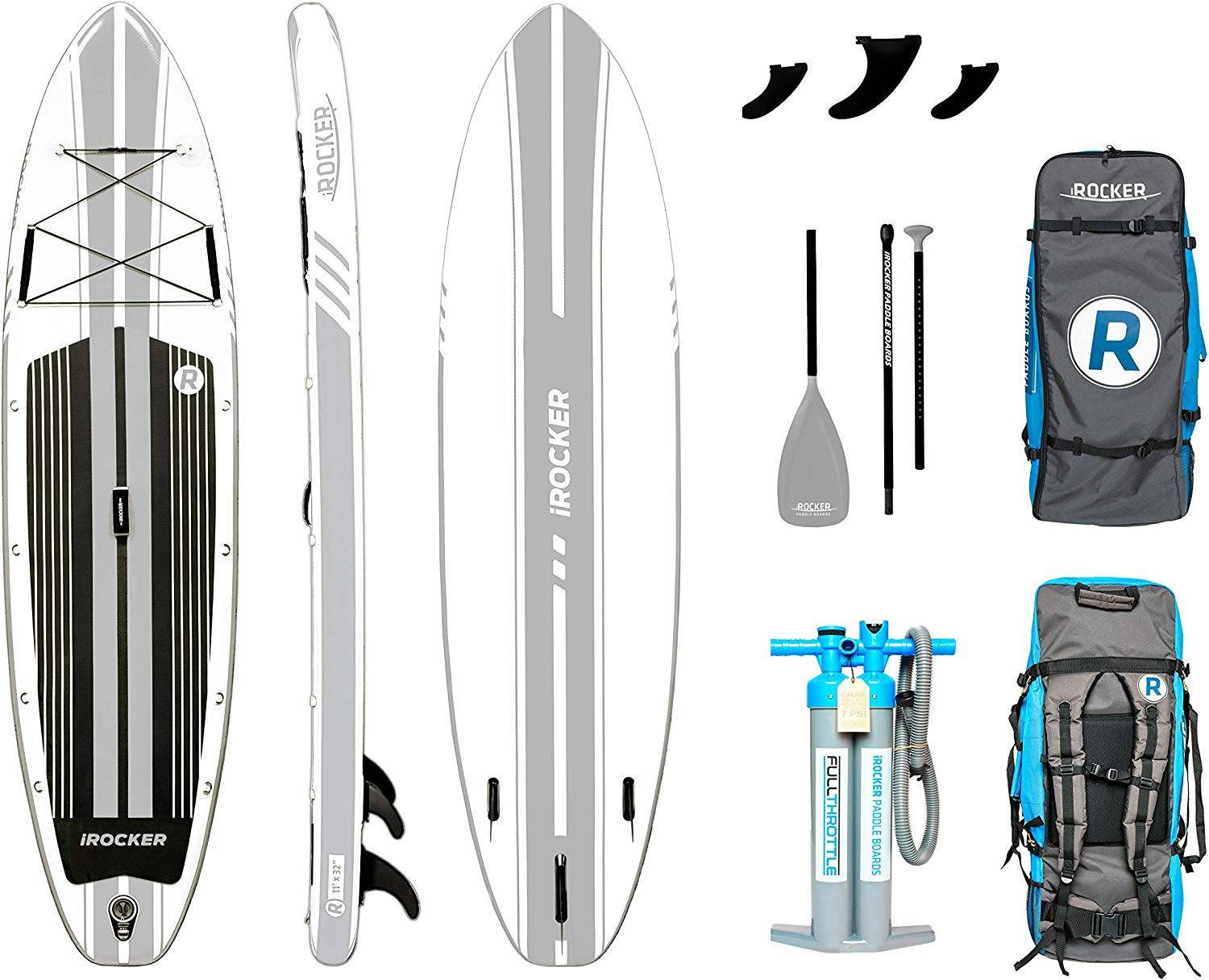 Read Next – What is the best brand of paddle board?
This is a great high-quality fiberglass paddle that has edges made from TVR rubber material.
You can easily turn it into a kayak paddle as well, or break it into three pieces to put it in a bag.
The board itself is made from 7 layers, the core being a drop-stitch one and the outer layer being made out of PVC, which means that you shouldn't let the board sit in the sun too much since it can alter in color a bit.
In the set, you are also getting an awesome triple-action high-capacity hand pump that will help you inflate the board three times faster than a usual pump.
Store these things in a great backpack you are getting and move on to have fun on any water, wherever and whenever.
Read Next – Top 10 Best Inflatable SUP Boards
Tested: iRocker All-Around 11 x 32 Stand Up Paddle Board
Read Next – iRocker Cruiser Inflatable Paddle Board Review
iROCKER Nautical Inflatable Stand Up Paddle Board, Superb Maneuverability 10' Long 32" Wide 6" SUP with Roller Bag, Adjustable Paddle, Pump, Leash, Fins & Repair Kit, Teal/Gray
as of November 27, 2022 5:52 pm
iROCKER All-Around Inflatable Stand Up Paddle Board, Extremely Stable 10' Long x 32" Wide x 6" Thick Premium SUP with Roller Bag, Carbon Paddle, Pump, Leash, Fins & Repair Kit, Blue
out of stock
as of November 27, 2022 5:52 pm
iROCKER Cruiser Inflatable Stand Up Paddle Board, Extremely Stable 10'6" Long 33" Wide 6" Thick Premium SUP with Roller Bag, Carbon Paddle, Pump, Leash, Fins & Repair Kit, Aqua
out of stock
as of November 27, 2022 5:52 pm
Roc Inflatable Stand Up Paddle Boards W Free Premium SUP Accessories
3 used from $377.15
Free shipping
as of November 27, 2022 5:52 pm
Inflatable Stand Up Paddle Board - 11' Ft. Standup Sup Paddle Board W/ Manual Air Pump, Safety Leash, Paddleboard Repair Kit, Storage / Carry Bag - Sup Paddle Board Inflatable - SereneLife SLSUPB08
2 new from $211.47
12 used from $185.16
Free shipping
as of November 27, 2022 5:52 pm
Vilano Journey Inflatable SUP Stand up Paddle Board Kit
5 used from $81.18
Free shipping
as of November 27, 2022 5:52 pm
DAMA Inflatable Stand Up Paddle Board 11'*33'' *6'', Inflatable Yoga Board, Dry Bags, Camera Seat, Floating Paddle, Hand Pump, Board Carrier, Durable & Stable for 3 People
2 new from $299.99
6 used from $268.79
Free shipping
as of November 27, 2022 5:52 pm
Hurley Advantage 10' 6" Stand Up Paddle Board with Hikeable Backpack, Air Pump, Adjustable Floating Paddle, Coiled Leash, Fin & Repair Kit (Outsider)
5 new from $599.99
2 used from $426.59
Free shipping
as of November 27, 2022 5:52 pm
Read Next – Murtisol Pro Inflatable Paddle Board Stand Up