If you're looking for a simple yet elegant board with a beautiful set of fancy accessories, Bluefin SUP  will surely catch your eye.
It's a professional set that can be used by beginners and those who are a bit more advanced.
The newly improved BLUEFIN 10.8′ Stand UP Paddle Board is one of the versatile standup paddleboards on the market.
With enough space for overnight camping, super tracking, good stability in even tricky conditions, and the ability to turn on a dime, it is a perfect option for a range of paddling adventures.
Beginner and advanced users will love how simple it's to set up and ride.
Plus, having a kayak conversion kit makes the board even more appealing for the long life of paddle-powered fun.
Features Bluefin Stand-Up Paddle Board
In this set, you're getting a dual-action pump for faster inflating (though many people like to use a car pump instead), a three-piece paddle you can adjust, a carry bag, a board leash, a detachable fin that will improve your balance, a repair kit and a seat which will help you turn your awesome board into a kayak.
Fantastic, right?
The luxury kayaking seat can be adjusted, and the paddle can be altered to make it easier for you.
The board is 10'8 "x 30 "x 6 "thick. It's a versatile board for surfing, kayaking, touring, boarding, racing, yoga, and so on.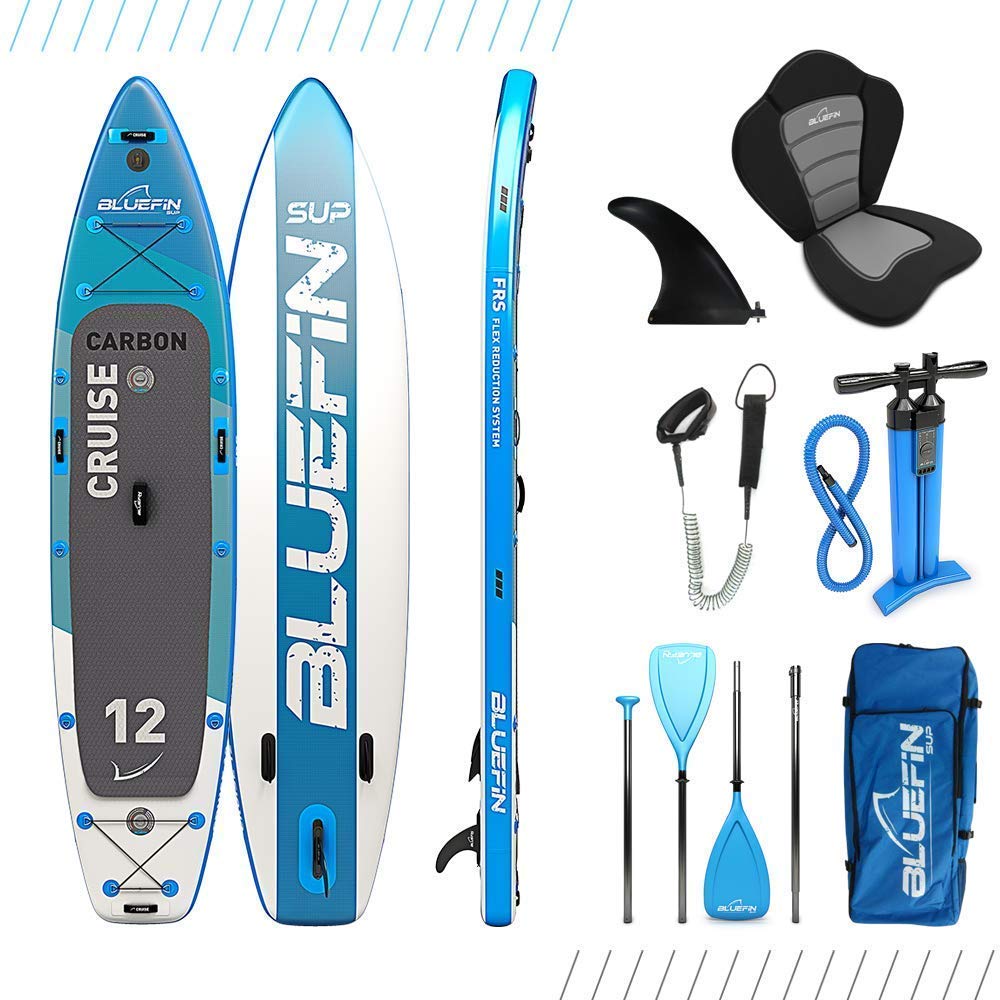 Military-grade PVC will make sure that you never scratch your board and that it stays sturdy.
However, it isn't advised to leave it in the sun for too long because it can change color and thin out.
The deflated board is tiny in dimensions so you can transport it without any issues.
The maximum weight the board supports is 410 lbs, which is more than the average weight a panel of this type can take.
You can inflate Bluefin up to 15 PSI which gives you a great sense of control, and you will see that the board will serve you better when inflated more.
It's an excellent choice for adults and kids, and you'll notice that it's also high-quality.
Read Next – Peak Titan Multi-Person Inflatable Stand-Up Paddle
Design and Build Quality 
The look and design of a SUP are a matter of personal taste. Nonetheless, we find the color selection of the BLUEFIN with the distinct white lettering quite stunning. The fins are also blue, matching the branding of the company BLUEFIN.
The big non-slip deck is kept in grey colors and runs from back to front to the oversized deck pad held in green and runs from close to the front to the cargo net.
In the near, the deck pad is a bit elevated, allowing better turns with foot pleasure, which is a bit more common on surfboard decks than on board decks.
We cannot say much about the longevity and robustness of the SUP deck than paddle board decks. We don't have a valid opinion about the robustness and longevity of the paddleboard yet, as we've only tested it for some days.
At first glance, there're no quality defects noticeable on the paddleboard. There're no visible inclusions or gluing issues, as you see on some cheap boards.
Read Next – Hulakai Paddle Board
Accessories
The Bluefin Cruise comes with many accessories.
The delivery is the complete essential equipment needed for the first tours.
The Bluefin Cruise comes with a backpack, leash, kayak seat, paddle, instruction manual, repair kit, air pump, and waterproof mobile phone case.
Compared to the single purchase of the accessories, such a set's purchase can save a lot of money.
Read Next – Best Inflatable SUP 2023 Australia
LOOKING FOR THE MOST STABLE

Only Bluefin uses 1000 Denier Exo Surface Laminate PVC & Pro Weave Drop Stitch.
These materials make our boards so challenging they can hold up to 28 PSI and are the most stable rigid, stable inflatable SUP you'll ever buy.
Cruise 10'8 is perfect for 1 + dog or seated passenger: 327 cm x 15 cm x 77 cm
KAYAK CONVERSION KIT & GoPro MOUNT

Use our D-rings to transform your SUP into a SUP kayak in seconds!
Clip on our comfortable padded seat & swap the SUP handle for a specialist kayak paddle end.
Integrated GoPro mounts on the nose to capture the action.
DURABLE TRAVEL SUP BACKPACK 
The most comfortable SUP backpack is available with loads of extra padding & super wide straps.
Our two-piece paddle has an ergonomic fiberglass shaft weighing almost 45% less than standard SUP paddles.
No flutter polyurethane composite blade is impossible to chip or damage. Both float!
Smart Lock Fin
Our versatile 8″ center fin with optimized rake provides ultimate glide and versatility for day-to-day paddling.
No metal parts to lose. Clip it in securely in seconds.
Double action pump inflates—a cruise on every pump's UP & DOWN portion.
5 YEAR WARRANTY

Bluefin boards & accessories are designed to last, which is why we can provide a 5-year warranty.
Responsive, expert customer support is always here to help choose a board or resolve any issues you might have
BLUEFIN SUP REVIEW 2023 – INFLATABLE Stand-Up Paddleboard
Read Next – Top 10 Best Inflatable SUP Boards
Ease of use
The board takes around seven minutes to inflate using a double-action pump included in the package.
This gets it to over fifteen PSI; the minimum recommended infatuation standard. Bringing it up to eighteen PSI takes a couple more minutes and other muscle power.
But, as mentioned earlier, the additional minutes of effort are worth it for a bit more rigidity.
Whether you are new to waterboarding or looking to upgrade to something higher performing than your first paddleboard, the BLUEFIN 10.8′ Stand Up Paddle Board is a great choice.
The board is a versatile package with a kayak conversion kit to change your position, fine tracking, good stability, and fine responsive turning.
From a quick blast on the lake for fitness to overnight camping, it'll have almost all your paddling requirements and wants to be created.
Bluefin SUP Stand Up Inflatable Paddle Board with Kayak Conversion Kit | Ultimate iSUP Kayak Bundle (Blue 10'8")
as of November 26, 2023 11:37 am
Read Next – Best Paddle Board With Seat To Buy In 2023
Who Should Buy BLUEFIN 10.8′ Stand-Up Paddle Board?
The board is an all-around board built so that beginners and professional paddles alike can find reasons to enjoy riding on it. We recommended SUIP for the following types of paddlers:
Inexperienced beginner paddlers are looking for anything stable and straightforward to learn with.
More advanced paddlers seem for high quality, affordable board.
Those looking for a heavy board that performs nicely even as wind and waves pickup
Paddlers who're interested in going out with their pets or toddlers
Shorter riders who want a more accommodating board made to help them navigate the water
When it comes to where you can ride with BLUEFIN 10.8′ Stand Up Paddle Board, consider the following options:
Marinas, bays, lakes, and other calm waters environments overall performance.
Faster moving waters like along the coast, the 10.8 feet handle light winds rather well for an ISUP.
Consider paddling on a very friendly river for fun, a new experience.
Ocean paddling – the BLUEFIN 10.8′ Stand Up Paddle Board length allows you to catch some long paddleboard style waves, although we recommend the 12 feet longboard if you want a more optimized and smooth paddleboard surfing.
What I like 
Durable and rugged
Accessible to transport and store
Ideal for beginners and recreational use
Stable and easy to paddle
What I don't like 
ADVANTAGES
Excellent value for a complete package that includes the best accessories
The board is highly stable and dependable.
Suitable for both novice and experienced boarders
Paddle and kayak seats are both convertibles.
A large grip deck with a kick pad is included.
Read Next – All-Around SUP Boards To Invest In 2023
QUALITY
The Cruise 10'8′′ is a trimmed-down version of the higher-priced Cruise Carbon 10'8′′ that delivers outstanding value for money.
It is also a fun board to ride on the water. It's an adjustable SUP that performs well and has a 5-year warranty, and a great gear bundle makes it a great product.
Bluefin SUP Stand Up Inflatable Paddle Board | 14' Sprint Model | Touring/Race Model | Complete with All Accessories
as of November 26, 2023 11:37 am
MEASUREMENT
The Bluefin SUP Cruise 10'8′′ is a fun and stable board that offers excellent versatility, measuring 10'8′′ x 33′′ x 6′′ and weighs 33 pounds.
The Cruise 10'8′′ iSUP kit is a good bargain and is an excellent option for beginners.
PERFORMANCE
The Bluefin SUP Cruise 10'8′′ is an excellent beginner's board that combines stability, performance, and versatility in one package.
Due to its squared-off tail shape, it glides nicely and is very easy to manage on the water.
The stiffness of the Cruise 10'8′′ is also impressive. The board feels sturdy under the feet, even though it is not as stiff as the company's premium carbon-reinforced model.
Bluefin SUP Stand Up Inflatable Paddle Board with Kayak Conversion Kit | Ultimate iSUP Kayak Bundle (Blue 10'8")
as of November 26, 2023 11:37 am
Bluefin SUP Inflatable Stand Up Paddle Board | Kayak Conversion Kit | All Accessories | Multiple Sizes: Kids, 10'8, 12', 15' (Carbon 15')
out of stock
as of November 26, 2023 11:37 am
Bluefin SUP Stand Up Inflatable Paddle Board | 14' Sprint Model | Touring/Race Model | Complete with All Accessories
as of November 26, 2023 11:37 am
Premium Inflatable Stand Up Paddle Board (6 inches Thick) with Durable SUP Accessories & Carry Bag | Wide Stance, Surf Control, Non-Slip Deck, Leash, Paddle and Pump , Standing Boat for Youth & Adult
5 new from $212.45
6 used from $143.22
Free shipping
as of November 26, 2023 11:37 am
streakboard Inflatable Stand Up Paddle Board 11'×32''×6'', Premium Lightweight SUP Full Set | Non-Slip Wide Deck, Dual-Action Hand Pump, Easy Control 3 Bottom fins Pro Standing Boat for All Levels
as of November 26, 2023 11:37 am
SereneLife Inflatable Stand Up Paddle Board (6 Inches Thick) with Premium Accessories & CarryBag | Wide Stance, Bottom Fin for Paddling, Surf Control, Non-Slip Deck
2 new from $199.99
7 used from $118.07

as of November 26, 2023 11:37 am
FBSPORT 10.6' Premium Inflatable Stand Up Paddle Board, Yoga Baord with Durable SUP Accessories & Carry Bag | Wide Stance, Surf Control, Non-Slip Deck, Leash, Paddle and Pump for Youth & Adult
as of November 26, 2023 11:37 am
Goplus Inflatable Stand Up Paddle Board, 6.5" Thick SUP with Premium Accessories and Carry Bag, Wide Stance, Bottom Fin for Paddling, Surf Control, Non-Slip Deck, for Youth and Adult (Blue, 9.8ft)
as of November 26, 2023 11:37 am