If you're looking for a simple, yet elegant board with a wonderful set of fancy accessories, Bluefin SUP  will surely catch your eye.
It's a professional set that can be used both by beginners and those who are maybe a bit more advanced.
Features Bluefin Stand Up Paddle Board
In this set, you're getting a dual-action pump for faster inflating (though many people like to use a car pump instead), a 3 piece paddle you can adjust, a carry bag, a board leash, a detachable fin that will improve your balance, a repair kit and a seat which will help you turn your awesome board into a kayak.
Fantastic, right?
The luxury kayaking seat can be adjusted as well as the paddle which can be altered to make it easier for you.
The board is 10'8" x 30" x 6" thick. It's a versatile board made for surfing, kayaking, touring, boarding, racing, yoga and so on.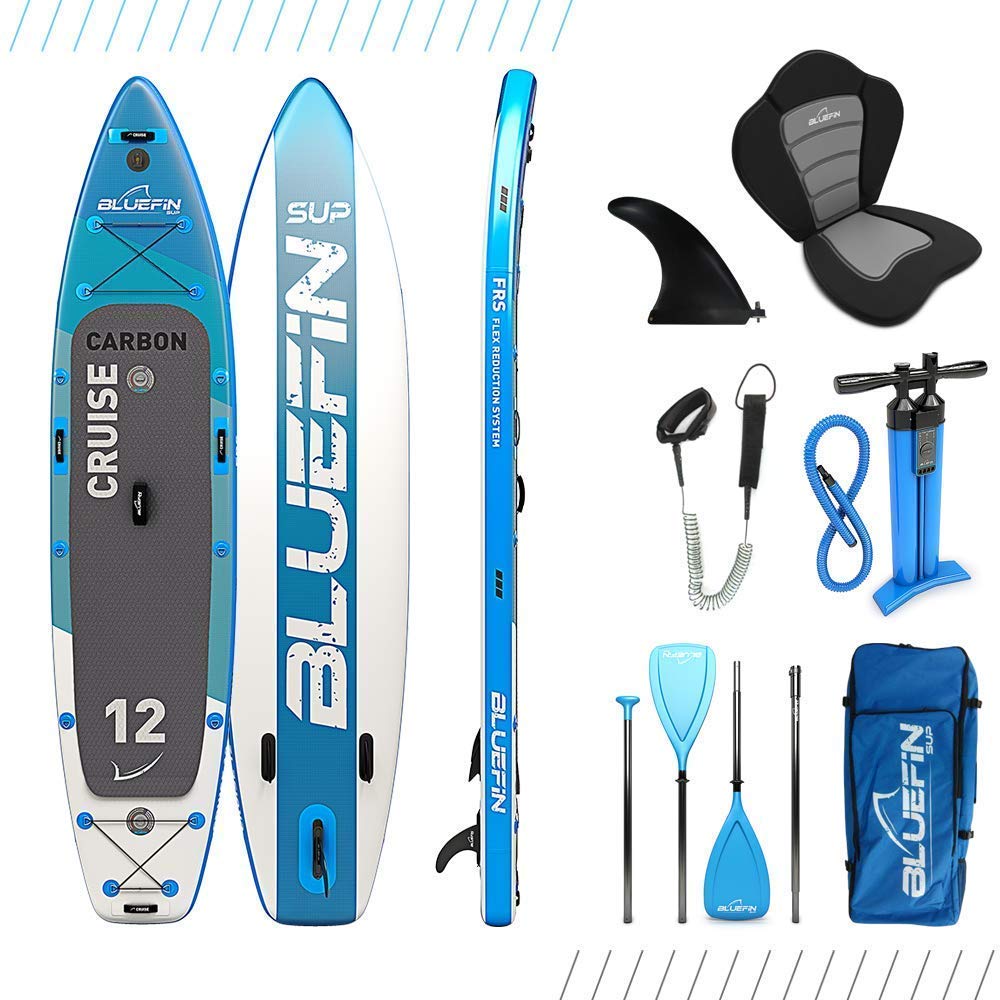 Military grade PVC will make sure that you never scratch your board and that it stays sturdy.
However, it isn't advised to leave it in the sun for too long because it can change color and thin out.
The deflated board is very small in dimensions and therefore you can transport it without any issues.
The maximum weight the board supports is 410 lbs, which is more than the average amount of weight board of this type can take.
You can inflate Bluefin it up to 15 PSI which gives you a great sense of control and you will see that the board will serve you better when inflated more.
It's a great choice for adults as well as kids and you'll notice that it's really high-quality as well.
Accessories
The Bluefin Cruise comes with many accessories.
Included in the delivery is the complete basic equipment needed for the first tours.
The Bluefin Cruise comes with a backpack, leash, kayak seat, paddle, instruction manual, repair kit, air pump and waterproof mobile phone case.
Compared to the single purchase of the accessories, the purchase of such a set can save a lot of money.
LOOKING FOR THE MOST STABLE

Only Bluefin uses 1000 Denier Exo Surface Laminate PVC & Pro Weave Drop Stitch.
These materials make our boards so tough they are can hold up to 28 PSI and are the most stable rigid, stable inflatable SUP you'll ever buy.
Cruise 10'8 is perfect for 1 + dog or seated passenger: 327 cm x 15 cm x 77 cm
KAYAK CONVERSION KIT & GoPro MOUNT

Use our D-rings to transform your SUP into a SUP kayak in seconds!
Clip-on our comfortable padded seat & swap SUP handle for specialist kayak paddle end.
Integrated GoPro mounts on the nose to capture the action.
DURABLE TRAVEL SUP BACKPACK 
The most comfortable SUP backpack available with loads of extra padding & super wide straps.
Our 2 piece paddle has an ergonomic fiberglass shaft weighing almost 45% less than standard SUP paddles.
No flutter polyurethane composite blade is impossible to chip or damage. Both float!
Smart Lock Fin
Our versatile 8" center fin with optimized rake provides ultimate glide and versatility for day to day paddling.
No metal parts to lose, clip it in securely in seconds.
Double action pump inflates Cruise on both the UP & DOWN portion of every pump.
5 YEAR WARRANTY

Bluefin boards & accessories are designed to last which is why we are able to provide a 5-year warranty.
Responsive, expert customer support is always here to help choose a board or resolve any issues you might have
Bluefin Inflatable Stand Up Paddle Boards
Ultimate Bluefin iSUP packages
Bluefin Inflatable SUPs are the ultimate all round Stand Up Paddle Board packages available on the market.
Our iSUP kits come with everything needed for beginner and experienced boarders.
Miliary Grade Triple-layered PVC

Two piece convertible paddle

All-inclusive package for beginners to experts

inflatable for easy transportation in any vehicle

Kayak Conversion kit with dual paddle and seat

Includes ankle leash, pump, paddle, seat and carry bag
All Inclusive iSUP Package For Beginner To Expert Paddle Boarders
High Pressure Pump

Dual action pump with pressure gauge for quick and easy inflation. Inflate between 12 and 15 PSI for best results.

Extendable Paddle

Extendable sports paddle to suit all users, from children to adults. Handy measurement guides to get your paddle perfectly set up.

Attachable Kayak Seat

Attachable kayak seat for touring and fishing. Easily convert your paddle into a kayak during use. Easily stows whilst boarding.

Convertible Paddle

Convert your paddle effortlessly into a kayak paddle. Your extra paddle can be stowed in the bungee storage area when not in use.
Multi Purpose SUP – Suitable For All Types Of Boarding And Every Body Of Water
Perfect for Yoga and Pilates

Water-based yoga and Pilates are taking the nation by storm. Add another dimension to your exercise routine by practicing on the water. With an extra wide hull, Bluefin boards are super stable; perfect for yoga and Pilates.

Take your SUP anywhere

Bluefin Stand Up Paddle Boards deflate and pack down into the included backpack. Your SUP will easily fit into any vehicle however impractical. The board all over the world with easy transportation on buses, trains and planes. Bluefin SUPs offer limitless boarding opportunities.

Suitable For All Types Of Paddle Boarding

Take your Bluefin SUP to any body of water, suitable for lakes, rivers, canals, estuaries and sea. The Bluefin Stand Up Paddle Board can be used for everything from Paddle Board touring to high adrenaline wave riding.
Last updated on January 14, 2021 9:42 am