If you want to find a paddleboard that is of great quality, yet you don't want to spend too much money, this may be the one you need to look into.
This is usually a great choice for teenagers, kids, young adults, and beginners who don't want to test their wallets. They just want to test their riding skills.
Features UBOWAY Inflatable Paddle Board
UBOWAY Inflatable is a highly durable model made from PVC material: no worries about lumps, bumps, dents, and scratches.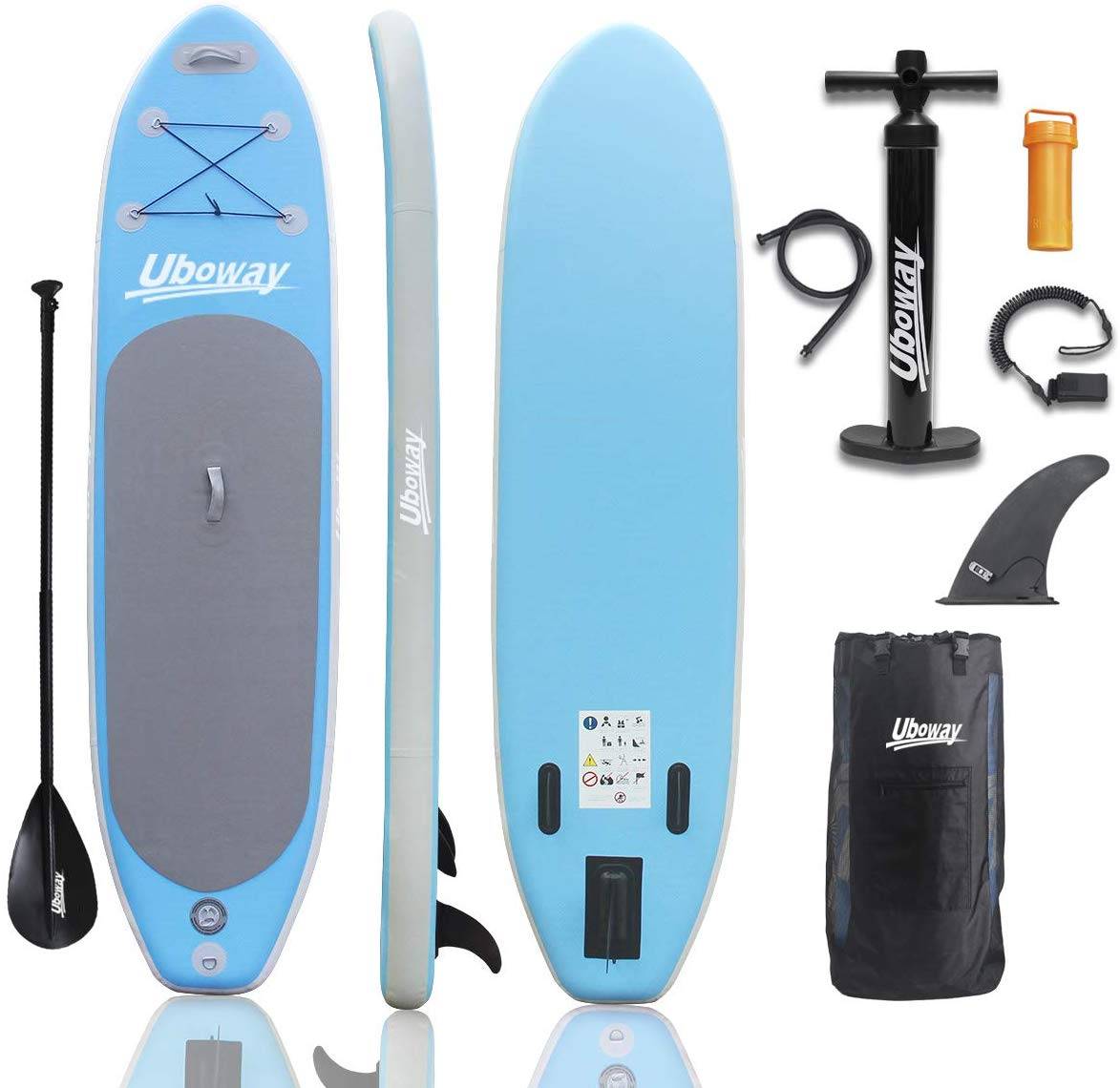 Read Next – Non-slip Inflatable SUP comes from Uenjoy
The 6″ thick design is just about right for those who are not that experienced, but it's also a great choice for those who are maybe trying to upgrade on the maneuverability of their board.


You are not getting aboard only for this amount of cash. You are getting a whole set that you can easily bring along.
It's a portable set made from a pump, a fin, a paddle, and a leash. You will love the bungee part as well since you will be able to store all of your things and bring them along on any journey you wish to embark on.
This board's size is perfect for all sorts of actions: fitness, yoga, sunbathing, cruising, fishing, and relaxation.
Many people enjoy the deck pad, and therefore they meditate and sometimes even sleep.
You are also getting a repair kit along with some instructions and an elastic rope.
You never know what you may need when you're getting into paddleboarding, are we right?
If you didn't find all the info you are interested in this UBOWAY Inflatable review, you could post a comment.
Read Next – UBOWAY Two Layer Paddle Board Review
Uboway Budget Amazon Inflatable Paddleboard
Read Next – Zupapa Inflatable Paddle Board
UBOWAY Inflatable Paddle Boards Stand Up: 10/11 feet SUP with Adjustable Paddle Backpack Pump Leash Fin Youth Adults Standup Paddleboard (Blue)
out of stock
as of January 16, 2022 6:03 pm
UBOWAY Inflatable Paddle Boards Stand Up: 10/11 feet SUP with Adjustable Paddle Backpack Pump Leash Fin Youth Adults Standup Paddleboard (Teal)
2 used from $155.01
Free shipping
as of January 16, 2022 6:03 pm
Premium Inflatable Stand Up Paddle Board (6 inches Thick) with Durable SUP Accessories & Carry Bag | Wide Stance, Surf Control, Non-Slip Deck, Leash, Paddle and Pump , Standing Boat for Youth & Adult
out of stock
as of January 16, 2022 6:03 pm
SereneLife Inflatable Stand Up Paddle Board (6 Inches Thick) with Premium Accessories & CarryBag | Wide Stance, Bottom Fin for Paddling, Surf Control, Non-Slip Deck
6 new from $309.95
8 used from $135.37
Free shipping
as of January 16, 2022 6:03 pm
FunWater Inflatable Stand Up Paddle Boards 11'×33"×6" Ultra-Light (17.6lbs) SUP for All Skill Levels Everything Included with 10L Dry Bags, Board, Travel Backpack, Adj Paddle, Pump, Leash, Repair Kit
1 used from $166.56
Free shipping
as of January 16, 2022 6:03 pm
Lifetime Amped Hardshell Paddleboard with Paddle, 11', Glacier Blue
6 new from $479.99
Free shipping
as of January 16, 2022 6:03 pm
SereneLife Inflatable Stand Up Paddle Board (6 Inches Thick) with Premium SUP Accessories & Carry Bag | Wide Stance, Bottom Fin for Paddling, Surf Control, Non-Slip Deck | Youth & Adult Standing Boat
5 new from $299.99
1 used from $214.34
Free shipping
as of January 16, 2022 6:03 pm
streakboard Inflatable Stand Up Paddle Board 10'All Round ISUP Boards, No Slip Deck 6 Inches Thick iSUP Boards with Free SUP Accessories & Backpack, Leash, Paddle and Hand Pump, for Adults, Kids
$223.99


$

189.99
out of stock
as of January 16, 2022 6:03 pm
Leader Accessories 10'6" Blue Inflatable Stand Up Board with Fins (6" Thick) Includes Adjustable Paddle,Kayak Leash,ISUP Backpack,Pump with Gauge
2 new from $195.99
1 used from $134.32
Free shipping
as of January 16, 2022 6:03 pm
Hydro-Force Oceana Inflatable Stand Up Paddle Board, 10' x 33" x 6" | Inflatable SUP for Adults & Kids | Converts into Kayak | Complete Kit Includes Kayak Seat, Oar, Pump, Travel Bag, Ankle Leash
5 new from $322.12
1 used from $294.99

as of January 16, 2022 6:03 pm
SereneLife Inflatable Stand Up Paddle Board (6 Inches Thick) with Premium SUP Accessories & Carry Bag | Wide Stance, Bottom Fin for Paddling, Surf Control, Non-Slip Deck | Youth & Adult Standing Boat
4 new from $309.99
1 used from $289.99
Free shipping
as of January 16, 2022 6:03 pm