If you want to find a paddleboard of excellent quality yet don't want to spend too much money, this may be the one you need to look into.
This is usually an excellent choice for teenagers, kids, young adults, and beginners who don't want to test their wallets. They want to test their riding skills.
Features UBOWAY Inflatable Paddle Board
UBOWAY Inflatable is a highly durable model made from PVC material: no worries about lumps, bumps, dents, and scratches.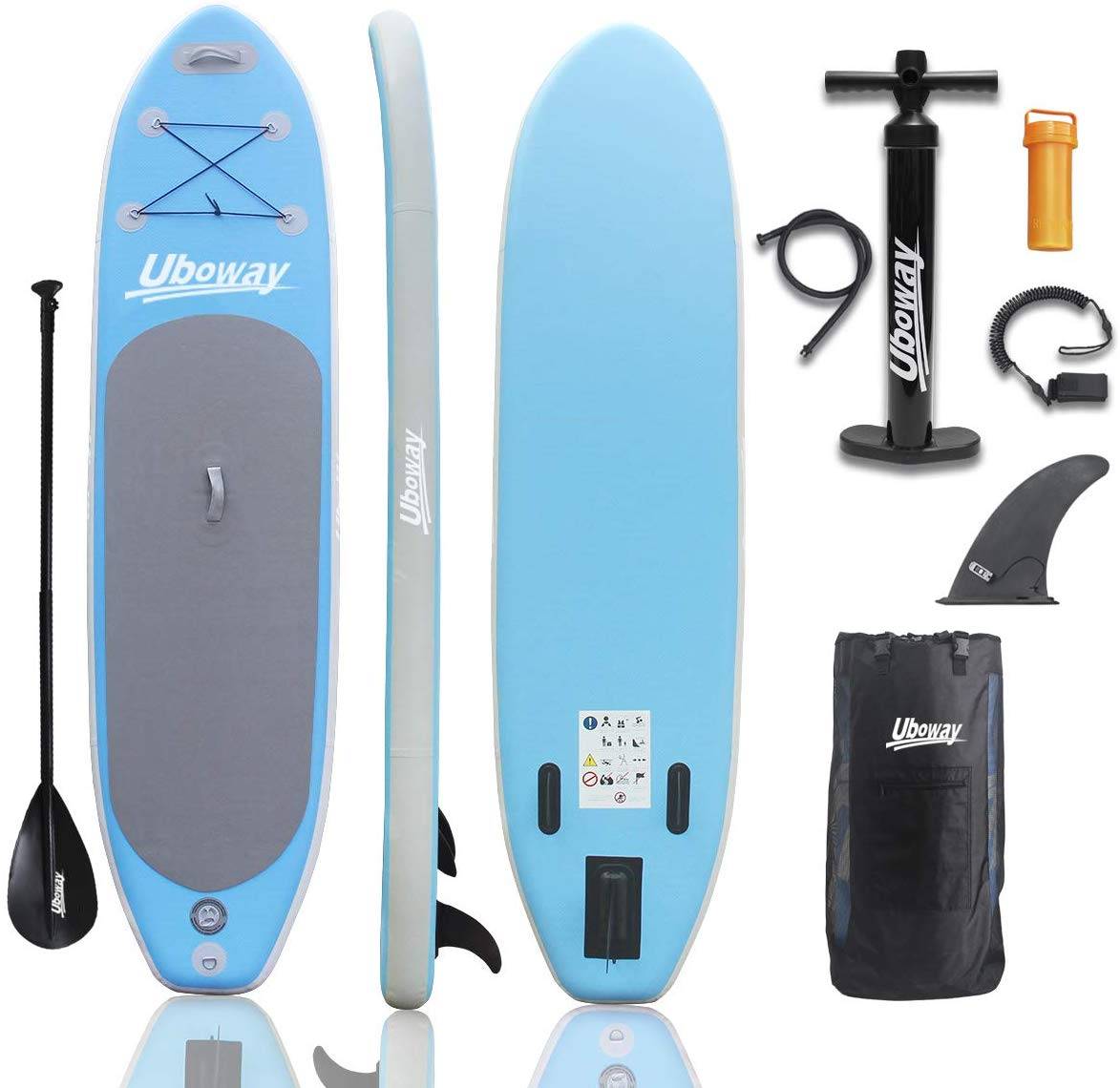 Read Next – Non-slip Inflatable SUP comes from Uenjoy
The 6″ thick design is just about right for those who are not that experienced, but it's also an excellent choice for those who are trying to upgrade their board's maneuverability.


You are not getting aboard only for this amount of cash. You are getting a whole set that you can quickly bring along.
It's a portable set made from a pump, a fin, a paddle, and a leash. You will also love the bungee part since you can store all your things and bring them along on any journey you wish to embark on.
This board's size is perfect for all sorts of activities: fitness, yoga, sunbathing, cruising, fishing, and relaxation.
Many enjoy the deck pad, so they meditate and sometimes even sleep.
You also get a repair kit, instructions, and an elastic rope.
You never know what you may need when you're getting into paddleboarding, are we right?
You could post a comment if you didn't find all the info you are interested in in this UBOWAY Inflatable review.
Read Next – UBOWAY Two-Layer Paddle Board Review
UBOWAY 10′ Inflatable Paddle Board
We are all super excited about summer yearly because we enjoy the sun, water, and good company. Since stand-up paddle boarding's popularity is only growing as time passes, plenty of brands compete to make versatile quality inflatable SUPs to contribute to your summer or water time.
The UBOWAY 10′ Inflatable Paddle Board is one of those paddleboards made to be everyone's because it's just that simple, versatile, and 100 percent functional with all the available features and qualities of a good paddle board for an unbeatable price.
In this review, you will get a closer look at the UBOWAY 10′ Inflatable Paddle Board, which might end up at your doorstep.
Read Next – Multi-Person Paddle Board Costco
Design
We technically cannot say that the UBOWAY is on the multi-person paddle boards list, but it is not tiny either, and this is the good thing about it; it's a great paddle board for new paddlers, and it'll do perfectly well for any fully grown adult unless you find yourself to be a significant person who needs a more giant board than the 10′ long UBOWAY to handle your weight and height.
Stability is crucial regarding how far a paddle board can make it; that's why the UBOWAY 10′ Inflatable Paddle Board is 30″ wide, which is as good as it can get for a 10′ SUP.
This width is enough to ensure a stable ride, mainly if you're already used to stand-up paddle boarding. As for thickness, it is a solid 6″, and you'll have nothing to wonder about because any decent SUP should hit the number 6 in terms of thickness unless it's meant to handle a low weight capacity.
Speaking of which, the UBOWAY 10′ Inflatable Paddle Board can take up to 275 pounds which, as we mentioned earlier, is a fully grown adult plus cargo or a little ball of fur who'd like to enjoy the water as well.
Uboway Inflatable Paddle Boards Stand Up: 10/11 feet SUP with Adjustable Paddle Backpack Pump Leash Fin Youth Adults Standup Paddleboard (WOOD-11FT)
out of stock
as of November 27, 2023 8:40 pm
Read Next – Peak Titan Multi-Person Inflatable Stand-Up Paddle
Build Quality
To remain within the ideal world of quality inflatable boards, UBOWAY 10′ Inflatable Paddle Board chose the number one material known to this industry to make their board; military-grade PVC material.
This latter is capable of both; being flexible and rigid. This material is highly praised for its durability and ability to withstand harsh natural circumstances.
Thus, it's only normal to find that it's the standard material used to build most inflatable products.
The drop stitch technology is also worth mentioning; it's an innovative technique to connect all layers of the board's body tightly, leaving no room for human error.
As a result, it is a neat-looking SUP with a strong and coherent body.
Special Features
UBOWAY made sure their paddle board does not lack any of the features known to this friendly water sport so that you don't miss anything with this good boy.
To not hold you for longer than it should take, here are all the features you need to know about:
A traction pad covers half the board's back so that you can safely and comfortably paddle your way through water without slipping and your feet getting tired.
There's a tie-down system on the board's front with 4 D-rings and a bungee cord so that you can secure the paddle or any extra items to the board while you paddle around worry-free about losing them.
Another great feature is the central carry handle, an iconic part of any paddle board. This handle works like magic; no matter how large the board could be, you will still be able to carry it using only one hand. It also comes in handy when trying to get back on the board after you fell off while having fun.
Another model of the UBOWAY is featured with four additional D-rings for anyone who'd like to attach a kayak seat. It is excellent for anyone who wants to sit while paddling for a break or to give your upper body a little workout.
The navigation system has three fins, with the large central one removable for easy/safe packing. Expectedly, the lateral fins are more minor and fixed. Finally, there's an extra D-ring for safety leash attachment right next to the valve on the board's tail.
Uboway Inflatable Paddle Boards Stand Up: 10/11 feet SUP with Adjustable Paddle Backpack Pump Leash Fin Youth Adults Standup Paddleboard (TEAL-11FT)
out of stock
as of November 27, 2023 8:40 pm
Performance
When speaking about UBOWAY SUP's performance, one is mainly concerned with stability, speed, and control or maneuverability.
This versatile all-around SUP is easy to control given its dimensions and hull shape, as it's also capable of taking some beating if it had to.
Regarding speed, an all-around board is not typically meant to break any record because it's generally meant for recreational touring. Since the UBOWAY is a stable paddle board, yoga is also an option.
However, riding some waves for fun or racing with friends is highly achievable because the navigation system has something to do with it; tracking and smooth water cutting shouldn't be a problem using some elbow grease.
Read Next – Peak 10′ Yoga & Fitness Inflatable Stand Up Paddle Board
Packaging
An excellent complete package can sometimes make for some drawbacks if there are any to start with.
The UBOWAY 10′ Inflatable Paddle Board were thoughtful when it came to its board's package and included all of the following:
Adjustable three-piece aluminum paddle.
Hand pump with gauge.
repair kit
Fins
Travel backpack.
This is everything you will need, along with an inflatable paddle board. Looking at it this way, UBOWAY 10′ Inflatable Paddle Board did a great job.
Read Next – Best Gili Paddle Board Inflatable SUP
What I like
It is a standard 10′ paddle board.
It can take up to 275 pounds
It is stable
It comes with a complete package.
It is a great model for new paddlers.
You will get it all for an unbeatable price.
What I don't like
There has been no noticeable drawback so far; if anything takes a different turn, we will update you.
Read Next – Goplus Inflatable Stand Up Paddle Board
Uboway Budget Amazon Inflatable Paddleboard
Read Next – Zupapa Inflatable Paddle Board
Uboway Inflatable Paddle Boards Stand Up: 10/11 feet SUP with Adjustable Paddle Backpack Pump Leash Fin Youth Adults Standup Paddleboard (TEAL-11FT)
out of stock
as of November 27, 2023 8:40 pm
SereneLife Inflatable Stand Up Paddle Board (6 Inches Thick) with Premium Accessories & CarryBag | Wide Stance, Bottom Fin for Paddling, Surf Control, Non-Slip Deck
2 new from $199.99
5 used from $118.07

as of November 27, 2023 8:40 pm
FunWater Inflatable Stand Up Paddle Boards 11'×33"×6" Ultra-Light (17.6lbs) SUP for All Skill Levels Everything Included with 10L Dry Bags, Board, Travel Backpack, Adj Paddle, Pump, Leash, Repair Kit
2 new from $199.95
4 used from $141.00
Free shipping
as of November 27, 2023 8:40 pm
Lifetime Amped Hardshell Paddleboard with Paddle, 11', Glacier Blue
4 new from $625.00
Free shipping
as of November 27, 2023 8:40 pm
SereneLife Inflatable Stand Up Paddle Board (6 Inches Thick) with Premium SUP Accessories & Carry Bag | Wide Stance, Bottom Fin for Paddling, Surf Control, Non-Slip Deck | Youth & Adult Standing Boat
2 new from $249.99
3 used from $106.28
Free shipping
as of November 27, 2023 8:40 pm
streakboard Inflatable Stand Up Paddle Board 10'All Round ISUP Boards, No Slip Deck 6 Inches Thick iSUP Boards with Free SUP Accessories & Backpack, Leash, Paddle and Hand Pump, for Adults, Kids
$223.99


$

189.99
out of stock
as of November 27, 2023 8:40 pm
Leader Accessories 10'6" Blue Inflatable Stand Up Board with Fins (6" Thick) Includes Adjustable Paddle,Kayak Leash,ISUP Backpack,Pump with Gauge
out of stock
as of November 27, 2023 8:40 pm
Hydro-Force Oceana Inflatable Stand Up Paddle Board, 10' x 33" x 6" | Inflatable SUP for Adults & Kids | Converts into Kayak | Complete Kit Includes Kayak Seat, Oar, Pump, Travel Bag, Ankle Leash
out of stock
as of November 27, 2023 8:40 pm
SereneLife Inflatable Stand Up Paddle Board (6 Inches Thick) with Premium SUP Accessories & Carry Bag | Wide Stance, Bottom Fin for Paddling, Surf Control, Non-Slip Deck | Youth & Adult Standing Boat
2 new from $219.99
3 used from $118.05

as of November 27, 2023 8:40 pm
Inflatable Stand Up Paddle Board 10'6" Long 6" Thick | SUP Paddleboard Accessories Carry Backpack | Wide Stance, Bottom Fin Paddling Surf Control, Non-Slip Deck | Youth & Adult Standing Boat Boards
out of stock
as of November 27, 2023 8:40 pm
Uboway Inflatable Paddle Boards Stand Up: 10/11 feet SUP with Adjustable Paddle Backpack Pump Leash Fin Youth Adults Standup Paddleboard (WOOD-11FT)
out of stock
as of November 27, 2023 8:40 pm