UBOWAY is one of those companies that makes a product great for anyone and everyone.
They invest in creating high-quality products for phenomenal prices, and therefore, their boards are great for young people, kids, beginners, and they are also a great gift!
This 11ft model is perfect for those who want to find a great set to begin with, and they don't want to do too much research on everything.
Features UBOWAY Two Layer Paddle Board
With this board, you are getting a whole set which includes a fin (great for balance), a pump (but you should think about using a car pump, maybe), a backpack (to store everything), a leash, and an elastic rope, instructions and so on.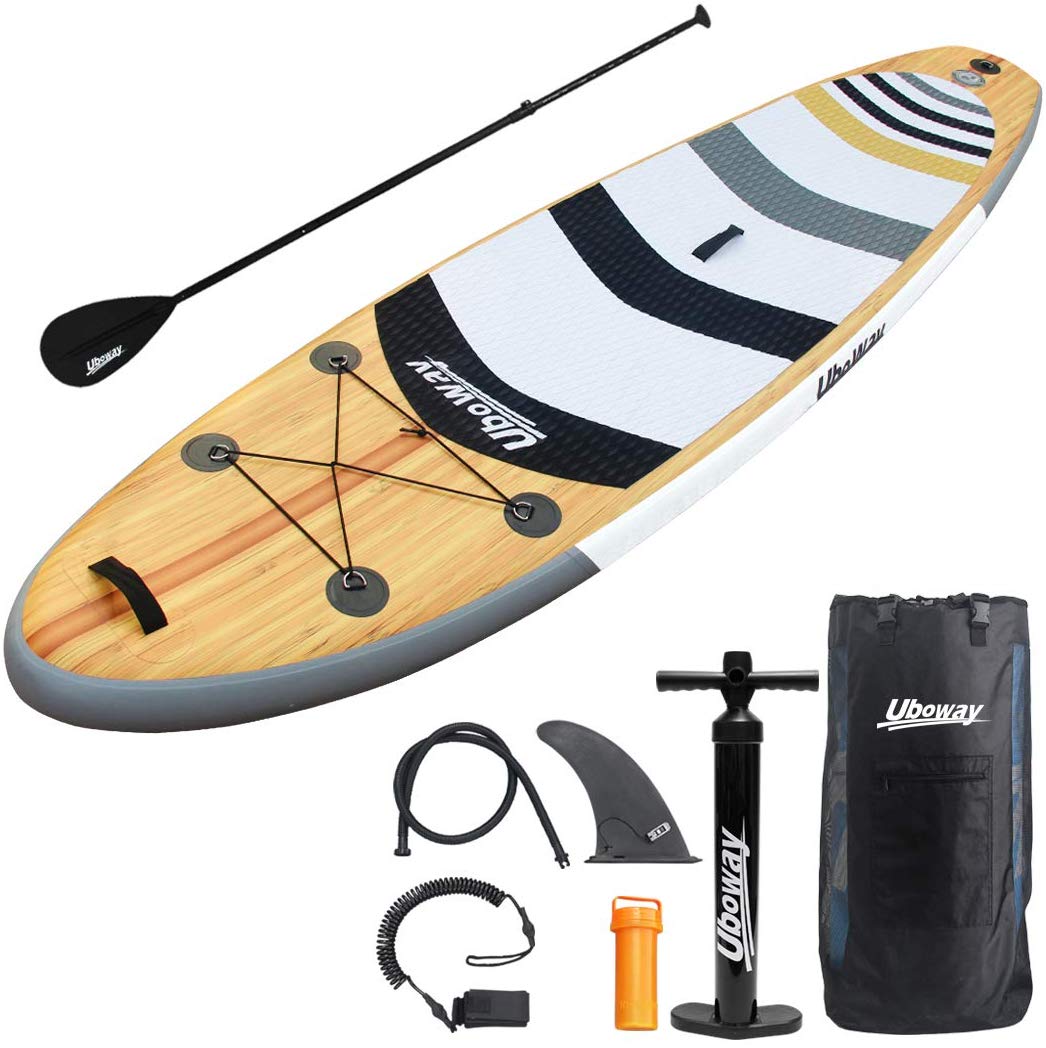 This UBOWAY Two Layer review is made from awesome material: its military-grade PVC is used for professional military equipment.
It never rips or breaks, and you will surely enjoy the feel of it since the deck pad is very nice.
You can use this board on all types of waters: seas, rivers, lakes, pools… You can do fitness, yoga, sunbathing, cruising, fishing… Anything you need, really!
You will also notice that the deck is anti-slip, which makes it perfect for beginners.
The bungee area will be a great thing for those who like to bring along many things (for fishing and cruising, maybe).
The board also has a carry handle, making it easy for young people and women to bring it along.
This board's maximum weight is 130 kilos, which is not the best limit, but it is perfect for a board in this price range.
Uboway Inflatable Standup Paddle Board, made of double-layer PVC material and drop-stitch technology, is extremely durable, virtually unbreakable, and impressively portable.
When the board is deflated, it will save a lot of space and be rolled up to storage in the carry bag.
The board can provide excellent glide for fishing, cruising, exploring, and fitness. The 6″ in thickness allows heavier riders to enjoy this fun paddling sport.
With this excellent flat-water cruising board, beginners can enjoy a wonderful surfing experience.
Once your adventure winds down, deflate, roll up and store your board in the carry bag. It's convenient and portable.
Read Next –Fun Water Inflatable Ultra-Light SUP Review
Specification
Material: 1.6 mm double layers Military PVC
Unfolded size: 132 x 32 x 6 inch
Folded size: 38 x 14 x 12 inch
Net weight: 13.2 kg
Load: 130 kg/ 287 lb
Paddle Adjustable: 63-85 inch
Style: Double layer/ Double layer wood grain
Advanced Design

Gas Valves — Quick to deflate and inflate

EVA Mat — EVA has good friction to prevent a user from sliding

4 Point Bungee Design — Used for storing your belongs

Carry Handle — Convenient to carry

Superior Material

Uboway Inflatable Paddle Board adopts double-layer PVC and drop-stitch construction, which allow the surfboard to withstand a lot of pressure without deforming or bursting.

Package Content

1 x Paddle

1 x Backpack

1 x Pump

1 x Elastic rope

1 x Fin

1 x Repair kit

1 x Instruction
Read Next  – UBOWAY 10′ Inflatable Paddle Board Review