In this Sudoo SUP review, we will tell you facts about this excellent inflatable board.
If you're looking for a portable board with a great design, Sudoo SUP may catch your eye.
Many boards are understandable, they include simple colors and minimalistic designs that are usually connected to waves and the sea, but this one is eye-catching and different.
Features Inflatable Stand Up Paddle Board from Sudoo
The beautiful red design on this premium board isn't the only striking thing about it, though.
The non-slip deck will keep you safe and sound. Therefore it's suitable for beginners as well.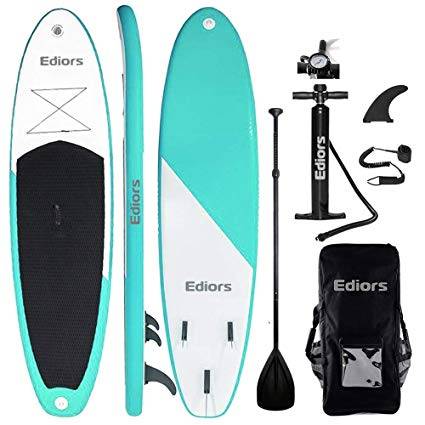 The bottom of the board has three fins that will keep you balanced.
Professionals usually don't need these, but it's always good to have them, especially if more people are on one board and a pet.
The 9'10" extended deck is 6″ thick, and SUP can adjust the paddle you get with it, so it fits your height.
The military-grade material this board is made of is perfect for those who spend a lot of time on the board since it's very sturdy.
However, many people think that it's not smart to leave these kinds of PVC boards in the sun because they can get "burns, "a part of them ends up being thinner.
Sudoo SUP is perfect for those who live to tour because there is a storage part where you can put your stuff, including food.
The handling and steering are improved thanks to the fins, which means that the board is suitable for rivers.
The backpack you are getting with the board is made to bring it around and even travel with it, which makes it ideal for those who bring "adventure" to their vacations.
GREAT FOR BEGINNERS AND EXPERIENCED PADDLEBOARDERS
The inflatable design and wide, non-slip top deck provide improved stability and balance for kids and adults, making it easy to glide across the surface with ease.
More importantly, the PVC body makes it stable while standing but gentle enough that if you fall while learning, you won't hit a hardboard on the way down.
Great for the lake, ocean, pond, or even slow-moving rivers, get your paddleboard today and hit the water!
Attempting Paddle Board Fishing