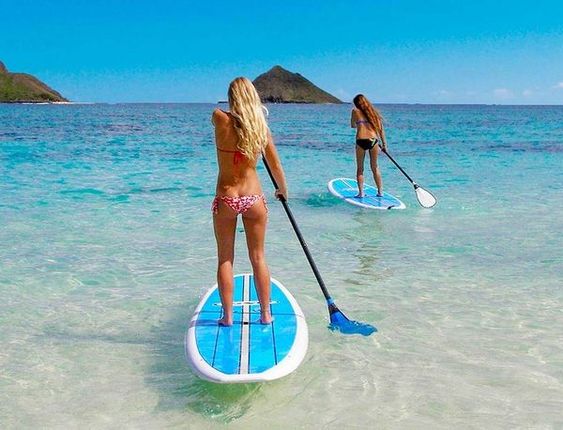 This Sudoo SUP review will tell you facts about this excellent inflatable board. If you're looking for a portable board with a great design, Sudoo SUP may catch your eye.
The company spends a lot of years analyzing, testing, and innovating new and better ways of manufacturing that will result in high-quality SUP inflatable paddleboards.
They aim to produce a paddleboard that will fit everybody's needs in all water conditions.
Many boards are understandable. They include simple colors and minimalistic designs usually connected to waves and the sea, but this one is eye-catching and different.
Quoted: "From beginner to professional, young to old, size down or up, no matter who you are, our boards can become your trustworthy companion in flat water and dashing waves."
Features Inflatable Stand Up Paddle Board from Sudoo
If you have already researched SUP inflatable paddle boards, we are sure you have come around the Sudoo boards. They have positioned themselves as one of the most popular SUPs retailers worldwide. They provide high quality at a great price.
If you are looking for SUP inflatable paddleboard to fit your aesthetics, look for Sudoo paddleboards. The beautiful red design on this premium board isn't the only striking thing about it.
The design of their Sudoo paddleboards is fantastic, but they provide you with the whole set. High-quality materials, additional equipment, and design will fit everyone's taste.
Spending time on the water has many benefits for mental and physical health. The benefits of stand-up paddling are great for adults and kids. It will lower your stress levels and teach kids to keep balance while working on their posture.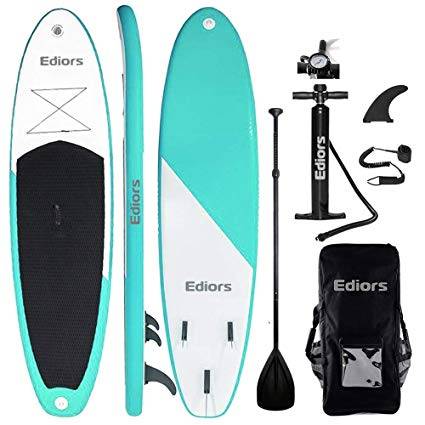 Eva foam padding
Eva foam padding is a new innovative technology-made material that provides durable non-slip material when wet. Sudoo manufacturer uses new technologies to provide the best quality and performance of sports gear.
The non-slip deck will keep you safe and sound. Therefore it's suitable for beginners as well.
It is excellent to use SUP inflatable paddleboard with your kids or pets. They tend to panic or get scared while on slippery padding. Because of that, the Eva layer is a great addition. Spend a beautiful time on the paddleboard with your kids and pets while they are feeling safe.
Read Next – DAMA Inflatable Stand-up Paddle SUP Board
Fins
The bottom of the board has three fins that will keep you balanced. Fins come in a set like an additional piece of equipment.
Fins are a detachable and great addition for SUP beginners and skilled paddlers. In this set, you will find three additional fins. One central fin is the biggest, with two smaller ones on the sides.
Skilled paddlers have an advantage while having fins on the board, extra speed, and even more precise movements. Beginners will learn to navigate easier with the fins on. Also, it is easier to find balance and posture while having fins on the paddleboard.
Professionals usually don't need these, but it's always good to have them, especially if more people are on one board and a pet. The handling and steering are improved thanks to the fins, which means the board suits rivers.
SUDOO 10ft Inflatable Stand Up Paddle Board SUP Board Inflatable SUP Surf Board with Non-Slip Deck w/ Accessories Backpack,Leash,3 Fins,Paddle,Pump,Repair Kit for Adult Beginner Surfing Fishing Yoga
as of June 4, 2023 1:13 pm
Read Next – Best Inflatable Paddle Board Under 400
Dimensions and materials
The 9'10" extended deck is 6″ thick, and SUP can adjust the paddle you get so it fits your height.
Paddle
A paddle in the set is lightweight, so it is easy to use even on longer rides, and paddlers can't get hurt with the specific movement.
The paddle from the Sudoo manufacturer set is adjustable. The advantage of this paddle is customization, depending on the paddler's height. There are a few of them on the market that provides adjustable paddles.
Read Next – F2 Star SUP Review
Military PVC material
Military PVC material is layered to provide sturdy material that will not let air throughput when inflating the paddleboard.
In addition to that, layered construction provides sturdy material for standing.
This board's military-grade material is perfect for those who spend much time on it since it's sturdy.
Double stitching and layering PVC plates on the side make the paddleboard extraordinarily durable and long-lasting. The PVC material provides quality even when the paddleboard is deflated, folded, and stored. The material won't get damaged on the edges.
However, many people think it's not wise to leave these PVC boards in the sun because they can get "burns, "and some end up thinner.
SUDOO 10ft Inflatable Stand Up Paddle Board 6"Thick Non-Slip EVA Deck Surfing Board with Hand Pump,Lightweight Paddle,Backpack,Leash,Fin,Repair Kit|Beginner Adult Yoga Fishing River Lake Sea (Red)
as of June 4, 2023 1:13 pm
Read Next – Bluefin Stand-Up Paddle Board Review
Comfort and transportation
D-rings and bungee cords
Sudoo SUP is perfect for those who love to tour because there is a storage part where you can put your stuff, including food.
Bungee cords placed on D-rings make a perfect store where you can put a waterproof bag to hold it in one place and take it on tour with you.
It is vital to store stuff properly while on the SUP paddleboard. It is not intelligent to hold things in your hands or wear a backpack because of stability.
Transportation backpack
The SUP inflatable paddle board is known for deflating, inflating, and storing capability. Because of that, you can reduce it and fold it like a T-shirt.
In the Sudoo SUP set, you will get a backpack that looks like a regular one. Just put folded SUP paddleboard inside and take it with you. It is stable in size, and when SUP is stored inside, it is lightweight to carry around.
The backpack you are getting with the board is made to bring it around and even travel with it, making it ideal for those who bring "adventure "to their vacations.
Read Next – Atoll Paddle Boards Canada Review
GREAT FOR BEGINNERS AND EXPERIENCED PADDLEBOARDERS
The inflatable design and expansive, non-slip top deck provide improved stability and balance for kids and adults, making gliding effortlessly across the surface.
If you are looking for a paddleboard that will fit everyone's needs, regardless of age and skill, this is the one to purchase. This SUP inflatable paddle board is great for kids and adults, and it provides enough width and carrying capacity to paddle in pairs or practice yoga while on the water.
More importantly, the PVC body makes it stable while standing but gentle enough that you won't hit a hardboard on the way down if you fall while learning. A paddleboard is safe and sturdy and provides you with anti-slip padding to stay on it confidently.
Incredible for the lake, ocean, pond, or even slow-moving rivers, get your paddleboard today and hit the water!
Read Next – Body Glove Performer 11' Inflatable Paddle Board Costco Review
Attempting Paddle Board Fishing
SUP inflatable paddle board is great for stand-up paddling, but that is not the only activity you can do with it. Because of the specifications and size of the paddleboard, you can use it for different activities. You can do yoga, pilates, or fish on the inflatable paddleboard.
Store all your fishing gear in D-ring storage secured with the bungee cord, and you are ready to go. All your stuff will stay in place while searching for the perfect spot for fishing.
We have tested this SUP inflatable paddleboard while fishing, and it works perfectly. It is easy to transport to the vacation spot; it takes only 10 minutes to prepare, and you are ready for fishing.
Spend time with your family while doing something fun outdoors. Try this Sudoo SUP inflatable paddleboard on your next vacation. We are sure that you will love it!
Sudoo SUP inflatable paddle board is an excellent addition to every holiday on the water. Easily transport it in the backpack that comes in the set. It is lightweight to carry around and assemble in a few minutes.
Purchase this paddleboard that provides you with high quality and affordable price. It is the best one in the given price range on the market. A paddleboard comes in the set with all the basic stuff you might need while paddling.
Try it; we are sure you will love it like we do.
Read Next – What is the best stand-up paddleboard for beginners?
SUDOO 10ft Inflatable Stand Up Paddle Board SUP Board Inflatable SUP Surf Board with Non-Slip Deck w/ Accessories Backpack,Leash,3 Fins,Paddle,Pump,Repair Kit for Adult Beginner Surfing Fishing Yoga
as of June 4, 2023 1:13 pm
SUDOO 10ft Inflatable Stand Up Paddle Board 6"Thick Non-Slip EVA Deck Surfing Board with Hand Pump,Lightweight Paddle,Backpack,Leash,Fin,Repair Kit|Beginner Adult Yoga Fishing River Lake Sea (Red)
as of June 4, 2023 1:13 pm
Aqua Plus 11ftx33inx6in Inflatable SUP for All Skill Levels Stand Up Paddle Board, Adjustable Paddle,Double Action Pump,ISUP Travel Backpack, Leash,Shoulder Strap,Youth & Adult Inflatable Paddle Board
2 used from $189.08
Free shipping
as of June 4, 2023 1:13 pm
FunWater SUP Inflatable Stand Up Paddle Board 11'x33''x6'' Ultra-Light (18.5lbs) Paddleboard with ISUP Accessories,Fins,Adjustable Paddle, Pump,Backpack, Leash, 10L Dry Bag
2 new from $199.95
2 used from $184.33
Free shipping
as of June 4, 2023 1:13 pm
Runwave Inflatable Stand Up Paddle Board Non-Slip Deck with Premium SUP Accessories | Wide Stance, Bottom Fins for Surfing Control | Youth Adults Beginner (Kohala Blue)
as of June 4, 2023 1:13 pm