Paddleboarding is a trendy sport worldwide, and people have loved it because it makes a great summer sport.
It is also useful for people who just started with some sport.
Features BIC Sports TOUGH-TEC Performer
Finding the perfect paddleboard for a reasonable price is often a problem because people have to look into the board's stability, durability, construction, and so on.
Many people have personal wishes too, so it takes time to find the match for all those features.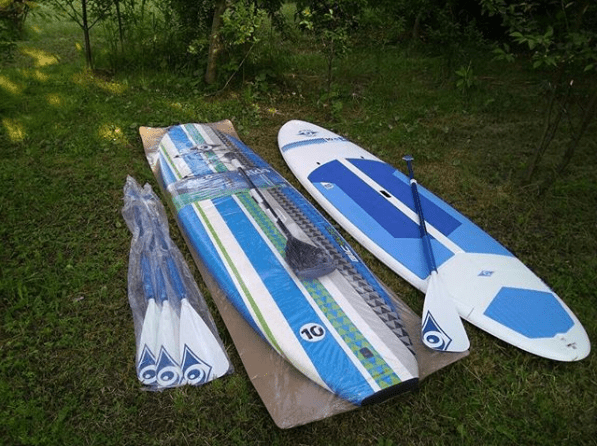 BIC is a company that has been making great products for water sports for a long time, and they came up with the TOUGH-TEC Performer!
This is one of the most selling SUP boards globally, and it is designed by a company that is always trying to develop accessible but quality products.
It is a very stable paddleboard that looks like it would be surfing equipment because of the shape.
However, it is used in Flat-Water surfing and small wave surfing and is excellent for newbies!
Safety
The most significant thing about it is the sense of safety it brings to the user.
It's enough stable for a first-timer or even a kid to get up on to, and the best feature is the toughness.
One of the best features is stability, allowing you leisurely sightseeing without focusing on every stroke.
Easy to navigate
It rides smooth and straight, and it is easy to navigate.
That is the case because it is light but still robust enough for every recreation.
The construction is so well-made that the durability is even better than BIC's latest models.
The thickness and width have been manually changed until the company came up with this perfect ratio.
The company made thousands of tests to make the board as accurate as it can be.
Read Next – Body Glove Performer 11 vs Hyperlite Admiral SUP
BIC Sports Performer tech specification
If you are a professional, you may want to check these things out: this paddleboard has a premium deck pad, an ergonomic carry handle, and the price is more than affordable.
This is not something to overlook, although it may lack some more difficult performances for advanced paddleboarders.
People have loved it, and once you buy it, you will probably never stop using it.
It lasts for years. It has four layers of various materials, such as foam and polyethylene. That means that it is more resistant to multiple outdoor influences than a lot of other paddleboards.
If you are a bit on the heavier side, don't worry, this paddleboard is too!
It supports a great mass without any problems, and it will serve both amateurs and professionals.
It will help you get in shape soon!
Customers claim that it is effortless to maneuver and can be used on lakes, on the sea, in a river, and some people loved it so much they started to use it in a pool!
They also emphasize the fact that it is priced right and is extremely comfortable on foot.
What more do you need?
If you like this BIC Sports Performer review, please like or share it.
Read Next – Roc 10'5 Inflatable Stand Up Paddle Board Review
BIC Sport Tough-Tec Paddleboards SUP Specs & Features Review and Walk Around
TOUGH-TEC construction features a molded watertight EPS foam core that is sealed in a thermoformed protective polyethylene skin for maximum durability
This 11 ft. 6 in. model offers great stability and performance for beginner and intermediate paddlers up to 240 lbs.; it's a great length for all family members.
A moderate rocker profile helps maintain glide and efficiency in flat water while still performing in the surf zone.
Leash plug at the tail and 2 attachment points in front of the standing area let you secure gear.
Ergo-Grip carry handle offers ease of transport with less fatigue.
Includes a tool-free 10 in. center fin
Optional FCS side fins can be installed for enhanced performance in the surf (not included)
BIC Sport offers a 2-year manufacturer's warranty
Read Next – Best Body Glove SUP
BIC Sport ACE-TEC Cross Sup Stand Up Paddleboard, Gloss White/Red/Maroon, 12'0"
out of stock
as of October 21, 2021 12:53 am