Paddleboarding is a trendy sport all around the world, and people have loved it because it makes a great summer sport. It is also useful for people who just started out with some sport.
Finding the perfect paddleboard for a reasonable price is often a problem because people have to look into the board's stability, durability, construction and so on. A lot of people have personal wishes too so all together it takes time to find the match for all those features.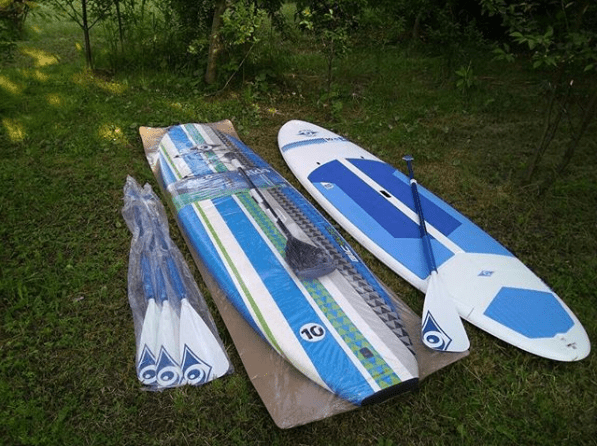 BIC is a company that has been making great products for water sports for a long time, and they came up with the TOUGH-TEC Performer! This is one of the most selling SUP boards in the world, and it is designed by a company that is always trying to develop accessible but quality products.
It is a very stable paddleboard that kind of looks like it would be surfing equipment because of the shape. However, it is used in Flat-Water surfing and small wave surfing and is excellent for newbies! The most significant thing about it is the sense of safety it brings to the user. It's enough stable for a first timer or even a kid to get up on to and the best feature is the toughness.
One of the best features is stability, so it allows you leisurely sightseeing without focusing on every stroke. It rides smooth and straight, and it is easy to navigate. That is the case because it is light but still robust enough for every recreation.
The construction is so well-made that the durability is even better than BIC's latest models. The thickness and width have been manually changed until the company came up with this perfect ratio. The company made thousands of tests to make the board as accurate as it can be.
BIC Sports Performer tech specification
If you are a professional, you may want to check these things out: this paddle board has a premium deck pad, an ergonomic carry handle, and the price is more than affordable. This is not something to overlook, although it may lack some more difficult performances for advanced paddleboarders.
People have loved it, and once you buy it, you will probably never stop using it. It lasts for years. It has four layers of various materials such as foam and polyethylene. That means that it is more resistant to multiple outdoor influences than a lot of other paddleboards.
If you are a bit on the heavier side, don't worry, this paddleboard is too! It supports a great mass without any problems, and it will serve both amateurs and professionals. It will help you get in shape soon!
Customers claim that it is effortless to maneuver and can be used on lakes, on the sea, in a river and some people loved it so much they started to use it in a pool! They also emphasize the fact that it is priced right and is extremely comfortable on foot. What more do you need?
If you like this BIC Sports Performer review please like or share it.
BIC Sport Tough-TEC Performer SUP Stand Up Paddleboard, Blue/Grey/Orange, 10'6"
1 new from $699.95
Free shipping
as of March 28, 2020 9:51 pm
Features
Stable, surf inspired shape for all-purpose use in Flat-Water + small wave surfing
Bic SUP's exclusive tough-tic epoxy construction delivers true board sport performance w/exceptional durability at a great price
Ideal balance between thickness, width + a Classic longboard shape for a stable, balanced, easy to Paddle SUP that's affordable + durable
9'2 (&let; 180lbs) 10'6 (&let; 200#) 11'6 (&let; 240#) complete with premium deck pad, center fin, ergonomic carry handle + deck attachment points to secure gear
Terrific family of boards for a wide range of Paddlers at a terrific value
BIC Sport TOUGH-TEC Cross SUP Stand Up Paddleboard, Blue/Grey/Orange, 11'0"
1 new from $779.95
Free shipping
as of March 28, 2020 9:51 pm
Features
Family-friendly/fitness/yoga/fishing/adventure ready ultra stable design ideal for new Paddlers: 10' riders up to 220#, 11' up to 285#
Keeled nose allows the cross to track straight + Glide effortlessly - flat deck area for full use of entire board for family fun, fitness, fishing
Bic SUP's exclusive tough-tec epoxy construction delivers true board sport performance w/exceptional durability at a great price
Fitness/fishing/adventure ready with multiple deck attachment points (10'=6, 11'=10pts)
BIC Sport cross - the ultimate lightweight, durable, all-around board for family/fun/cruising/fitness/yoga/adventure/SUP fishing
BIC Sport Tough-Tec Beach Windsurfer, White/Blue, 225D
out of stock
as of March 28, 2020 9:51 pm
Features
The perfect board for Beginner and Intermediate windsurfers of all sizes
Retractable dagger board for exceptional upwind performance in all conditions
Durable "tough-tec" polyethlyene construction
Padded deck for comfort and a slip free surface
Modern wide shape for stability without sacrificing performance
BIC Sport Slide SUP Stand Up Paddleboard Package, Blue, 10'6" x 33" x 205 L
1 new from $599.95
Free shipping
as of March 28, 2020 9:51 pm
Features
Soft, stable, family-friendly stand up Paddleboard
Proven design for flat water use and wave surfing
Complete package including Paddleboard, adjustable Paddle, leash, and removable soft fin included
Central carry handle and bungee cord for gear attachment. Round Thumb Tail shape for smooth rail transfers and pivot turns
Adjustable Paddle (68-82 inch/172-210cm) to fit a wide range of paddler sizes and abilities