Paddleboarding is a trendy sport worldwide; people love it because it makes it a great summer sport.
It is also helpful for people who have just started with some sport.
When I think of BIC, I admit I think of a lighter or a biro. Paddleboards are not the 1st thing that I picture.
Although, after testing out the BIC Sports TOUGH-TEC 10′ 6″ Performer for a couple of hours, I am satisfied that this brand has got it going!
I had my doubt thrown out the window, thoroughly enjoying my ride on the SUP.
Features BIC Sports TOUGH-TEC Performer
Finding the perfect paddleboard for a reasonable price is often a problem because people must look into the board's stability, durability, construction, etc.
Many people have personal wishes too, so finding the match for all those features takes time.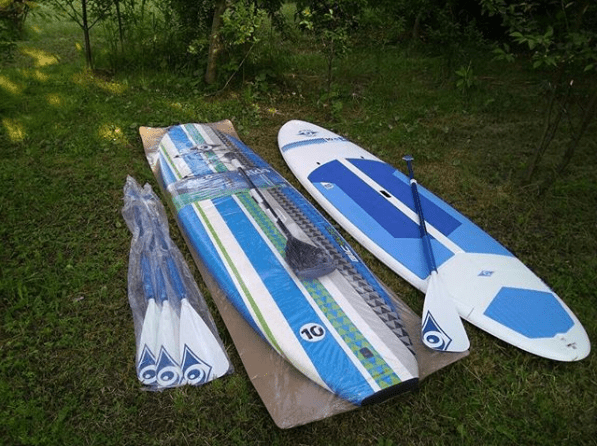 BIC is a company that has been making great products for water sports for a long time, and they came up with the TOUGH-TEC Performer!
This is one of the selling SUP boards globally, and it is designed by a company that is always trying to develop accessible but quality products.
It is a very stable paddleboard that looks like surfing equipment because of its shape.
However, it is used in Flat-Water and small-wave surfing and is excellent for newbies!
Safety
The most significant thing about it is the sense of safety for the user.
It's stable enough for a first-timer or even a kid to get up to, and the best feature is the toughness.
One of the best features is stability, allowing you to go leisurely sightseeing without focusing on every stroke.
Easy to navigate
It rides smoothly and straight, and it is easy to navigate.
That is because it is light but still robust enough for every recreation.
The construction is so well-made that the durability is even better than BIC's latest models.
The thickness and width were manually changed until the company created this perfect ratio.
The company made thousands of tests to make the board as accurate as possible.
Read Next – Body Glove Performer 11 vs. Hyperlite Admiral SUP
BIC Sports Performer tech specification
If you are a professional, you may want to check these things out: this paddleboard has a premium deck pad and an ergonomic carry handle, and the price is more than affordable.
This is not to overlook, although it may lack more difficult performances for advanced paddleboarders.
People have loved it, and once you buy it, you will probably never stop using it.
It lasts for years. It has four layers of various materials, such as foam and polyethylene. That means it is more resistant to multiple outdoor influences than other paddleboards.
If you are a bit heavier, don't worry, this paddleboard is too!
It supports a great mass without any problems and will serve both amateurs and professionals.
It will help you get in shape soon!
Customers claim that it is effortless to maneuver and can be used on lakes, the sea, and in a river, and some people loved it so much they started to use it in a pool!
They also emphasize that it is priced right and comfortable on foot.
What more do you need?
If you like this BIC Sports Performer review, please like or share it.
Read Next – Roc 10'5 Inflatable Stand-Up Paddle Board Review
BIC Sports TOUGH-TEC 10′ 6″ Performer Review 
Stylish SUP – Stylish name. Before I had even ridden it, I loved the shape of its paddleboard. I am a longboarder, so the same aesthetics of the 10.6 feet by 6 inches paddleboard and my 9 feet 1-inch mal made me feel comfortable before even hopping on.
It is a bulletproof all-rounder paddleboard – whether you want flat water or waves. A significant thing I experienced was the rocker, wide enough to tackle some tremendous fun waves.
Though I went for a cruise on the lake, my imagination took me to another place Venice City when my friend sat on the paddleboard, and I paddled us down to the river, the premium center girth balancing us smoothly.
Plastic skinned build creates a very light but highly durable paddleboard. The deck has two cargo tie-down points, and the gentle deck pad of the bunch is finished with an okay-sized ledge handle. It'd be great for families and centers who do not want to worry about repairing concerns.
Underneath is a bit rounder bottom and solid rails back to the broadest tail in the group with growing Vee. The BIC Performer also has a towing eye in front and a regular rear leash plug.
Read Next – The Key to Maneuvering a SUP Board on the Wave Face
Performance
BIC's blend of user-friendliness and ultra-durability works well in the 10 feet 6-inch Performer; I liked its smooth, stable feel in the water and very comfortable deck pad.
It has a few domes deck hidden. It has volume well when I was surfing, and its thin, rugged rails sit into the water giving the SUP a stable feel when stationary.
Catching waves on the BIC was super easy; It had the widest tail of the group of boards, so it picked up waves with less effort. Once up and going on the water, the moderate nose rocker and solid rails gave a secure speedy adventure, perfect as 1st time board to play in some water waves.
The BIC is the only paddleboard with a plastic seam running around it which did not seem so evolved, but it did not appear to be noticeable in its performance. We like the quick-release center fin, which worked well.
It is the cheapest paddleboard on test and the strongest one – it'd make an ideal upgrade from an inflatable SUP into the performance standard. A good family all-rounder that is at home catching water waves for the 1st time or just as happy pottering around the coast to load it to your friends, and there is no need for a paddleboard bag either.
Read Next – Best BIC SUP Australia For You in 2022
Easy to navigate
The build is top-class, and durability is even better than many BIC models. The board rides straight and smoothly, and it is simple to navigate. That is why it's light but still solid enough for any recreation.
The width and thickness have been manually changed until the BIC comes up with this correct ratio. The BIC made tons of tests to make this BIC performer as accurate as possible.
Read Next – Best Stand-Up Paddle Board under $1000
Safety
The most important thing is the sense of safety it brings the user. It is stable enough for a beginner or even a kid to get up, and the best function is sturdiness. One of the best functions is smooth stability, letting you leisurely sightseeing without concentrating on each stroke.
Read Next – BIC Sports ACE-TEC Wing Stand UP Paddle Board
Quality vs. Value
Unfortunately, this BIC performer's price does not match my expectation. Though this is a top-class SUP, you can get other excellent boards like IROCKER Cruise SUP or NAISH NALU instead. You also have to purchase paddle, leash, and side fins separate from BIC paddleboards, so what you see is what you get sort of a deal.
BIC Sport Sup AIR Inflatable Stand up Paddleboard, Blue, 10-Feet 6-Inch x 33-Inch x 22# x 235L
out of stock
as of September 27, 2023 10:47 pm
Read Next – Body Glove Performer 11' Inflatable Paddle Board Costco Review
Extra Features 
If you're a pro, you might want to check these things out – this SUP has a soft deck pad and an ergonomic carry handle. This is not to overlook, though it might lack some challenging performances for advanced SUPs.
People have liked it, and once you buy it, you'll probably never stop using BIC performers. It lasts for a long time. It has multiple layers of materials, such as polyethylene and foam. That means it's more resistant to man outdoor influences than many other SUPs. If you're on the heavier side, do not worry, this paddle is too!
It supports a massive mass without any issues and will serve professionals and newbies. It'll assist you in getting in shape very soon! Buyers claim it's easy to maneuver and can be utilized on the sea, in lakes, or a river. They also emphasize that the price is right and is incredibly comfortable on foot. Some people liked it so much that they started to use it in a pool.
What I like
Easy to navigate and maneuver for newbie
Solid construction makes it ultra-durable
It can be used for anything from surfing small waves to Yoga
lightweight and stable board
What I don't like
The package does not include the leash, paddle, and other essential accessories.
Final words
BIC's most significant selling point was tough and light and will be the most durable paddleboard on the test. It felt stable and tracked well and offered ultra-smooth predictable wave-riding performance. A soft and comfortable deck and deep ledge manage only add to convince.
The BIC SUP brings accessible paddleboard surfing to the entry level at a competitive price tag. Ideal for a family wanting a trouble-free ding-proof paddleboard to cover every base and foster skill development.
BIC Sport Tough-Tec Paddleboards SUP Specs & Features Review and Walk Around
TOUGH-TEC construction features a molded watertight EPS foam core that is sealed in a thermoformed protective polyethylene skin for maximum durability
This 11 ft. six in. model offers excellent stability and performance for beginner and intermediate paddlers up to 240 lbs.; it's a great length for all family members.
A moderate rocker profile helps maintain glide and efficiency in flat water while still performing in the surf zone.
A leash plug at the tail and two attachment points in front of the standing area let you secure gear.
Ergo-Grip carry handle offers ease of transport with less fatigue.
Includes a tool-free ten in. center fin
Optional FCS side fins can be installed for enhanced performance in the surf (not included)
BIC Sport offers a 2-year manufacturer's warranty
Read Next – Best Body Glove SUP
SereneLife Inflatable Stand Up Paddle Board (6 Inches Thick) with Premium Accessories & CarryBag | Wide Stance, Bottom Fin for Paddling, Surf Control, Non-Slip Deck
2 new from $259.99
9 used from $161.45

as of September 27, 2023 10:47 pm
streakboard Inflatable Stand Up Paddle Board 10'All Round ISUP Boards, No Slip Deck 6 Inches Thick iSUP Boards with Free SUP Accessories & Backpack, Leash, Paddle and Hand Pump, for Adults, Kids
as of September 27, 2023 10:47 pm
MaxKare Inflatable Paddle Board SUP Stand Up Paddle Board 6 inches Thick Board with SUP Accessories & Carry Bag & Fast Pumping for Adults & Youth for Paddling Surfing Fishing Yoga
4 new from $207.99

as of September 27, 2023 10:47 pm
Surf Paddle Board (Pro Series)-Performance-Focused SUP-Wax-Free Fingerprint Textured IXPE Foam Deck, FCSII Fin Boxes, 2 FCS Side Fins & Fin Key, 9" FCS SUP Fin with Plate & Screw, 11' Coiled Leash
out of stock
as of September 27, 2023 10:47 pm
BIC Sport Sup AIR Inflatable Stand up Paddleboard, Blue, 10-Feet 6-Inch x 33-Inch x 22# x 235L
out of stock
as of September 27, 2023 10:47 pm
BIC Sport E-Comp Jungle SUP Standup Paddleboard (11 Feet 6- Inch, Yellow)
out of stock
as of September 27, 2023 10:47 pm
BIC Sport AIR Inflatable Wing SUP Stand Up Paddleboard, White/Red/Blue, 11'0"
out of stock
as of September 27, 2023 10:47 pm
BIC Sport SUP 220 Carbon 1-Piece Paddle Board
as of September 27, 2023 10:47 pm