Our Paddle Board's premium inflatable paddleboard is made of the highest quality military-grade material.
We provide the most durable lightweight board on the market, using the same materials as boards costing $599.
YX Inflatable SUP for All Skill Levels SUP boards
Our extra-wide design creates a great all-around board for people of all skill levels.
These kits can be used in the ocean, freshwater lakes, and rivers.
Our board designs are more capable (380lbs) and durable than others.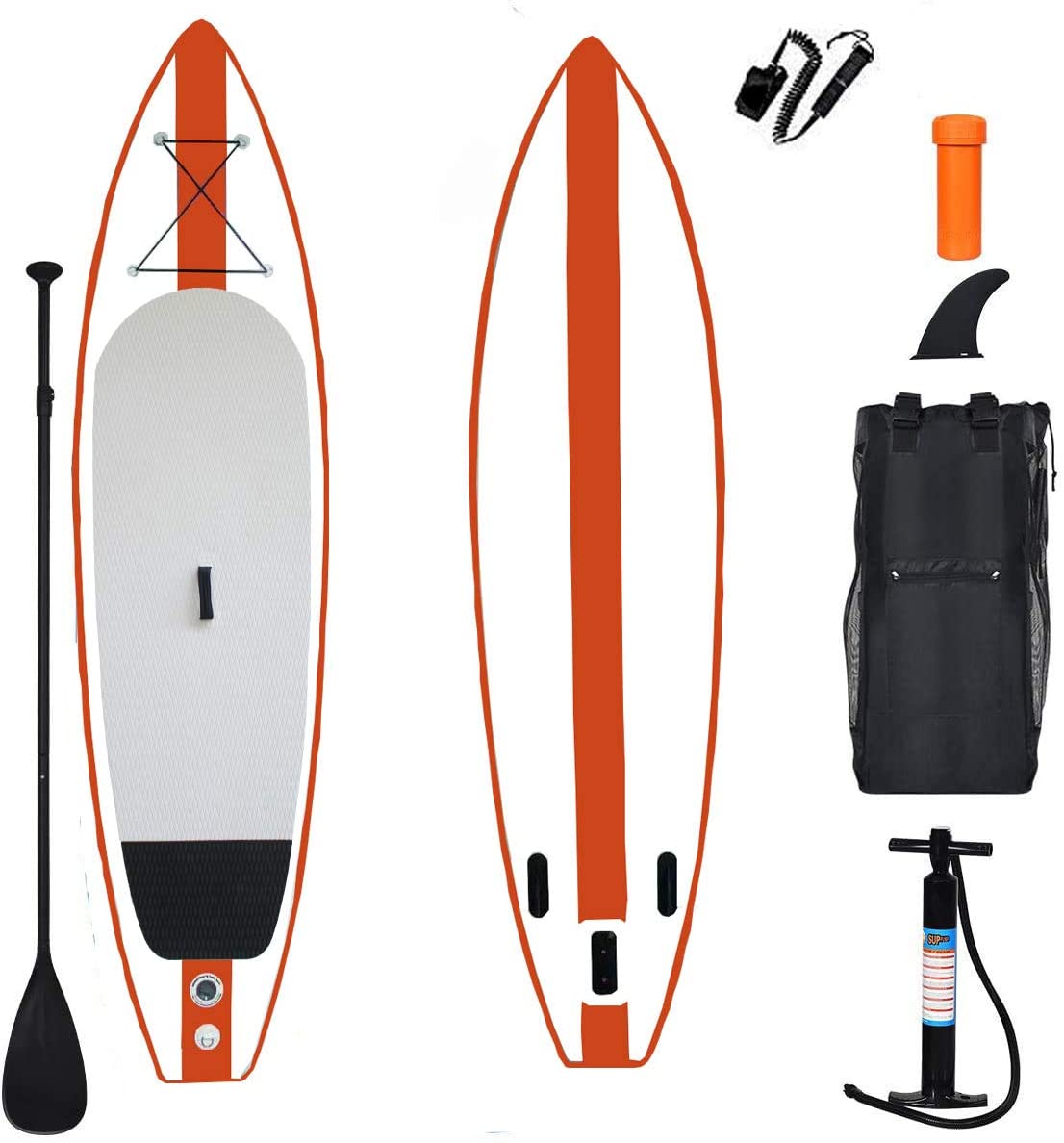 Our premium paddleboard package has everything you need to enjoy your day on the water, including your board, collapsible aluminum paddle, safety leash, hand pump, and an upgraded backpack to hold everything.
Read Next – AQUBONA Inflatable Stand Up Paddle Board
YX Inflatable SUP
Inflatable SUPs are becoming increasingly well-known recently. These SUPs are different from the regular paddleboards, and their exterior is made of PVC with drop-stitch tech. This is to assist create air in the core of the paddleboard.
People typically settle for these SUPs because they come with all the gears needed to get started.
When you purchase an Inflatable paddleboard, you would not have to buy a pump to inflate the paddleboard. Also, they usually come with space with a storage bag to assist in storing the SUPs when not in use.
There're so many paddleboards available in the market now, and the quality SUPs can be inflatable to 15 lbs each square inch. This is to make the paddleboard sturdy and rigid.
Why you'd purchase an inflatable paddleboard?
Here're some of the key reasons to get this paddleboard if you're still wondering.
Traveling
Whether it is a road trip, or a flight, moving with a sturdy board will cost you more. The inflatable paddle board is simple to transport, and the single thing you need is to deflate the paddleboard, and you are ready to move.
These paddleboards have a storage backpack where you can store the paddleboard and all the gears you will need for paddleboarding in your new destination.
Read Next – What is the Best Sup Board Seat in 2022
Limited storage space
You might not have space for the large solid paddleboard, particularly if you're trying to conserve space. With an inflatable paddleboard, space will be the least of your main concerns.
They have a compact design and can be deflated anytime for easy storage. You can place them in your store or closet or even in your car trunk.
Hiking to lake
You are carrying a solid paddleboard to paddle on an alpine lake. Therefore, you will need an inflatable paddleboard because it's not heavy, and you can effortlessly transport it.
Read Next – Best Funwater Inflatable SUP Our Top Picks
Different water activities
Inflatable paddleboards are ideal for different paddling and water activities. This includes surfing, yoga, and SUP fishing. Rest assured that you can use these paddle boards to have a great time on the water.
There're so many reasons to purchase an inflatable paddleboard. You can settle for YX Inflatable SUP if you want something durable and versatile. The exciting thing is that there are currently several boards available on the market; you might be confused about which one to get with these different options.
YX Inflatable SUP
Some of the paddleboards you will find are suitable for new paddlers or pro paddlers alone. Though, YX Inflatable SUP is ideal for every skill level. Therefore, whether you're a new paddler or an expert, this paddleboard is the right option.
Are you wondering what makes the YX Inflatable SUP stand out and why it's ideal for any skill level?
Read Next – DRIFT Inflatable Stand Up Paddle Board Review
Special features of YX Inflatable SUP
The inflatable stand-up paddleboard is made from top-quality military-grade materials. This is to make sure durability and make sure that it lasts long. The paddleboard is super light and one of the most durable you will find on the market.
YX Inflatable SUP has an extra-wide design, and this is to make it an ideal all-around paddleboard. The paddleboard is also suitable for all paddling skill levels, and you can use it in a freshwater rivers, lakes, and oceans. You must note that the carrying capacity of this YX Inflatable SUP is 172.4 kg.
YX Inflatable SUP comes with all the essentials needed to get started. This includes the paddleboard itself and the aluminum SUP paddle. It's worth mentioning that the SUP paddle is floatable and foldable. Therefore, you can be confident that it will not sink in water if it mistakenly falls off when you are paddling. Other accessories included are the hand pump, a backpack, and a safety line.
YX Inflatable SUP will make you feel comfortable and practical. Its measurement is 30.9 by 83.2 by 15.2, making it easy to maneuver.
What I like
Complete accessories containing all you need to get started. Also, the accessories that are included are of top quality. Therefore, you would not have to start looking for where to purchase these gears.
The paddleboard is ideal for any skill level, and you can use it in various environments.
It's one of the most durable paddle boards available on the market
The paddleboard is super light and can be easily transported and stored. You can effortlessly move it when inflated the handle in the middle or deflated in the backpack.
Read Next – Best SUP Wheels Buying Guide
What I don't like
It uses a hand pump. Some people will prefer a paddleboard with an automatic pump.
End words…
This YX Inflatable SUP might be a far better choice if you are on a tight budget plan. It is almost as long and wide as many paddleboards, and it has other qualities you will likely appreciate.
This YX Inflatable SUP is made of top-quality materials to improve its durability. It is also vital to mention that it can handle a max weight of 380 pounds.
So, you'd be all set if you have a big frame or need to put your belongings on the paddleboard. According to people who tried it, this YX Inflatable SUP is pretty simple to maneuver, powerfully built, and inflates in about 5 minutes.
Though, some were not fans of the pump that came in the package and had to purchase a more reliable one.
Read Next – YX Inflatable SUP
Top 10 Best Paddle Board 2022
Comfortable and convenient, this complete elite package will get you anywhere you want to paddle.
read Next – AQUA SPIRIT All Skill Levels Paddle Board Review
SereneLife Premium Inflatable Stand Up Paddle Board (6 Inches Thick) with SUP Accessories & Carrying Storage Bag | Wide Stance, Bottom Fin for Paddling, Surf Control, Non-Slip Deck | Youth & Adult
3 new from $229.99
5 used from $145.62

as of November 29, 2023 12:57 pm
SereneLife Inflatable Stand Up Paddle Board (6 Inches Thick) with Premium SUP Accessories & Carry Bag | Wide Stance, Bottom Fin for Paddling, Surf Control, Non-Slip Deck | Youth & Adult Standing Boat
3 new from $219.99

as of November 29, 2023 12:57 pm
Hydro-Force Aqua Journey Inflatable Stand Up Paddle Board, 9' x 30" x 6" | Inflatable SUP for Adults & Kids | Complete Kit Includes Adjustable Aluminum Paddle, Hand Pump, Travel Bag, Surf Leash
out of stock
as of November 29, 2023 12:57 pm
Smooth SUP Inflatable Stand Up Paddle Board with Premium Accessories & Travel Backpack, Waterproof Bag, Action Camera Mount, Leash, Lightweight Adjustable Paddle, Pump and Non-Slip Deck Pad
out of stock
as of November 29, 2023 12:57 pm
FITWAVE Paddle Board 9.5ft/10ft/11ft SUP + Kit - Inflatable Paddle Boards for Adults - Inflatable Stand Up Paddle Board with Pump, Emergency Repair Kit, Bag & More - Anti Air Leaking & Nonslip Deck
out of stock
as of November 29, 2023 12:57 pm
ADVENOR Paddle Board 11'x33 x6 Extra Wide Inflatable Stand Up Paddle Board with SUP Accessories Including Adjustable Paddle,Backpack,Waterproof Bag,Leash,and Hand Pump,Repair Kit (Green)
6 used from $162.78
Free shipping
as of November 29, 2023 12:57 pm
Hapfan Inflatable Stand Up Paddle Board w/High Pressure Electric Pump 11' x 32" x 6", All Around Paddle Boards w/Dual-Layer Rugged Build - 350lbs Weight Capacity SUP Board
2 used from $165.27
Free shipping
as of November 29, 2023 12:57 pm
FunWater Inflatable 10'6×33"×6" Ultra-Light (17.6lbs) SUP for All Skill Levels Everything Included with Stand Up Paddle Board, Adj Floating Paddles, Pump, ISUP Travel Backpack, Leash,Waterproof Bag
2 new from $199.95
3 used from $154.71
Free shipping
as of November 29, 2023 12:57 pm
Cooyes Inflatable 10.6'x32''x6'' (19.4 lbs) Stand Up Paddle Board with SUP Accessories & Backpack, Removable Fin, Ankle Leash, Adjustable Paddle, Hand Pump, Waterproof Phone Case, ISUP for Beginners
out of stock
as of November 29, 2023 12:57 pm