Were we looking for something new to do during long summer days? Try to stand up paddling with this Drift inflatable SUP paddleboard. We are sure you will love it.
Paddleboard is a trending sports gear that has new fans every day.
SUP sport is an excellent addition to your routine because of easily adjustable and easily transportable equipment ready for use in less than 10 minutes.
You can inflate it, deflate it and fold it in the backpack. You are ready to go to the water regardless of the water condition because of the high-quality manufacturing material.
Drift Inflatable Fishing Paddle Board in Native Style Specs Inflatable Sup paddleboard is an excellent addition for everyone.
If you are a skilled SUP paddler that wants a unique paddleboard in quality and design, this is the one to look for.
Also, if you are a beginner or would like to purchase a paddleboard as a gift for someone, this one will keep everybody speechless.
Because of the design and colors, this is one of the most beautifully designed paddleboards on the market.
Read our review about this Drift inflatable SUP paddleboard, and we are sure that you will fall in love with it we did.
Features DRIFT Inflatable Stand Up
STABLE & MANEUVERABLE:
It's easy to stand up and balance on a Drift paddleboard!
At 10'8″ x 33″ x 6″, the expansive deck and performance shape make for fast, fun paddling for all skill levels.
Try this one if you are looking for a paddleboard that will help you learn how to paddle efficiently without feeling overwhelmed. It is excellent in dimensions, shape, and carrying capacity and will keep you safe and stable while learning.
If you are looking for quality beginner SUP, try this. The extra width of the paddleboard gives you ground that will not make problems for you while standing, even for the first time. Also, carrying capacity helps you feel safe when you are higher than the water surface and not getting sunk.
Drift SUP inflatable paddle board has excellent specifications. Because of the design and additional fins, it is perfect even for skilled paddlers and lovers of adrenalin. If you love sea waves and surfing or are a lover of the wild rivers and fast paddling, try this one.
Because of the dimensions, high-quality materials, and additional parts of the set, like fins, coil leash, and paddle, you can paddle in different styles and on various water conditions.
This Drift SUP inflatable paddle board is great for the whole family, regardless of the age and skills of future paddlers.
Drift 11'6" Inflatable Stand Up Paddle Board, SUP with Accessories | Coiled Leash, Pump, Lightweight Paddle, Fin & Backpack Travel Bag (Native)
3 new from $349.99
2 used from $282.72

as of October 23, 2022 12:16 am
DRIFT 11'6" Inflatable Stand Up Paddle Board, SUP with Paddle, Backpack Travel Bag, Pump, Fin, & Coiled Leash (Native Sunset)
out of stock
as of October 23, 2022 12:16 am
Read Next – Best DRIFT Inflatable Stand Up Paddle Buying Guide
INFLATABLE & PORTABLE
Quickly inflates or deflates for easy storage – packing down to just 38″ x 18″ x 12″ and 19 lbs. If you are looking for easy and compact sports gear that you can easily take, look for SUP.
SUP inflatable paddle board is perfect if you are looking for something you can take with you without having your car full of sports equipment. This SUP inflatable paddle board comes with a backpack to store it in. It is in regular size like any other backpack.
Just deflate, fold and put your paddleboard in your backpack and some corner of your trunk. Lightweight and easily transportable size make stand-up paddling more popular every year.
Whether you're jetting off to explore a tropical paradise or hiking into the wild to find that perfectly serene fishing spot, Bote Inflatable SUPs travel comfortably in their high-quality carrying bag backpacks.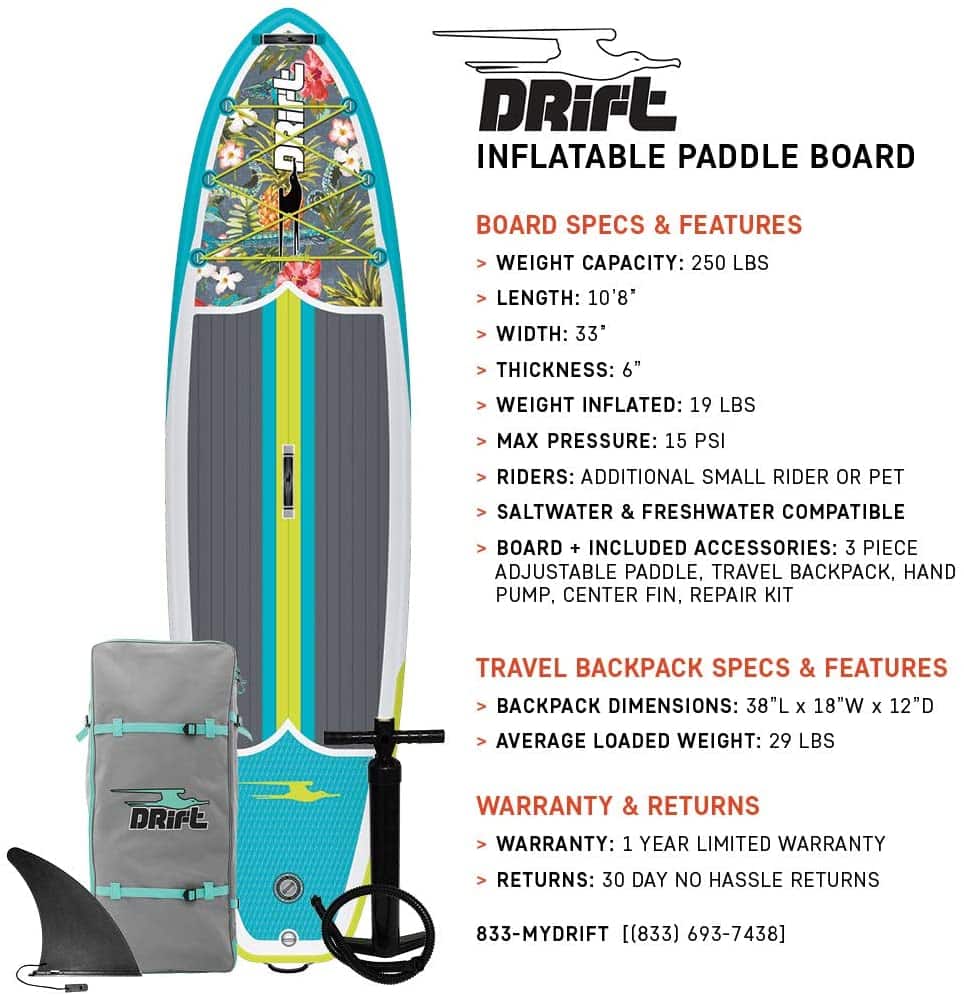 HIGHLY DURABLE
We use a high-tech process to transform military-grade PVC into a rock-solid rigid platform. Military PVC material is a high-quality material designed into rails that layer up in the structure of the paddleboard to provide sturdy material that will not leak air.
The layering of the rails provides solid padding that will be sturdy when inflated and safe for standing. It also makes the paddleboard carry weight without compromising safety.
With a core of composite drop-stitch fibers connected to the nearly indestructible outer skin, Bote Drift Inflatable Stand Up Paddle Board up to anything you want to do on the water.
A thread that keeps material together is high-quality drop stitch material that will ensure that air is not leaking but also provides high-quality material that is safe for inflating, deflating, and folding. Because of high-quality material and stitching, the SUP paddle board will not crack or leak air.
The top layer on the SUP inflatable paddle board is smart technology-made EVA foam padding. With EVA foam, your paddleboard is also safe for kids, adults, and pets.
It is essential to feel safe while standing on the board, and EVA foam gives you an extra layer of comfort and safety. With EVA, a foam paddleboard becomes non-slip even when it is wet.
DRIFT Inflatable Stand Up Paddle Board, SUP with Accessories | Pump, Lightweight Paddle, Fin & Backpack Travel Bag, Native
3 new from $248.95
Free shipping
as of October 23, 2022 12:16 am
Read Next – Three Piece Easy Eddy Paddle Boards
COMPLETE PADDLEBOARD KIT
If you are looking for high quality and affordable SUP inflatable paddleboard, you should look for this one. With this SUP, you will get everything you might need while paddling and paddleboard that will fit all your needs, from basic beginner needs to the specific ones that will give skilled paddlers a better water experience.
Comes with all essential paddleboard accessories, including removable fin, repair kit, 3-piece aluminum paddle, paddleboard pump, and backpack carrying bag.
Board features include an EVA foam deck pad, bungee straps, grab handles, 250 lb capacity, and our signature Entry Rocker style hull that sheds water and keeps the board nose up.
Read Next – Best Fishing Paddle Boards in 2022
Fins
Fins in the Drift SUP paddleboard set will be an excellent addition for beginners and skilled paddlers. In the set, you will find three additional fins. The main one is the biggest and goes in the center back of the SUP paddleboard. The other two are smaller and go on both sides of the main one.
Fins are great for finding balance more quickly and navigating with ease for beginners. For the skilled paddlers, fins will give extra advance while racing or on the wild rivers, high waves, and calm lake water.
Read Next – DRIFT 10'8″ Inflatable Stand Up Paddle Board
Extra storage space
With D-rings and bungee cords on the front piece of the SUP inflatable paddleboard, you are getting additional storage space for safe carrying stuff with you.
Put your things in a waterproof bag and into bungee cords; things will stay in place and won't get wet.
It is not intelligent to carry stuff on your back or keep it in your hands while paddling. With this storage space, it is easy to take your fishing gear with you and fish in some spots that you find interesting while floating.
Take everything you need on paddling.
Read Next – SUP Board Merritt Island Florida
BETTER AFTER SERVICE
Based in Destin, Florida – we stand by the quality of our boards.
A 1-year manufacturer's warranty covers all Drift paddleboards at no additional cost.
Please feel free to contact us with any questions or issues!
Paddle Boards fall into two broad categories, All-Around and Specialty boards, with all-around designed primarily for recreation while specialty boards for top performance in specific disciplines.
This paddleboard is easy to carry with its weight being 23 lbs, and the glide seems slow, which is typical for inflatables.
The board has many extra features, including its compatibility with the very convenient Travelink carrying system and tackle rack, and it even comes with a fiberglass paddle.
Read Next – Aqua Marina Drift Fishing Inflatable Stand-up Paddle Board
Supremely Stable – Perfect for Beginners and Enthusiasts alike
The 33″ width and extra-wide tail guarantee stability while paddling the Drift Paddleboard.
Whether you're just starting or already an avid paddler, you'll feel confident and comfortable going just about anywhere.
Easily Storable – Only requires a space as ample as a piece of luggage
Inflatable paddleboards offer a comparable paddling experience but without needing a garage to store it in or a large vehicle to transport your board.
The Drifts backpack can easily fit in a closet or trunk and can even be checked on most airlines.
So you can store or take Drifts Paddleboard with you anywhere.
Overview

All in all, this is a high-quality paddleboard that is affordable and comes with everything you might need during your paddling experience.
It is excellent for beginners but also advanced paddlers. This paddle board is great if you are purchasing it as a gift. It comes with everything essential for stand-up paddling and has one of the most beautiful designs on the market you can find.
DRIFT Inflatable Stand Up Paddle Board, SUP with Accessories | Pump, Lightweight Paddle, Fin & Backpack Travel Bag, Native
3 new from $248.95
Free shipping
as of October 23, 2022 12:16 am
Drift 11'6" Inflatable Stand Up Paddle Board, SUP with Accessories | Coiled Leash, Pump, Lightweight Paddle, Fin & Backpack Travel Bag (Native)
3 new from $349.99
2 used from $282.72

as of October 23, 2022 12:16 am
DRIFT 11'6" Inflatable Stand Up Paddle Board, SUP with Paddle, Backpack Travel Bag, Pump, Fin, & Coiled Leash (Native Sunset)
out of stock
as of October 23, 2022 12:16 am
DRIFT Kid's Inflatable Stand Up Paddle Board, SUP with Adjustable Aluminum Paddle & Backpack Travel Bag…
2 new from $247.77

as of October 23, 2022 12:16 am
Drift 11'6" Inflatable Stand Up Paddle Board, SUP with Accessories | Coiled Leash, Pump, Lightweight Paddle, Fin & Backpack Travel Bag (Classic)
2 new from $349.99

as of October 23, 2022 12:16 am
BOTE Wulf Aero Inflatable Stand Up Paddle Board, SUP with Accessories | Aluminum Paddle, Travel Bag, Pump, Fin (10'4" Native Floral)
2 new from $476.10
Free shipping
as of October 23, 2022 12:16 am