We'll be talking about a different type of board now. You have probably not seen many models out there with these dimensions: 7′ x 30" x 6".
AIRHEAD POPSICLE 730 is made for small paddlers: 14-55 kilos only, and this is usually the top choice people get for their kids.
Features AIRHEAD POPSICLE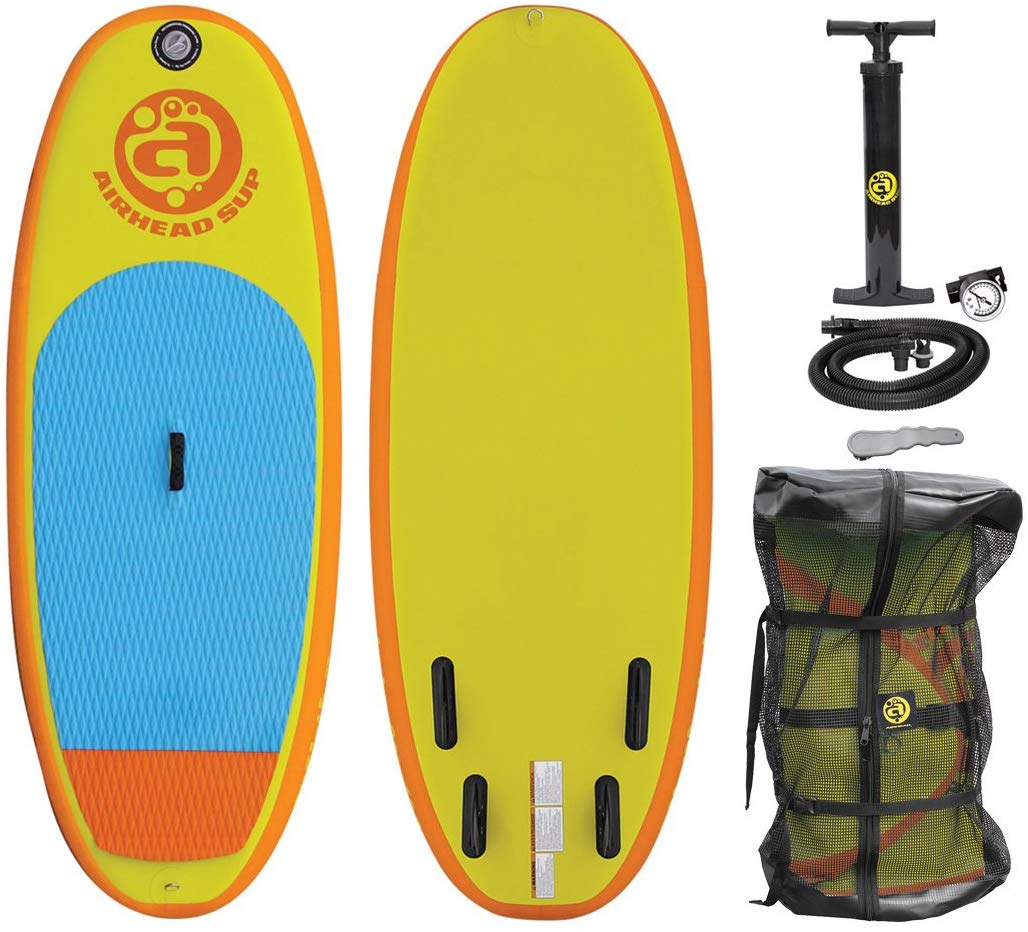 The EVA traction pad makes the whole experience a lot more comfortable than you'd think, which is also important since kids need to stay safe on the board.


4 fixed thruster fins make this board extremely well balanced, making it a perfect choice for those insecure on the water surface: rivers, lakes, pools, oceans, and seas.
With the board itself, you are getting some accessories like the mesh backpack, the stainless steel tow ring, the high-pressure hand pump, a pressure gauge, a valve wrench, a board strap, and a repair kit, which is often not included in many sets.
The looks of AIRHEAD POPSICLE 730 say who it is made for since all of the designs are very colorful.
Maybe people like to buy this for their kids because it has greater balance than regular paddleboards with three fins.
If you check out the product pictures, you will notice that the fins are distributed evenly across the board: 2 on one side and 2 on the other.
It's light as well, but not too light.
Remember that you'll probably have to help your kids set it up since it takes a bit of time to inflate a board of this width and length.
Board size: 7′ x 30″ x 6″/213 x 76 x 15 cm
For Paddlers 30 to 120 lbs. (14 – 55 kg)
4 fixed thruster fins (nothing to lose), (2 x 3″, 2 x 4 3/4″)
EVA traction pad with tail kicker
Includes mesh backpack, stainless steel tow ring, Hi pressure hand pump, pressure gauge, valve wrench, board strap & repair kit

The perfect introductory board for lighter paddlers and youth adventurers.
Your family's fun is our family's pleasure.
From fun on the water with our towable tubes & pool floats to staying safe with our life vests or enjoying our winter lineup of sleds and toys, our family has you covered year-round.
25+ years of watersports products experience

More than 900 products

Towable Tubes, Pool Loungers, Life Jackets, Paddleboards, Sleds, Toys, Ropes & Boating Accessories
Read Next – Xspec Inflatable Stand Up Paddle Board
AIRHEAD Popsicle 730 iSUP
The Durable EVA Traction Pad with Tail Kicker Makes This a Great Board for Kids
This high-quality iSUP looks cool, like a popsicle! It's engineered to make paddling fun for lighter paddlers and kids.
Rocker design in both the front and rear provides smooth handling.
POPSICLE is lightweight so that kids can carry their own board to the water.
Molded handle allows easy carrying to and from the water

A thick EVA traction pad helps you get a good grip

Removable fin ensures straight tracking & precise maneuvering

Stainless D-ring & stretch tie-down

Includes mesh backpack, high-pressure hand pump, pressure gauge & valve wrench
EZ Push Hi Pressure Valve
Our EZ Valve makes inflation and deflation a breeze.
Pull up the pin to pump up the iSUP.
When you are done using the board, twist the cap and push the pin in to deflate.
| |   |   |   |   |   |
| --- | --- | --- | --- | --- | --- |
| | Popsicle 730 | FIT 1032 | Cruise 930 | Rapidz 938 | Bliss 930 |
| Board Size | 7′ x 30″ x 6″ | 10'6″ x 32″ x 6″ | 9′ x 30″ x 4″ | 9′ x 38″ x 4″ | 9″ x 30″ x 4″ |
| Board Weight | 19 Pounds | 27 Pounds | 21 Pounds | 31 Pounds | 20 Pounds |
| Weight Range | 30-120 Pounds | 120-300 Pounds | 80-180 Pounds | 100 – 260 Pounds | 80-180 Pounds |
| Primary Uses | Youth & Petite, Paddling, Fitness | Paddling, Fitness, Yoga | Accurate Tracking, Paddling, Fitness | Accurate Tracking, Paddling, Fishing, Whitewater | Paddling, Fitness, Yoga |
AIRHEAD POPSICLE 730 ISUP w Pump, Gauge, Mesh Backpack
as of January 12, 2022 9:40 am
AIRHEAD BLISS 930 ISUP w Pump, Gauge, Mesh Backpack
as of January 12, 2022 9:40 am
AIRHEAD PACE 1230 ISUP w Pump, Gauge, Mesh Backpack
as of January 12, 2022 9:40 am
AIRHEAD PACE 1030 ISUP w Pump, Gauge, Mesh Backpack
2 new from $568.12
Free shipping
as of January 12, 2022 9:40 am
Airhead SUP Velocity Pump, 12v, Blue, Green, Black (AHSUP-A029)
2 new from $126.82
Free shipping
as of January 12, 2022 9:40 am
AIRHEAD Vinyl Repair Kit
25 new from $4.09
Free shipping
as of January 12, 2022 9:40 am
AIRHEAD SUP Anchor Kit
13 new from $22.75
Free shipping
as of January 12, 2022 9:40 am