Are you curious about the distinctions between inflatable and hardboard SUPs? Look no further! We've got all the answers you need.
Whether you're a seasoned paddleboard enthusiast or a beginner just dipping your toes (literally) in the water, understanding the variations between these two types of paddleboards is essential.
This article'll break down the critical dissimilarities between inflatable and hardboard SUPs, helping you decide which suits your needs best. So, let's paddle on and explore the world of paddleboarding!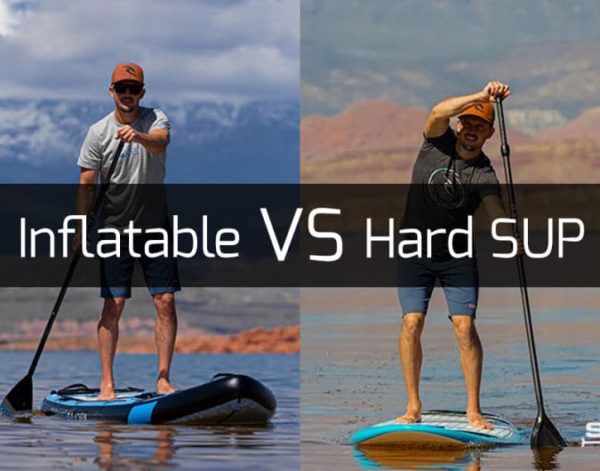 This image is the property of www.supboardguide.com.
Construction
Inflatable SUP
Inflatable SUPs, or iSUPs, are made from layers of PVC (polyvinyl chloride) material reinforced with drop-stitch technology.
This construction method involves thousands of tiny threads connecting the board's top and bottom layers, creating a rigid and durable structure when inflated. The PVC material is highly resistant to punctures and abrasions, ensuring the board's longevity even in rough water conditions.
Hardboard SUP
Hardboard SUPs, as the name suggests, are constructed from a solid piece of wood or foam core layered with epoxy resin and fiberglass. This construction method produces a rigid, sturdy board with excellent stability and longevity. Hardboards are usually lighter than inflatables, making them more agile and responsive in the water. However, they can be prone to dings and scratches, requiring regular maintenance to ensure their durability.
Portability and Storage
Inflatable SUP
One of the critical advantages of inflatable SUPs is their portability and ease of storage. When deflated, these boards can be rolled up into a compact size and stored in a backpack or a dedicated carrying case. This makes them incredibly convenient for travel or hiking to remote water locations. Additionally, inflatables can be easily transported in a car trunk or checked in as regular luggage when flying, eliminating the need for roof racks or dedicated SUP trailers.
Hardboard SUP
Unlike inflatables, hardboard SUPs are not as easily portable. Due to their solid construction, these boards cannot be deflated or folded up for compact storage. They require a dedicated storage space, such as a garage, shed, or rack. Transportation of a hardboard may require a roof rack, trailer, or pickup truck, depending on the size and weight of the board. While they may lack the portability of inflatables, hardboards make up for it with their performance and durability.
Durability
Inflatable SUP
Inflatable SUPs are designed with durability in mind. The multiple layers of PVC and drop-stitch technology make them highly resistant to punctures, abrasions, and impact. This durability is especially crucial for riders who frequently paddle in rocky waters or encounter shallow areas where they might come into contact with submerged objects. Inflatable SUPs are also less prone to dings and damage from accidental drops or collisions, making them a more forgiving option.
Hardboard SUP
Hardboard SUPs are generally more susceptible to damage and require extra care to maintain durability. The rugged exterior shell of the board, typically made from epoxy resin and fiberglass, can be prone to dings and cracks if not appropriately handled. Minor impacts or collisions with rocks or other hard surfaces can result in visible damage. However, hardboards can offer long-lasting durability and performance with regular maintenance and proper handling.
Performance
Inflatable SUP
In terms of performance, inflatable SUPs offer a versatile and forgiving experience. The flexibility of the inflatable construction provides a more buoyant ride, allowing riders to glide over waves and choppy water with ease. The slight flex in the board also absorbs shocks and vibrations, providing a more comfortable paddling experience. While inflatables may not match the speed and responsiveness of hardboards, they are well-suited for recreational paddling, yoga, and exploring calm waters.
Hardboard SUP
Hardboard SUPs excel in terms of performance and responsiveness. Their solid construction provides better speed, control, and maneuverability than inflatables. The rigid nature of hardboards allows for faster acceleration and smoother gliding, making them ideal for racing, surfing, and advanced paddling techniques. Experienced riders often prefer hardboards for their precise handling and ability to carve through the water precisely.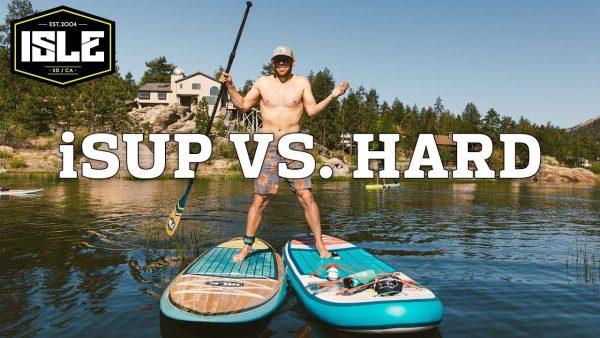 This image is the property of i.ytimg.com.
Stability
Inflatable SUP
In terms of stability, inflatable SUPs have a significant advantage. The vast and buoyant design, coupled with its inflatable nature, provides excellent stability on the water. This stability benefits beginners, larger riders, or those who prefer a more relaxed and stable paddling experience. The slight flex in the board also helps absorb small waves and chop, further enhancing stability and balance.
Hardboard SUP
Hardboard SUPs also offer stability, but they require more skill and balance to achieve. Their narrower, sleeker design makes hardboards inherently less stable than inflatables. However, with proper technique and practice, riders can adapt to the narrower width and gain stability through improved balance and control. Hardboards are favored by riders who prioritize speed and maneuverability over stability.
Speed
Inflatable SUP
In terms of speed, inflatable SUPs are generally slower than hardboards. The inflatable construction and wider shape create more resistance in the water, limiting the top speed achievable. However, this reduced speed can be a positive aspect for beginners or those looking for a more leisurely paddling experience.
Hardboard SUP
Hardboard SUPs are built for speed. Their sleeker and narrower design cuts through the water with minimal resistance, allowing riders to achieve higher speeds and cover longer distances. This speed advantage makes hardboards ideal for racing, touring, and exploring open waters. Advanced paddlers who prioritize speed and performance often prefer hardboards over inflatables.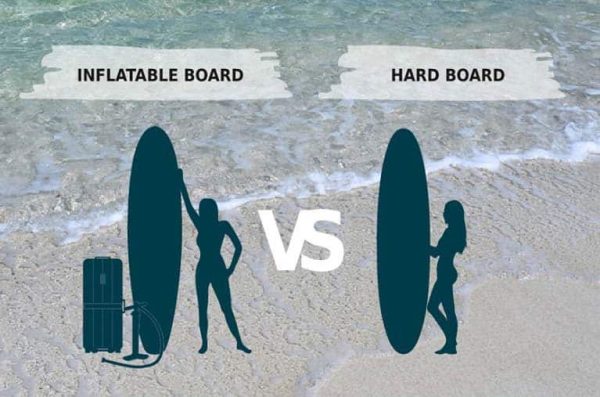 This image is the property of kayakfisherly.com.
Maneuverability
Inflatable SUP
In maneuverability, inflatable SUPs offer a more forgiving and agile experience. The flexibility of the inflatable construction allows these boards to navigate tight turns and twists easily. Flexing and moving with the water enhances maneuverability, making inflatables suitable for whitewater paddling or SUP yoga, where turning and balancing are essential.
Hardboard SUP
Hardboard SUPs excel in terms of maneuverability. These boards' rigid construction and narrower shape offer precise control and responsiveness, allowing riders to turn quickly and sharply. This maneuverability enables riders to tackle challenging conditions, navigate crowded areas, or confidently take on waves. Hardboards are favored by experienced paddlers who seek optimal control and maneuverability.
Price
Inflatable SUP
Regarding price, inflatable SUPs generally offer a more affordable option. The materials and construction methods used in inflatables are less expensive than hardboard solid construction. Additionally, the lower cost of production and shipping due to their lightweight and compact nature translates to a more budget-friendly price point for consumers.
Hardboard SUP
Hardboard SUPs tend to be more expensive than inflatables. The solid construction, premium materials, and attention to detail in manufacturing hardboards contribute to their higher price tag. Hardboard transportation and storage requirements may incur additional costs, such as buying roof racks or dedicated storage space for the board.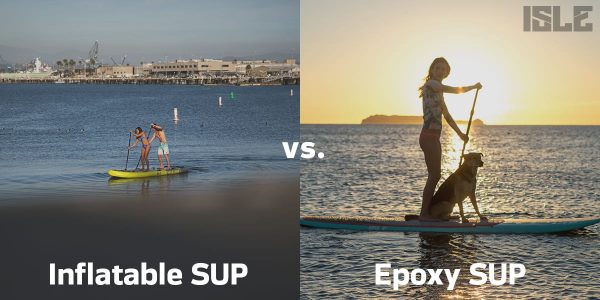 This image is the property of cdn.shopify.com.
Maintenance
Inflatable SUP
Maintaining an inflatable SUP is relatively straightforward. After each use, the board should be rinsed thoroughly with fresh water to remove salt, sand, or debris. Drying the board entirely before deflating and folding it for storage is recommended. Regular inspection for any punctures or damage is essential, and any repairs should be addressed promptly using PVC repair patches or adhesive. Proper storage in a cool, dry place away from excessive heat or sunlight will prolong the life of the inflatable SUP.
Hardboard SUP
Maintaining a hardboard SUP requires more attention and care. After each use, the board should be rinsed with fresh water to remove salt and sand. Any minor dings or scratches should be repaired using epoxy resin and fiberglass repair kits. Regular waxing of the board's surface is necessary to maintain optimal grip and prevent slipping. Proper storage in a dry place away from direct sunlight is crucial to prevent damage to the board's exterior.
Suitability for Different Water Conditions
Inflatable SUP
Inflatable SUPs are highly versatile and suitable for various water conditions. Their stability, durability, and forgiveness make them an excellent choice for calm lakes, rivers, and even mild ocean conditions.
Inflatable SUPs can handle small waves and choppy waters, providing a smooth and enjoyable ride. They are also well-suited for paddleboarding in shallow or rocky areas, as the inflatable construction helps absorb impact and prevents damage to the board.
Hardboard SUP
Hardboard SUPs excel in certain water conditions and are better suited for experienced riders. Their speed, maneuverability, and responsiveness make them ideal for open ocean paddling, surfing, and racing. Hardboards offer more control in choppy or rough waters, allowing riders to traverse challenging conditions easily. However, they may not perform as well in highly shallow or rocky areas, as the solid construction is more prone to damage from impact.
In conclusion, choosing between an inflatable SUP and a hardboard SUP depends on factors such as intended use, skill level, storage space, and budget. Inflatable SUPs offer excellent portability, durability, and stability, making them a great option for beginners, recreational paddlers, and those seeking convenience and transportation.
On the other hand, hardboard SUPs provide superior performance, speed, and maneuverability, making them the preferred choice for experienced riders, racing enthusiasts, and those who prioritize high-level control and responsiveness. Consider your specific needs and preferences before deciding, and enjoy the wonderful stand-up paddleboarding experience!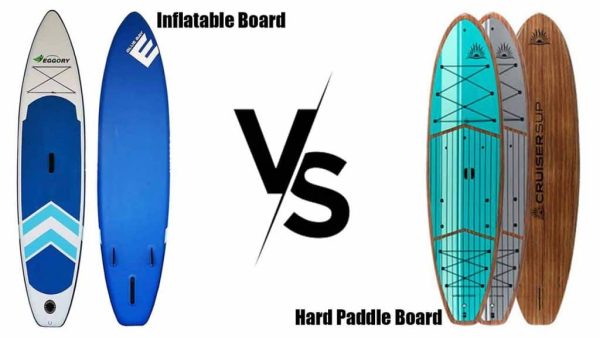 This image is the property of kayakfisherly.com.