This Paddle Board are perfect to use in different kind of activities such as yoga, fitness, cruising, kayaking, sup fishing and more.
The BONSPO Inflatable Paddle Board is one of the most long-lasting boards on the market.
Review BONSPO Inflatable Stand Up Paddle Board
Technical specifications
Size: 10'6″x 31″x 6″
Weight limit: 275 lbs
Layers: Single PVC layer
Recommended for: Beginners, holidays, fishing
Transferability: Board weight 18.1 lbs
Several words about the main features of BONSPO SUP board
Unlike other mid-range boards, BONSPO SUP can point out that it has an anti-slip deck on both sides of the board, and is additionally protected with an anti-slip deck on the front of the top and bottom board.
Also one of the advantages of this board is two built-in handles for easier transfer and manipulation of the board.
BONSPO SUP can boast of the fact that it can be converted into a kayak,  I mean it has 4 D-Ring to mount the backrest. Since it can be converted into a kayak, it is great to use as a fishing SUP.
The dimensions of this SUP board are standard for all-around class, ie 10'6 "Long x 31" wide and 6 "thick.
Considering that the recommended inflation pressure is between 10-15 psi, we can conclude that it is a single PVC layer board, which is not common for mid-range boards.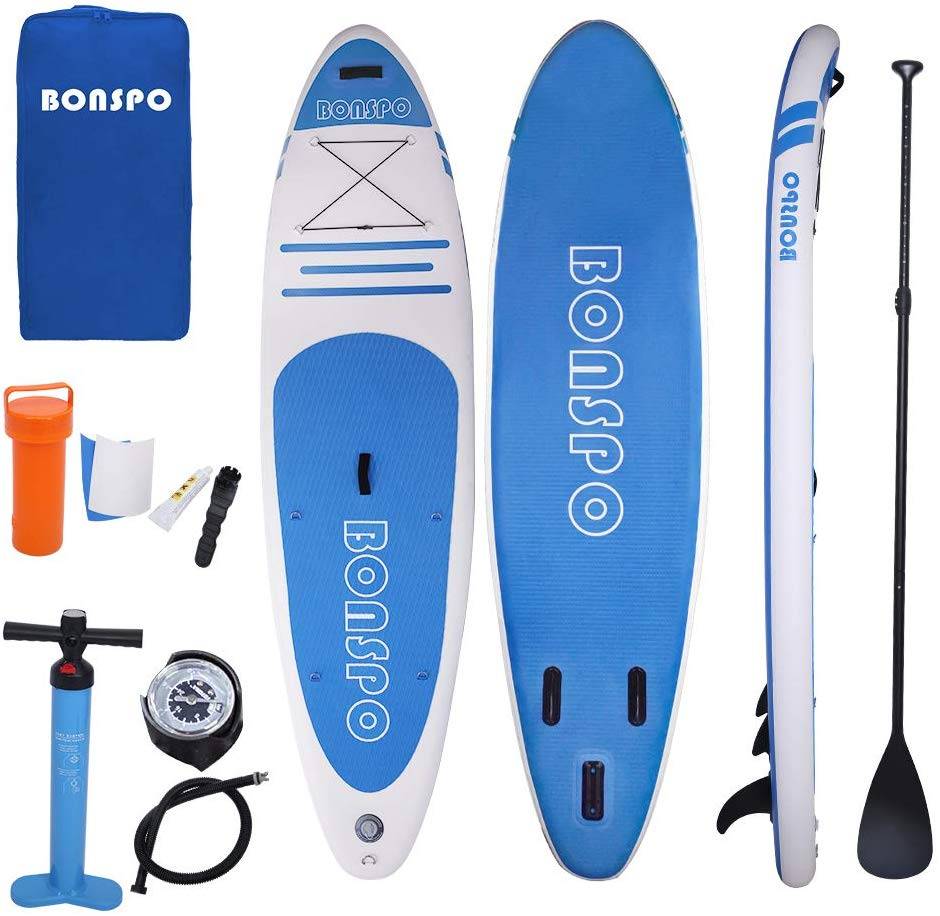 read next – SUP Yoga Training program with Examples
What's included in the BONSPO SUP pack?
board
pump with integrated pressure gauge
leash
removable fin
repair kit
premium backpack
Pros:
Easy transport and manipulation
Cons: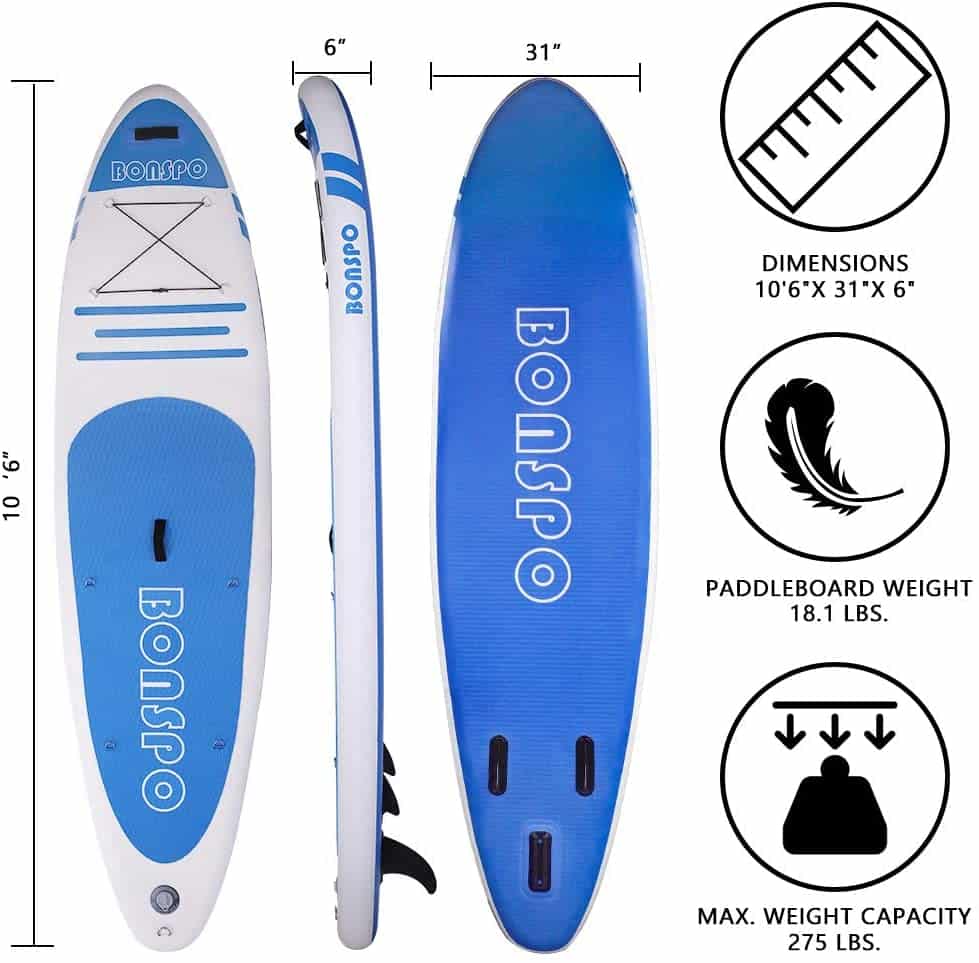 Read Next – Fun Water Inflatable Ultra-Light SUP Review
FunWater Inflatable 10'6×33"×6" Ultra-Light (17.6lbs) SUP for All Skill Levels Everything Included with Stand Up Paddle Board, Adj Floating Paddle, Pump, ISUP Travel Backpack, Leash,Waterproof Bag
2 new from $199.95
8 used from $170.54
Free shipping
as of September 20, 2021 2:53 pm
Roc Inflatable Stand Up Paddle Boards W Free Premium SUP Accessories & Backpack { Non-Slip Deck } Bonus Waterproof Bag, Leash, Paddle and Hand Pump !!! Youth & Adult (Pink)
6 used from $356.20
Free shipping
as of September 20, 2021 2:53 pm
SereneLife Inflatable Stand Up Paddle Board (6 Inches Thick) with Premium SUP Accessories & Carry Bag | Wide Stance, Bottom Fin for Paddling, Surf Control, Non-Slip Deck | Youth & Adult Standing Boat
5 new from $300.04
4 used from $255.85
Free shipping
as of September 20, 2021 2:53 pm
PathFinder Inflatable SUP Stand Up Paddleboard Set 9' 9" (5" Thick)
as of September 20, 2021 2:53 pm
Vilano Navigator 10' 6" Inflatable SUP Stand Up Paddle Board Package
as of September 20, 2021 2:53 pm
Inflatable Stand Up Paddle Board - 10' Ft. Standup Sup Paddle Board W/ Manual Air Pump, Safety Leash, Paddleboard Repair Kit, Storage / Carry Bag - Sup Paddle Board Inflatable - SereneLife SLSUPB06
4 new from $288.14
8 used from $237.23
Free shipping
as of September 20, 2021 2:53 pm
Roc Inflatable Stand Up Paddle Boards W Free Premium SUP Accessories
7 used from $278.80
Free shipping
as of September 20, 2021 2:53 pm
TUSY Inflatable Paddle Boards Inflatable Paddleboards Stand up with SUP Paddle Board Accessories and Carry Bags, Non-Slip Deck, Paddles, Leash and Fin for Surf Standing Boat for Youth & Adult, 10FT
4 new from $155.99

as of September 20, 2021 2:53 pm
Goplus Inflatable Stand Up Paddle Board, 6" Thick SUP with Accessory Pack, Adjustable Paddle, Carry Bag, Bottom Fin, Hand Pump, Non-Slip Deck, Leash, Repair Kit (Blue, 11FT)
as of September 20, 2021 2:53 pm
Aqua Plus 10ft6inx33inx6in Inflatable SUP for All Skill Levels Stand Up Paddle Board Boat, Adjustable Paddle,Double Action Pump,ISUP Travel Backpack, Leash, Shoulder Strap, TPU Waterproof Bag
5 used from $178.84
Free shipping
as of September 20, 2021 2:53 pm
Hydro-Force Aqua Journey Inflatable Stand Up Paddle Board, 9' x 30" x 6" | Inflatable SUP for Adults & Kids | Complete Kit Includes Adjustable Aluminum Paddle, Hand Pump, Travel Bag, Surf Leash
1 used from $193.79
Free shipping
as of September 20, 2021 2:53 pm
Aqua Plus 11ftx33inx6in Inflatable SUP for All Skill Levels with Stand Up Paddle Board Boat, Adjustable Paddle,Boat Double Action Pump,ISUP Travel Backpack, Leash, Shoulder Strap,TPU Waterproof Bag
out of stock
as of September 20, 2021 2:53 pm