For whom Tower Adventurer 2 is intended 
If you're looking for a neutral board that can be used by both genders, people of any age and experience, you are looking at a pretty good one!
This is one of the best-selling paddleboards of all time, not only because of its quality but also because of the accessories you get with it.
Read the rest of Tower Adventurer 2 review.
It is inflatable and portable, which makes it great for those who like to travel.
It's suitable for all waters: oceans, rivers, lakes and even pools.
The technology of making a Tower Adventurer 2 board
The military-grade PVC material this product is made of will ensure durability.
You don't have to worry about dents, cracks, and scratches.
It's an excellent investment to make since it lasts.
It is a bit pricey when compared to other boards, but the quality is excellent, the material is dense and the experience is suitable for those of any age.
Adventurer 2 core is made by drop stitch technology, and for typical performance is optimal to inflate board at 11 psi. Its safe tested to 25 psi.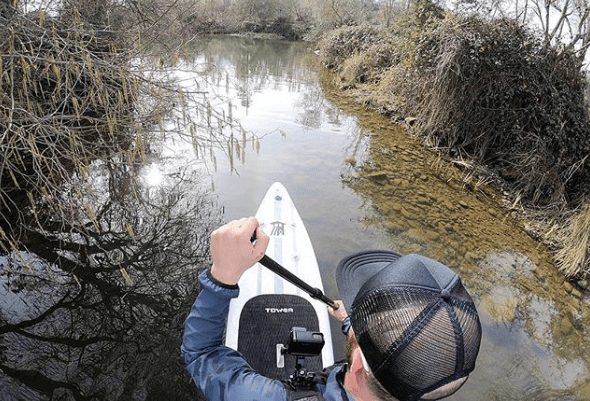 What is the size of the Tower Adventurer 2 board and how it affects the ride 
It is pretty wide (32") and it's 10"4′ long, which takes part in the stability this particular model has.
Besides that, the fin at the bottom makes it much easier for beginners to maneuver the board.
It's much easier to spin and turn the whole thing, which means that even kids, teens and young adults (those with less strength) can use it.
Weight capacity – maximum support weight of SUPer
Official by the manufacturer is 350 lbs, but it can go to 400 pounds in real life.
What is included in Tower Adventurer 2 package
With the board, as we have previously mentioned, you get a set of accessories: a high-pressure pump, a diamond grooved deck pad, a removable center fin, a handhold strap, a roll-up carrying strap, and repair.
The onboard deck pad is a cargo net.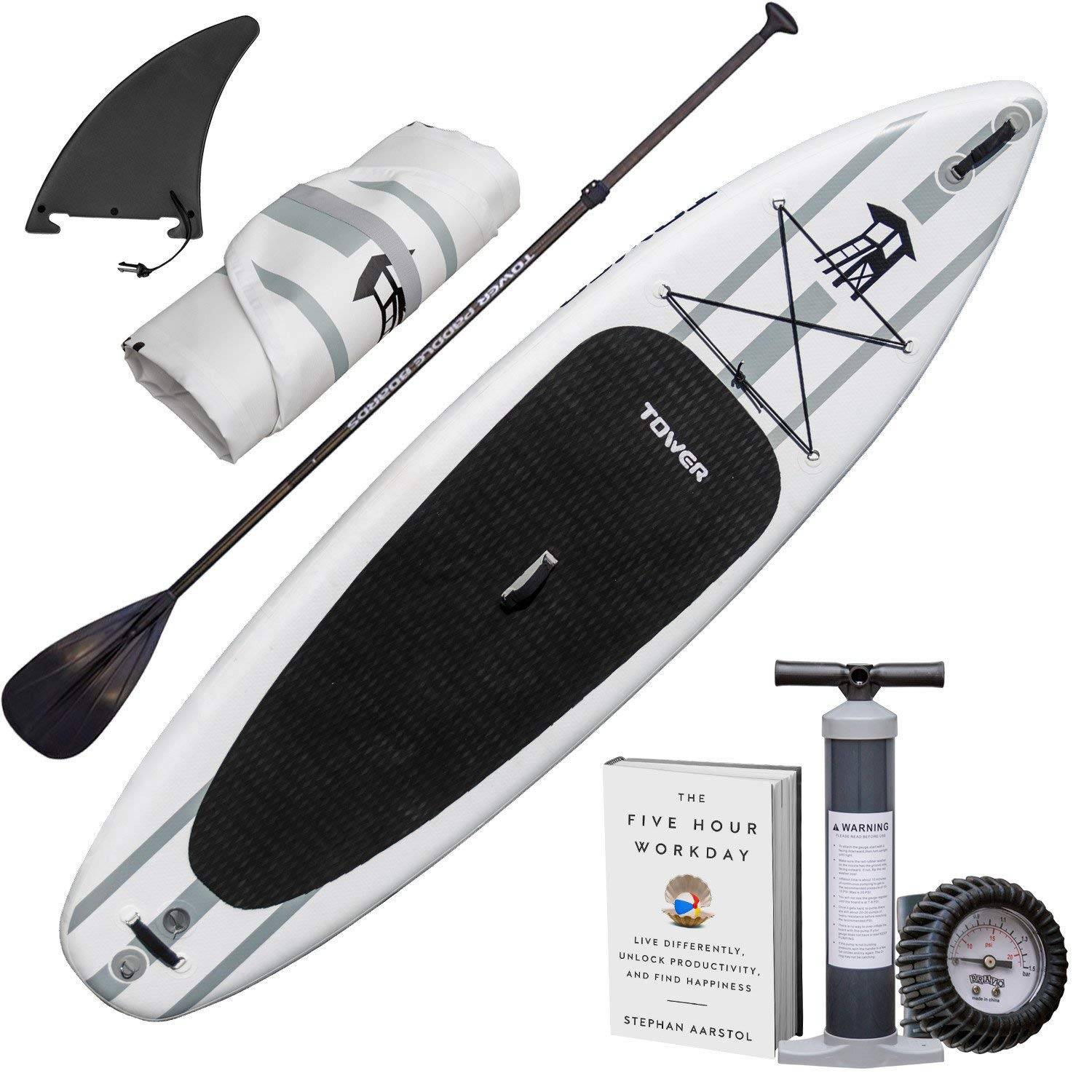 Which are the advantages and disadvantages of Tower Adventurer 2
-Advantages
Tower Adventurer 2 Inflatable is great for those who like to bring along a pet as well! There are enough space and the stability is just beautiful!
Complete paddleboard kit included.
2-year warranty on board.
Excellent stability and weight capacity for the length of the board.
-Disadvantages
Difficult(long time) to inflate.
Pump not so quality.
The white color gets dirty very quickly.
Last updated on December 31, 2020 11:22 am