The Tower Adventurer 2 Paddle Board is a well-known 10.4 inflatable board that provides max rigidity and durability.
It's a giant paddle in Tower's lineup, and it is the best option for anyone who needs a longer paddleboard for all-around use.
If you're looking for a neutral board that both genders can use, people of any age and experience, you are looking at a pretty good one!
This is one of the best-selling paddleboards of all time, not only because of its quality but also because of the accessories you get with it.
The Tower is famous for offering the best value due to its manufacturer's direct business model, and Tower Adventurer 2 continues to build on that value.
Packed with advanced features typically seen on the SUPs at much higher price tags, the Adventure 2 combines the highest quality materials and builds with the convenience that only an inflatable SUP can provide!
In this review, we will take a deeper look at the standout features of the paddleboard, technical says, warranty, and much more.
If you're in the bazaar for an inflatable SUP of this size, it is the board that we recommend considering.
The technology of making a Tower Adventurer 2 board
The military-grade PVC material this product is made of will ensure durability.
You don't have to worry about dents, cracks, and scratches.
It's an excellent investment to make since it lasts.
It is a bit pricey compared to other boards, but the quality is excellent, the material is dense, and the experience is suitable for any age.
Adventurer 2 core is made by drop stitch technology, and for typical performance is optimal to inflate the board at 11 psi. It was safely tested to 25 psi.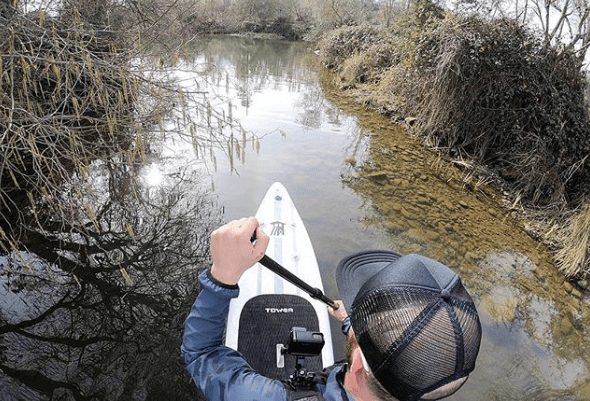 Read Next – All About Adventurer 2 Inflatable Paddle Board Package
What is the size of the Tower Adventurer 2 board, and how does it affects the ride? 
It is pretty broad (32″), and it's 10 "4′ long, which takes part in the stability this particular model has.
Besides that, the fin at the bottom makes it much easier for beginners to maneuver the board.
It's much easier to spin and turn the whole thing, which means that even kids, teens, and young adults (those with less strength) can use it.
Weight capacity – maximum support weight of SUPer
Official by the manufacturer is 350 lbs, but it can go to 400 pounds in real life.
What is included in Tower Adventurer 2 package?
As we have previously mentioned, with the board, you get a set of accessories: a high-pressure pump, a diamond grooved deck pad, a removable center fin, a hand hold strap, a roll-up carrying strap, and repair.
The onboard deck pad is a cargo net.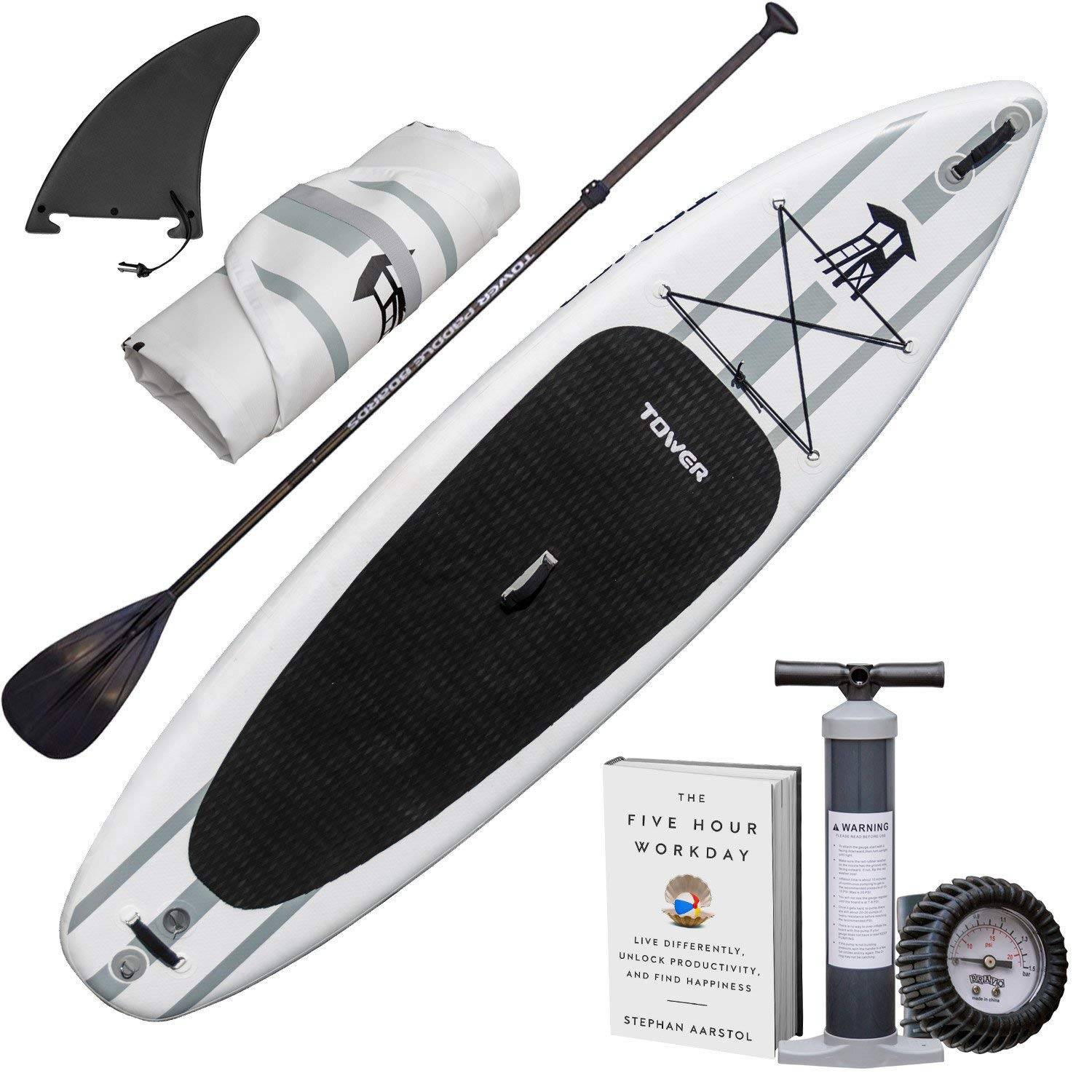 Read Next – Best Tower SUP Australia For You in 2022
Design 
Now, this paddle is certainly not small in size. The Tower Adventurer 2 Paddle Board is 10.4 long and can take both big and small riders. The exact measurement is best for various activities, from recreational paddling to touring or fitness or working out.
I said, working out with SUP yoga in mind. This paddle is 32 inches wide which I would rarely say for SUPs in the range of 10′ length. Those 32″ will ensure you are entirely stable in any position you take.
This paddle feels it is wire compared to other boards that barely reach 30″ in length. As for thickness, I am pretty excited to tell you that the Tower Adventurer 2 Paddle Board was run over by a vehicle that got nothing on it.
The 6″ thickness makes the paddleboard very stiff to keep you floating beyond water even it reaches its weight capacity.
Tower Inflatable 10'4" Stand Up Paddle Board - (6 Inches Thick) - Universal SUP Wide Stance - Premium SUP Bundle (Pump & Adjustable Paddle Included) - Non-Slip Deck (Mermaid - 10'4")
as of November 10, 2022 10:02 am
Build Quality
It is here where things get serious. The Tower brand is known for going extreme regarding how rugged are the stuff to construct their paddleboards.
The Tower Adventurer 2 Paddle Board is made with drop stitch technology that uses tons of fibers to link the top deck to the bottom to hold its formation and expand its lifetime.
The military-grade PVC is also solid. It is used to build river rafts and bulletproof vests. Unless something very sharp occurs to stab this paddleboard strongly, it will tell about all the adventures you have taken it through.
Therefore, being a friendly user is highly recommended.
Read Next – Tower 10'4" Paddle Board Review
Main Features
Unlike the no-frills 12.6 Tower IRACE, XPLORER 14′ and 9.10 Tower Adventure 1, the nose of the SUP feature a standard four-point elastic bungee storage unit which is always handy for storing your essentials while you are on the water.
The top of the board features a super soft, non-slip deck pad that's made to provide fine grip. A carrying handle also makes it super easy to carry around.
Also, this board features a vertical carry handle that makes it super smooth for the user to take the paddleboard in/out of the paddleboard. The tail of the board features a Hal Key Roberts valve.
This paddleboard can be inflated manually with the included pressure pump or automatically with a compatible electric air pump. It is also a D-ring for attaching the included safety leash and second grab handle.
Tower Inflatable 10'4" Stand Up Paddle Board - (6 Inches Thick) - Universal SUP Wide Stance - Premium SUP Bundle (Pump & Adjustable Paddle Included) - Non-Slip Deck - Youth and Adult - Chris Craft
2 new from $829.00
Free shipping
as of November 10, 2022 10:02 am
Performance
What I appreciated most about the Tower Adventurer 2 Paddle Board was its versatility; it performed professionally and beautifully in both white and flat glasses of water.
Its sharp nose lets it make its way through the water quickly and swiftly with minimum effort, while the stiffness of its body and the triplefin navigation systems add significantly to the speed factor.
This paddleboard is steady and stable. Anybody can move on top of it, maneuver, perform, or even play SUP yoga.
I wouldn't exaggerate when I say that the Tower Adventurer 2 Paddle Board is one of the most stable boards.
All in all, riding this rigid board was a pleasure that reflected how much effort was put into making it, and with a two years warranty, the Tower brand is proving to stand behind their handcraft.
Read Next – Top 10 SUP Beginner Mistakes- How (not to) Stand Up
Accessories included
The Tower includes the following accessories with Tower Adventurer 2 Paddle Board:
The large removable center fin
Manual pump
Three-piece fiberglass paddle
A few things are lacking in Tower Adventurer 2 Paddle Board bundles: safety leash and paddle backpack.
Many years ago, this was acceptable, but competition has gotten stiff, and they're much better SUP packages being offered currently than Tower's SUP lineup.
Read Next – Tower Adventure Paddleboard
What I like
Well-engineered
The board is one of the best paddleboards out there.
It is pretty stable, and it performs well on various water conditions
The best thing about the paddleboard is its 32″ width; it makes the SUP durable and balances even when weight capacity is reached.
The rear kick-pad is excellent to add for reasonable control and supreme performance.
It is challenging and rigged that a vehicle could run over it, leaving no harm.
It can take over every water condition tank to its solid body and super sleek design.
What I don't like
The Tower Adventurer 2 Paddle Board is simple to package but lacks a bag and repair kit. You mightn't need this latter, but you will need to purchase a separate bag for the paddleboard.
Read Next – TOWER Xplorer Inflatable 14′ Stand Up Paddle Board
End words…
I like Tower am doing in the world of SUP, and the Tower Adventurer 2 Paddle Board is a solid option in this price tag.
Tower provides a lot of value for the money with this paddleboard, and because it's well-built and the Adventure 2 should provide you with several years of adventures and memories.
This is a beautiful paddleboard that we confidently recommend at the last of the day.
Read Next – Tower Yachtsman Inflatable Paddle Board 10'4″ Review
Tower Inflatable 10'4" Stand Up Paddle Board - (6 Inches Thick) - Universal SUP Wide Stance - Premium SUP Bundle (Pump & Adjustable Paddle Included) - Non-Slip Deck - Youth and Adult - Chris Craft
2 new from $829.00
Free shipping
as of November 10, 2022 10:02 am
Premium Inflatable Stand Up Paddle Board - 11'6" x 32" x 6" - Complete Fishing & Touring Inflatable Paddle Board Kit - Includes Full Accessories Seat, Travel Bag, Cooler, 2+1 Fin System, Pump, Paddle
3 new from $1,200.00

as of November 10, 2022 10:02 am
Pathfinder Inflatable SUP Stand-up Paddleboard Bundle Blue
out of stock
as of November 10, 2022 10:02 am
FunWater Inflatable 10'6×33"×6" Ultra-Light (17.6lbs) SUP for All Skill Levels Everything Included with Stand Up Paddle Board, Adj Floating Paddles, Pump, ISUP Travel Backpack, Leash,Waterproof Bag,
2 new from $199.95
2 used from $191.95
Free shipping
as of November 10, 2022 10:02 am
Premium Inflatable Stand Up Paddle Board (6 inches Thick) with Durable SUP Accessories & Carry Bag | Wide Stance, Surf Control, Non-Slip Deck, Leash, Paddle and Pump , Standing Boat for Youth & Adult
7 new from $199.99
4 used from $187.00
Free shipping
as of November 10, 2022 10:02 am
Tower Xplorer Inflatable 14' Stand Up Paddle Board - (8 Inches Thick) - Universal SUP Wide Stance - Premium SUP Bundle (Pump & Adjustable Paddle Included) - Non-Slip Deck - Youth and Adult
as of November 10, 2022 10:02 am
Tower Inflatable 10'4" Stand Up Paddle Board - (6 Inches Thick) - Universal SUP Wide Stance - Premium SUP Bundle (Pump & Adjustable Paddle Included) - Non-Slip Deck (Mermaid - 10'4")
as of November 10, 2022 10:02 am