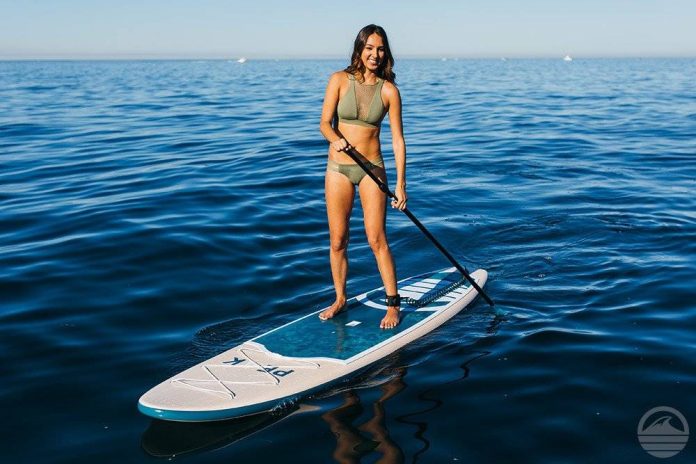 In this review, we will talk about sup board that becomes in the All-round category.
Peak 10'6 Navigator Super Duty stand up paddle board is one of the cheaper models, great for beginners, but doesn't fall into the "less-professional" category.
It's still great to use for personal hobbies, for rentals, hotels, and SUP schools.
Technical characteristics:
The technology of making: Molded Thermoplastic Polycarbonate outer shell
Dimensions: It comes in 10'6 x 32' x 4.8"
Deflated board weight is 29 lbs
Bearing capacity or maximum support weight of the rider: 209 lbs
It is durable and lightweight, which is great for those who are just getting into the whole thing and they feel like they might ruin the SUP by not handling it right.
If you drop this board, there will be no damage.
It's not inflatable, it's made from an EPS foam core, a glass coating and a molded plastic polycarbonate.
The outer shell is resistant to heat which is great if you use this equipment on the beach and you often leave it standing in the sun.
Peak 10'6 Navigator Super Duty stand up paddleboard package includes:
Adjustable 2 Piece Alloy Paddle Nylon
10 ft Coil Ankle Leash
9-inch Nylon Center Fin
Water Proof Smart Phone Case
It weighs a bit more than 29 lbs, which is a great thing for teenagers and kids.
It is stable and you can use it on any type of water.
If you have a school or just like to use the paddle board with a friend, you can surely do so because this model is very wide and can be used by multiple people at the same time.
The set includes 2 alloy paddles which float, an ankle leash, a center fin and a bonus smartphone case for those who enjoy using their phone on the open sea. Safety first!
You get a year warranty and you can give this equipment back if it doesn't fit you, but we are sure that you will love it.
The only thing to pay attention to is the fact that it has a maximum capacity of 275 lbs!
If you're weighing more than that, you may be endangering yourself because the stability is not as good anymore.
Last updated on September 20, 2020 2:48 am