Indeed, you've seen it at sea, and maybe you did not even know what it was called, but the stand-up paddleboard has grown in popularity in recent times. Its success is mainly due to its ability to provide a delightful and fun experience in the water.
The Hydro-Force FREESOUL SUP differs from the classic rigid SUPs in that it's in an inflatable model, ready for use in a couple of minutes, and is simply transportable that permits you to paddle on any body of water.
A paddleboard is made from Tri-Tech & drop stitch material providing unparalleled strength, stability, and durability to help you explore.
Bestway Hydro-Force Freesoul Tech Inflatable SUP
An attachable seat and footrest mean you can turn your paddleboard into a kayak- ideal for added stability and versatility on your SUP.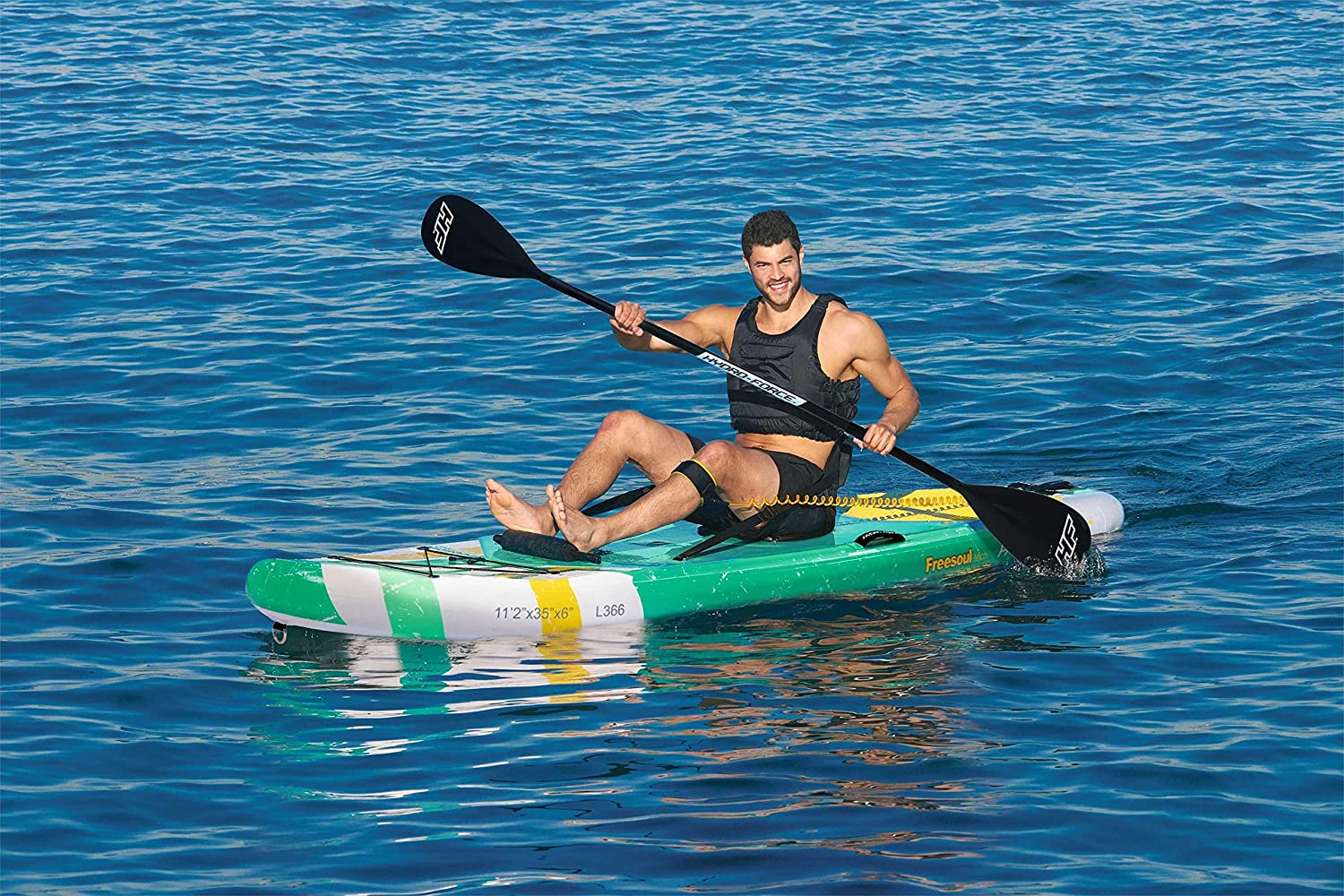 The inflatable board features a non-slip traction pad that ensures a solid and stable foundation to ensure comfort and steadiness for any rider.
A functional travel bag makes it easy to transport your SUP and accessories, and the board is straightforward to inflate using a hand pump provided
Perfect for long and safe tours on the water, suitable for sailing, yoga, and kayaking- dimensions: 340 cm x 89 cm
Hydro-Force FREESOUL is an ideal board for those approaching this kind of activity for the first time: this is because it's incredibly comfortable to use, particularly if you've never tried rigid SUPs. The enormous size combined with good stability makes it ideal for all those who want to approach this kind of water fun.
Exceptionally performing even during frequent as well as intensive use once inflated and put in the water, you can enjoy max stability standing on the paddleboard thanks to the non-slip deck that'll let you face long excursions on flat water, via big lakes calm beaches, discovering the coves near to the cliff or even entering sea caves, which are often very small for a boat.
The performance of the Hydro-Force FREESOUL is in part with rigid SUP, but in terms of comfort, it's far better. In fact, before assembly, this SUP had tiny and compact measurements contained in the unique bag, combined with the inflation air pump, the SUP paddle, and the other assembly essentials. This is a vital aspect when you do not have a place to keep your paddleboard.
Hydro-Force Bestway Freesoul Tech Convertible SUP Set, Inflatable Stand Up Paddle Board with Seat, Green, 11 ft 2 Inch
out of stock
as of November 29, 2023 1:42 pm
Read Next – BESTWAY Hydro Force Aqua Journey Review
Having one that fits easily in the vehicle's trunk and inflates in just a few moments is surely much more comfortable than having a rigid one that takes up a lot of room.
As for the dimensions, the SUP falls into the category of SUP touring as it measures 3.4 meters in length, 89cm in width, and 15cm in thickness, sufficiently wide and long to make steering more accessible and faster.
Thanks also to the tapered hull that permits the SUP to glide on the water better. In terms of resistance, this SUP is made by combining the quality and tech that have always distinguished the Hydro-Force FREESOUL, tri-tech, a unique three-state reinforced PVC with drop-stitch knit core, a solid polyester base with a thousand thread enclosed by two layers of laminated PVC.
This means that in addition to guaranteeing the excellent durability of the paddleboard, the particular sort of design makes a great armor that allows the paddleboard to cope with all the force of the water without suffering minor damage.
In addition to being inflatable, this variant also stands out for its supreme versatility. By fixing the seat with a footrest and backrest to the table, the Hydro-Force FREE SOUL turns into a comfortable kayak, perfect for those who love long excursions or who want to practice yoga work out at sunset in relaxation.
At the mid of the SUP, there's also the predisposition to insert the most food of the sail to practice and dedicate oneself to windsurfing. In short, you can change the game whenever you like, and even if you fall into the water, the elastic cord forever makes sure you can get back to the board.
The directional and removable fins below the SUP will make this board even easier to maneuver and a perfect feature particularly for the less experienced. Onboard, there's a convenient storage net in the front, where you can place a backpack or, why not even, your fishing equipment.
After the activity, carrying the SUP out of the water is even more comfortable, thanks to the practical side handles. Onboard, Hydro-Force FREESOUL fun is guaranteed! Do you not feel like standing and paddling?
Do you want to try windsurfing? The removable daggerboard will let you ride the foaming waves! Just turn your board into the kayak.
Read Next – Hydro-Force Oceana Paddle Board Review
Accessories are included in the package. 
Leash 
The SUP leash is an indispensable accessory for a board in complete safety. It's the link between the rider and the board in case of a fall.
The Hydro-Force spiral SUP leash is a space-saving leash that would not drag in the water behind your SUP and with which you would not risk getting tangled.
Fins 
The two fins are supplied with the SUP paddle. They provide incredible directional stability in the hollow of the waves and on flat water. Straight like or maneuvers, it is up to you!
Read Next – Bestway Hydro-Force Inflatable Stand up Paddle Board Review
Paddle kayak
The Hydro-Force FREESOUL paddleboard is delivered in addition to the essentials with a paddle convertible, a seated kayak, and a footrest. Turn your board into a sit-on-top kayak quickly with this kayak seat.
This super soft and padded seat has a solid bui8ld for efficient back support and super comfort for full day paddling and relaxing on the water.
The paddle convertible provides you the opportunity to enjoy your seat to the fullest and converts to a dual-blade paddle kayak. Using a double paddle in the seated position offers better balance and more maneuverability.
In addition, the footrest will provide you with better support for even further stability and power in your movements.
Read Next – Bestway Hydro Force Oceana Inflatable SUP
The accessories are supplied with the Hydro-Force FREESOUL Stand UP paddleboard. 
The Hydro-Force FREESOUL paddleboard will be supplied with a practical backpack for efficient storage space and easy transport. Remarkably ultra-light and functional, this carry bag is ideal for paddles of various sizes.
Also, included the Hydro-Force action high-pressure pump is straightforward to use. Lastly, an adjustable 3 part aluminum paddle and an elastic polypropylene leash complete the SUP package.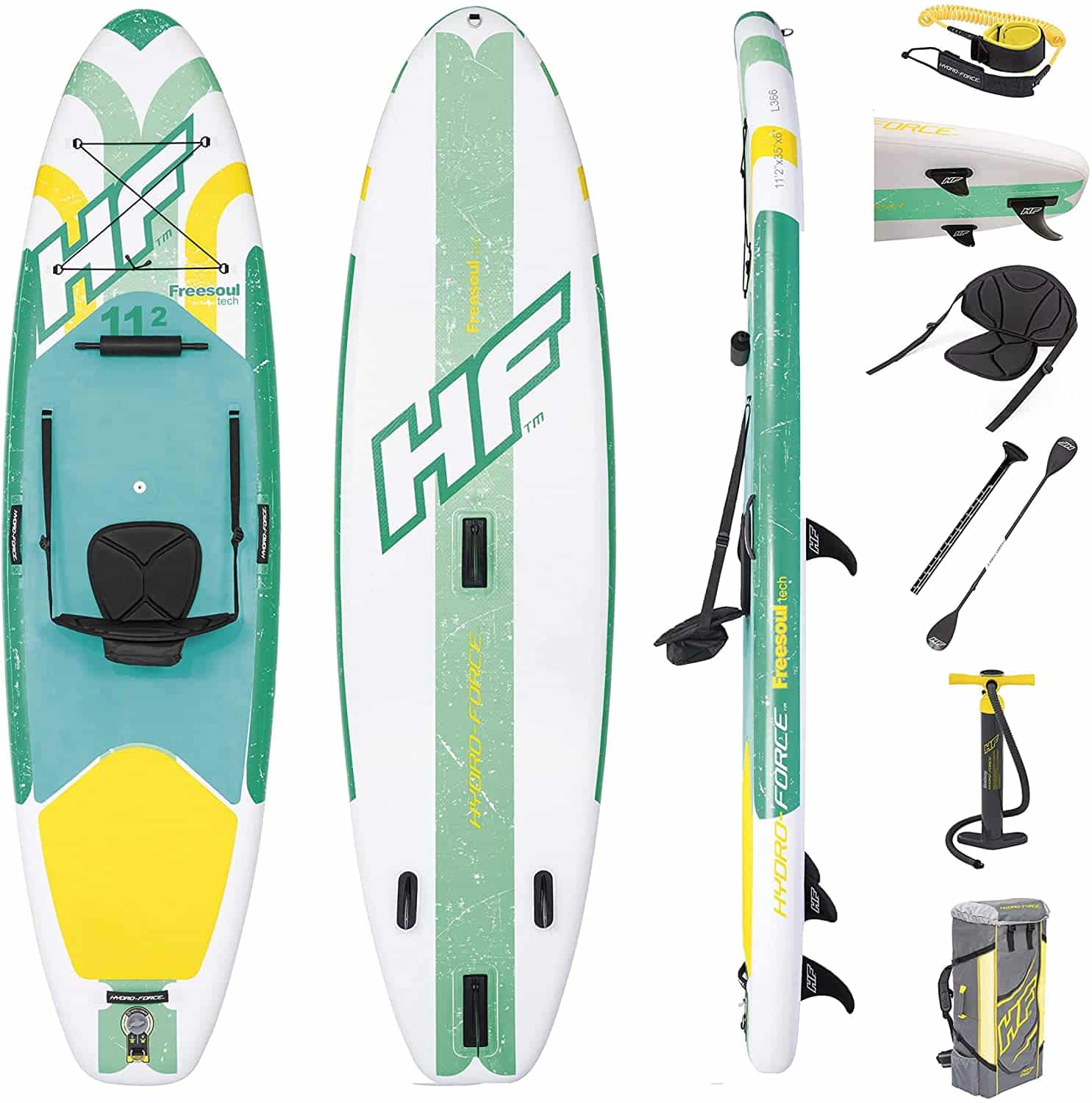 Removable daggerboard so that the board can be used for windsurfing
Contents: Paddleboard, hand pump, deluxe backpack, surf leash, seat, footrest, repair kit
Read Next – Stand up paddling influence to psychophysical health
Hydro-Force Bestway Freesoul Tech Convertible SUP Set, Inflatable Stand Up Paddle Board with Seat, Green, 11 ft 2 Inch
out of stock
as of November 29, 2023 1:42 pm
Bestway Hydro-Force Huaka'I Tech Inflatable SUP Stand Up Paddle Board with Carry Bag and Pump
out of stock
as of November 29, 2023 1:42 pm
Hydro-Force White Cap Inflatable Stand Up Paddle Board, 10' x 32" x 4" | Inflatable SUP for Adults & Kids | Converts into Kayak | Complete Kit Includes Kayak Seat, Oar, Pump, Travel Bag, Ankle Leash
2 new from $245.99
1 used from $222.77

as of November 29, 2023 1:42 pm
DAMA Inflatable Stand Up Paddle Board 11'*33'' *6'', Inflatable Yoga Board, Dry Bags, Camera Seat, Floating Paddle, Hand Pump, Board Carrier, Durable & Stable for 3 People
2 new from $289.99
3 used from $197.99
Free shipping
as of November 29, 2023 1:42 pm
ADVENOR Paddle Board 11'x33 x6 Extra Wide Inflatable Stand Up Paddle Board with SUP Accessories Including Adjustable Paddle,Backpack,Waterproof Bag,Leash,and Hand Pump,Repair Kit (Blue)
5 used from $161.59
Free shipping
as of November 29, 2023 1:42 pm