Skiffo'S New Sun Cruise Board Features One Of The Most Innovative Shapes.
With Its Rounded Rails And Pointed Nose, This Board Gives You Great Response Whether You'Re Touring Or Wave Riding.
The SKIFFO Sun Cruise Inflatable SUP is a suitable performance paddleboard for those trying to get into the world of SUPs or for those with experience looking to upgrade to an all-around fun board.
As a well-made all-around SUP, the SKIFFO Sun Cruise Inflatable SUP offers a solid mix of glide, tracking, speed, and maneuverability, allowing you to have fun engaging in all kinds of water sports.
Features Skiffo Sun Cruise Inflatable iSUP
The solid construction provides the 10′.10″ SUP is a resilient build that withstands almost everything you through at it, with a balanced weight that's simple to carry but withstand wind and chop alike.
The SKIFFO Sun Cruise Inflatable SUP also has a great deck pad that's soft and gives a solid grip to stand on.
Who Should Buy SKIFFO Sun Cruise Inflatable SUP
All-round paddleboards are built so that every kind of paddler can try all types of water sports when they are paddling on the water. The sort of paddlers we think will like the SKIFFO Sun Cruise Inflatable SUP the most include:
Brand new paddlers who want SUP that's beginner-friendly
More advanced paddleboarders want a top-class performance SUP that's simple to travel with.
Riders who want a good balance of stability, tracking, and maneuverability
Lighter solo paddlers – Big paddlers should look at the SKIFFO Sun Cruise Inflatable SUP
Those who love the design and look of the well-known SKIFFO Sun Cruise SUP
This SKIFFO Sun Cruise Inflatable 10′.10″ SUP offers supreme performance almost anywhere you take it.
Some water settings we suggest trying out the SKIFFO Sun Cruise Inflatable 10′.10″ on include:
Bays, lakes, marinas, and other soft water settings for the best overall performance.
Winder, choppier water conditions with surprisingly little performance loss.
Ocean paddling – Explore the great blue sea and try to catch a wave with SKIFFO Sun Cruise Inflatable 10′.10″ if you are daring!
River paddling – Get some practice in maneuvering with the 10'10" before you try to navigate the river.
Read Next – Bluefin Cruise Carbon – Outdoor Gear Lab Inflatable SUP
Designed
This SUP has a primarily traditional all-around design, with 330 by 82 by 15 cm matching several well-known paddleboards.
The key difference with this board is the thickness, which keeps the weight down and keeps you closer to the water more excellent stability and control.
The performance of the SUP makes it fun for all kinds of casual paddleboard activities, a true jack of all trades board that'll allow you to sample a bit of all. You can go on a fun tour with 10′.10″ SUP. have a close race with your buddies or enjoy cruising around on this great paddleboard.
Hikers, or those traveling long distances, will highly appreciate this SKIFFO Sun Cruise Inflatable 10′.10″ SUP as a top performance adventure board, while younger riders will enjoy how lightweight and simple it's to handle the SUP.
Read Next – Bluefin Cruise SUP Package Stand Up Inflatable Paddle Board
Performance
On a SUP that costs enough to purchase 2 or 3 cheap SUPs, you would have your eyes settled on the performance assessment chapter more than anything.
Indeed, we want to solid SUP, but we want one that necessarily outperforms anything else that is cheaper.
Hence, paddling wouldn't come as a surprise that the SKIFFO Sun Cruise Inflatable 10′.10″ SUP is one of the few recreational SUPs out that can rival the big giants down to the racing section. This SUP at hand is perhaps the only entry-level board with such a clear finish.
The SUP is undeniably a master creation seen in each curve and bumps on its hull. This paddleboard has gone miles ahead of its supposed competitors, from the ultra-smooth edges to the rightly tuned shape.
The board at hand is also equipped with a sublime navigation system that provides it enough agility and pose to maneuver like fish once handled rightly and cut through the water like a knife through butter. The SKIFFO Sun Cruise Inflatable 10′.10″ offers excellent stability that'll make it an enjoyable paddling experience for most adults who use it.
The thickness lowers your center of gravity, so you feel a bit more in control of your paddleboard while you paddle in the water rather than on the top. The nose and tail are both thicker for added stability and weight support.
The reinforced rail tape also increases the rigidity and firmness of the paddleboard, enhancing the stability and overall feel while you are on the ride. SKIFFO Sun Cruise Inflatable 10′.10″ has also put in the work with some light chop & wind.
Overall, this SKIFFO Sun Cruise is Inflatable 10′.10″ SUP offers excellent stability to solo riders, although adults who weigh than weights more than 300 pounds can consider other models.
Read Next – Hyperlite Alki 11 Stand UP Paddleboard
Accessories Included in the package. 
A backpack with roller wheels – A bag specially made for the adventurers with super comfortable handles and four roller wheels on the base.
This compact bag has clamping straps to keep the deflated paddleboard in place and pack it as tight as possible. There're also lethal pockets to store paddle and a front pocket to slide fin or your essentials.
Three-piece SUP paddle – SKIFFO Sun Cruise Inflatable 10′.10″ package includes a solid three-piece aluminum paddle. It is telescopic, and its length can be adjusted according to your needs. The angle of the blade as it enters the water is counted to maximize the effectiveness of every stroke. This SUP paddle can be dismantled into three pieces.
The Sun Cruise 10'10" Is A Premium Board With Double Layer Construction, And It'S The Most Versatile In The Skiffo Range. Surfing, Touring, Long-Distance, Tandem;
This Board Can Do It All, Thanks To A Clever Combination Of 330X81X15Cm Dimensions And A Maximum Load Capacity Of 140Kg.
This Ultra-Equipped Board Has 5 Carry Handles And Several D-Rings For Towing Or Attaching A Kayak, And It Also Features Kayak Foot Braces.
And Lastly, The Board'S Striking Design, With Its Colourful Perforated Traction Pad, Will Make You Stand Out On The Water!
Sold As Part Of A "Skiffo All-In-One" Package, This Board Has Everything You Need For Excursions And Waves!
Read Next – Bluefin vs Irocker SUP Comparison Guide
Accessories Included:
Skiffo Backpack + Roller Wheels:
A Bag Specially Designed For Adventurers With Ultra-Comfortable Handles And 4 Roller Wheels On The Base.
This Compact Bag – 95X38X25Cm – Has Clamping Straps To Keep The Deflated Sup In Place And Pack It As Tight As Possible.
There Are Also Lateral Pockets To Store Your Paddle And A Front Pocket In Which To Slide Your Fin Or Your Personal Belongings.
3-Piece Paddle: Each Of Our Packages Includes An Aluminium Paddle.
This Paddle Can Be Dismantled Into 3 Pieces. It Is Telescopic, And Its Length Can Be Adjusted Between 165 And 215 Cm.
The Angle Of The Blade As It Enters Through The Water Is Calculated To Maximise The Efficiency Of Each Stroke.
Read Next – Best Open Ocean SUP
High-Pressure Pump:
Sump Pump With Ergonomic Handle For Easy Pumping.
The Pump Features A Gauge So That You Can Keep An Eye On The Pressure In Psi Or Bar As You Pump.
Coiled Leash:
The Use Of A Leash Is Highly Recommended; That Way You'Ll Stay Attached To Your Sup Board Whatever Happens.
A Coiled Leash With An Ultra-Comfortable Neoprene Ankle Attachment Is Included In This Package.
And There's More: A Retaining Strap To Hold The Deflated Sup In Place And A Complete Repair Kit With Pvc Patches And Glue.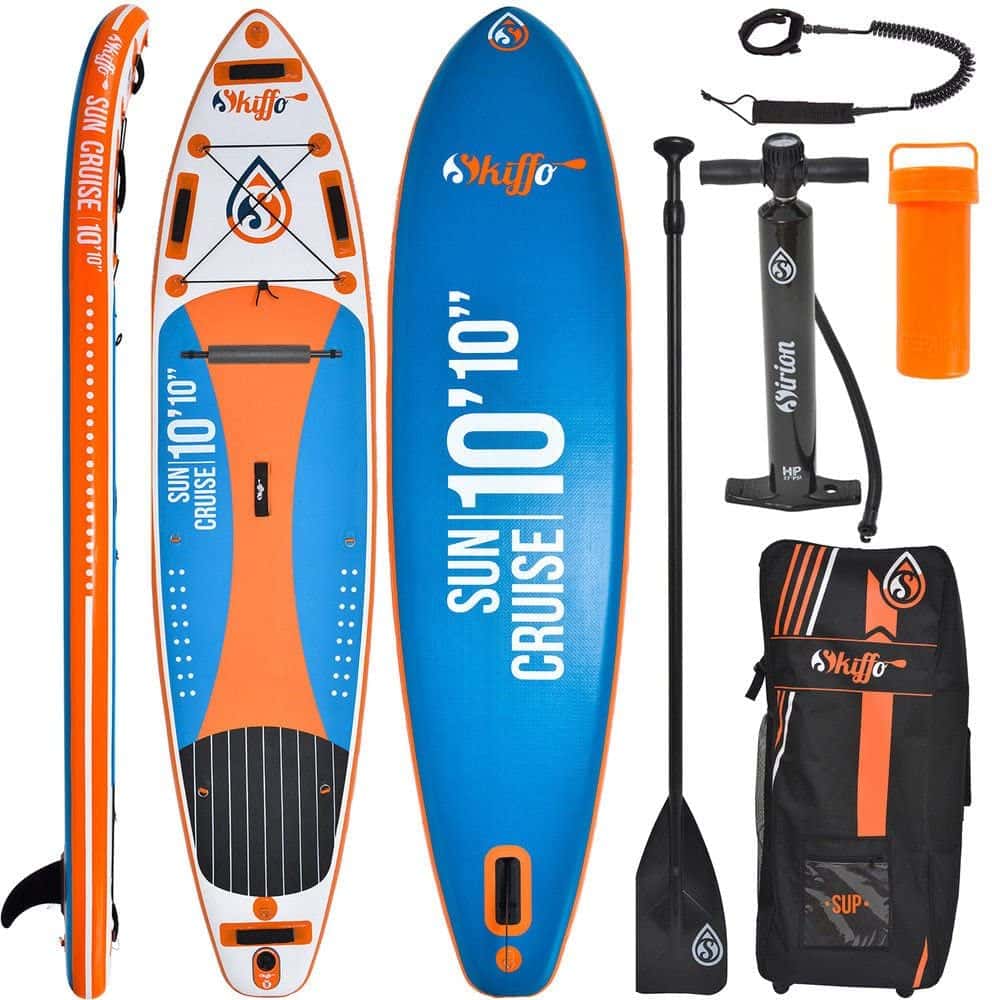 Color: Orange/White/Blue
Dimensions: 330 x 82 x 15 cm / Load Bearing Capacity: Max 145 kg
Volume: 305 L
1 Removable slide-in-finne
incl. alu-paddle 3 Pieces Take-Apart, 1, 65-2, 15m Length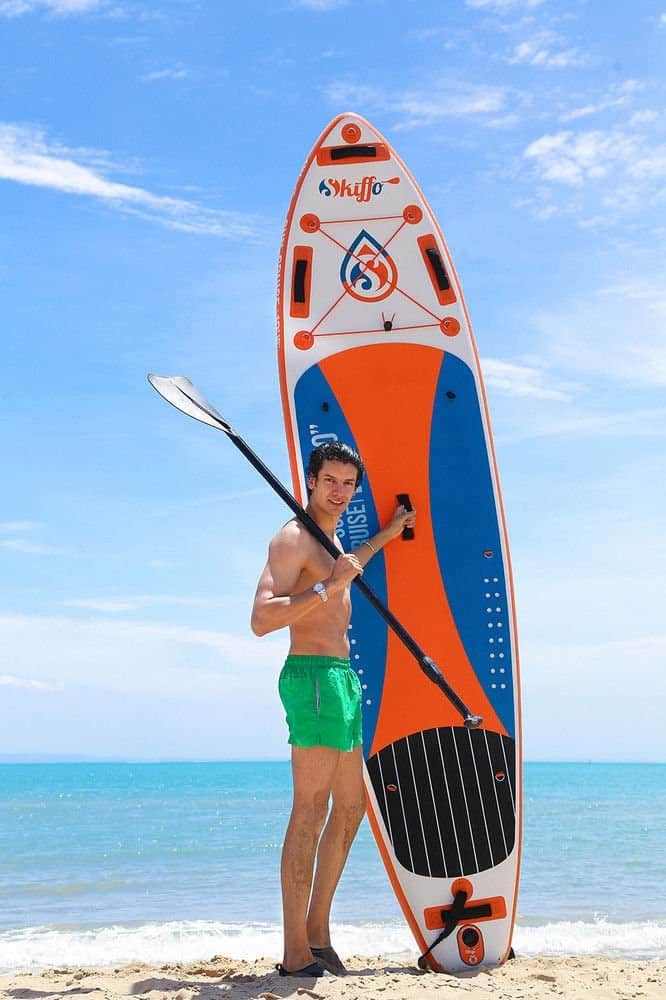 Read Next – YASKA Allround Inflatable Stand Up Paddle Boards
What I like
SKIFFO Sun Cruise Inflatable 10′.10″ SUP is a well-made paddleboard
It is quite stable
it is made to float and glide smoothly on the water
Best SUP you buy at this price
What I don't like
SKIFFO Sun Cruise Inflatable SUP is quite expensive
Skiffo Unisex_Adult SUP Stand Up Paddle Gonflable Sun Cruise 12' Skiffo-PB-SSC120C-Inflatable Board-Double Layer Fused, Leash, Pump and Carry Bag-384L-365 x 86 x 15 cm, Multicolored, Standard
out of stock
as of September 20, 2023 6:20 pm
Skiffo Unisex_Adult Stand Up Paddle Gonflable Sun Cruise 10'2 Skiffo-PB-SSC102C-Inflatable SUP Board-Double Layer Fused, Leash, Pump and Carry Bag-284L-310 x 84 x 15 cm, Blue, Standard
2 new from £346.12
Free shipping
as of September 20, 2023 6:20 pm
Skiffo Women's Stand Up Paddle Gonflable Elle 10'4 Inflatable SUP PB-SXX104C-Inflatable Dropstitch Board, Leash, Pump and Carry Bag-Up to 120 kg-236L-315 x 79 x 13 cm Levels, Pink, Standard
2 new from £303.37
Free shipping
as of September 20, 2023 6:20 pm
Wassersport SKIFFO SUNCRUISE 11'2"SUP Board Stand Up Paddle Surf-Board Paddel ISUP 340X84cm
2 new from €477.95

as of September 20, 2023 6:20 pm
Apollo SUP Board Tikki - Lightweight - 275 x 76 x 12 cm, iSUP Komplettset, Stand-up-Paddling Set, aufblasbares Board, inkl. Paddel, Pumpe und Reparaturset, für Anfänger und Profis
as of September 20, 2023 6:20 pm
Bluefin Cruise SUP Board Set | Aufblasbares Stand Up Paddle Board | 6 Zoll Dick | Fiberglas Paddel | Kajak Sitz | Komplettes Zubehör
2 new from €484.99
Free shipping
as of September 20, 2023 6:20 pm