While looking for a good stand up paddleboard, one can find many things that they need.
However, this is a pretty basic board that you can't go wrong with. It's a "one size fits all" type of product.
Why?
In this Hydro-Force Oceana review, we have to mention that it is effortless to use the board since the balance is great.
You can easily maneuver the whole thing (hence the name hydro-force), and it's a great c choice for any water sport.
You can use it on lakes, in pools, in oceans and rivers, as well as the seas.
Features Hydro-Force Oceana Inflatable SUP
You are getting a seat too, which can be a great thing for those who like cruising and for those who are still learning to balance the board entirely.
Bestway Hydro-Force Oceana Tech iSUP

It's pretty light as well, and therefore it's a great choice for young adults, women, and teens.
With the bag, you are getting a travel bag that helps you transport the board, and you can bring along many accessories (like the paddle and the pump you are getting).
They have boards for all kinds of paddling and users. Hydro-Force SUPs offer lots of advantages: sleek design, excellent performance, and best value for money.
You will also find a range of essential accessories to get on the water: leashes or carry bags to pack your SUP and head out to your favorite spot.
Pluses of the Hydro-Force Oceana
1. Versatile: Can be used on flat water or small waves, doubles as a kayak
2. Carry handle
3. D-rings to secure the board when you're not using it
4. Three built-in fins for unmatched tracking
5. Drop Stitch Core
6. Weighs only 13,7 kg
7. Footrests and kayak seat can be added
8. Cargo net to secure gear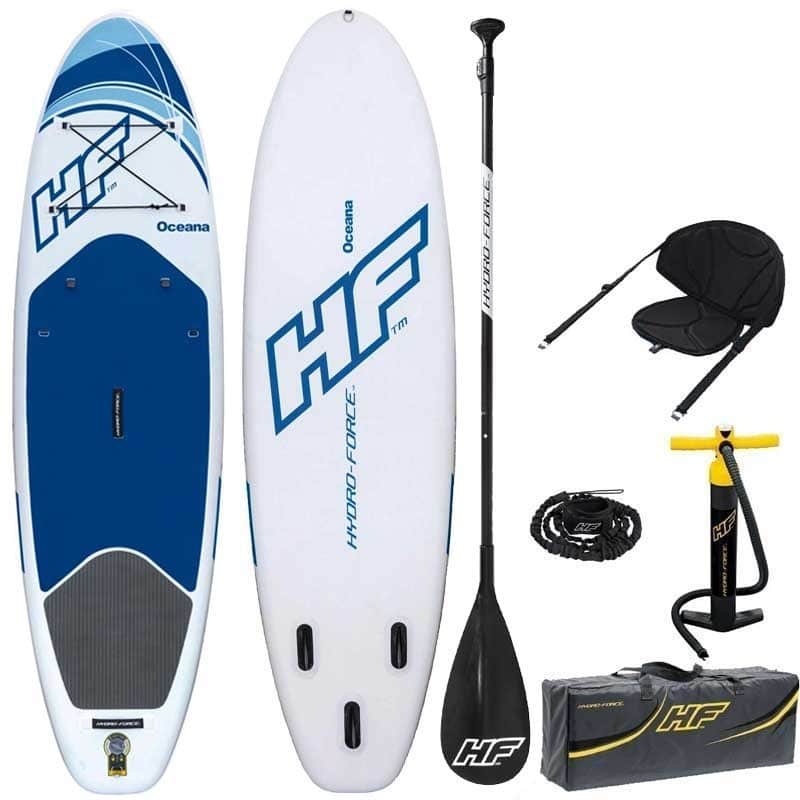 The drop stitch material will do a great job of keeping the whole thing long-lasting and premium-looking—no worries about the quality.
The maximum weight this board can keep is 130 kilos, which is great for a board this "small" (average).
It takes 5 minutes to set the whole thing up, and you are getting the end product with perfect looks: minimalistic and simple.
What's in the box
The Hydro-Force Oceana is one of the most versatile SUPs out there.
With 10′ in length and 15 cm in thickness, you get incredible rigidity and maneuverability simultaneously.
It is delivered with a kayak seat and a convertible paddle, so you don't have to mull over buying a kayak or a SUP… Oceana is the answer. Go stand up kayaking! The board comes with a carry bag that allows for easy storage.
This bag is very lightweight and convenient and can accommodate paddle boards of different sizes.
A double-action high-pressure pump is also included.
This bundle is wrapped up with an adjustable 3-piece aluminum paddle and a leash.