While looking for a good stand up paddle board, one can find many things that they need.
However, this is a pretty basic board that you can't go wrong with. It's a "one size fits all" type of a product.
Why?
Well, I this Hydro-Force Oceana review we have to mention that is very easy to use board since the balance is great.
You can maneuver the whole thing easily (hence the name hydro-force) and it's a great c choice for any sort of water sport.
You can use it on lakes, in pools, in oceans and rivers, as well as the seas.
Features Hydro-Force Oceana Inflatable SUP
You are getting a seat too, which can be a great thing for those who like cruising and for those who are still learning to balance the board fully.
Bestway Hydro-Force Oceana Tech iSUP

It's pretty light as well and therefore it's a great choice for young adults, women, and teens.
With the bag, you are getting a travel bag that helps you transport the board and you can bring along many accessories (like the paddle and the pump you are getting).
They have boards for all kinds of paddling and users. Hydro Force SUPs offer lots of advantages: sleek design, great performance, and best value for money.
You will also find a range of essential accessories to get on the water: leashes or carry bags to pack your SUP and head out to your favorite spot.
Pluses of the Hydro Force Oceana
1. Versatile: Can be used on flat water or small waves, doubles as a kayak
2. Carry handle
3. D-rings to secure the board when you're not using it
4. Three built-in fins for unmatched tracking
5. Drop Stitch Core
6. Weighs only 13,7 kg
7. Footrests and kayak seat can be added
8. Cargo net to secure gear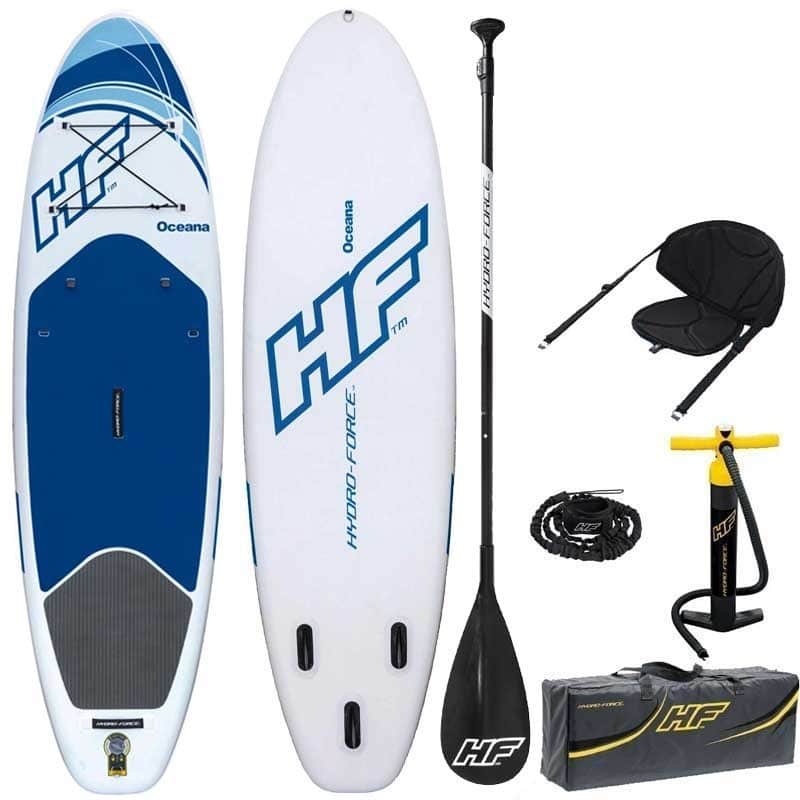 The drop stitch material will do a great job of keeping the whole thing long-lasting and premium-looking. No worries about the quality.
The maximum weight this board can keep is 130 kilos, which is great for a board this "small" (average).
It takes 5 minutes to set the whole thing up and you are getting the end product with perfect looks: minimalistic and simple.
What's in the box
The Hydro Force Oceana is one of the most versatile SUPs out there.
With 10′ in length and 15 cm in thickness, you get incredible rigidity and maneuverability at the same time.
It is delivered with a kayak seat and a convertible paddle so you don't have to mull over buying a kayak or a SUP… Oceana is the answer, go stand up kayaking! The board comes with a carry bag that allows for easy storage.
This bag is very lightweight and convenient and can accommodate paddle boards of different sizes.
A double-action high-pressure pump is also included.
This bundle is wrapped up with an adjustable 3-piece aluminum paddle and a leash.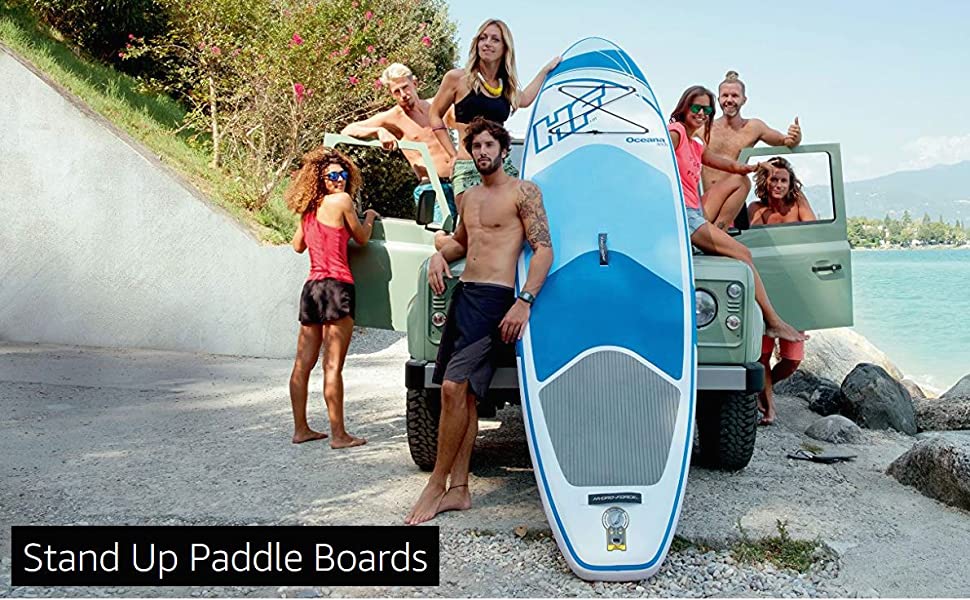 Inflatable SUPs Built the Best Way
Save money and stress by transporting it easily on a plane or in a car

Sold as an entire kit, everything you need to get on the water fast

Thicker and more stable than hard boards means a great learning experience for beginners

Inflatable SUPs allow for more versatility and on-the-go use

Hard boards may become damaged when bumping into hard surfaces, inflatable SUPs are resilient
Bestway Hydro-Force Stand Up Paddle Board Sets
An Unforgettable Paddle Board Experience
Bestway's Hydro-Force SUPs offer all of the advantages of fun that comes along with traditional, fiberglass SUPs yet are more portable and simple to store and transport.
From flatwater cruising and ocean surfing to all-around fitness and yoga, Bestway Hydro-Force Inflatable SUPs are stiff stable boards that conveniently pack away when not in use.
Non-Slip Traction Pad

Lightweight Aluminum Oar

Inflates to a stiff, sturdy board

Tri-Fin system cuts through water smoothly

Great for beginners and experts alike
Ready for your next adventure?

The Hydro-Force inflatable SUP assortment is designed to provide extra stability and balance. Paddle in all water types, such as freshwater lakes, rivers, ponds, and the ocean!

Includes everything you need!

Our inflatable stand-up paddle-board kits have everything you need to get on the water in record time! We supply you with an adjustable aluminum paddle, one handy air pump, one travel-friendly storage bag, one surf leash, and a repair patch.

Made to last for endless fun!

Our paddle-boards are constructed with a durable drop-stitch pattern. This construction matches the quality of a traditional hard-surface, fiberglass SUP.
Experience Hydro-Force Inflatable Stand Up Paddle Boards Today!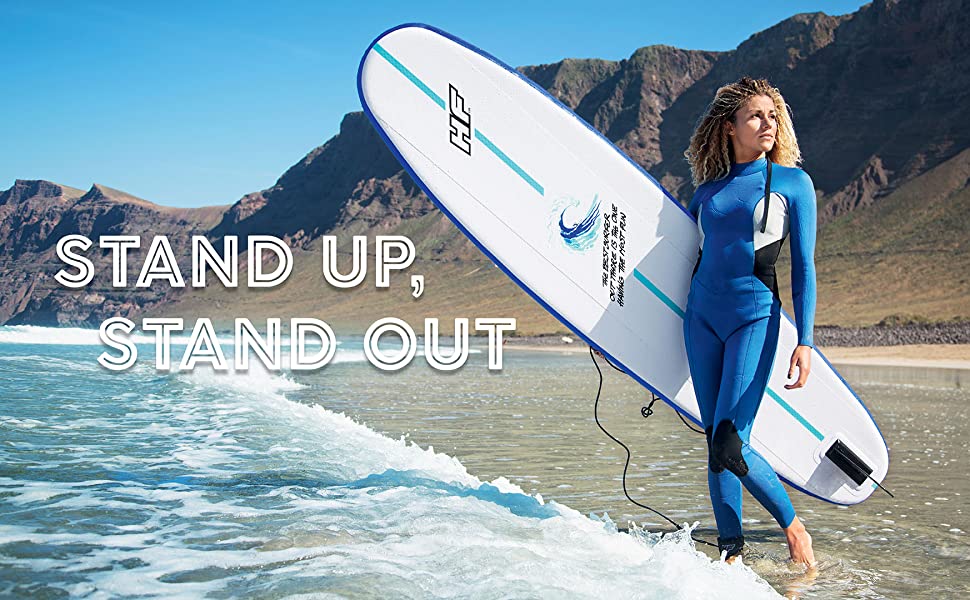 Last updated on January 18, 2021 4:42 am