Swonder 11'6 is one of the best models to start with.
Beginners like it because it is pretty cheap, yet offers great value.
Features Swonder Inflatable Stand Up Paddle Board
It is a larger board, but it is 6″ thick, which means that you will gain water stability.
However, if you still won't feel "at home" with this piece, you can use the fin that comes with the set.
Beginners like to use three, but it won't be too necessary with this model.
The deck is non-slip and can carry a lot of weight.
It's a bit elastic, which means you can use it for water touring, water fitness, and fishing.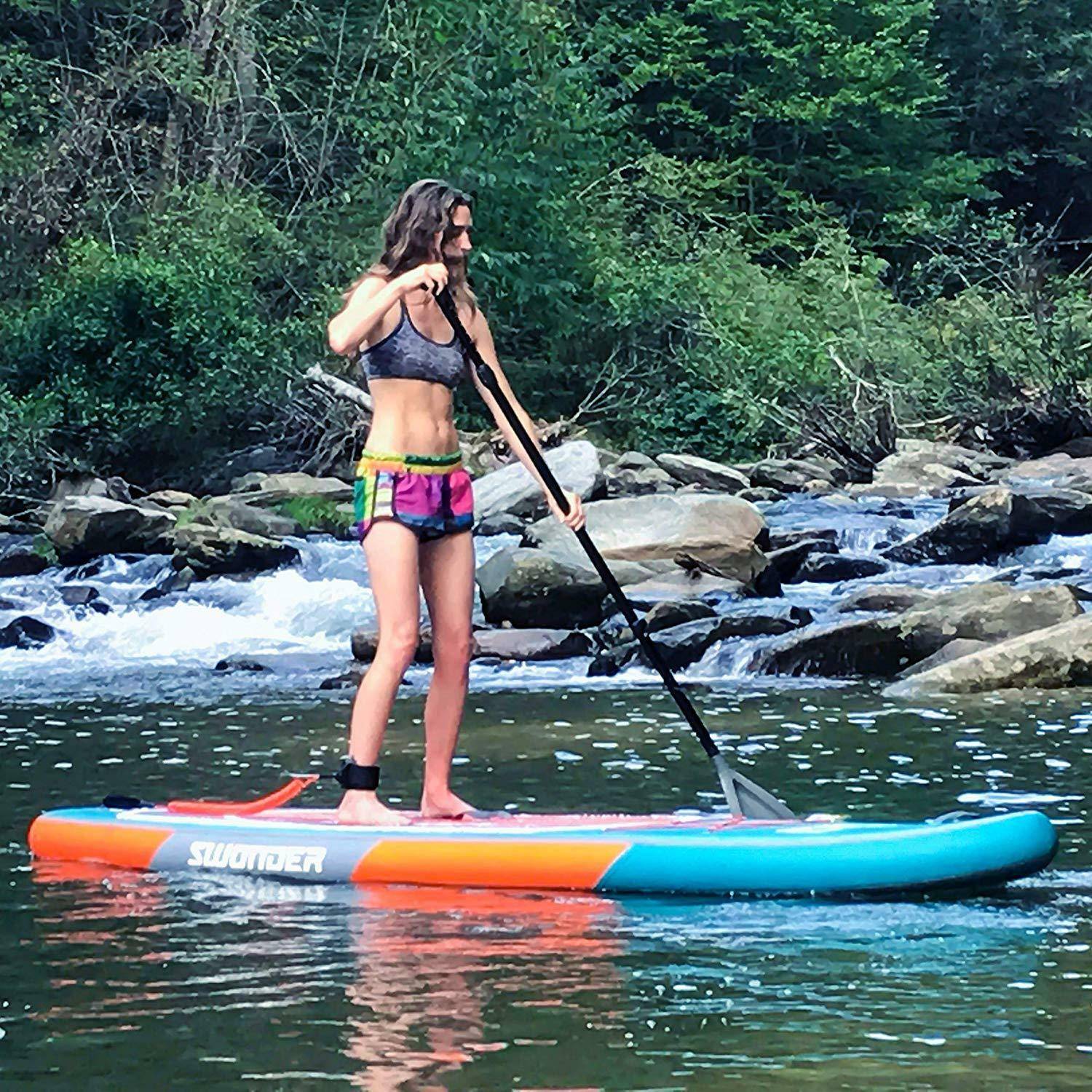 However, this model may not be the right one for you if you are used to rigid boards.
It is made from military-grade PVC with a drop-stitch system.
This means that it will last a long time, but it also means that you can't leave the board in the sun for very long periods of time since no one can guarantee you that PVC won't be damaged a bit.
The drop-stitch technology is a great thing since it helps the air distribution, and the deck is pretty stable for an inflatable one.
You won't get the paddleboard only: you get a high-capacity backpack full of accessories too.
An aluminum paddle, a hand pump, a safety leash, and the previously mentioned fin are all in the package.
The whole set weighs only 30lbs (~16 kilos), and it's a great choice for those who like to travel and use the board all around the globe.
The design is pretty eye-catching, and the model is spacious enough to let you bring along a furry friend or do yoga. It all depends on what you are looking for.
Details Make Perfect:
More Details on the Board Design

Detachable Central Fin: The board comes with a big fin, much thicker and firmer than the most offering in the market. It can add more stability and maneuverability while paddling.

Mounted Bungee: With the durable and adjustable bungee mounted on the deck, you can conveniently and safely hold all your gear while paddling.

Nose/Central Handles: With the handles mounted on the front and central board, carrying the board is a breeze!

Large EVA Deck Pad: A Large EVA deck pad provides you with an optimal grip while being soft and comfortable.

Portable for Easy Transportation

The paddleboard quickly inflates or deflates for easy storage and transportation. After rolling up to a compact size with a cinch strap, you can pack your iSUP into the provided backpack to transport or store it anywhere you want. It doesn't matter if you're taking a road trip or hopping on a plane. You still can enjoy paddling when you reach your destination!

High-Quality and Durable Board

Airtight Inner Rail

Drop Stitch Base Cloth

Side Wall

Reinforcing Band

EVA Deck Pad

Outside Pvc Layer

Coating

Drop Stitch Core
Multi-fun for all skill levels
| | | |
| --- | --- | --- |
| Exploring with kids | SUP Yoga makes the body more fit and charming! | Let's bet who is the fastest? Join us today! |
Strong and Safe 10' Coil Leash
Paddling is fun, but you should always keep yourself safe. Wear the leash attached to the board whenever you enter the water.
The coil leash can extend the length to 10 feet so you won't feel restrained on the board.
| | | | | | |
| --- | --- | --- | --- | --- | --- |
| | Swonder 10′ SUP Set | Swonder 10′ SUP Set | Swonder 10′ SUP Set | Swonder 11'6″ SUP Set | Swonder 20 PSI Electric Auto Pump |
| Inflated Size | 10' long 32''wide 6" thick | 10' long 32''wide 6" thick | 10' long 32''wide 6" thick | 11'6″ long 32''wide 6" thick | NA |
| Item Weight | 17.2 LBS | 17.2 LBS | 17.2 LBS | 21.6 LBS | NA |
| Max Load | 275 LBS | 275 LBS | 275 LBS | 300 LBS | NA |
| Paddle | ✓ | ✓ | ✓ | ✓ | NA |
| Leash | ✓ | ✓ | ✓ | ✓ | NA |
| Backpack | ✓ | ✓ | ✓ | ✓ | NA |
| Pump | ✓ | ✓ | ✓ | ✓ | NA |
| Repair Kit | ✓ | ✓ | ✓ | ✓ | NA |
Read Next – SWONDER SUP Review
Swonder Premium Inflatable Stand Up Paddle Board
Read Next – Swonder Premium Inflatable Stand Up Paddle Board
Swonder Premium Inflatable Stand Up Paddle Board, Ultra Durable & Steady, 11'6" or 10'6" Long 32'' Wide 6'' Thick, Full SUP Accessories (Lava, 11'6''x32''x6'')
2 new from $269.99
Free shipping
as of August 31, 2022 2:27 am
streakboard Inflatable Stand Up Paddle Board Surfing SUP Boards, No Slip Deck 6 Inches Thick ISUP Boards with Free SUP Accessories & Backpack, Leash, Paddle and Hand Pump, for All Levels
as of August 31, 2022 2:27 am
SereneLife Inflatable Stand Up Paddle Board (6 Inches Thick) with Premium SUP Accessories & Carry Bag | Wide Stance, Bottom Fin for Paddling, Surf Control, Non-Slip Deck | Youth & Adult Standing Boat
2 new from $269.88
2 used from $235.00
Free shipping
as of August 31, 2022 2:27 am
Swonder 20 PSI Digital Electric Air Pump- Intelligent Dual Stage & Auto-Off Function, Great for Inflatable Stand Up Paddle Boards, Tent, Kayaks, Water Sports Float
as of August 31, 2022 2:27 am
Swonder Inflatable Stand Up Paddle Board, 32" Wide Ultra Steady and Super Light-Weigh (17.2lbs) Board, Full Premium SUP Accessories- Adjustable Paddle, Backpack, Leash, and Pump for Youth & Adult
2 new from $169.95
Free shipping
as of August 31, 2022 2:27 am
Inflatable Stand Up Paddle Board 10'6" Long 6" Thick | SUP Paddleboard Accessories Carry Backpack | Wide Stance, Bottom Fin Paddling Surf Control, Non-Slip Deck | Youth & Adult Standing Boat Boards
3 new from $129.99
Free shipping
as of August 31, 2022 2:27 am
Roc Inflatable Stand Up Paddle Boards W Free Premium SUP Accessories & Backpack, Non-Slip Deck Bonus Waterproof Bag, Leash, Paddle and Hand Pump Youth & Adult
1 used from $268.32
Free shipping
as of August 31, 2022 2:27 am
ABYSUP Paddle Boards, 10'6" Inflatable Paddle Board, SUP, Paddleboard with All Accessories & Carry Bag, Non-Slip Deck SUP Paddle Board, Anti-Sink Paddl&Pump Included, Color Blue & White, SUP123
out of stock
as of August 31, 2022 2:27 am