Swonder 11'6 is one of the best models to start with.
Beginners like it because it is pretty cheap, yet offers great value. It is a larger board, but it is 6″ thick, which means that you will be able to gain stability on the water.
However, if you still won't feel "at home" with this piece, you can use the fin that comes with the set. Beginners like to use three, but it won't be too necessary with this model.
The deck is non-slip and can carry a lot of weight. It's a bit elastic which means that you can use it for water touring, water fitness and fishing.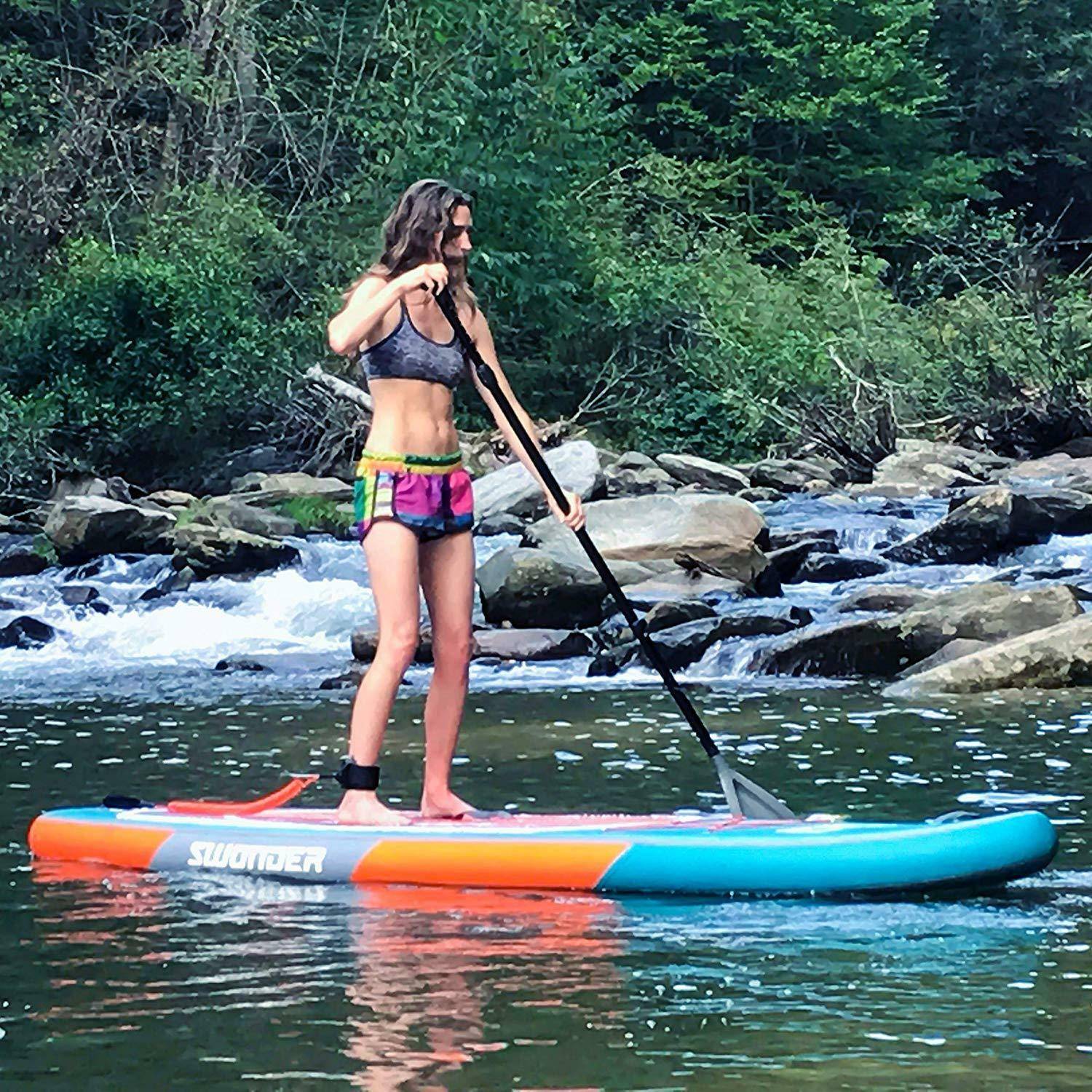 However, if you are used to hard boards, this model may not be the right one for you.
It is made from military-grade PVC with a drop-stitch system. This means that it will last a long time, but it also means that you can't leave the board in the sun for very long periods of time since no one can guarantee you that PVC won't be damaged a bit.
The drop-stitch technology is a great thing since it helps the air distribute and the deck is pretty stable for an inflatable one.
You won't get the paddleboard only: you get a high-capacity backpack full of accessories too. An aluminum paddle, a hand pump, a safety leash and the previously mentioned fin are all in the package.
The whole set weighs only 30lbs (~16 kilos) and it's a great choice for those who like to travel and use the board all around the globe.
The design is pretty eye-catching and the model is spacious enough to let you bring along a furry friend or do yoga. It all depends on what you are looking for.
Swonder Premium Inflatable Stand Up Paddle Board, Ultra Durable & Steady, 11'6" or 10'6" Long 32'' Wide 6'' Thick, Full SUP Accessories (Lava, 11'6''x32''x6'')
1 new from $389.99
Free shipping
Buy Now

Amazon.com
as of March 28, 2020 7:05 am
Features
INCOMPARABLE STABILITY & LARGE CAPACITY BOARD: When fully inflated, the board is 10'6" long 32'' wide and 6'' thick, which makes it extremely stable on the water. Combined with the Non-slip soft deck, elastic bungee design, and a heavy-weight capacity, you can do whatever you want on the board! Some activities include water touring, water fitness, fishing and etc.
EXTREMELY DURABLE & RIGID: Our board is constructed with military-grade PVC with a drop-stitch system, resulting in a very durable product. When fully inflated to the recommended 12-15 PSI, the unique drop-stitch technology allows the air pressure to distribute evenly across the top and bottom surfaces, forming a stable deck. Our iSUP is firmer than most of the others in the market, so you can use it for a longer time without replacing a new one.
EASY STORAGE AND TRANSPORTATION: The paddleboard comes with a high-capacity backpack, which can pack the whole set and weighs only 30 lbs., Experience the convenience you will feel traveling with the Swonder iSUP set without worrying about storage. After wholly deflated, the board can be rolled up to a compact size with a cinch strap, allowing it to be stored in a car trunk, wardrobe, boat locker or under a bed!
HIGH-QUALITY FULL RANGE OF ACCESSORIES: Our iSUP set includes a super light-weight aluminum alloy paddle, GRI high-pressure hand pump, 10' coil safety leash and a GRI detachable central fin. That means you won't have to hunt down extra accessories, and that you can hit the water right away! All accessories provided are of high quality and specially designed to match the color combination of the board, making them not only useful but stylish as well.
30 DAY RETURN GUARANTEE + 1 YEAR WARRANTY: Enjoy one of the most popular water sports in the world with Swonder. We stand behind our products 100%, offering only the highest quality inflatable paddle boards constructed of the highest quality materials. Feel safe in your purchase with a 1-Year Warranty for the board as well as a no-hassle 30-day free return. If you have any questions, contact our friendly customer support staff!