If you're looking for a simple board that will be suitable for beginners, as well as advanced users, SerenLife Inflatable SUP may be the one.
This board made by SereneLife will surely catch your eye, not only because the board itself has excellent characteristics, but the accessories you are getting are great as well.
The SereneLife Inflatable SUP allows new paddlers to enjoy a fantastic water surfing experience and makes it simple to glide across the surface with ease. SereneLife Inflatable SUP has been made for early learning, is very convenient, and is simple to use.
You can take this paddleboard with you wherever you go, as it instantly inflates/deflates for easy storage so that you can take it with you to the river, lake, or ocean. There is nothing quite like the feeling of standing atop your very own SUP, especially if you love the open water.
Looking down into the water and heaving the freedom to go anywhere you please is an unmatched experience.
You can bring the SereneLife Inflatable SUP with you on surfing excursions or keep it your vehicle for unexpected explorations.
Your package includes must-have paddleboard accessories, so you are always ready to hit the waves.
Features SereneLife Inflatable Stand Up Paddle Board
Technical specs
SereneLife 10'5 Premium is extra wide, which means you are getting a better balance, and you can use the board for yoga fitness. You can even bring a friend or a pet. The dimensions are 10'5 feet long and 30 inches wide.
SereneLife 10'5 is perfect for beginners since the non-slip deck will keep you safe and sound, and, in case you fall, you will fall on the soft cushions on top of the board.
The triple bottom panel fins are high because they improve balance, but professionals may not need them.
If you feel experienced enough, you may want to remove the middle one to get better maneuvering.
Read Next – Australian Made Stand UP Paddle Boards
Building Materials
The entire paddleboard is designed with reinforced engineered PVC material.
This material makes this paddleboard water-resistant. As an outcome, the SereneLife Inflatable SUP will not be damaged by any regular hitting or dropping.
Serene Life SereneLife Premium Inflatable Stand Up Paddle Board (6 Inches Thick) with SUP Accessories & Carrying Storage Bag, Wide Stance, Bottom Fin for Paddling, Surf Control, Non-Slip Deck, Youth & Adult, Blue
2 new from C $299.99
Free shipping
as of August 31, 2022 2:21 am
Rigid Construction
Reinforced engineered PVC along with 6 inches firm thickness provide this paddleboard with sufficient rigidity. Because of solid rigidity, the paddleboard remains balanced and stable during the riding.
The rigid construction mainly facilitates the beginners and learners, as they need incredible stability and balance than pro riders.
Traction Pad
Almost 2-thrid part of the upper panel is covered with a non-slip deck. The deck gives grip to the feet and knees even when it goes damp by a splash.
Keeping body ultra balance and solidity while standing on the traction deck is smoother. If you ride with your pet, the deck will be an ideal place for it as well.
Read NEXT – Best Serenelife Inflatable Stand Up Paddle Board With Seat in 2022
D-ring and Bungee System
The board features a total of nine d-rings, where four d-rings are mounted along with the bungee cords. Further, five d-rings are mounted with two different parts of the board, four d-rings are placed on the edges of the traction pad, and the other one is placed beside the air valve.
Under the bungee cord, you can stock your food, clothes, water bottle, backpack, etc. Use the edges rings if you want to tie up a SUP seat with your board. The ring placed beside the air valve is utilized for ankle leashing.
You can be linked to your SereneLife Inflatable SUP all the time by leashing up your ankle with this ring in case you fall in the water.
Read Next – Best Serenelife Inflatable Stand Up Paddle Board Buying Guide
Fins
Fins make sure better tracking for the riders. The tripper bottom panel fin navigation system will assist you in improving the overall steering, speed, and maneuverability. Among the three fins, the middle fin is adjustable.
You can attach/detach the fin without using any tool. It is a straightforward process when the paddleboard is fully inflated.
Air Valve
The company used top quality Halkey-Roberts air valve in this SereneLife Inflatable SUP. The air valve is placed at the tail of the paddleboard.
The valve always remains closed except for the pumping time.
Read NEXT – Best SereneLife Adjustable Paddle For You in 2022
Carrying Handle
SereneLife Inflatable SUP features one carrying handle in the mid of the traction pad. The handle is firmly connected to the board. It's used to carry the paddleboard only in an inflated condition.
​Performance
While the personalized body measurement and 275 pounds weight capacity, the board provides incredible performance for the rider. Rigid construction and three fins tracking system of the board will ensure both speedy and ultra-stable riding for you.
The SUP will provide you with excellent performance in oceans, lakes, ponds, or even slow-moving rivers. The 30″ surface of the board is wide enough to do more than just boarding. You can do fishing, yoga, and traveling with your puppy.
Durability
The durability of the SereneLife Inflatable SUP is perfect considering the price. The solid build can protect the SUP from unwanted hitting and shocks.
Not that out of the blue type of quality, but still, the reinforced engineered PVC will provide the paddler tension-free experience in regular day-to-day use.
Excellent Features
It is a non-slip, super soft top deck that works great for beginners, and these paddleboards are made of early learning and have need safe, so there're fewer accidents should you fall.
SereneLife Inflatable SUP is both portable and inflatable, so you can take it with you where you want to go. It quickly inflates/deflates for easy to store so that you can use it on lakes, rivers, or the ocean.
Read NEXT – Top Serenelife Inflatable Stand Up Paddle Board Pink For You in 2022
Accessories
Every SereneLife Inflatable SUP comes with a complete paddleboard kit that includes essentials such as a coiled ankle cuff safety leash or paddle, a convenient bag, and a patch repair accessory kit. Everything you'd need for your water adventures is now in one easy-to-use package.
What I like
Superior speed
Weigh only 19 lbs.
Standard single-person design.
Hassle-Free Setup
275 pounds weight limit, which is ideal for personal riding.
What I don't like
Small bungee cord area.
Not suitable for two persons, especially adults.
Package includes
This is a typical inflatable and portable SUP that will take you on various adventures.
You are getting a paddleboard, a coiled ankle cuff safety leash, an aluminum paddle, a manual air pump, and a storage bag.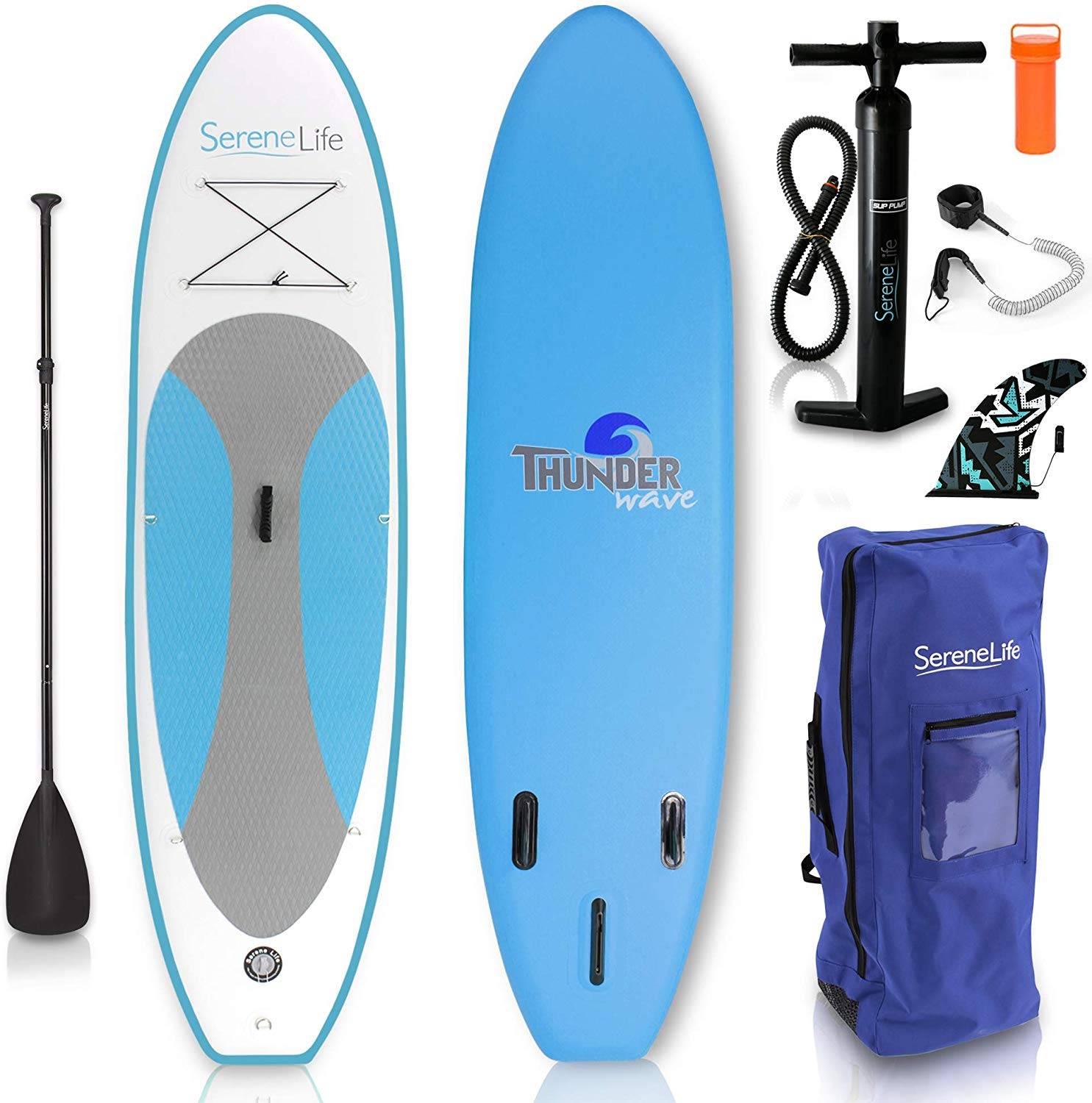 This Serenelife Premium inflatable stand-up paddleboard review shows you board in dark blue (blue) color. Still, it comes in various colors, so they make an excellent gift for anyone: light blue (aqua), orange, and pink.
The paddles will also be the same color as the board's accents, making it even better.
You can find SereneLife 10'5 Premium on sale for 350$, which makes it a catch. The paddleboard weighs a bit less than 20 lbs, and it can carry up to 275 lbs (130 kilos).
It's designed to fit one person, but you can bring along someone that fits the weight limit.
SereneLife Inflatable Stand Up Paddle Board SUP Review
Read Next – Serenelife Thunder Wave vs. Free Flow Paddle Board
This deck is ideal for all water sports types: all kinds of water and hobbies.
It won't be an issue to learn paddleboarding on this board since it offers excellent stability, and one can quickly learn how to take control over the set.
You are getting a one-year warranty, so you can ensure that the company will take care of any possible issues.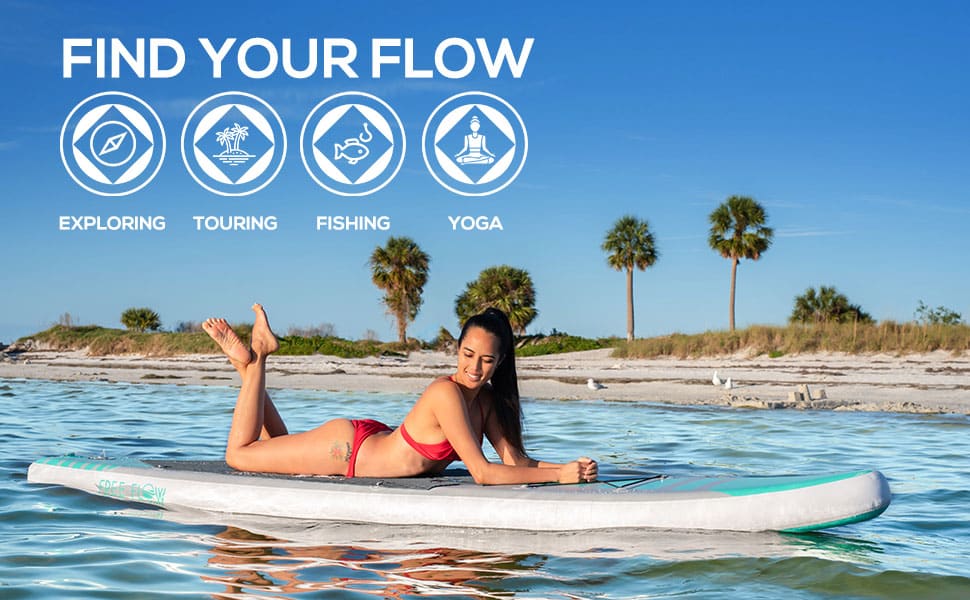 Read Next – SereneLife Inflatable Stand UP Paddle Board Review
End words…
In the end, the SereneLife Inflatable SUP has a lot of things to offer for those who love to explore and go out for water adventures. Its portability allows you to take it wherever you want to go, from lakes, rivers, and oceans. With its excellent design and maneuverability, it's well suited for children and adults who want to learn and those already at paddle riding.
The SereneLife Inflatable SUP provides you with all the essential accessories you need for your travel that provide you with the best for your money.
All in all, this paddleboard is still worth the money despite a few drawbacks in manufacturing. We hope that the company will be open to customer feedback to take suggestions on SUP and finally perfect this board that already comes near it.