If you're looking for a simple board that will be suitable for beginners, as well as advanced users, SerenLife Inflatable SUP may be the one.
This board made by SereneLife will surely catch your eye, not only because the board itself has excellent characteristics, but the accessories you are getting are great as well.
Features SereneLife Inflatable Stand Up Paddle Board
Technical specs
SereneLife 10'5 Premium is extra wide, which means that you are getting a better balance, and you can use the board for yoga, fitness. You can even bring a friend or a pet. The dimensions are 10'5 feet long and 30 inches wide.
SereneLife 10'5 is perfect for beginners since the non-slip deck will keep you safe and sound and, in case you fall, you will fall on the soft cushions that are on top of the board.
The triple bottom panel fins are high because they improve balance, but professionals may not need them.
If you feel like you are experienced enough, you may want to remove the middle one to get better maneuvering.
Read Next – Australian Made Stand UP Paddle Boards
Package includes
This is a typical inflatable and portable SUP that will take you on various adventures.
You are getting a paddle board, a coiled ankle cuff safety leash, an aluminum paddle, a manual air pump, and a storage bag.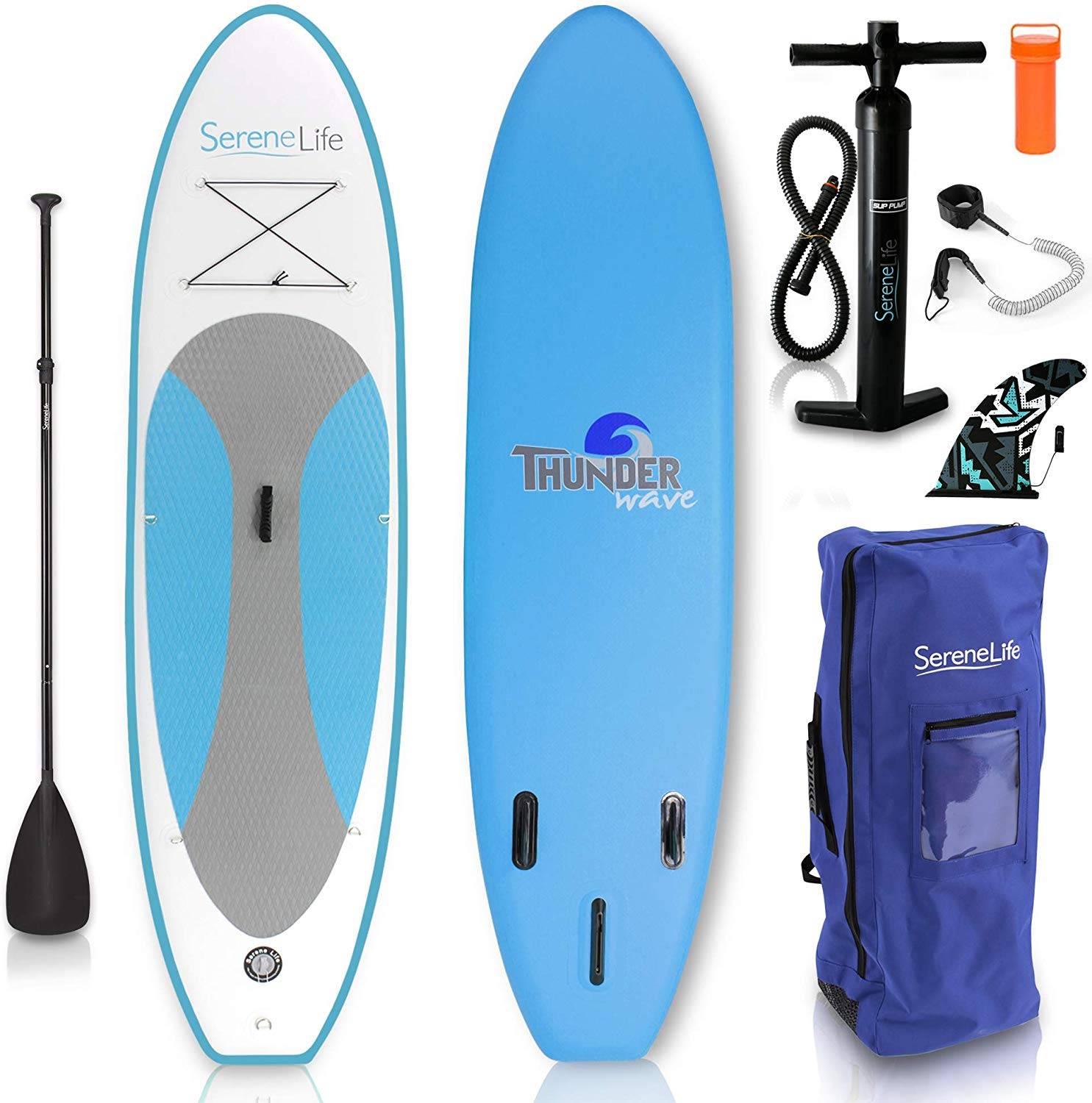 In this Serenelife Premium inflatable stand-up paddleboard review, we show you board in dark blue (blue) color, but it comes in various colors, so they make a great gift for anyone: light blue (aqua), orange, and pink.
The paddles will also be in the same color as the board's accents, making it even better.
You can find SereneLife 10'5 Premium on sale for 350$, which makes it a catch. The paddleboard weighs a bit less than 20 lbs, and it can carry up to 275 lbs (130 kilos).
It's designed to fit one person, but you can bring along someone that fits the weight limit.
SereneLife Inflatable Stand Up Paddle Board SUP Review
Read Next – Serenelife Thunder Wave vs Free Flow Paddle Board
This deck is ideal for all water sports types, too: all kinds of water and hobbies.
It won't be an issue to learn paddleboarding on this board since it offers excellent stability, and one can easily learn how to take control over the set.
You are getting a one-year warranty, so you can be sure that the company will take care of any possible issues.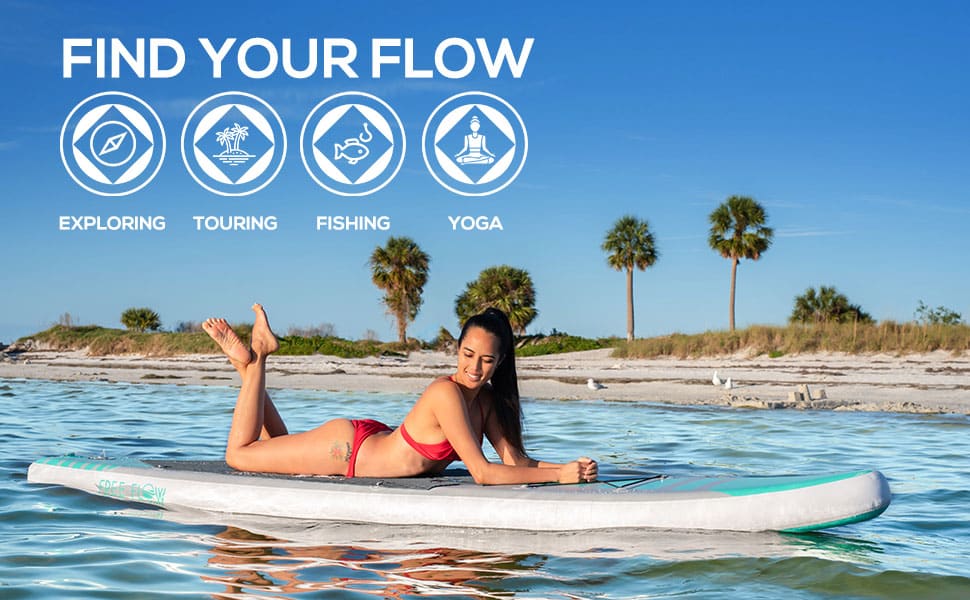 Read Next – SereneLife Inflatable Stand UP Paddle Board Review
SereneLife Inflatable Stand Up Paddle Board (6 Inches Thick) with Premium SUP Accessories & Carry Bag | Wide Stance, Bottom Fin for Paddling, Surf Control, Non-Slip Deck | Youth & Adult Standing Boat
5 new from $309.95
6 used from $218.89
Free shipping
as of October 20, 2021 2:31 pm
SereneLife Premium Inflatable Stand Up Paddle Board (6 Inches Thick) with SUP Accessories & Carry Bag | Wide Stance, Bottom Fin for Paddling, Surf Control, Non-Slip Deck | Youth & Adult Standing Boat
4 new from $349.99
3 used from $211.87

as of October 20, 2021 2:31 pm
SereneLife Inflatable Stand Up Paddle Board (6 Inches Thick) with Premium SUP Accessories & Carry Bag | Wide Stance, Bottom Fin for Paddling, Surf Control, Non-Slip Deck | Youth & Adult Standing Boat
4 new from $299.99

as of October 20, 2021 2:31 pm
Roc Inflatable Stand Up Paddle Boards W Free Premium SUP Accessories
6 used from $282.36
Free shipping
as of October 20, 2021 2:31 pm
Pathfinder Inflatable SUP Stand Up Paddleboard 9' 9" (5" Thick)
out of stock
as of October 20, 2021 2:31 pm
Hydro-Force Aqua Journey Inflatable Stand Up Paddle Board, 9' x 30" x 6" | Inflatable SUP for Adults & Kids | Complete Kit Includes Adjustable Aluminum Paddle, Hand Pump, Travel Bag, Surf Leash
2 new from $279.00
1 used from $187.14
Free shipping
as of October 20, 2021 2:31 pm
Aqua Plus 10ftx32inx6in Inflatable SUP for All Skill Levels with Stand Up Paddle Board Boat, Adjustable Paddle,Double Action Pump,ISUP Travel Backpack, Leash, TPU Waterproof Bag, Shoulder Strap
3 used from $174.41
Free shipping
as of October 20, 2021 2:31 pm
SereneLife Inflatable Stand Up Paddle Board (6 Inches Thick) with Premium SUP Accessories & Carry Bag | Wide Stance, Bottom Fin for Paddling, Surf Control, Non-Slip Deck | Youth & Adult Standing Boat
3 new from $299.99

as of October 20, 2021 2:31 pm
SereneLife Inflatable Stand Up Paddle Board (6 Inches Thick) with Premium SUP Accessories & Carry Bag | Wide Stance, Bottom Fin for Paddling, Surf Control, Non-Slip Deck | Youth & Adult Standing Boat
4 new from $309.99
Free shipping
as of October 20, 2021 2:31 pm
Serene Life SereneLife Premium Inflatable Stand Up Paddle Board (6 Inches Thick) with SUP Accessories & Carrying Storage Bag, Wide Stance, Bottom Fin for Paddling, Surf Control, Non-Slip Deck, Youth & Adult, Blue
C $499.99


C $

459.99
in stock
3 new from C $459.99
Free shipping
as of October 20, 2021 2:31 pm
SereneLife Inflatable Stand Up Paddle Board (6 Inches Thick) Universal SUP Wide Stance w/Bottom Fin for Paddling and Surf Control | Non-Slip Deck | Youth and Adult
C $476.80


C $

453.70
in stock
10 new from C $453.70
8 used from C $260.67
Free shipping
as of October 20, 2021 2:31 pm
BRIGHT BLUE Reinforced Double Layer 11'6" Inflatable Stand Up Paddle board (6" Thick) with Pump, Paddle,Backpack, Fin,Leash (RED)
1 used from C $338.33
Free shipping
as of October 20, 2021 2:31 pm
Serene Life SereneLife Premium Inflatable Stand Up Paddle Board (6 Inches Thick) with SUP Accessories & Carrying Storage Bag, Aqua
C $543.74


C $

409.99
in stock
5 new from C $409.99
13 used from C $256.68
Free shipping
as of October 20, 2021 2:31 pm