If you're looking for a middle ground between the cheap and the expensive options, options for beginners and those who are advanced, Pexmor ISUP may be the thing you are looking for.
It has a simple yet colorful look, and it is made from extra durable, high-quality PVC material.
The drop-stitch construction will make sure that there are no lumps, bumps, and scratches.
Features Pexmor Inflatable SUP
It's a pretty spacious board, and you can do many things on it: it's great for cruises, great for fitness, works for yoga as well, and many people love to fish or sunbathe on it.
The deck pad is extended all the way to the tail, making it much easier for those who want to surf.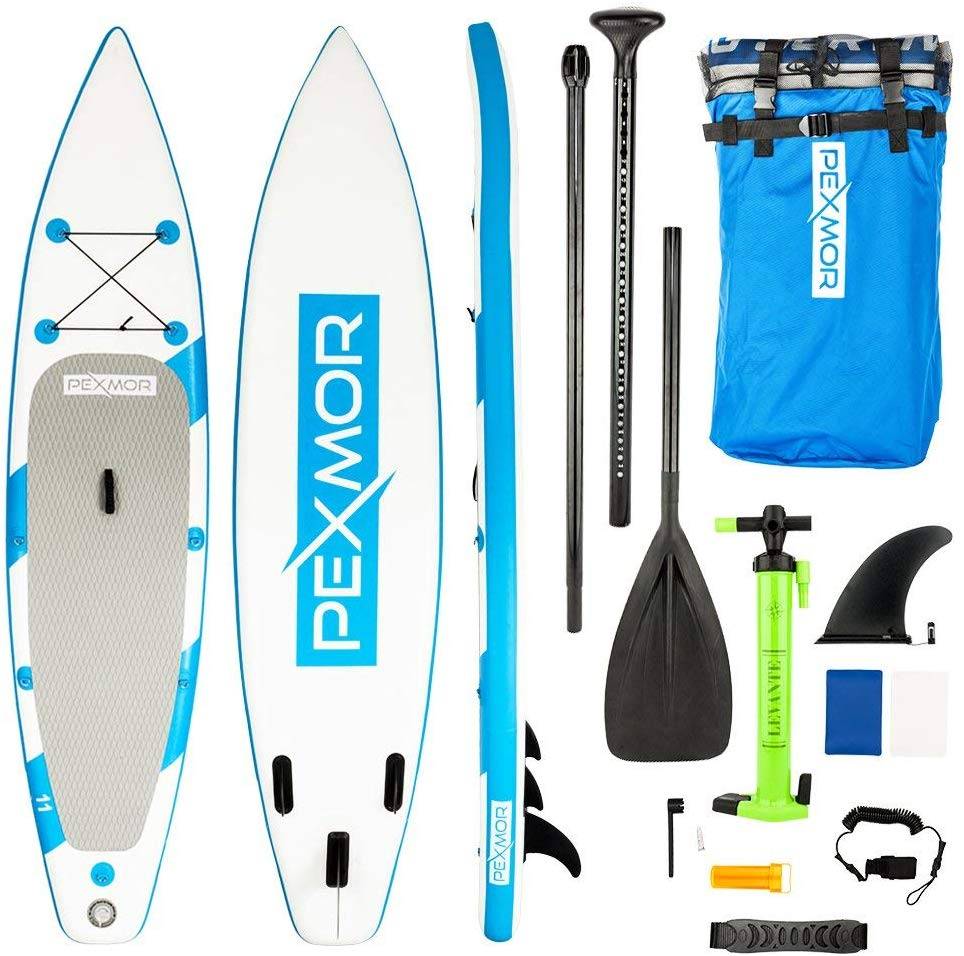 If you look a bit closer, you will notice a foamy deck pad that won't ever let you slip.
It's really safe and makes it easy for you to bring a companion as well!
Many people like to bring their pets along.
Pexmor Inflatable Paddle Board comes with a backpack, and it weighs about 26lbs when deflated.
It isn't the lightest one globally, but it is still pretty easy to bring around.
Extra storage
Besides the paddleboard itself, you are also getting a bungee for storage, carrying handles, a hand pump, a repair kit that will keep you safe, a fin that will ensure extra balance, a lightweight paddle, and a leash plug.
Make sure that you rinse the board every once in a while and that you don't put the PVC board in the sun for too long, for the color may be changed, and the material may thin out.
If you bring your pet with you, make sure to trim the nails because the pad may be damaged.
Extra Durable
It is made of high-quality PVC and constructed with drop-stitch construction, which provides stability and safety for long-term use.
And it is equipped with high-quality bungee on the front deck. You can grab it to keep it safe.
Multifunctional Use
Pexmor Inflatable SUP paddleboard is perfect for all skill levels and suits in most water environments. You can take a cruise through oceans, lakes, or rivers.
The deck pad has been extended all the way to the tail of the board for those interested in water surf, yoga, fishing.
Exquisite Details 
It features durable top foam, a non-slip grip, and 4 points mounted bungee system, which provides extra safety when riders play with it.
The 11' Lx 30″/32″ Wx 6″ Thick inflated size with 440lbs capacity allows heavier riders to enjoy this fun paddling sport.
Portable Paddle Board
Comes with a carry backpack. You can easily store and transport this board to wherever you want to go.
When deflated and rolled up, this paddleboard is only 26 lbs.
Really convenient for daily use.
Read Next – FCH PEXMOR Inflatable Paddle Boards
Total Kit Included
It includes a front bungee for storage, carrying handles, backpack for transportation, hand pump with PSI gauge, repair.
Read Next – PEXMOR Inflatable Stand up Paddle Board – Best Board 
PEXMOR Paddle Boards 10'10" x 32" x 6" Stable Wide Stance Inflatable Stand Up SUP with Storage Bag, Floated Paddle, Hand Pump with PSI Gauge, Removable Fin and Leash for Water Sports
as of November 25, 2023 10:52 am
PEXMOR Inflatable Stand Up Paddle Board for Fishing Yoga Paddle Boarding with Premium SUP Accessories & Carry Bag, Surf Control, Non-Slip Deck | Youth & Adult Standing Boat 10'6" X 32" X 6" (Red)
out of stock
as of November 25, 2023 10:52 am
FCH-PEXMOR Inflatable Paddle Boards Stand Up 10.5'x30 x6 ISUP Surf Control Non-Slip Deck Standing Boat with Carry Bag, Floated Paddle, Hand Pump, Removable Fin, Leash, Repair Knits (Red and Yellow)
out of stock
as of November 25, 2023 10:52 am
Goplus Inflatable Stand Up Paddle Board, 6.5" Thick SUP with Premium Accessories and Carry Bag, Wide Stance, Bottom Fin for Paddling, Surf Control, Non-Slip Deck, for Youth and Adult (Summer, 11FT)
as of November 25, 2023 10:52 am
SereneLife Inflatable Stand Up Paddle Board (6 Inches Thick) with Premium SUP Accessories & Carry Bag | Wide Stance, Bottom Fin for Paddling, Surf Control, Non-Slip Deck | Youth & Adult Standing Boat
as of November 25, 2023 10:52 am
Inflatable Stand Up Paddle Board - 10' Ft. Standup Sup Paddle Board W/ Manual Air Pump, Safety Leash, Paddleboard Repair Kit, Storage / Carry Bag - Sup Paddle Board Inflatable - SereneLife SLSUPB06
3 new from $249.99
8 used from $120.12
Free shipping
as of November 25, 2023 10:52 am
Goplus Inflatable Stand up Paddle Board Surfboard SUP Board with Adjustable Paddle Carry Bag Manual Pump Repair Kit Removable Fin for All Skill Levels, 6" Thick (Navy, 10FT)
as of November 25, 2023 10:52 am
streakboard Inflatable Stand Up Paddle Board Surfing SUP Boards, No Slip Deck 6 Inches Thick ISUP Boards with Free SUP Accessories & Backpack, Leash, Paddle and Hand Pump, for All Levels
as of November 25, 2023 10:52 am
HLEZ Inflatable Stand Up Paddle Board, SUP Paddleboard Set Including Paddle Pump Backpack & Leash Suitable All Abilities Ideal Beginners Paddle Board Kit - 118 × 30 6 inch
as of November 25, 2023 10:52 am
ZHANGLE Inflatable Stand Up Paddle Board, Inflatable Surfboard Kayak Sup, Suitable All Abilities Ideal Beginners Inflatable Paddleboard Kit 305X81x15
as of November 25, 2023 10:52 am
Inflatable Stand Up Paddle Board, 6" Thick Non-Slip Deck SUP Set with Accessories, Carry Bag, Hand Pump for All Levels
as of November 25, 2023 10:52 am
Bestway Hydro-Force White Cap Inflatable SUP Stand Up Paddle Board (2 Pack)
as of November 25, 2023 10:52 am
PEXMOR Inflatable SUP 10'6"×32"×6" Ultra-Light (19.6lbs) for All Skill Levels Stand Up Paddle Board with Adustable Paddle, Hand Pump with PSI Gauge, ISUP Travel Backpack, Leash, Repair Kit (Blue)
out of stock
as of November 25, 2023 10:52 am
FCH PEXMOR Inflatable SUP Stand Up Paddle Board, 10.5' x 30" x 6" Inflatable SUP Board, iSUP Package with All Accessories (Auqa and White)
out of stock
as of November 25, 2023 10:52 am