It is portable and straightforward to store. The stuff it is made of is highly durable.
The PVC material is multi-layered, and you can view the drop stitching all the way around.
This makes the board extremely powerful, and you would not have to hesitate about scratches.
Are you looking for a SUP? Acoway inflatable SUP can be a good option for you. It's an ISUP made of ultra-durable PVC material.
The Acoway ISUP measures about 10′ feet long and 32″ wide, and 6″ thick, making it an excellent choice for cruising with good flotation.
The Acoway SUP also comes with nylon code tie straps at the front side for storing small items such as dry bags or jackets.
This paddleboard also has a comfortable and robust grip pad covering three-quarters of the inflatable valve and deck.
It is a good option for any beginner, both kids and adults. It is a perfect option for both first-timers and a slight/lower quality SUP upgrade. Acoway SUP is a good option for touring, yoga, and fishing.
It has a detachable below panel fin weighing around 22 pounds, enhancing stability and increasing steering and speed.
The Acoway SUP is made suitably for oceans, rivers, and lakes fishing or cruising. With 22 pounds, this SUP is portable and instantly deflated. More so, the manufacturer has provided a one-month return warranty.
If you have a problem with the SUP, you can apply for an exchange or refund.
Features Acoway Inflatable Stand Up Paddle Board
The enormous deck pad, the bungee for the security of your stuff, and a regular D-ring for the leash are just a few things on the board. The bungee is likely every person's favorite.
People who use the board for fishing and touring enjoy it exceptionally much.
In the set, besides the board itself, you are getting an adjustable aluminum paddle, a detachable center fin, a pump, and a valve wrench.
The weight limit for this board is 400 lbs. It is just sufficient for you and your pet or two lighter people, maybe kids.
This is why the set is generally gifted to young adults and teens going on an adventurous hot month vacation.
Keep in mind that you may want to find a vehicle pump for this board since the process of inflating can take a while.
You do not want to get exhausted before jumping onto the board itself.
The board has more than 300 reviews, making it the best choice for those trying to check out what other people believe and ensure that they make the best investment.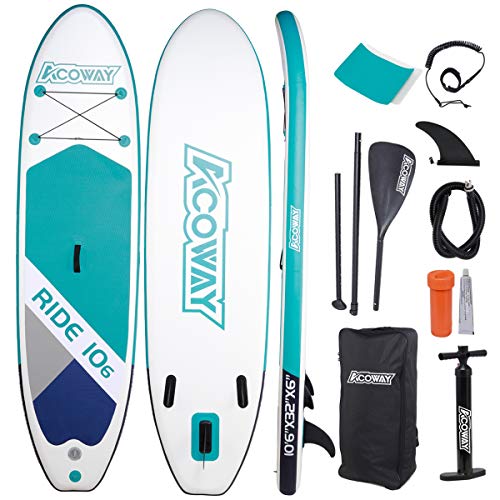 Read Next – Fastest Inflatable SUP Review
Main Features
Adjustable Aluminum Paddle – The paddle comes in 3 different sections to ease the storage and assembling process. The adjustable height makes it ideal for users of any height or paddling while seating, kneeling, or standing.
Durable Material – The Acoway SUP is made of top-quality PVC material with a mesh composite inside for additional strength, durability, and shape.
Lightweight – The Acoway SUP weighs about 22 pounds. This makes it simply portable from one mark to another.
Water-resistant bag – It's fitted with a water-resistant bag for a cell phone.
It has a carry backpack – it has a durable backpack. When deflated, it can simply slip inside and be carried to the paddle destination and back of the track.
It has better maneuverability – its weight and measurement make it simple to maneuver on the water.
It has fins fitted with adjustable fins that provide more stability and balance while on deep water. They also enhance board speed, handling, and steering of the SUP. When not in use, one can detach them.
Ankle Sleeve Safety Ropes – if you're paddling on rough water, your safety is guaranteed. With this function, even in slipping off the SUP, one remains connected.
Repair Kit – If your SUP gets scuff holes or marks, you don't have to worry. Acoway board comes with a repair kit purposely for such matters.
Non-slip deck – the top tier of the Acoway SUP is soft but not slippery, assuring good feet stability. Therefore, ensuring that the user doesn't lose balance!
A 2-way hand air pump – this hand air pump has the power of inflating your SUP quicker than a single directional one. It inflates both pull-ups and push-up.
Read Next – SOOPOTAY Inflatable SUP Stand UP Paddle
What Is Acoway 10'6 Inflatable Paddle Board Made of?
It is likely a typical construction general for cheap iSUP probably produced in China or the like.
That is a drop-stitch core held combined with a layer of fabric.
Around that is a PVC layer, but only one.
At the rails, there is like twin layer of PVC tape.
It would be vital to know how well those elements combine to plan the objective standard of the build.
Either way, a one-layer construction is perfect for casual recreational padding, mainly considering that this one is knowingly built for just that, making sense that the building in line with it is use (fishing, yoga, casual cruising of flat waters).
Read Next – Best Isle SUP Boards
Acoway Inflatable Stand Up Paddle Board, 10'6" Long 33" Wide 6" Thick SUP Package, Perfect for Yoga Fishing Touring
out of stock
as of December 4, 2022 4:35 pm
What does a user say about Acoway Inflatable SUP?
The price and quality are among the qualities that make SUP a good option for many users. One of the users ascertains that since they inflated the SUP over two months ago, they've not had any need to include more air.
More so, it's just fit for its price tag. This board's stability and proper functionality are another quality that riders are happy about.
In addition to SUP stability, the deck of the board is heavy-duty. It has a considerable space for carrying essentials such as a water bottle, a life jacket, and many more.
The case of portability makes it attractive. It has a decent carrying handle in the mid of ease of transport when inflated. More so, it only takes a couple of minutes to inflate the SUP entirely. When deflated, it is simple to fold it up and fit in a backpack together with other essentials and gears that come with it.
The water-resistant mobile pouch that comes with it is among the features and gears that users are grateful for. The ankle strap enhanced user confidence in their safety while on the water. The paddles of SUP are also perfectly made.
Though users have noticed that this SUP needs more PSI of about 15-22 PSI than other boards, it takes more effort and time to inflate it. It comes with a manual pump that is exhausting to acquire to 15 PSI. Therefore, an electric pump is preferred as it saves energy and time.
Read Next – Kingdely Inflatable Stand Up Paddle Board
What I like
The SUP is made of top-quality PVC material with an inner mesh that makes it more stable.
It weighs only 22 pounds. This increases its ease of carrying around. As such, users can simply have it to the paddling to the back of a truck. Besides, when deflated, it can be folded and be fitted in the backpack.
The SUP measures about 10′ long and 32″ wide, and 6″ thick. This measurement provides enough room for the storage of foodstuffs and safety gear.
The SUP has a mid-carrying handle for smooth portability while inflated. Therefore, you don't need to deflate it to move from one place to another.
Clear instruction manual on how to fit the gears
Perfectly made for rivers, oceans, and lakes
What I don't like
Some users pointed out that their Acoway SUP came in the much-damaged box.
Users have observed that using a manual air pump takes too much time and effort to get packed.
Some users complained about the poor quality packaging
End words…
The Acoway Inflatable SUP is a fine choice for your cruising and fishing adventure. Its supreme stability makes it ultra-safe for shallow and deepwater use. The board is made of top quality and ultra-durable material, guaranteeing you value for your investment.
Furthermore, it's portable. When deflated, it can fit into a backpack and be carried to the back of a vehicle. While inflated, the board has to carry handles in the middle, and its lightweight increases portability.
Read Next – XIGG SUP Inflatable Stand Up Paddle Board
10 Best Inflatable (SUP) Paddle Boards For 2022
rumlad inflatable paddle board review,
xylove paddle board review,
roc vs serenelife paddle board,
roc inflatable paddle board,
inflatable sup,
serenelife inflatable stand up paddle board,
red paddle boards for sale,
red paddle co 3 piece paddle,
So it is not so much the construction standard as it is about customer support and warranty because affordable iSUPs tend to get borked more simply. When nobody is dealing with them, you are left alone with those issues, which is a problem.
Read Next – Pathfinder Inflatable SUP Stand-up Paddleboard Bundle
The Acoway inflatable stand-up paddleboard is the perfect choice for anyone looking to learn how to surf on a budget.
It's easy to transport, has no storage issues, and can be inflated in less than two minutes by just plugging it into any standard outlet.
If you want an affordable way to get your feet wet with surfing or are looking for a great gift idea, this may be the product for you!
We hope that our review of the Acoway SUP makes it easier for you to find out which type of paddleboard best suits your needs without having to do too much research yourself.
Read Next – Best Water Sports Shoes For You 
Acoway Inflatable Stand Up Paddle Board, 10'6" Long 33" Wide 6" Thick SUP Package, Perfect for Yoga Fishing Touring
out of stock
as of December 4, 2022 4:35 pm
ACOWAY Inflatable Stand Up Paddle Board, 10'6 ×32"×6" - Paddle Boards for Adults & Youth, SUP Paddleboard Accessories with Backpack & Hand Pump - Bottom Fin Paddling Surf Control, Non-Slip Deck
out of stock
as of December 4, 2022 4:35 pm
Soopotay Inflatable SUP Stand Up Paddle Board, Inflatable SUP Board, iSUP Package with All Accessories (Turquoise_Green, 10' x 32'' x 6'')
out of stock
as of December 4, 2022 4:35 pm
Goplus Inflatable Stand Up Paddle Board iSUP Cruiser 6" Thickness iSUP Package with 3 Fins Thuster, Adjustable Paddle, Pump Kit and Carry Backpack (10FT)
as of December 4, 2022 4:35 pm
Aqua Plus 10ft6inx33inx6in Inflatable SUP for All Skill Levels Stand Up Paddle Board Boat, Adjustable Paddle,Double Action Pump,ISUP Travel Backpack, Leash, Shoulder Strap, TPU Waterproof Bag
3 used from $164.92
Free shipping
as of December 4, 2022 4:35 pm
Goplus Inflatable Stand Up Paddle Board, 6" Thick SUP with Accessory Pack, Adjustable Paddle, Carry Bag, Bottom Fin, Hand Pump, Non-Slip Deck, Leash, Repair Kit (Green, 11FT)
as of December 4, 2022 4:35 pm
ACOTOP Inflatable Stand Up Paddle Boards with Premium SUP Accessories, Ultra Light Paddleboard with Manual Pump, Waterproof Bag, 3-Piece Aluminum Paddle, Non-Slip Deck for Adults, Beginners
as of December 4, 2022 4:35 pm
Cooyes Inflatable Stand Up Paddle Board 10.6 ft with Premium SUP Accessories and Backpack, Non Slip Deck, Waterproof Bag, Leash, Paddle and Hand Pump for Paddling and Surf Control
5 used from $197.27
Free shipping
as of December 4, 2022 4:35 pm