With all of its accessories, Aqua Marina Fusion is one of the most popular buys on Amazon because of the great price it offers versus the quality.
You will notice that you are getting a whole bunch of accessories, as well as the high-quality board we'll be talking a bit more about now.
Features Aqua Marina Fusion Inflatable SUP review
The board has an EVA deck. Its heat embossed, very durable, and is a non-slip one, making it easy for you to use it for other activities that boarding: fitness, sup yoga, sunbathing…
The 4" stitch core material makes the board unbreakable, and you'll notice that the outer layer is 1" thick on each side, which makes the board sturdy and attractive as well.
The orange, sun-like design is a great choice both for men and women of all ages.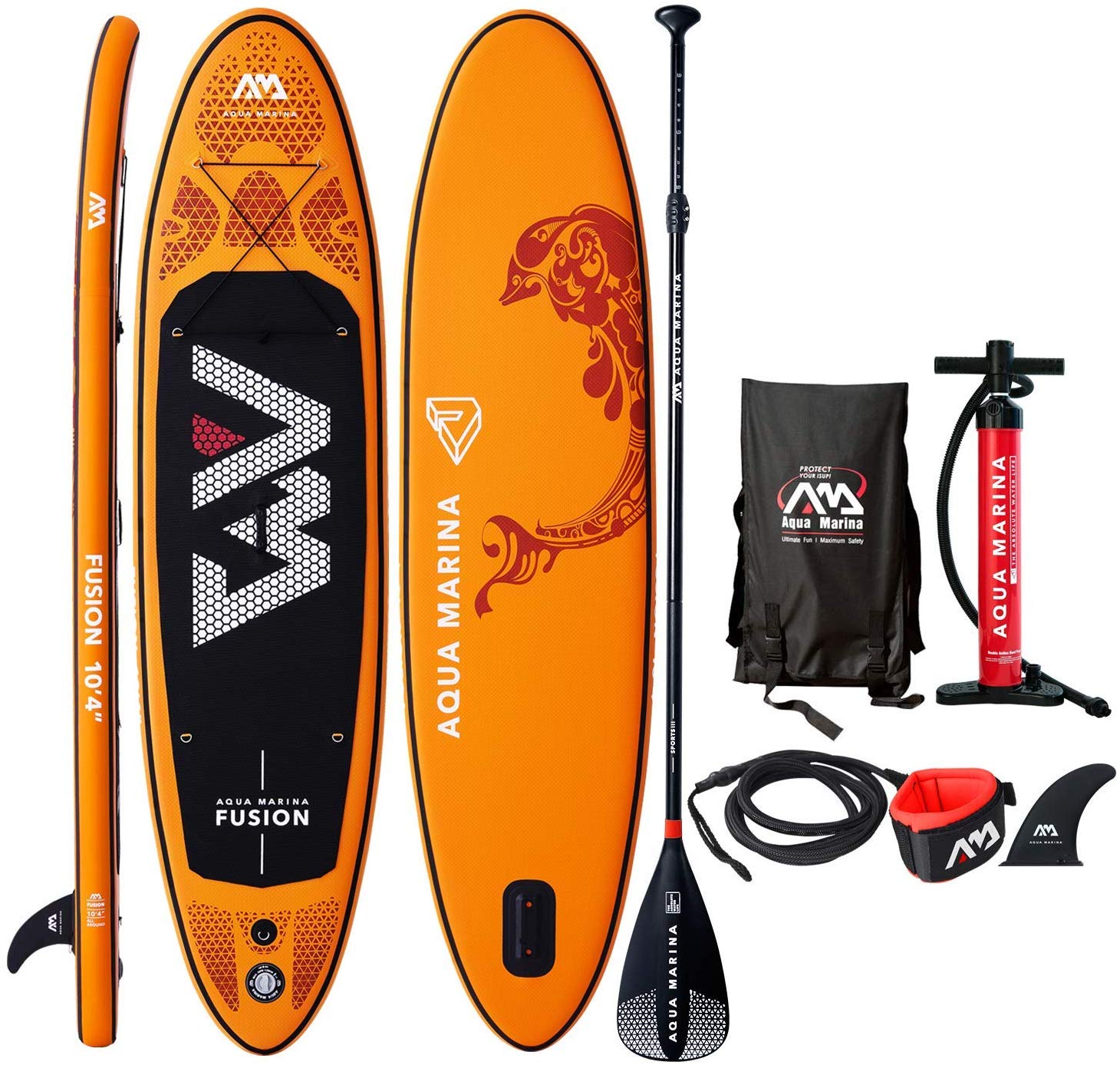 The board is elementary to transport and store, and it has a leash ring on the deck at the tail area.
You'll notice that it can get inflated much faster than other ones, but you shouldn't inflate it to more than 15 PSI.
You are also getting a rubber handle, a dual-action pump, a center fin, a backpack, a paddle, and a safety leash in the kit.
This Aqua Marina Fusion review will introduce a beautiful paddleboard that will surely catch everyone's eye with the gorgeous orange design it has.
It's a board that you fall in love with easily, but not just because of its looks, but also because of the great quality it has.
You're getting all of this for this great price, and we also have to mention that the company paid attention to the accessories.
For example, the paddle is made from three parts that make it perfect for adjusting its height.
The board's weight is about 9 kilos (19 lbs), but you shouldn't worry about that.
The onboard storage is made from stainless steel, which is extremely rare, and the d-rings and the elastic bungee are all set up on the board so you can bring along all of your favorite things.
This is especially important for those who have hobbies like fishing or yoga.
Those who like to tour with their paddleboard could also bring food around, which is a great advantage.
DURABLE DESIGN
Handles whatever waves you throw at it; it is easy to stay stable as you go against the water; Made from lightweight drop stitch technology.
STABLE
Honeycomb foot deck adds to stability as you stand on the waves
Key FEATURES
Removable slide-in center fin; Integrated cargo D-ring with a bungee cord to attach luggage; Includes paddle, removable fin, air pump, safety leash, storage backpack;
It can be connected to kayaks; Full Deck and base quality printing, and rail designs for superior optics.
Read Next – Aqua Marina Drift Fishing Inflatable Stand-up Paddle Board
SPECIFICATIONS
Maximum weight: 220 pounds; Color: Orange; Dimensions (L x W x H): 123 x 30 x 6 inches; Weight: 18.5 pounds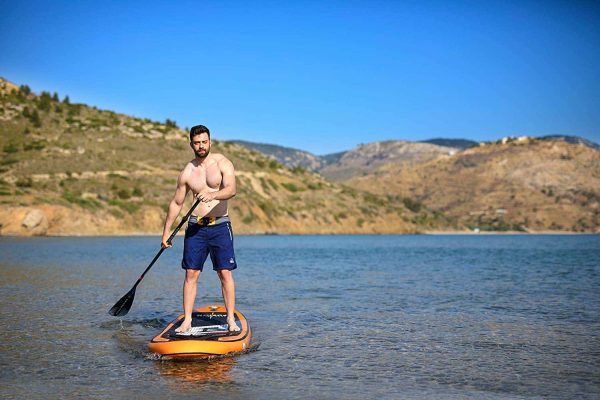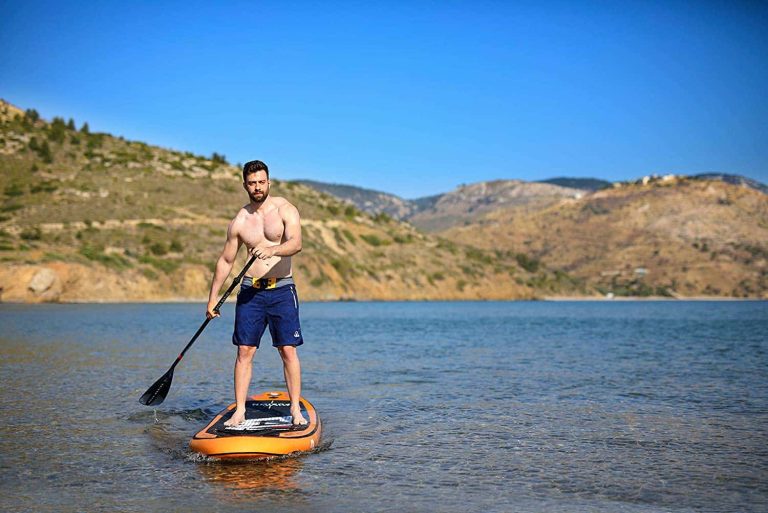 This board is an all-time favorite of many paddle boarders, and we are sure that you have noticed why.
Sometimes you feel like getting a good morning workout on the water, and sometimes you feel like going on a water tour and being a tourist in your own city on a sunny afternoon.
Adventures are rarely planned. You have to grab them as they come.
Be ready for a wide variety of water adventures with the Aqua Marina Inflatable Fusion 123-Inch SUP Board Set!
This Fusion SUP offers all the fun that comes with hard boards but has the added advantage of being easily portable and simple to store.
Thanks to the wide-style design, even beginners will be able to glide on the water with ease.
Throw your best shaka sign, grab this SUP board set, some sunscreen, and get ready for a wild water adventure!
Aqua Marina Fusion 10'4 Standuppaddle Board
Aqua Marina Fusion is lightweight and can be used by beginners and professionals.
It's easy to travel with it, bring it around, and it's great for teens and young people as well.
People enjoy it because it's pretty stable, and many decide to gift this board to their kids who are just starting their new hobby.
The Best Selling Paddleboard for Beginners
Read Next – Aqua Marina Breeze Paddle Board Review
Aqua Marina Thrive 10'4" Inflatable Stand Up Paddle Board (6" Thick) with Double Action Pump, Magic Backpack, Slide-in Center Fin, Sports III Paddle, Safety Leash, Bundle
as of October 20, 2021 10:19 pm
Aqua Marina Stand-up Magma Paddle Board
2 new from $369.00

as of October 20, 2021 10:19 pm
Aqua Marina Inflatable Thrive 117 Inch Stand Up Paddleboard Set w/Pump, Green
as of October 20, 2021 10:19 pm
Aqua Marina Inflatable Paddle Board 9' 9"
as of October 20, 2021 10:19 pm
Aqua Marina BT-18RP Rapid 9.6 Foot Inflatable SUP Stand Up Paddleboard, Yellow
2 new from $329.99
Free shipping
as of October 20, 2021 10:19 pm
Aqua Marina BT-18EC Echo 10.6 Foot Inflatable SUP Stand Up Paddleboard w/ Paddle
as of October 20, 2021 10:19 pm
AM AQUA MARINA Breeze - All-Around iSUP Paddle Board
2 new from $389.99

as of October 20, 2021 10:19 pm
Aqua Marine SPK-1 Paddleboard
1 used from $299.99

as of October 20, 2021 10:19 pm
Aqua Marina Inflatable Kayak (HM-312) - 1 Adult.
as of October 20, 2021 10:19 pm
Aqua Marina HM-312 Betta 10'3" Single Inflatable Kayak, Multicolor
out of stock
as of October 20, 2021 10:19 pm
AM AQUA MARINA Vapor - All-Around iSUP Paddle Board
6 new from $449.99

as of October 20, 2021 10:19 pm
AM AQUA MARINA Magma - Advanced All-Around iSUP Paddle Board
4 new from $569.99

as of October 20, 2021 10:19 pm
Aqua Marina Rapid White Water iSUP Paddle Board
as of October 20, 2021 10:19 pm