Aqua Marina Fusion Inflatable SUP review
Aqua Marina Fusion with all of its accessories is one of the most popular buys on Amazon because of the great price it offers, versus the quality. You will notice that you are getting a whole bunch of accessories, as well as the high-quality board we'll be talking a bit more about now.
The board has an EVA deck. Its heat embossed, very durable and is a non-slip one which makes it easy for you to use it for other activities that boarding: fitness, sup yoga, sunbathing…
The 4" stitch core material makes the board unbreakable and you'll notice that the outer layer is 1" thick on each side, which makes the board sturdy and attractive as well. The orange, sun-like design is a great choice both for men and women of all ages.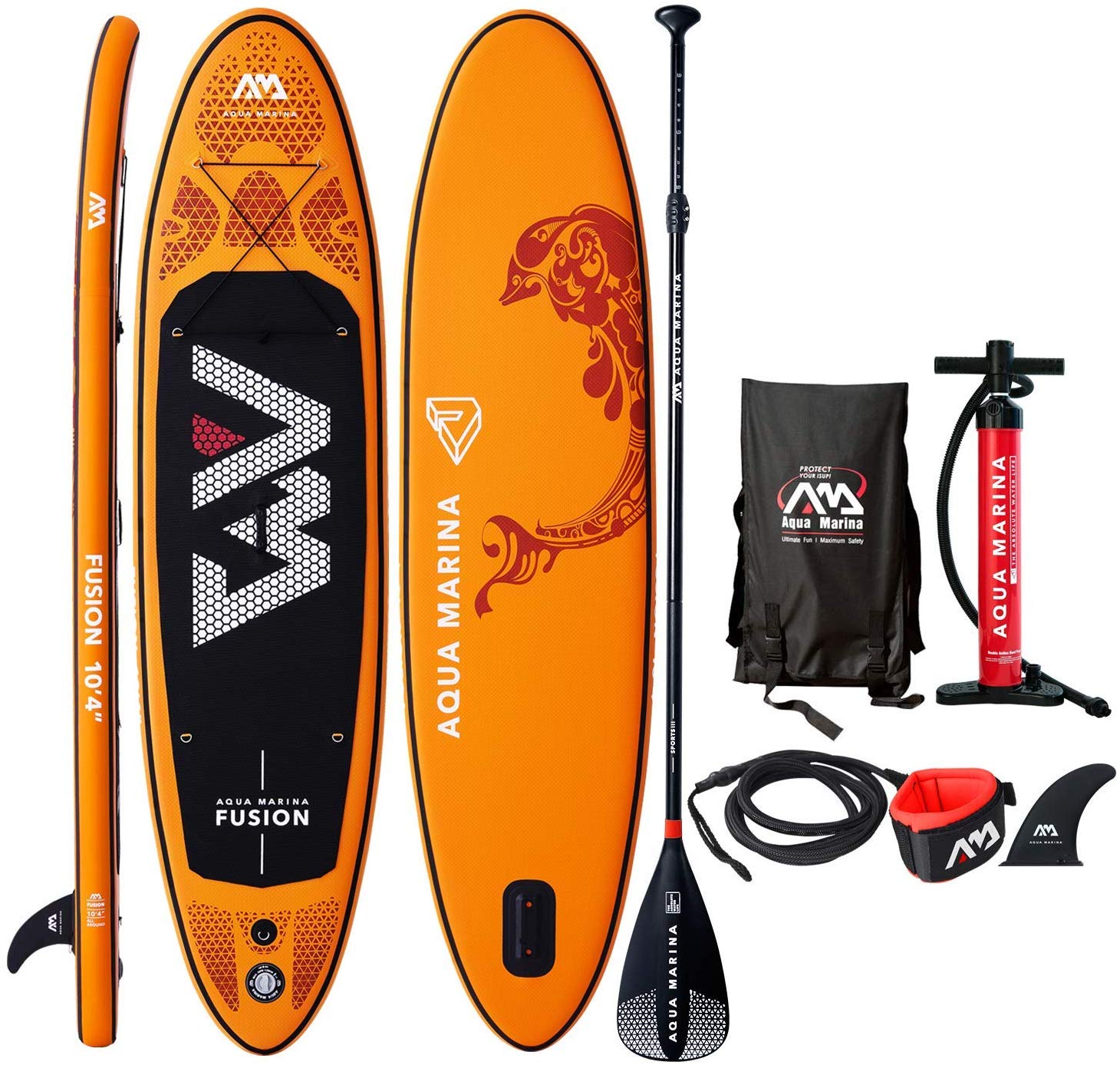 The board is very easy to transport and store, and it has a leash-ring on the deck at the tail area. You'll notice that it can get inflated much faster than other ones, but you shouldn't inflate it to more than 15 PSI.
In the kit, you are also getting a rubber handle, a dual action pump, a center fin, a backpack, a paddle, and a safety leash. You're getting all of this for this great price, and we also have to mention that the company paid attention to the accessories. For example, the paddle is made from three parts which make it perfect for those who like to adjust the height of it.
The weight of the board is about 9 kilos (19 lbs), but you shouldn't worry about that. The maximum weight this board can take is pretty average, 286 lbs, which is about 130 kilos. This board is an all-time favorite of many paddle boarders and we are sure that you have noticed why.
Last updated on March 23, 2020 10:37 am