Paddleboarding is the fastest growing watersport because just about anyone of any age and skill level can learn how to SUP.
It's a great way to get the family together or mix up your workout routine.
And at the end of the day, it's easy to roll up and stow away or keep inflated all season long.
Features Kepteen Inflatable Stand-Up Paddle Board
Maintenance is simple, rinse after use and use mild soap and water when it's time for extra cleanup.
Inflatable paddle boards make owning a SUP a no-brainer.
Exclusive Design-Inflated dimension
305 x 76 x 15 cm/ 120.1 x 29.9 x 5.9 inch, Inflatable paddleboard will be fully inflated or deflated in less than 5 mins, can be inflated up to 15 PSI -but is stiff and ready to ride at 10 PSI.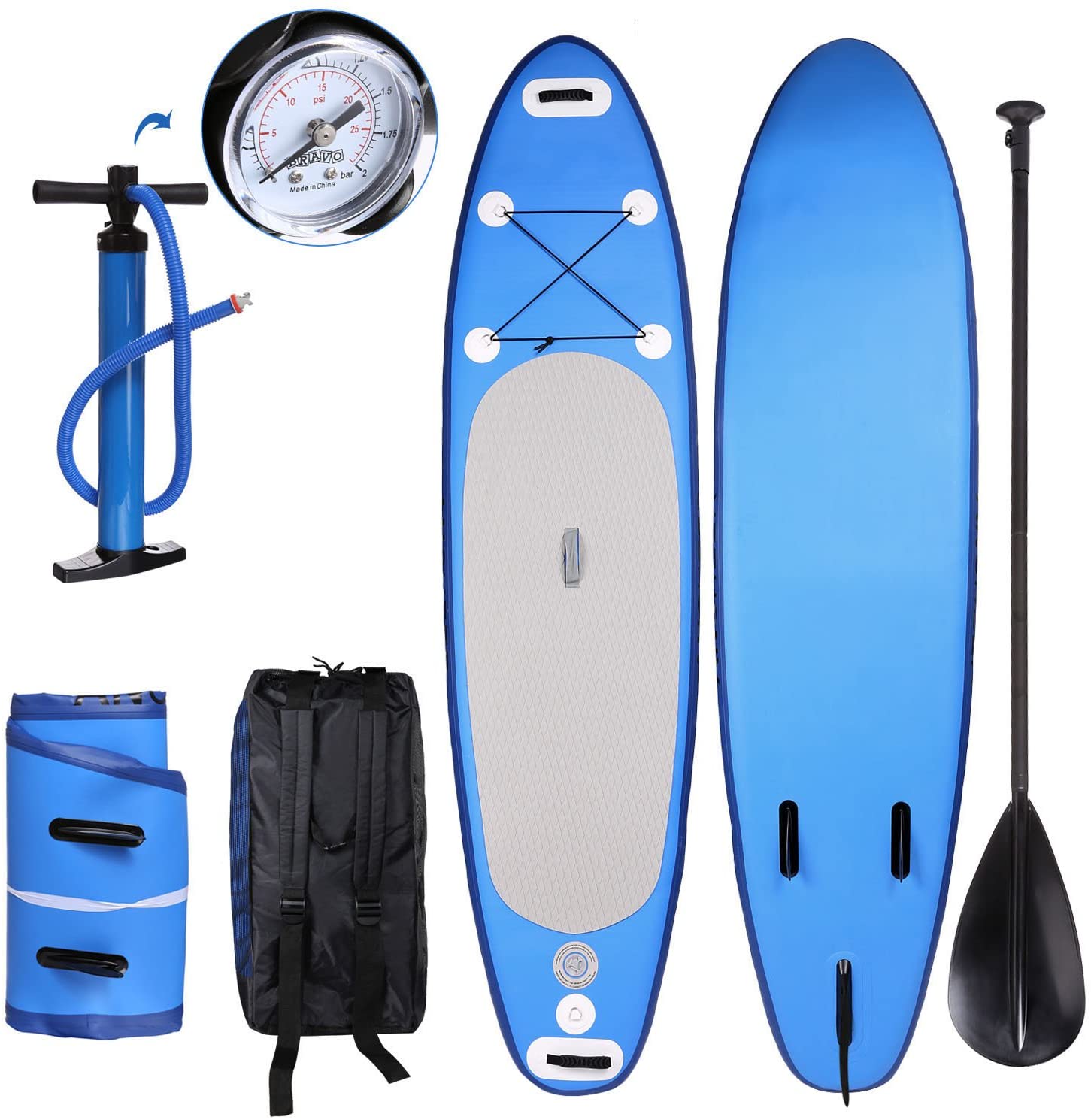 Extremely Rigid & Durable
Weight limit of up to 330 lbs on the water When fully inflated. UV-resistant; anti-corrosion; 0.9mm military PVC material and drop-stitch construction, high-buoyancy, and rigid reinforced material performs like a hardboard, makes itself withstand rocky shores and white water rapids, never worry about board cracks.
Quick Inflation & Convenient To Carry
Quickly Inflates or deflates the board within 5 minutes. Inflatable SUP weighs 17 lbs for your light carry and easy storage.
Lightweight and portable making it ideal for the lake, river, or ocean.
Maintenance is simple, rinse after use and use mild soap and water when it's time for extra cleanup.
Just For You-Wide Application
No age limited, beginners and experienced paddlers; Unique 3 fins design (others have only one fin) provides additional paddleboard stability for the beginner; Comfort diamond groove traction for grip; Bungee on the front deck for storage; D-ring to attach a coil leash, Paddleboarding is easy enough for anyone to learn, any age or no skill level can learn how to SUP.
Guarantee
Buy this item with confidence. If there is any issue, don't hesitate to contact us, and we will respond and solve it within 24 hours.
Your satisfaction is our top priority.
Store or Take It Anywhere
Storing a stand-up paddleboard has never been easier.
A deflated inflatable SUP is about the size of a rolled-up sleeping bag.
This allows you to tuck it into the trunk of your car and easily store it in a closet.
Additionally, inflatables are lightweight, so even small riders can transport the board.
There's no need to rent a board when you're on vacation–check it on the plane with you.
And in the off-season, you can store it in the garage or shed.
Cold temperatures won't hurt them at all.
Package Content
1 x Single-layer Surf Board
1 x Retractable Retractable Paddle
1 x Fins, 1 x Foot Ring
1 x Backpack, 1 x Repair Kit
1 x One-way Manual Air Pump
1 x User Instructions
Swonder Premium Inflatable Stand Up Paddle Board, Ultra Durable & Steady, 11'6" Long 32" Wide 6" Thick, Full SUP Pack with Adjustable Paddle, Backpack, Leash, and Pump for Youth & Adult
1 used from $179.00
Free shipping
as of November 29, 2023 7:59 am
SereneLife Inflatable Stand Up Paddle Board (6 Inches Thick) with Premium SUP Accessories & Carry Bag | Wide Stance, Bottom Fin for Paddling, Surf Control, Non-Slip Deck | Youth & Adult Standing Boat
3 new from $219.99
5 used from $105.00

as of November 29, 2023 7:59 am
MaxKare Inflatable Stand Up Paddle Board SUP Board Surfing 6 Inches Thick with Premium Paddle Board Accessories Backpack Double Action Pump Portable ISUP for Youth & Adult&Kid All Level
3 new from $255.95

as of November 29, 2023 7:59 am
SereneLife Inflatable Stand Up Paddle Board (6 Inches Thick) with Premium SUP Accessories & Carry Bag | Wide Stance, Bottom Fin for Paddling, Surf Control, Non-Slip Deck | Youth & Adult Standing Boat
2 new from $249.99
3 used from $106.28
Free shipping
as of November 29, 2023 7:59 am
Lifetime Vista Inflatable Stand Up Paddle Board, 11' Long x 32" Wide x 6" Thick, Durable and Lightweight SUP, Stable Wide Stance Deck, Includes Backpack, Paddle, Pump, Removable Fin and Repair Kit
2 new from $498.00
Free shipping
as of November 29, 2023 7:59 am
JNWEIYU Inflatable Stand Up Paddle Board,with Premium SUP Accessories & Carry Bag | Wide Stance, Bottom Fin for Paddling, Surf Control, Non-Slip Deck | Youth & Adult Standing Boat
as of November 29, 2023 7:59 am
HydroForce Long Tail Inflatable Stand Up Paddleboard SUP and Kayak 11'
as of November 29, 2023 7:59 am
ADVENOR Paddle Board 11'x33 x6 Extra Wide Inflatable Stand Up Paddle Board with SUP Accessories Including Adjustable Paddle,Backpack,Waterproof Bag,Leash,and Hand Pump,Repair Kit (Green)
6 used from $162.78
Free shipping
as of November 29, 2023 7:59 am
FBSPORT 10'6'' Premium Stand Up Paddle Board, Yoga Board with Durable SUP Accessories & Carry Bag | Wide Stance, Surf Control, Non-Slip Deck, Leash, Paddle and Pump for Youth & Adult
4 new from $199.99
6 used from $143.22
Free shipping
as of November 29, 2023 7:59 am