The Amor Aqua Cooler SUP 11′ x 33″ x 6″ is my top affordable paddleboard for this year simply because it's a very well-built board that gives extra support and accessories that generally do not come.
In the aqua world, owning an inflatable stand-up paddleboard is the dream of everyone.
Easy-carry, you could enjoy paddling sports anywhere.
When you go to the sea, you can paddle in the seashore and use the iSUP to surf.
You could be paddling in the stream when you go to the stream.
And when to go hiking, if you find a lake, you could paddle.
Features AMOR AQUA Inflatable Standup Paddle Board
This Amor Aqua Cooler SUP is excellent for those who prefer slightly longer without sacrificing maneuverability.
The extra couple of inches compared to all other SUP you can buy in this price tag give the 11 feet variant of the Amor Aqua Cooler SUP an edge in overall tracking.
Read next – Xspec Inflatable Standup Paddle Board Review
Best Features
The design of the SUP is very convenient. Attachable kayak seat – 4 d rings linked on the SUP, it's elementary to attach the kayak seat on the paddleboard, so you'd enjoy it with the board. And it's very convenient to take a break when you need it most.
Rigid Construction – one layer of military-grade PVC used on this board makes the SUP light and utilizes the stringer on the one layer to make the paddleboard stiff and rugged. Drop inner stitch build, and maintain an upright and rigid form.
Ultra-Portable – with this feature, you can place SUP anyplace at home or during travel in your luggage.
Read next – Peak Inflatable Paddle Board.
Inflated SUP
11′ x 33″ x 6″ | Sleek, Single Layer Stability and fast | Supports Riders Up to 300 lbs | Weight: 24 kg- Similar to a rigid board when fully inflated to 15 PSI Max
ISUP BUNDLE INCLUDES
3pc Adjustable Paddle, Amor Aqua Pump, Travel Backpack, Coil Leash, Detachable Fin, Repair Kit
HIGHLY DURABLE
Military-grade PVC material with single-layer and drop-stitch Construction. Never worry again about dings and board cracks.
Read next – FeatherLite Inflatable SUP Set Paddle Board Review.
Ultra-Portable
No need for roof racks can be rolled up into a compact package. Throw it in the trunk of your car or travel the world with it in your luggage. and easy to store in any closet
Read Next – Roc Inflatable Stand-Up Paddle Board W Free Premium SUP
WARRANTY
2-year manufacturer warranty, which covers everything outside of normal wear & tear.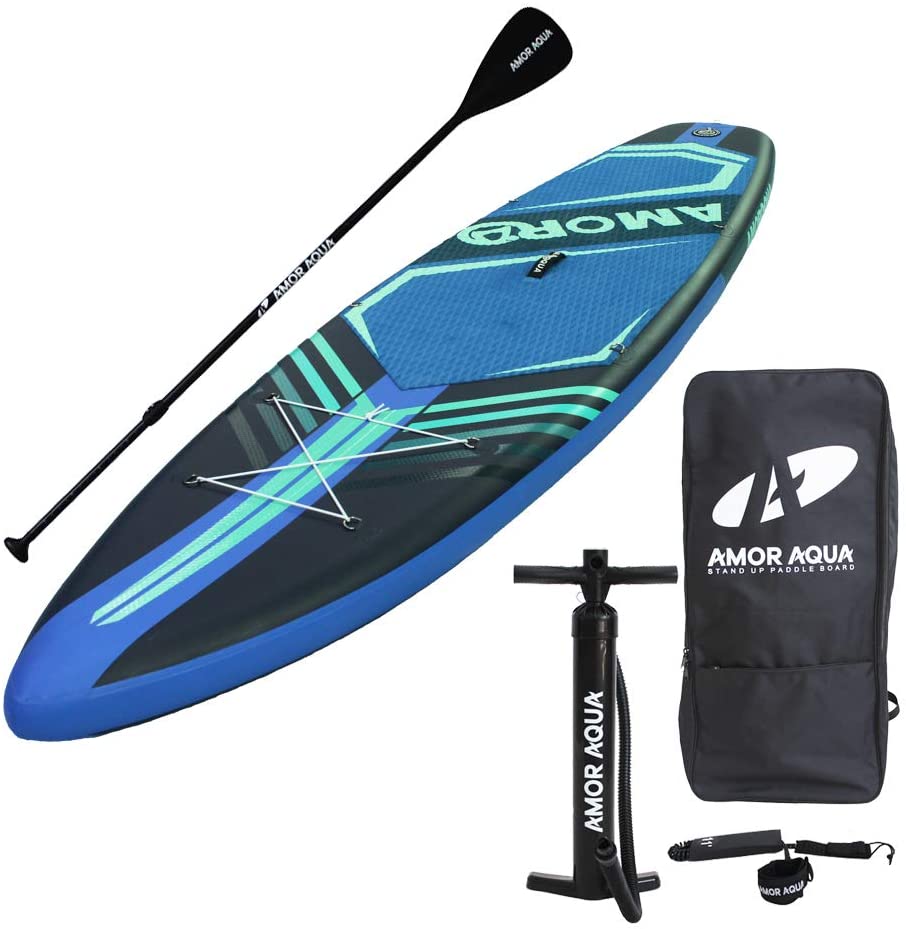 Many people like water sports. And now many people love paddling sports.
Enjoy paddling everywhere with your family, friends, and colleagues. That is very cool.
And now, with AMOR AQUA OUTDOOR PRODUCTS, like the Stand Up Paddleboards and the soft coolers, it is a beautiful moment you will enjoy when you are in the sea, lake, stream, etc. Now, pick up your backpacks and go paddling. Join us.
Read next – FeatherLite 11'6″ Inflatable SUP Set.
At 32 inches wide and 6 inches thick, the paddleboard gives plenty of room to spread out on, and it very beginner-friendly option for the board's stability to help paddles learn how to SUP perfectly.
Portable

With the portable carry backpack, you could carry the inflatable stand-up paddleboard anywhere; All accessories could be packed into the bag.

Stable

You could enjoy the iSUP in the water, racing, touring, fishing, yoga, etc.

All Package

All package includes the inflatable board, adjustable paddle, dual-action hand pump, portable carry backpack, coiled leash, and repair kit, including wrench and fabric.

Funny

You could paddle in the water and enjoy the fun. It is safe with a stable paddleboard.
Strengths
 

Rigid Construction Design

Single-layer military-grade PVC uses the AMOR AQUA Inflatable Standup Paddle Board, making the board light and using the single-layer stringer to make the board rigid and stiff. The drop inner stitch structure maintains an upright and inflexible shape.

Attachable Kayak Seat

Four D rings are attached to the board. It is easy to secure the kayak seat on the board to enjoy the kayak with the board. And it is convenient to take a break when you need it. This is a suitable design.

Same Style Cross-color EVA

To reduce the material waste and pollution to the environment, we use the cross color for the EVA pad, random color EVA you will receive. Please kindly support the green design.