Zray W2 paddleboard is made both for sailing and for paddling.
It can be used as a windsurf board, a paddleboard, a touring board, etc.
It's a pretty good choice, no matter what you are planning on doing.
Features Zray W2 Inflatable Paddle Board
This board is short and wide, perfect for windsurfers since it offers them stability.
It's a "funboard" made to be used in various fields.
How can you use this board? We will tell you further in this Zray W2 paddle board review.
The board can be easily transformed, and its size: 10'6″ x 32″ x 6″ is perfect for anyone. You'll be getting a pretty fast, stable piece.
The dagged fin system is excellent for those who aren't that good at balance yet.
It helps you stay stable and enables you to maneuver the whole thing much more accessible.
The enhanced stability and balance are an excellent choice for young people.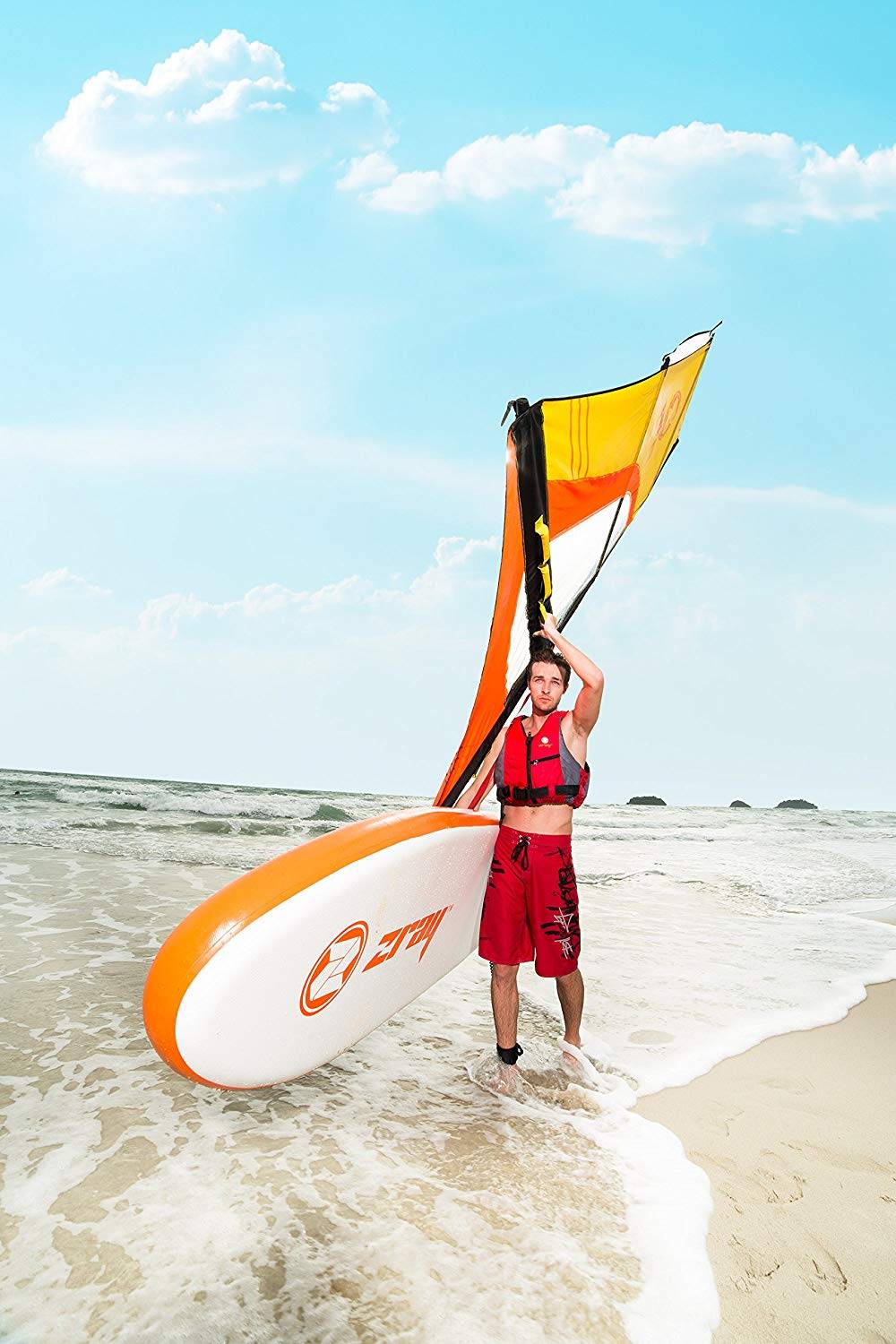 The board can take up to 320 lbs, which means that you can take someone with you: a friend or a pet.
You're not getting aboard only. But, of course, you are getting the whole set: a durable backpack, a high-pressure pump, a windsurf rig…
Those who like to fish will find the storage values, and those who enjoy touring and need food beside them.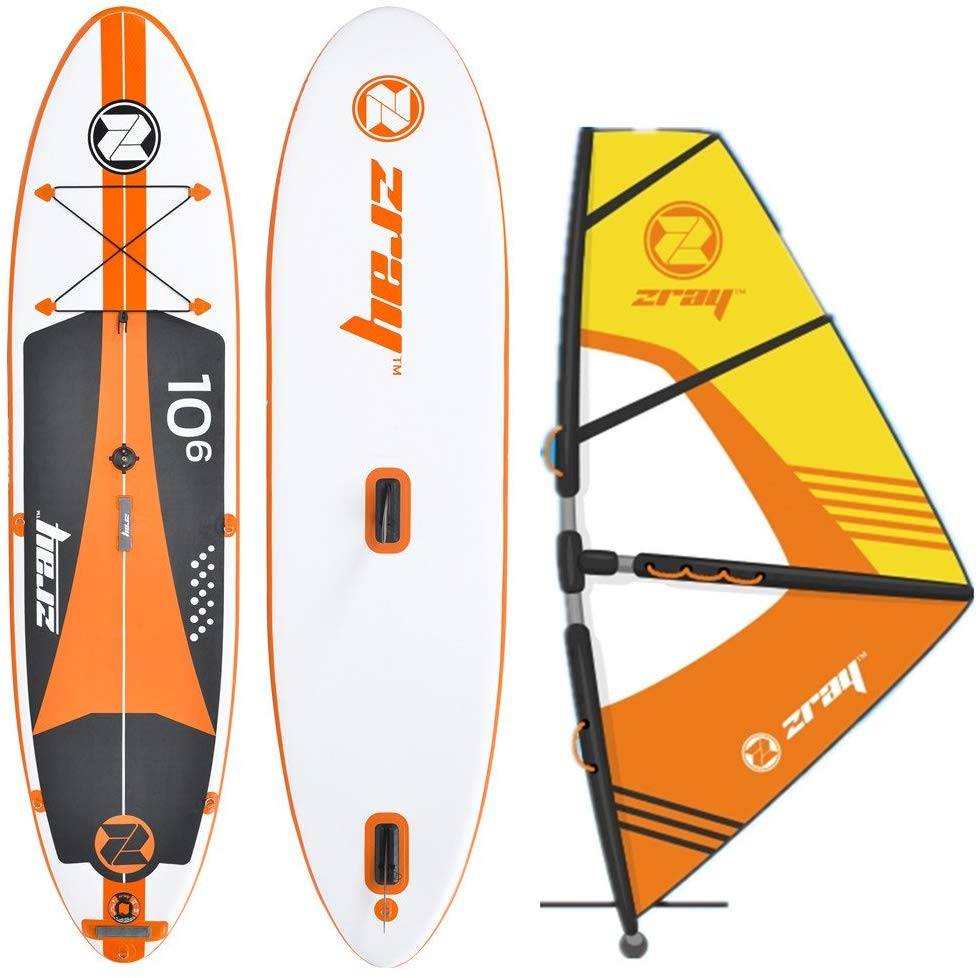 A removable seat on a heavy-duty board widens the options as well.
If you're looking for a board that can be used in many different scenarios if you're an adrenaline lover and want to experience life if you like to try out new and weird stuff if you change hobbies all of the time…
If you want to be on the sea, the ocean, the river, the lake, the water… Check this piece out.
Read Next – Windsurfing Guide
For a rookie to learn the windsurfing sports
easy to insert for attaching a windsurfing rig that offers outstanding sailing performance in light to moderate wind conditions.
Fordable sail size: mast 118″ bottom 51."
Read Next – Best Zray Paddle Board London Buying Guide
Easy to store and carry 
Measure in 10'6″ x 32″x6″ when inflated. Weight at 20.94 lbs. It can be rolled up as a sleep bag size and put into a backpack bag for easy storage and transport.
The rig also can be rolled
32″ extra-width board with two central fin systems provides more stability during your surfing
Read Next – Zray E11 Combo Inflatable Sup Board Stand Up Review
Both for Surfing and Touring
You can use it as a regular board for your watering sports when removing the sail.
When fully inflated, it feels very similar to a rigid board (can be inflated up to 15 PSI) and supports beginner riders up to 320lbs.
FULL KIT
board, paddle, sail, pump, and backpack. PLUS 30 days money back and 1-year warranty
The Zray W2 Inflatable Paddle Board is the perfect balance of stability and speed.
With its lightweight construction, it's easy to carry around on land or in water.
We offer a variety of colors so you can customize your board according to your style preference.
Give yourself more options with the Zray W2!
Read Next – Zray E10 SUP Review
Zray W1 & W2 Windsurf Inflatable Paddle Boards Review
If you're looking for an inflatable paddleboard that will last from lakeside excursions to ocean-side adventures, then look no further than The Zray W2 Inflatable Paddle Board.
Whether you want a bright yellow one for day trips out onto the lake or a metallic red one for nighttime paddling, we have something for everyone at this price point!
Z-Ray Windsurfing Inflatable Stand-Up Paddleboard Set with Board/Sail/Pump/Paddle/Backpack
out of stock
as of November 22, 2023 4:14 pm
Z-Ray X1 9'9" All Around SUP Stand Up Paddle Board Package w/Pump, Paddle and Travel Backpack, 6" Thick
out of stock
as of November 22, 2023 4:14 pm
SereneLife Inflatable Stand Up Paddle Board (6 Inches Thick) with Premium Accessories & CarryBag | Wide Stance, Bottom Fin for Paddling, Surf Control, Non-Slip Deck
2 new from $199.99
7 used from $94.55

as of November 22, 2023 4:14 pm
Pool Central 8' Inflatable Blue and Yellow Z-Ray SUP K9 Teen Paddle Board
as of November 22, 2023 4:14 pm
Hydro-Force Oceana Inflatable Stand Up Paddle Board, 10' x 33" x 6" | Inflatable SUP for Adults & Kids | Converts into Kayak | Complete Kit Includes Kayak Seat, Oar, Pump, Travel Bag, Ankle Leash
out of stock
as of November 22, 2023 4:14 pm
Pool Central 10.75' Yellow and Black Z-Ray X2 All Around Inflatable Multiboard with Paddle and Pump
as of November 22, 2023 4:14 pm
MaxKare Inflatable Paddle Board SUP Stand Up Paddle Board 6 inches Thick Board with SUP Accessories & Carry Bag & Fast Pumping for Adults & Youth for Paddling Surfing Fishing Yoga
4 new from $207.99

as of November 22, 2023 4:14 pm