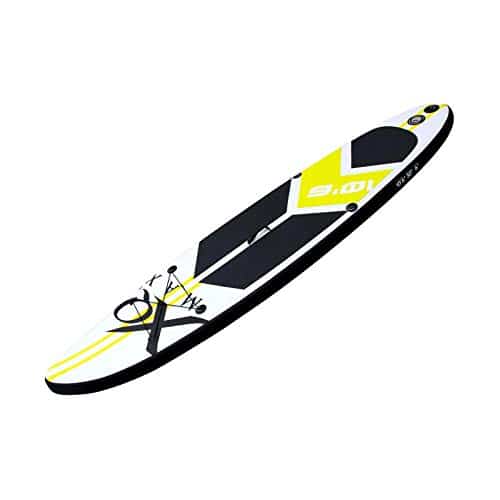 The XQ Max Paddle Board 305 is the right option if you are a small paddle below 90kg, though the official specification claims it supports people up to 100kg.
Also, the board has a narrow design that mightn't be good for beginners. But if you're at least an intermediate rider, you will find XQ Max Paddle Board 305 simple to track.

XQ Max SUP Inflatable Stand Up Paddle Board Set
It is also a versatile SUP that you can use for various activities. Though we recommend it for surfing, flatwater supping works also.
That is because XQ Max Paddle Board 305 is narrow, think, and a little short. It is simple to track, though it is not the best for choppy waters.
Remember that XQ Max Paddle Board is not the most stable of the bunch. For instance, even small waves can make you lose your stance because the board has a round end.
That said, the triplefin system allows simple tracking if you are at least intermediate.
Plus, it is not a rigid SUP. Therefore, you can use the XQ Max Paddle Board 305 for speed if you can keep your balances; there is one more thing to consider before selecting an affordable paddleboard – materials.
Read Next – THURSO SURF Max Multi-Purpose Inflatable SUP
XQ Max SUP Review
This SUP is made from single-layer PVC and drops stitch core fabric. That is not very bad, but it is not good either. For instance, you do not see any heat-welded seams, and it does not say what they utilized for their drop stitches.
However, the SUP is comfortable and features all you need. As such, you will get a cargo bungee net, ankle leash, carry handle, and three fins.
Those three fins are suitable for tracking, considering other paddleboards in the price range only feature 1 SKEG.
Another benefit is the complete package, backpack, leash, paddle, repair kit, and pump.
Read Next – AQUAPLANET MAX Stand up paddle board
XQ Max 320cm Yellow Inflatable Stand Up Paddle Board SUP - Complete Set Kit with Adjustable Paddle, Pump, Patch Tool, Waterproof Dry Bag Light Surfboard for Beginners/Experts Standing/Sitting
2 new from £176.99

as of November 29, 2023 3:34 pm
AQUAPLANET Inflatable Stand Up Paddleboard Kit - Max, Orange | 10.6 Foot | Ideal for SUP Beginners & Experts | Includes Fin, Paddle, Pump, Repair Kit, Backpack, Leash, Dry Bag, Carry Strap
2 new from £329.00
1 used from £270.48
Free shipping
as of November 29, 2023 3:34 pm
Portofino Inflatable Stand Up Paddle Board 2022, 10ft x 33" x 4.5" All Round SUP with Accessories (Backpack, Adjustable Aluminium Oar, Pump, Pressure Gauge, Leash and Removable Fin)
as of November 29, 2023 3:34 pm
Goosehill Inflatable Stand Up Paddle Board, Premium SUP Package, 10' Long 32" Wide 6" Thick, Patterns Open for Customization (Sailor Green)
as of November 29, 2023 3:34 pm
10ft / 3m Inflatable Stand Up Paddle Board | Inflatable SUP Board Beginner's Surfboard Kit w/Adjustable Paddle | Air Pump w/Pressure Guage | Repair Kit | Premium Leash | Kayak Seat & Carry Backpack
as of November 29, 2023 3:34 pm