Paddleboarding is a great way to stay fit and have fun on the water. Families with young kids will love this activity as it requires little to no experience or skill.
However, it can be challenging for the kids to paddle a large board with their tiny hands and muscles.
With that in mind, XPLOR has specifically designed a Child SUP board that makes paddleboarding easier than ever before!
Let's take an in-depth look to figure out what makes it so extraordinary.
XPLOR Child iSUP Features
The XPLOR Child iSUP has a compact design. It's only 7 feet and 6 inches long, 25.5 inches wide, and 4 inches thick. Thus, this board provides excellent maneuverability even for the smallest paddleboarder.
Even though it's a SUP for children, XPLOR constructs this board with top-quality materials and advanced technologies.
Consequently, with a drop-stitch core and military-grade PVC, this board performs admirably in the water.
A soft textured EVA foam deck pad covers the surface of the board. It allows the board to dry quickly and provides safety, comfort to its rider.
There is also a tri-fin set up on the board. It includes two fixed side bite fins and one removable snap lock center fin for added flexibility.
Moreover, this fin system allows the young paddler to prepare their board quickly and easily for paddling.
This Sup comes with a decent adjustable SUP paddle for kids. But, it's an aluminum paddle with a nylon blade, which weighs more than a carbon kids paddle.
Unfortunately, the SUP pump is single action with a single chamber. Getting the board up to 12 PSI with a weak pump would be challenging for the junior paddleboarder.
Nevertheless, it's one of the best iSUPs you can get for your kids.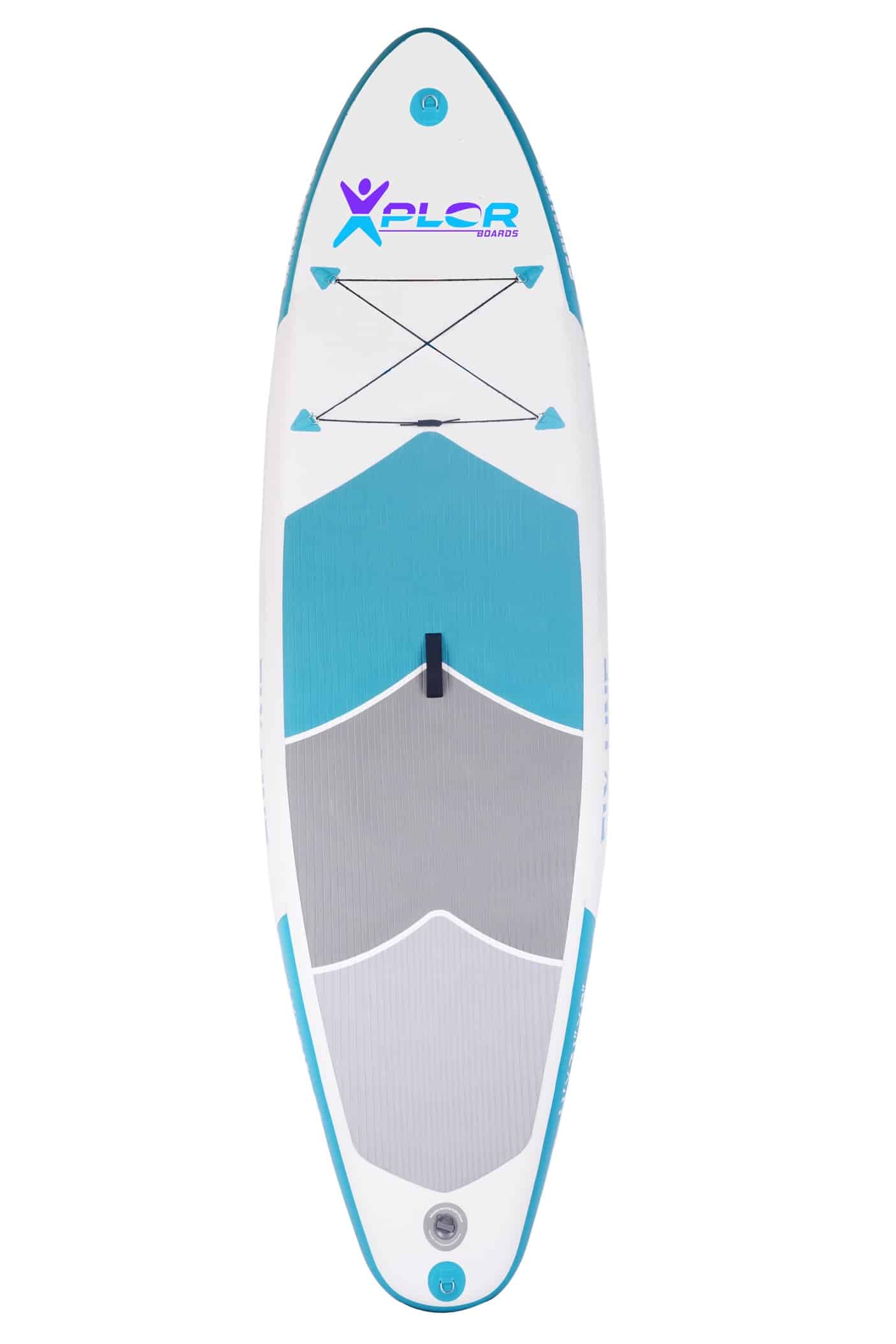 Read Next – 7 Tips to Make Windy SUP Excursions Enjoyable and Safer
Main Advantages Kid/child iSUP
Compact

High-maneuverability

Durable

Comfortable

lightweight
Main Drawbacks
Weak SUP Pump

Low carrying capacity
Read Next – Best Kids SUP Board To Buy In 2023
What is the XPLOR Child Inflatable SUP Best Suited For?
The iSUP is suitable for children between the ages of 5 and 10. It'll offer the best performance if the rider weighs less than 100 lbs or 45.3 kg.
It's an ideal board for junior paddlers who want to practice the basics of paddleboarding. For instance, this board is perfect for learning the primary paddle strokes due to its high maneuverability.
Moreover, the tight drop-stitch with military-grade PVC makes the board sturdy enough to survive rough waters and rocky shores.
If you take a deeper look, you will notice that XPLOR's top priority is to keep young paddleboarders safe and comfortable. Hence, they have installed a soft foam deck pad on the board, which is comfortable and prevents accidental falls.
In addition, the SUP package includes a coiled leash that further enhances the safety of your little ones out in the water.
As a bonus, the board comes with an easy-to-use SUP paddle. It is adjustable so that paddlers can tailor it to their needs. Thus, the small rider will be able to paddle this SUP board more efficiently.
VERDICT:
A compact build, efficient paddling, and excellent maneuverability make this SUP ideal for junior paddleboarders.
Read Next – Best Solid Paddle Boards in 2021
XPLOR Child Paddle Board Reviews
Incredibly, 86% of buyers who chose the XPLOR Child iSUP praised its agile performance in the water. Plus, the experienced paddleboarders were attracted to the board's compact design and durable construction.
Kids can become very frustrated if the board does not go where they want it to go. Thus, they enjoy paddling this board because of how responsive it is.
Additionally, the buyers often point out how easily their children became proficient at paddleboarding with this SUP!
In contrast, there are complaints about the SUP pump that comes with the package. With this single-action pump, even an adult seems to have difficulty inflating the board to 15 PSI.
All in all, this board offers a satisfactory overall performance.
VERDICT:
The majority of reviews are positive. Therefore, you won't regret choosing this SUP!
The Specifications
Brand/Model: XPLOR Kid/Child
Length: 7'6″
Width: 25.5"
Thickness: 4″
Type: PVC (Inflatable)
Color Option: Blue & White
Suitable For: All-around, Flat Water
Rating: 8.7/10
Comparable Boards to the XPLOR Child iSUP
The XPLOR Child iSUP is similar to the Thursosurf Prodigy Junior when it comes to dimensions and performance.
Both of these boards are compact and highly maneuverable. But, the Thursosurf board is more stable than the XPLOR board. 
On the other hand, the XPLOR package has a weak SUP pump, while the Thursosurf package does not include any pump!
In addition, the XPLOR Child SUP has a similarly low carrying capacity and compact build as the Retrospec Weekender Nano.
However, the Retrospec SUP does not have a safety leash, while the XPLOR Kid/Child package includes a coiled leash and offers better safety.
Read Next – PEXMOR Inflatable Stand up Paddle Board 
Our Verdict on the Kid/Child iSUP!
The XPLOR Kid/Child iSUP is convenient, easy to use, and highly maneuverable. Due to its lightweight nature, it's simple enough for smaller paddlers to handle.
Although there are decent safety measures on this SUP, you should still ensure that your children wear a Coast Guard-approved PFD before they venture into the water. Afterward, young SUPers will feel comfortable and safe while paddling this iSUP.
In a nutshell, the Kid/Child iSUP is an excellent choice for junior paddleboarders!
Read Next – Aquaplanet 10′ Stand Up Paddle board kit