Vilano Navigator inflatable sup minimalistic board caught our eye because the price vs. The quality ratio is pretty great.
You're getting a simple, rigid, durable board made from high-grade PVC material.
If you are looking for a friendly sport that'll guarantee you loads of relaxation and fun at the same time for the summer and spring, paddle boarding should be a great option to consider because it is the fun sport of the season.
There're various modes of standup paddling, including fun, flat paddling for recreation, sightseeing, fitness, racing on waters, surfing on waves, Yoga, fishing, or even paddling in river rapids. There is just so much to do with a SUP.
This VILANO Navigator 10′ Inflatable SUP is a well-known option for being both fast and rigid, which is all you'd be looking for in the quickest SUP.
Features Vilano Navigator 10 Paddle Board
You can expect drop-stitch construction as well! We will tell you some severe info about this Vilano Navigator inflatable sup review.
This means that the board is meant to last, but you still should not leave it in the sun for too long.
The board is very portable and, when inflated, it's about 10'6 "x 32 "x 6 "thick.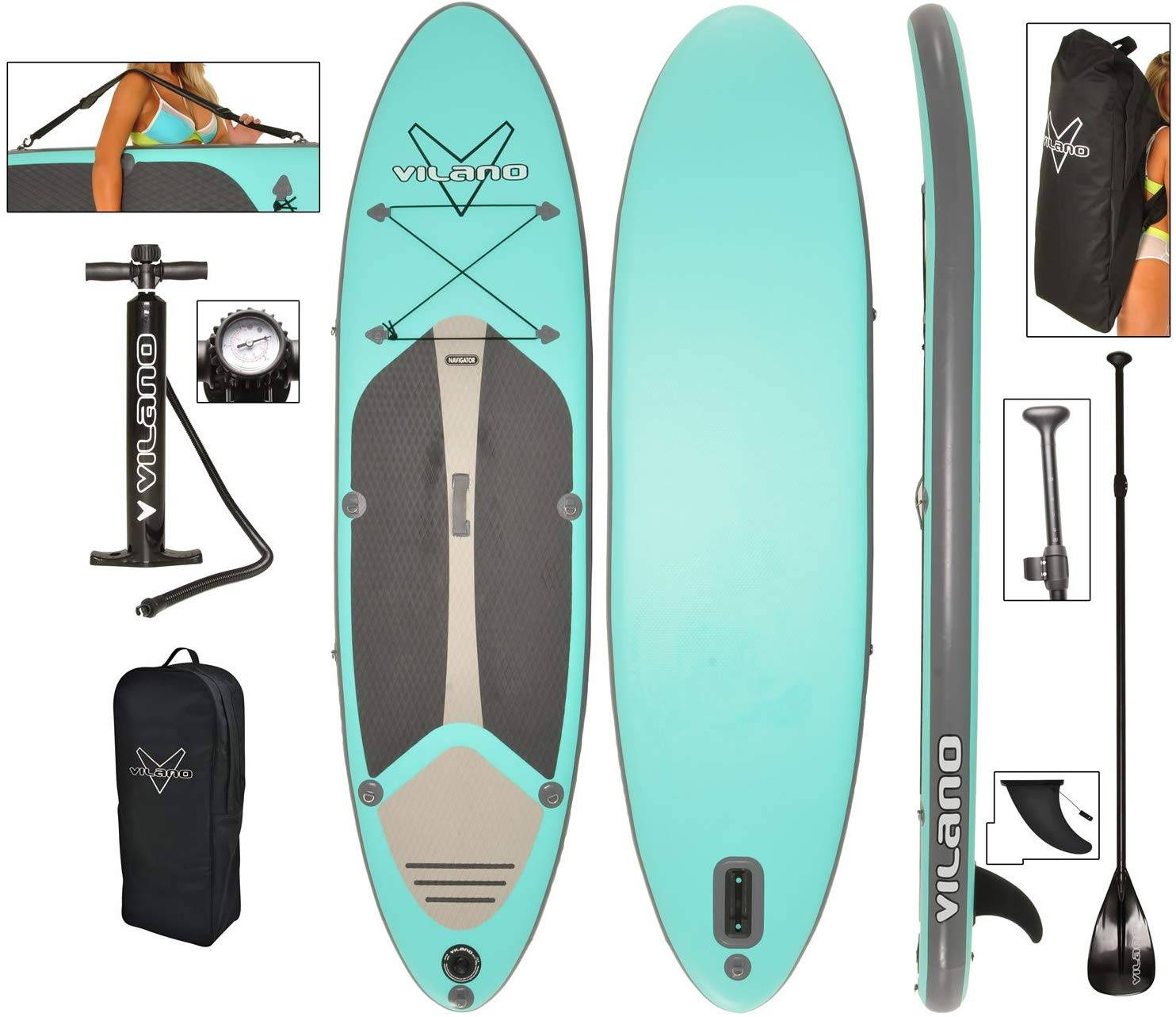 Read Next – Vilano Journey Inflatable Paddle Board
The deck features a comfortable diamond groove traction for grip. You're also getting some bungee accessories if that's what you're into.
You're not getting the board only. Bear in mind.
You're getting aboard, a pump with an integrated pressure gauge, an adjustable paddle, a removable fin that will help you balance (great for those who are just beginning to paddleboard), a leash, a bag, and a shoulder strap.
There is space on the board to put your stuff: they will be secured—no need to worry.
People have one weird complaint about it, though. The deflating process is pretty loud.
We're not sure how they came up with this, but yeah, that's the way it is.
The paddleboard is an excellent choice for cash, and many enjoy it because the size makes it much more stable and balanced.
It's perfect for various activities: fitness, Yoga, sunbathing, cruising, touring…
You can even bring a pet along!
Many people decide to go for a car pump since it takes time to inflate the board.
Read Next – Vilano Journey Inflatable Stand Up Paddle Board Kit
VILANO Navigator 10′ Inflatable SUP – Fastest iSUP Review
Of course, we cannot speak of a SUP without mentioning measurements because it's a definitive criterion that has a significant impact. Starting with the main, length is a vital aspect of the SUP, affecting the rider and the SUP's performance.
Hence, the VILANO Navigator at hand device to go with 10′ in length cancels out the possibility of it being incompatible with the user!
So, unless you are a child or an adult, then this SUP will be just the right length for you. Also, 10′ of size will give you better perspective onboarding as it allows the SUP to cruise softly and shift directions quickly.
Furthermore, the board's width is vital for the user, especially if you are a newbie. Indeed, depending on the SUP width, your experience can go from a total breeze to a massive pain in the back.
Hence, the VILANO board granted this an additional inch above thirty to make it more stable, making it simple to balance yourself on top of the SUP and enjoy your riding instead of constantly trying to stay on top.
The SUP was not taking any chance when it comes to thickness, particularly on a handy dimension like this. Indeed, many cheap boards go with a 4″ thickness hull or below, which is risky since continuous weight can eventually bend at the center.
Though at 6″ it is pretty much impossible to do that with VILANO Navigator 10′ Inflatable SUP, you privilege of staying high and dry as you paddle through rivers, lakes, or son.
Quality of the Inflatable SUP
Quality is certainly a huge deal for any product, but it'd mainly be the case for SUPs.
There are a bunch of boards out there, and the final thing you would want to do is go with the affordable price and quality of the board. Hence, this Navigator is a solid contender of what a quality SUP should be like.
Accordingly, the VILANO Navigator is strictly made out of the military-grade PVC, similar to stuff the arms forces use to build several types of equipment.
Furthermore, the SUP did not leave at that but decided to reinforce the board's hull with a more drop stitch build that perfectly seals the seam on the SUP, granting you a virtually indestructible and solid paddleboard.
Performance
As far as SUP performance, we'd first hold the Navigator for what it's. Indeed, the VILANO Navigator is a robust recreational performer who can be utilized for racing, touring, light workout, Yoga, or even suffering. Though, it's not expected to complete with caliber competitive SUP.
Nonetheless, soft nose and board width will significantly induce your balance and stability, while the length and navigation unit grants you a superior perspective on navigation and ease of steering.
That's what makes this Inflatable SUP a solid performer, and that's what makes it a VILANO Navigator.
Main Features VILANO Navigator
Naturally, the primary thing we notice as paddlers are the visible functions on the back of the paddleboard, and that is a healthy approach because functions can make a big part of the experience.
Accordingly, VILANO Navigator decided to hook this board up with the following:
The primary thing that catches your attention when looking at the SUP is the cool EVA shipping pad. The gripping place doesn't only cover most of the SUP's back. Indeed, it's an anti-slip gripping pad that means that your feet will have a firmer grip on the hull and consequently make navigation easier. It'll also make it a lot simpler for you to stay on top.
The Navigator comes with eleven D-rings in total. Four are on the nose, and they are attached with a bungee cord which creates a small cargo net. Four more D-rings are fixed around the pad, which lets you connect a kayak seat. An eleventh D-ring is situated on the tail, intended for safety leash attachment. Furthermore, this SUP also features some special d-rings on the edge/side, which are meant to hook a shoulder strap on for improved handling.
What also makes this paddleboard great is the carry handle at the mid of the board, which will make it possible for you to carry the SUP outside water on your own.
Further, the SUP at hand does not cut corners on the navigation system, and it goes with a straightforward and generic one-fit approach. There is the same debate among the mono and triplefin systems, but at the end of the day, there is no evident shift among the two except for the look.
Read Next – Peak 10'6 Navigator Super Duty REVIEW
What I like
The VILANO Navigator board is excellent inflatable SUP for lakes, slower rivers, or flat waters.
It's 6″ thick, which makes it extremely solid and stable.
The size of 10′ is ideal for all the different activities you would like to try
the best option for racing.
It comes with a back bag to make it incredibly portable
What I don't like
You'll need to buy a separate leach, if like using one
The paddle is slightly heavy for a newbie
if you are considering doing Yoga, you might find this board slightly narrow for some poses
Read Next – Vilano Voyager Inflatable SUP Stand Up Paddle Board
Vilano Navigator Inflatable SUP Stand Up Paddle Board
Read Next – Vilano Navigator Inflatable SUP
Vilano Navigator 10' 6" Inflatable SUP Stand Up Paddle Board Package
out of stock
as of September 27, 2023 1:59 pm
Vilano Navigator 10' (6" Thick) Inflatable SUP Stand Up Paddle Board Package
out of stock
as of September 27, 2023 1:59 pm
Vilano Journey Inflatable SUP Stand up Paddle Board Kit
out of stock
as of September 27, 2023 1:59 pm
Roc Inflatable Stand Up Paddle Boards W Free Premium SUP Accessories
4 used from $215.95
Free shipping
as of September 27, 2023 1:59 pm
FunWater Inflatable 10'6×33"×6" Ultra-Light (17.6lbs) SUP for All Skill Levels Everything Included with Stand Up Paddle Board, Adj Floating Paddles, Pump, ISUP Travel Backpack, Leash,Waterproof Bag,
2 new from $199.95
6 used from $183.89
Free shipping
as of September 27, 2023 1:59 pm