This wonderful Vilano Journey board is a pretty good choice for kids, teens, young adults, and those who enjoy colors!
You will notice that it is durable and sturdy, really similar to a hardboard, but you can bring it around without any issues.
It's made from high-grade PVC material with drop-stitch construction.
This construction makes it almost impossible for a board to get ripped.
Features Vilano Journey Inflatable Stand Up Paddle Board
While deflated, the board is only 1 foot in diameter, and it's elementary to bring it around.
The diamond deck you are getting is a great choice for fitness lovers, yoga, and other interesting activities like fishing and sunbathing.
This is a really versatile board overall.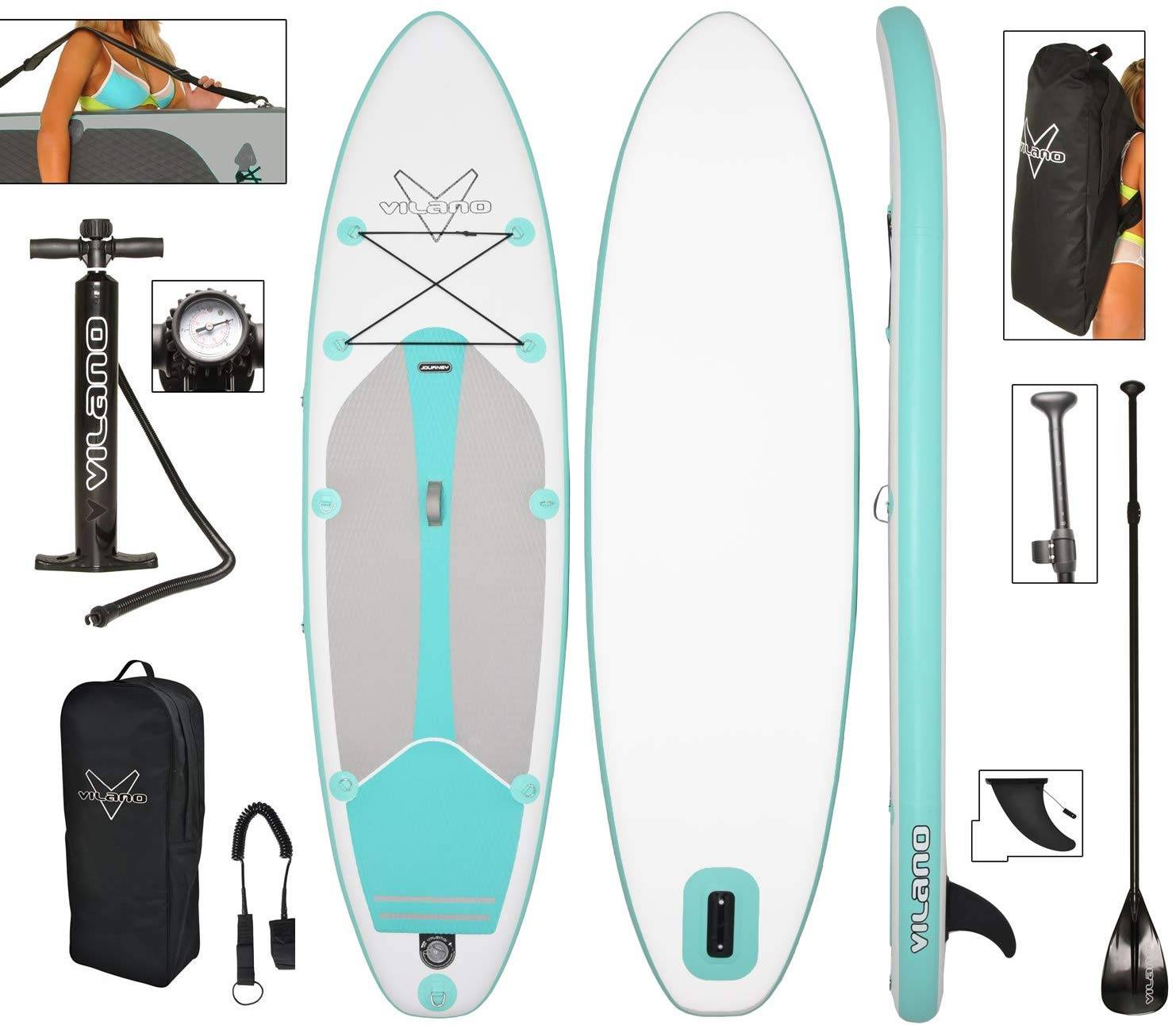 The 11 stainless D-rings and a bungee on the front desk will make it easy for you to store everything and bring it around.
The complete package you are getting is the board itself, a pump with an integrated pressure gauge, 3-piece aluminum paddle, removable carry strap, a leash, and a backpack.
Maximum Weight
The maximum weight this board can take is about 260 lbs, and this is a pretty good number. You can bring around a pet or a friend if you wish to do so.
The board Itself is 25 lbs, which is a pretty good number. It isn't perfect, but it's a pretty light board compared to other boards of this size.
Vilano focuses on its customers, and their customer service is pretty good. If you're looking for a not-so-pricey option for your friend, kid, yourself…
This board does a great job at a great price, and it can be brought around wherever you are going: a vacation, an adventure, a kayaking trip…
Read Next – Vilano Voyager Inflatable SUP Stand Up Paddle Board
The Vilano Journey is the perfect all-around inflatable SUP board!
The board measures 10 feet long, 31.5 inches wide, and 6 inches thick.
Made from durable PVC/Korean drop stitch construction.
Lots of D rings and a handy bungee will hold extra cargo on board! Perfect for a kayak seat, leash, cooler, or anything you need for an excursion.
The anti-slip deck pad is comfortable for all-day paddling
The board itself weighs 25 lbs., and its maximum weight capacity is 260 lbs.
Package includes board, paddle, pump/pressure gauge, removable center fin, patch/valve wrench, shoulder strap, backpack.
The Vilano Journey SUP board rolls to a compact and easy to carry 1-foot x 35 inches when not inflated.
Fully adjustable paddle measures from 65.5 – 86 inches long.
Read Next – Vilano Journey Inflatable Paddle Board
Advantages of an Inflatable SUP
Are you new to the world of inflatable stand-up paddleboards?
Inflatable SUPs perform as well as their rigid SUP board counterparts yet have the extra advantages of lighter weight, portability, and ease while traveling.
Roll up the Vilano Journey Inflatable SUP and stow it in the backpack carry bag with its accessories.
There is no need for a special car rack as the board will fit in the trunk or back seat of any vehicle.
Vilano SUP boards fall well under the weight for checked airline luggage, too.
Inflatable SUPs make awesome starter boards or perfect "second" boards for rigid board owners who are on the go.
The folks at Vilano Bikes know sports and have been in the inflatable SUP business since 2013.
They have worked hard to perfect their inflatable SUP line's fun and functionality, and it shows!
Read Next – BESTWAY Hydro Force Aqua Journey Review
Vilano Journey Inflatable SUP Stand up Paddle Board Kit
3 used from $157.56
Free shipping
as of October 21, 2021 12:52 am
SereneLife Inflatable Stand Up Paddle Board (6 Inches Thick) with Premium SUP Accessories & Carry Bag | Wide Stance, Bottom Fin for Paddling, Surf Control, Non-Slip Deck | Youth & Adult Standing Boat
5 new from $309.95
7 used from $218.89
Free shipping
as of October 21, 2021 12:52 am
Vilano Navigator 10' 6" Inflatable SUP Stand Up Paddle Board Package
as of October 21, 2021 12:52 am
Vilano Navigator 10' (6" Thick) Inflatable SUP Stand Up Paddle Board Package
as of October 21, 2021 12:52 am
Pathfinder Inflatable SUP Stand Up Paddleboard 9' 9" (5" Thick)
out of stock
as of October 21, 2021 12:52 am
Roc Inflatable Stand Up Paddle Boards W Free Premium SUP Accessories
6 used from $282.36
Free shipping
as of October 21, 2021 12:52 am
Soopotay Inflatable SUP Board, Stand Up Paddle Board, Inflatable Paddle Board, iSUP Package with All Accessories (Navy_Blue, 10' x 32'' x 6'')
5 used from $132.72
Free shipping
as of October 21, 2021 12:52 am