This excellent Vilano Journey board is a good choice for kids, teens, young adults, and those who enjoy colors!
It is durable and sturdy, really similar to a hardboard, but you can bring it around without any issues.
It's made from high-grade PVC material with drop-stitch construction.
This construction makes it almost impossible for a board to get ripped.
Features Vilano Journey Inflatable Stand Up Paddle Board
While deflated, the board is only 1 foot in diameter, and it's elementary to bring it around.
The diamond deck you are getting is excellent for fitness lovers, yoga, and other exciting activities like fishing and sunbathing.
This is a versatile board overall.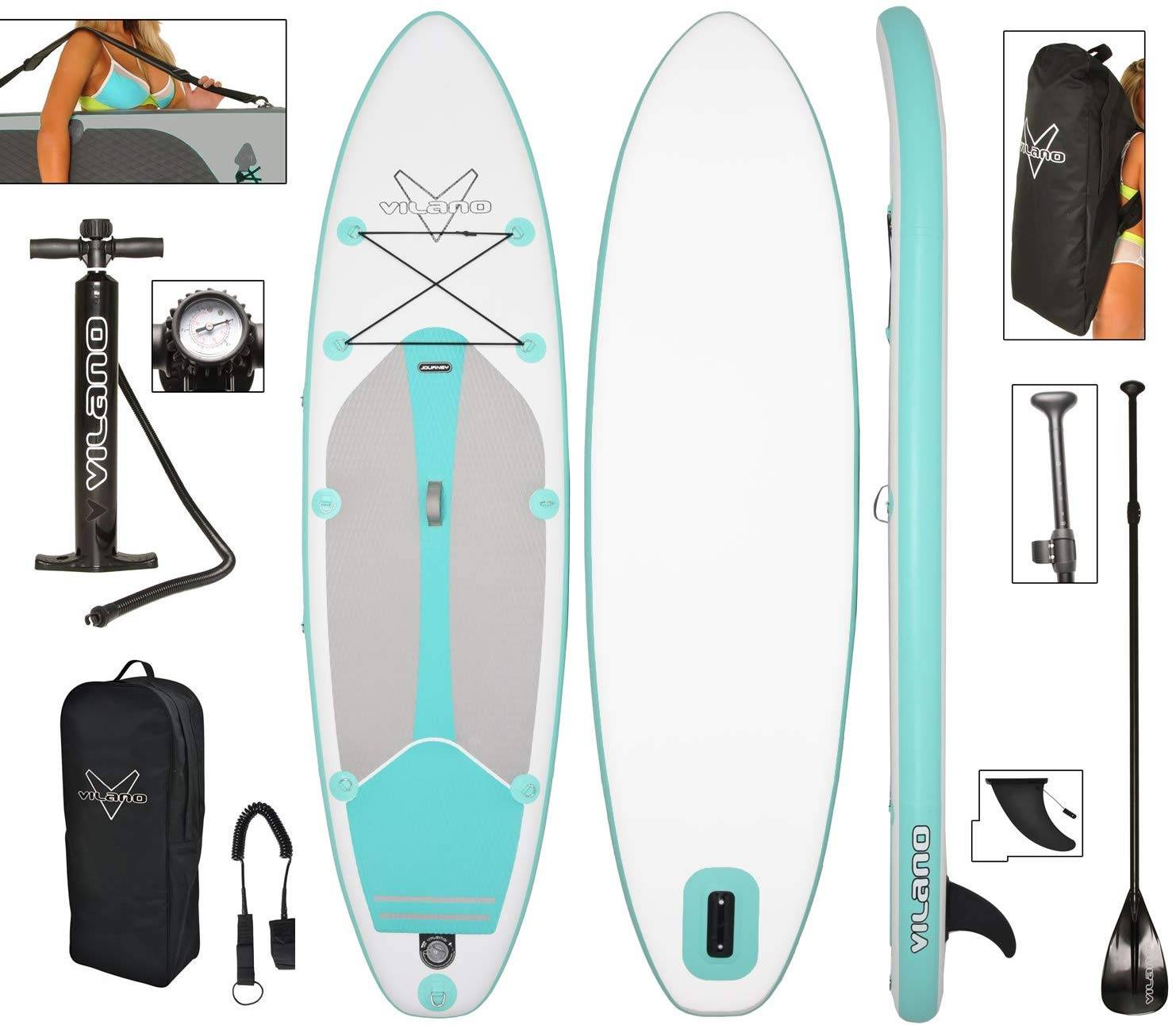 The 11 stainless D-rings and a bungee on the front desk will make it easy for you to store everything and bring it around.
The complete package you are getting is the board, a pump with an integrated pressure gauge, a 3-piece aluminum paddle, a removable carry strap, a leash, and a backpack.
Maximum Weight
The maximum weight this board can take is about 260 lbs, and this is a pretty good number. You can bring around a pet or a friend if you wish to do so.
The board Itself is 25 lbs, which is a pretty good number. It isn't perfect, but it's a pretty light board compared to other size boards.
Vilano focuses on its customers, and its customer service is pretty good. If you're looking for a not-so-pricey option for your friend, kid, yourself…
This board does a great job at a great price, and it can be brought around wherever you are going: a vacation, an adventure, a kayaking trip…
Vilano Navigator 10' 6" Inflatable SUP Stand Up Paddle Board Package
out of stock
as of November 17, 2023 7:08 pm
Read Next – Vilano Voyager Inflatable SUP Stand Up Paddle Board
The Vilano Journey is the perfect all-around inflatable SUP board!
The board measures 10 feet long, 31.5 inches wide, and 6 inches thick.
They are made from durable PVC/Korean drop stitch construction.
Many D rings and a handy bungee will hold extra cargo on board! Perfect for a kayak seat, leash, cooler, or anything you need for an excursion.
The anti-slip deck pad is comfortable for all-day paddling
The board weighs 25 lbs. Its maximum weight capacity is 260 lbs.
Package includes board, paddle, pump/pressure gauge, removable center fin, patch/valve wrench, shoulder strap, backpack.
The Vilano Journey SUP board rolls to a compact and easy to carry 1-foot x 35 inches when not inflated.
Fully adjustable paddle measures from 65.5 – 86 inches long.
Read Next – Vilano Journey Inflatable Paddle Board
Advantages of an Inflatable SUP
Are you new to the world of inflatable stand-up paddleboards?
Inflatable SUPs perform well as their rigid SUP board counterparts yet have the extra advantages of lighter weight, portability, and ease while traveling.
Roll up the Vilano Journey Inflatable SUP and stow it in the backpack carry bag with its accessories.
There is no need for a particular car rack as the board will fit in any vehicle's trunk or back seat.
Vilano SUP boards also fall well under the weight of checked airline luggage.
Inflatable SUPs make awesome starter boards or perfect "second" boards for rigid board owners who are on the go.
The folks at Vilano Bikes know sports and have been in the inflatable SUP business since 2013.
They have worked hard to perfect their inflatable SUP line's fun and functionality, and it shows!
Read Next – BESTWAY Hydro-Force Aqua Journey Review
Vilano Journey Inflatable SUP Stand up Paddle Board Kit
out of stock
as of November 17, 2023 7:08 pm
Comfort
The Vilano Journey Inflatable 10′ SUP is comfortable due to added groove traction pad and the vast storage possibilities. It can be used as a cruising SUP. You can connect coolers to go out on a picnic in the water, or it permits you to carry fishing rods or something with the bungee on a paddleboard.
Or it can be utilized to carry out best buddies with you due to the incredible amount of weight ability this paddleboard provides compared to others in its price tag.
The groove traction pad also provides comfort for the user in whatever way they play to use it, is sitting down comfortably on it or standing up. This provides the paddleboard the added advantage of being a SUP you can use to chill in the water, do some little workout, or even get a tan.
Read Next – Vilano Navigator 10 Paddle Board Review
Stability
With the recommended air pressure of 12 – 15 PSI, the paddleboard is truly stable with the advantage of feeling very much like a hardboard, making the experience more enjoyable since you do not have to be scared of falling constantly.
The paddleboard provides a lower center of gravity for the users if a stance is over the deck pad, which will be the optimal point for supreme performance.
Even so, it's pretty stable when the subsequent weight of the riders or user comes near the limit. The paddleboard will begin to sink, and you can even keep using it. You'll probably be wet in your feet constantly.
It's stable enough to be used by two people simultaneously as long as they do not come too near to the weight ability limit.
Usability
Being an all-around paddleboard, the Vilano Journey Inflatable SUP provides excellent possibilities for use since it's multipurpose.
The addition of the back seat can be utilized as a kayak of sorts, with the maneuverability and speed a paddleboard provides. It can also be used as a simple paddle cruise board that has enough room and weight ability for you to take your pet on an adventure.
The paddleboard also provides the possibility of becoming new paddler surf SUP, which can be ideal for learning the essentials of surfing, such as transitions, stance, balance, and control over the paddleboard, with the added advantage of features that make leaning simpler.
With this feature in mind, this paddle board is ideal for a family enjoying water-based sports and trying to start their friends or kids into paddleboards.
It even provides enough storage room to be used as a medium of transport to get to a beach or secluded island and have a romantic getaway with your spouse or a friend. It can also be a simple tool to get an excellent workout on weekdays.
What I like
The Vilano Journey Inflatable SUP is the best board for flat waters, lakes, or slow rivers.
The board comes in an all-inclusive plan with all you need to manage it and add the repair kit.
It's 6″ thick, which makes it stable and sturdy
It comes with a backpack to make it portable
The size of 10′ is best for all the different adventures you'd like to try.
What I don't like
This board is pretty heavy for new paddlers; a light one would be great.
You'll need to buy a leash if you want to use one separately.
Vilano Journey Inflatable SUP Stand up Paddle Board Kit
out of stock
as of November 17, 2023 7:08 pm
Vilano Navigator 10' 6" Inflatable SUP Stand Up Paddle Board Package
out of stock
as of November 17, 2023 7:08 pm
Vilano Navigator 10' (6" Thick) Inflatable SUP Stand Up Paddle Board Package
out of stock
as of November 17, 2023 7:08 pm
Roc Inflatable Stand Up Paddle Boards W Free Premium SUP Accessories
3 used from $205.14
Free shipping
as of November 17, 2023 7:08 pm
Soopotay Inflatable SUP Board, Stand Up Paddle Board, Inflatable Paddle Board, iSUP Package with All Accessories (Navy_Blue, 10' x 32'' x 6'')
out of stock
as of November 17, 2023 7:08 pm
Pathfinder Inflatable SUP Stand-up Paddleboard Bundle Blue
out of stock
as of November 17, 2023 7:08 pm