EASY STEERING AND MANEUVER
This free flow paddleboard SUP features (3) bottom panel fins for speed, hassle-free steering, and maneuverability for exceptional surf control so you can glide and skim the water like a sea creature
WIDE SUP DESIGN
stand up paddling board is 10.5ft long and provides 30″ of deck width for improved stability and balance while standing, High-strength drop stitched air cushion ( Max 15-18 Psi).
Our paddleboard suits people of all skill levels. You can use it in the ocean, rivers, freshwater lakes, etc.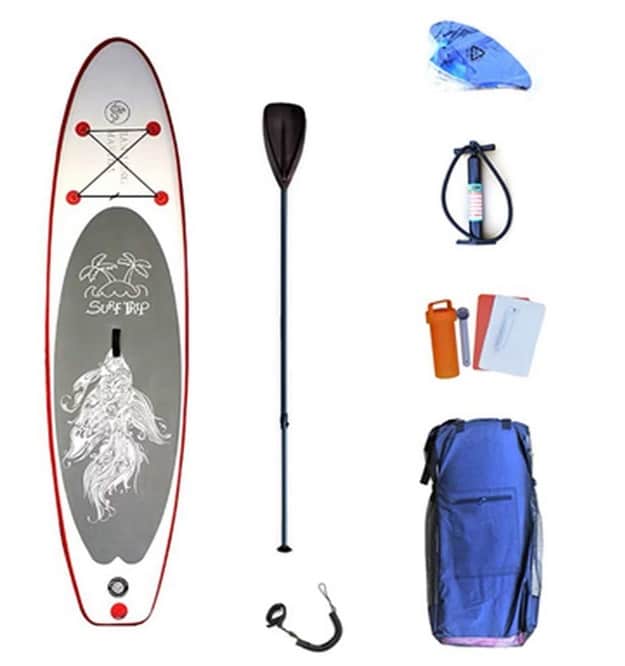 NON-SLIP SOFT TOP DECK
Ideal for all skill levels for fewer accidents or injuries should you fall!
Brushed Thickening Inflatable Stand Up Paddle Board.
Best for fishing, touring, snorkeling, spearfishing, or recreational paddling in all weather conditions.
Read Next – Dunnrite Floral Stand Up Paddle Board
INFLATABLE & PORTABLE
Take your paddleboard with you wherever you go! It quickly inflates or deflates for easy storage, making it ideal for the lake, river, or ocean
If you have any questions about our products, you can tell us by email.
We will reply to your information within 24 hours. We uphold the principle of customer first.
We promise that if you are not satisfied after receiving the goods, We will refund you in full.
Product name: Surfboard
Material: high-strength inner mesh fiber drawing
Product weight: 11.9kg
Maximum load capacity: 200kg
Capacity: 1 person
Surfboard size: 320*76*15cm
Packing size: 85*45*26cm
Product standard:
High-pressure inflatable hand pump (including barometer) *1
Shoulder storage bag*1
Fin system (1 large 2 small)
Repair tank*1
Adjustable aluminum alloy paddle *1
Foot rope*1
Read Next – Cabelas Paddle Board
DRIFT Inflatable Stand Up Paddle Board, SUP with Accessories | Pump, Lightweight Paddle, Fin & Backpack Travel Bag, Native
2 used from $267.60
Free shipping
as of November 27, 2022 12:29 pm
ADTEST Inflatable Stand Up Paddle Board, Surfing Paddle Board, Inflatable Standing Boat with Adjustable Paddle, Repair Kit, Carry Bag, Hand Pump, for Surfing, Fishing, Water Yoga
2 new from $223.99

as of November 27, 2022 12:29 pm
streakboard Inflatable Stand Up Paddle Board Surfing SUP Boards, No Slip Deck 6 Inches Thick ISUP Boards with Free SUP Accessories & Backpack, Leash, Paddle and Hand Pump, for All Levels
as of November 27, 2022 12:29 pm
Lifetime Vista Inflatable Stand Up Paddle Board, 11' Long x 32" Wide x 6" Thick, Durable and Lightweight SUP, Stable Wide Stance Deck, Includes Backpack, Paddle, Pump, Removable Fin and Repair Kit
4 new from $498.00
1 used from $215.14
Free shipping
as of November 27, 2022 12:29 pm
bb-zonx 11' Paddle Board Surfboard Adult Inflatable SUP Stand Up Paddle Board White
as of November 27, 2022 12:29 pm
S SMAUTOP Inflatable Stand Up Paddle Board 10'6" Long 6" Thick | SUP Paddleboard Accessories Carry Backpack | Wide Stance, Bottom Fin Paddling Surf Control, Non-Slip Deck
as of November 27, 2022 12:29 pm
FITWAVE Paddle Board 9.5ft/10ft/11ft SUP + Kit - Inflatable Paddle Boards for Adults - Inflatable Stand Up Paddle Board with Pump, Emergency Repair Kit, Bag & More - Anti Air Leaking & Nonslip Deck
7 used from $213.01
Free shipping
as of November 27, 2022 12:29 pm
FunWater Inflatable 10'6×33"×6" Ultra-Light (17.6lbs) SUP for All Skill Levels Everything Included with Stand Up Paddle Board, Adj Floating Paddles, Pump, ISUP Travel Backpack, Leash,Waterproof Bag
2 new from $199.95
5 used from $159.22
Free shipping
as of November 27, 2022 12:29 pm
HIGHPI Inflatable Stand Up Paddle Board 11'x33''x6'' Premium SUP W Accessories & Backpack, Wide Stance, Surf Control, Non-Slip Deck, Leash, Paddle and Pump , Standing Boat for Youth & Adult
2 used from $189.30
Free shipping
as of November 27, 2022 12:29 pm
Abahub Inflatable SUP, Wide 10'6" x 34" x 6" iSUP, Blue Standup Paddleboard with Adjustable Carbon Fiber Paddle, Kayak Seat, for Yoga, Paddle Board, Kayaking, Surf, Canoe, Fishing
1 used from $144.14
Free shipping
as of November 27, 2022 12:29 pm