The Free Flow 10'6″ paddleboard from SereneLife is a popular model for beginner and entry-level paddleboarders worldwide.
This's an excellent option for recreational paddleboarding on flat water bodies, and your whole family can use it.
The Free Flow from SereneLife was made keeping the beginner paddlers in mind, and this's reflected in its lightweight paddles, comfortable traction pad, and comprehensive accessories offered in the package.
In general, this SereneLife Free Flow board is a very affordable and great recreational paddleboard for individuals looking to slip into paddleboarding without investing a lot of money.
So, let's now find out if the board is worth your money or not.
Overview Of Free-Flow SUP Inflatable Paddle Board
The SereneLife free flow iSUP is fully upgraded, and it puts you at ease when you paddle through the high seas! This inflatable Stand-up Paddleboard is complete with all you need to start your paddling journey.
It is a 5-in-1 inflatable paddleboard package that is the top choice among beginners of paddleboarding.
This Stand-up paddleboard set includes a 10'5″ inflatable paddleboard, Upgraded Aluminum paddle, paddleboard ankle strap, hand pump, and carrying bag.
Extra Wide Deck For Stability
Measuring 10 feet 5 inches long by 30 inches wide, this board is excellent for stabilizing & balancing. Best choice for beginner paddle boarders as they can learn to balance the paddleboard properly. An expansive paddleboard deck makes things easier to stay stable and keep balance.
That is why SereneLife's free flow stand-up inflatable paddleboard is loved by men & women participating in yoga on the water. This board is similarly designed to put up the youth. The whole family will love this stand-up paddleboard!
Cushioned Anti-Slip, Soft, & Stable Deck
Designed and made for entry-level learners. So, this board provides a non-slip deck for padding done with the combination of a cushion top.
It also helps to prevent unavoidable paddling accidents on the water. Since it is made with high-quality PVC, it is stable too.
Read Next – Pelican Paddle Board Flow 106 Review
Inflatable & Portable Stand-Up Paddleboard:
This unique Stand-up paddleboard is 100% travel-friendly and is chosen by those people who love adventure and explore nature often.
Since the board is an inflatable one, so when deflated, you can carry it anywhere with you. You can take the commission with you on surfing or keep it in your car when not in use.
Best Maneuverability While Paddling:
Ready with 3-panel fins at the bottom, handling and steering such iSUPs is very easy. Providing exceptional surf control, you will be skimming and gliding the water effortlessly!
5-In-1 Paddleboard Package:
A comprehensive package with all accessories for paddleboarding, this SUP bundle is ready to hit the waves as soon as you receive it. This paddleboard kit includes a 10′ board, Aluminum paddle, coiled cuff leash for safety, hand pump, and storage bag.
Accessories Included
SereneLife Inflatable Stand Up Paddle Board (6 Inches Thick) with Premium SUP Accessories & Carry Bag | Wide Stance, Bottom Fin for Paddling, Surf Control, Non-Slip Deck | Youth & Adult Standing Boat
3 used from $163.38
Free shipping
as of November 29, 2022 10:33 pm
The Free Flow from SereneLife includes a wide range of numerous accessories that improve your paddleboarding experience and increase your time enjoying the water. The included equipment is as follows…
A 3-piece adjustable aluminum paddle,
Single action manual air pump
A patch repair kit
A coiled cuff leash for safety
Also, come with a SereneLife travel bag and a plastic water bottle. They provide the travel bag to store your paddleboard and all the other included accessories.
Adjustable Paddle:
This SereneLife Adjustable Aluminum stand-up paddle is the bizarre travel paddle and is of good quality for this affordable price tag.
A significant thing you should note is that this paddle does not float. So, in case you drop it accidentally, it will sink.
Manual Air Pump:
It is a single-action air pump to pump up your SUP board whenever needed. This hand pump takes nearly 10 to 15 minutes to inflate fully. Not included electric pump.
Travel Bag:
This travel bag is ideal for carrying your inflatable board to any place you want. It's made of high-quality materials as well as is easy to carry. It's very roomy and fits all your paddling accessories provided with the kit.
Coiled Leash:
This included leash is an 8 feet coiled velcro ankle cuff. This safety leash is very comfortable and supportive.
Read Next – Serenelife Thunder Wave vs. Free Flow Paddle Board
Specifications Of The Paddle Board
Dimensions 10 feet 5 inches x 30 inches x 6 inches (L x W x H) when inflated
Construction Materials: PVC
Maximum Inflation Pressure (PSI): Up to 20 PSI
Recommended Age: Above 10
Maximum Weight Capacity: Up to 285 lbs.
Features Of Serenelife Paddle Board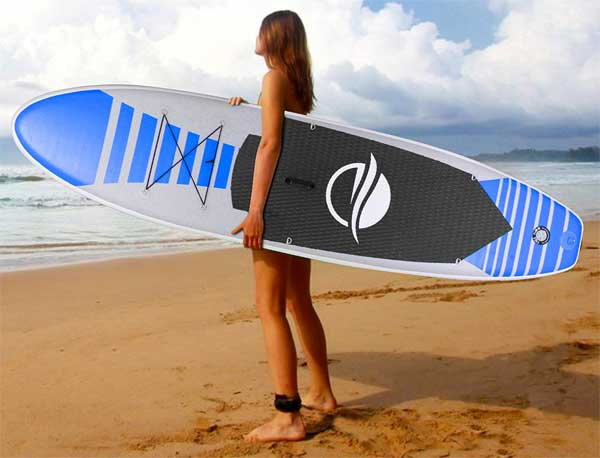 A perfect stand-up paddleboard made for a single person
Inflatable and floating platform base
Universal paddleboard designed for adults and teens
Includes all you need to get started
Hassle-free setup and lightweight for a quick water adventure experience
Portable paddleboard that quickly deflates and roll-ups easily for easy storage as well as transport
Marine-grade corrosion-resistant and water-resistant construction materials
Comes with triple bottom panel fins setup for speed steering and maneuverability
Extra-long 10 feet 5 inches style for great stability paddle
Universal board design makes it perfect for paddling in the ocean, or lake, or the river
Pros
Comfortable deck pad
Lightweight
Affordable & fair price
Included all accessories
Fast inflation time
Cons
Seams aren't as durable as other premium models
Loses steadiness with waves and wind
Paddle sinks in water and possibly lose flexibility
Read Next – Best SereneLife Adjustable Paddle For You in 2022
Review Of Serenelife Inflatable Paddle Boards
The Free Flow paddleboard from SereneLife is a tremendous recreational paddleboard especially made for beginners and entry-level paddlers to the paddling sport.
This board is designed precisely with learner paddleboarders in mind, and thus it comes with features like a highly relaxed traction deck pad and an extensive bungee system at the board's front.
This portable paddleboard is designed to be easy to use, accessible, and maneuverable to offer beginner riders a natural feel for inflatable paddleboarding before investing in a further expensive paddleboard.
However, the stability issue of this paddleboard can be problematic, particularly in rougher water conditions. But this board has excellent maneuverability.
The included accessories in this SereneLife Free Flow paddleboard package are of good quality seeing the cheap price tag of this package.
BOTTOM LINE
We highly recommend this SereneLife Free Flow 10'6″ paddleboard for beginner and entry-level paddleboarders who want to buy a cheap first paddleboard to test their ability.
Finally, this's a suitable paddleboard for anyone looking to test their ability and gain experience with this sport before obliging to invest in an expensive and higher quality paddleboard.
Read Next – SereneLife Inflatable Stand Up Paddle Board
FAQ
Q. Is the SereneLife a suitable paddleboard?
A. Yes, the SereneLife Paddleboard is a good name in the industry of paddleboard manufacturers. They are a leading brand that offers various models of paddleboards to meet everyone's needs.
Q. What does the SereneLife Free Flow Inflatable SUP board come with?
A. This SereneLife Free Flow iSUP comes with an aluminum paddle, leash, fin, pump, backpack, and repair kit.
Read Next – Best Serenelife Inflatable Stand Up Paddle Board Buying Guide
SereneLife Inflatable Stand Up Paddle Board (6 Inches Thick) with Premium SUP Accessories & Carry Bag | Wide Stance, Bottom Fin for Paddling, Surf Control, Non-Slip Deck | Youth & Adult Standing Boat
3 used from $163.38
Free shipping
as of November 29, 2022 10:33 pm
Inflatable Stand Up Paddle Board - 11' Ft. Standup Sup Paddle Board W/ Manual Air Pump, Safety Leash, Paddleboard Repair Kit, Storage / Carry Bag - Sup Paddle Board Inflatable - SereneLife SLSUPB08
2 new from $211.47
12 used from $185.16
Free shipping
as of November 29, 2022 10:33 pm
SereneLife Inflatable Stand Up Paddle Board-10Ft. Graffiti Standup SUP Paddle Board w/Oar, Air Pump, Ankle Leash, Paddleboard Repair Kit, Waterproof Mobile Phone Case, Storage/Carry Bag SLSUPB636.5
2 new from $453.99
Free shipping
as of November 29, 2022 10:33 pm
SereneLife AZSLSUPB20 Paddle Board
2 new from $379.49
1 used from $147.15
Free shipping
as of November 29, 2022 10:33 pm
SereneLife AZSLSUPB10, Surf Control, Non-Slip Deck w/Premium SUP Inflatable Stand Up Paddle Board-6'' Wide Stance, Bottom Fin for Pad
1 used from $378.62
Free shipping
as of November 29, 2022 10:33 pm