The Maxflio paddleboard has a standard dimension. It's ten feet long, thirty inches wide, and six inches thick.
This affordable inflatable paddle board is best for all skill expertise paddlers, starters, intermediate and advanced paddlers.
Features Maxflo Paddle Board
The maximal inflatable pressure is fifteen psi. The price is low.
Twin-action pump
The Maxflo package contains three fins, a repair kit, a waterproof phone case, an adjustable paddle, a travel bag, and a heat pump.
The paddle is made of aluminum. You can adjust the paddle from sixty-five to eighty-five inches.
The pump comes with a gauge. It is a twin action pump. It is capable of inflating and deflating the paddleboard.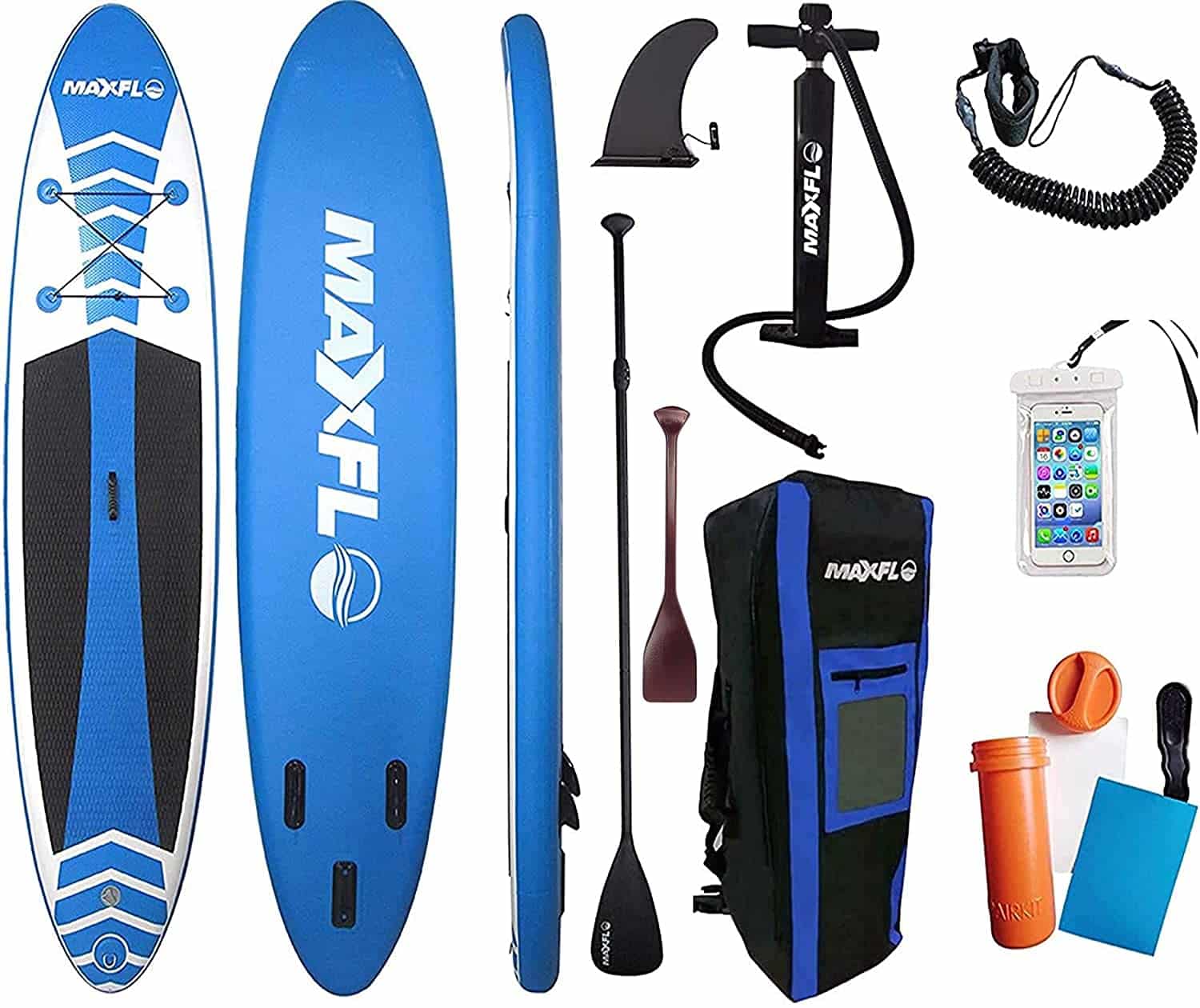 Read Next – Goplus Inflatable Stand up Paddle Board
Best for adventures
When you deflate this cost-friendly inflatable SUP, roll it up and save it wherever you want.
It will fit in the travel bag. You can use this paddleboard for different activities, such as fishing, all around, sunbathing, and surfing.
The highest capacity is 275 pounds, so it is best for everybody.
Premium Inflatable Stand Up Paddle Board (6 inches Thick) with Durable SUP Accessories & Carry Bag | Wide Stance, Surf Control, Non-Slip Deck, Leash, Paddle and Pump , Standing Boat for Youth & Adult
2 new from $169.99
Free shipping
as of May 11, 2023 9:16 am
Aqua Plus 10ft6inx33inx6in Inflatable SUP for All Skill Levels Stand Up Paddle Board, Adjustable Paddle,Double Action Pump,ISUP Backpack, Leash, Shoulder Strap,Youth & Adult Inflatable Paddle Board
as of May 11, 2023 9:16 am
Read Next – MAXFLO Inflatable Stand Up Paddle Board
Remove the center fin.
On the top deck is a soft EVA pad for a relaxing ride.
On the front is a bungee system for your gear and carrying handle.
This paddleboard is perfect for rivers, lakes, and oceans.
If you go paddleboard in the river, remove the critical fin, it is bigger than the other two fins, and the river rocks could destroy it.
Read Next – Rokia R Inflatable SUP Paddle Board
Pros
For river, lake, and ocean
Adjustable paddle
Big traction pad
For all expertise levels
Cons
Read Next – Aqua Plus Inflatable SUP for All Skill Levels Boat Review
Where you can buy
Well, do not look for famous brands. There are lots of paddle brands, which are not so famous, but they produce standard and durable paddleboards.
If you do not care about the brand name, you can find the extremely best paddleboard.
I advise you to visit Amazon.
There you can find affordable paddleboards and read customer reviews.
Read Next – SUP Board Merritt Island Florida
Inflatable Stand Up Paddle Board Basics
Read Next – Inflatable paddleboard Hydro-Force come from Bestway
Premium Inflatable Stand Up Paddle Board (6 inches Thick) with Durable SUP Accessories & Carry Bag | Wide Stance, Surf Control, Non-Slip Deck, Leash, Paddle and Pump , Standing Boat for Youth & Adult
2 new from $169.99
Free shipping
as of May 11, 2023 9:16 am
Aqua Plus 10ft6inx33inx6in Inflatable SUP for All Skill Levels Stand Up Paddle Board, Adjustable Paddle,Double Action Pump,ISUP Backpack, Leash, Shoulder Strap,Youth & Adult Inflatable Paddle Board
as of May 11, 2023 9:16 am
Inflatable Stand Up Paddle Board - 11' Ft. Standup Sup Paddle Board W/ Manual Air Pump, Safety Leash, Paddleboard Repair Kit, Storage / Carry Bag - Sup Paddle Board Inflatable - SereneLife SLSUPB08
3 new from $199.99
4 used from $179.95
Free shipping
as of May 11, 2023 9:16 am
SereneLife Inflatable Stand Up Paddle Board (6 Inches Thick) with Premium Accessories & CarryBag | Wide Stance, Bottom Fin for Paddling, Surf Control, Non-Slip Deck
3 new from $259.95
6 used from $181.00
Free shipping
as of May 11, 2023 9:16 am
Goplus Inflatable Stand up Paddle Board Surfboard SUP Board with Adjustable Paddle Carry Bag Manual Pump Repair Kit Removable Fin for All Skill Levels, 6" Thick (Navy, 10FT)
as of May 11, 2023 9:16 am
Goplus Inflatable Stand Up Paddle Board iSUP Cruiser 6" Thickness iSUP Package with 3 Fins Thuster, Adjustable Paddle, Pump Kit and Carry Backpack (10FT)
as of May 11, 2023 9:16 am
MaxKare Inflatable Paddle Board SUP Stand Up Paddle Board 6 inches Thick Board with SUP Accessories & Carry Bag & Fast Pumping for Adults & Youth for Paddling Surfing Fishing Yoga
3 new from $206.99

as of May 11, 2023 9:16 am
Inflatable Stand Up Paddle Board 10'6" Long 6" Thick | SUP Paddleboard Accessories Carry Backpack | Wide Stance, Bottom Fin Paddling Surf Control, Non-Slip Deck | Youth & Adult Standing Boat Boards
as of May 11, 2023 9:16 am
Inflatable Stand Up Paddle Board 10'6" Long 6" Thick | SUP Paddleboard Accessories Carry Backpack | Wide Stance, Bottom Fin Paddling Surf Control, Non-Slip Deck | Standing Boat Boards Wood Paddle
out of stock
as of May 11, 2023 9:16 am
Roc Inflatable Stand Up Paddle Board with Premium sup Accessories & Backpack, Non-Slip Deck, Waterproof Bag, Leash, Paddle and Hand Pump. (Seagrass)
out of stock
as of May 11, 2023 9:16 am