If you're looking for a professional board and you're ready to pay a larger sum of cash for it, this may be the perfect board for you.
We will tell you a little more about this board in this IRocker Cruiser sup review.
It's a very stable paddleboard: 10'6″ long, 33″ wide, and 6″ thick.
These are the perfect dimensions since you can do various things with the board: fitness, yoga, sunbathing, adrenaline cruising, touring…
Review iRocker Cruiser Inflatable Paddle Board
IRocker Cruiser sup takes up to 400 lbs, which is fantastic for a board of this size.
The fiberglass paddle that you're getting with it floats in cases of "accidents" (if you drop it in the sea).
You can convert the board to a kayak as well.
You're getting a triple action dual pump, which makes the inflating process a whole lot better.
You're also getting a backpack, a bungee cargo storage to turn the paddleboard into a nice touring board, an ankle leashes D-Ring, a rear grab handle, a place for an optional kayak seat, and so on…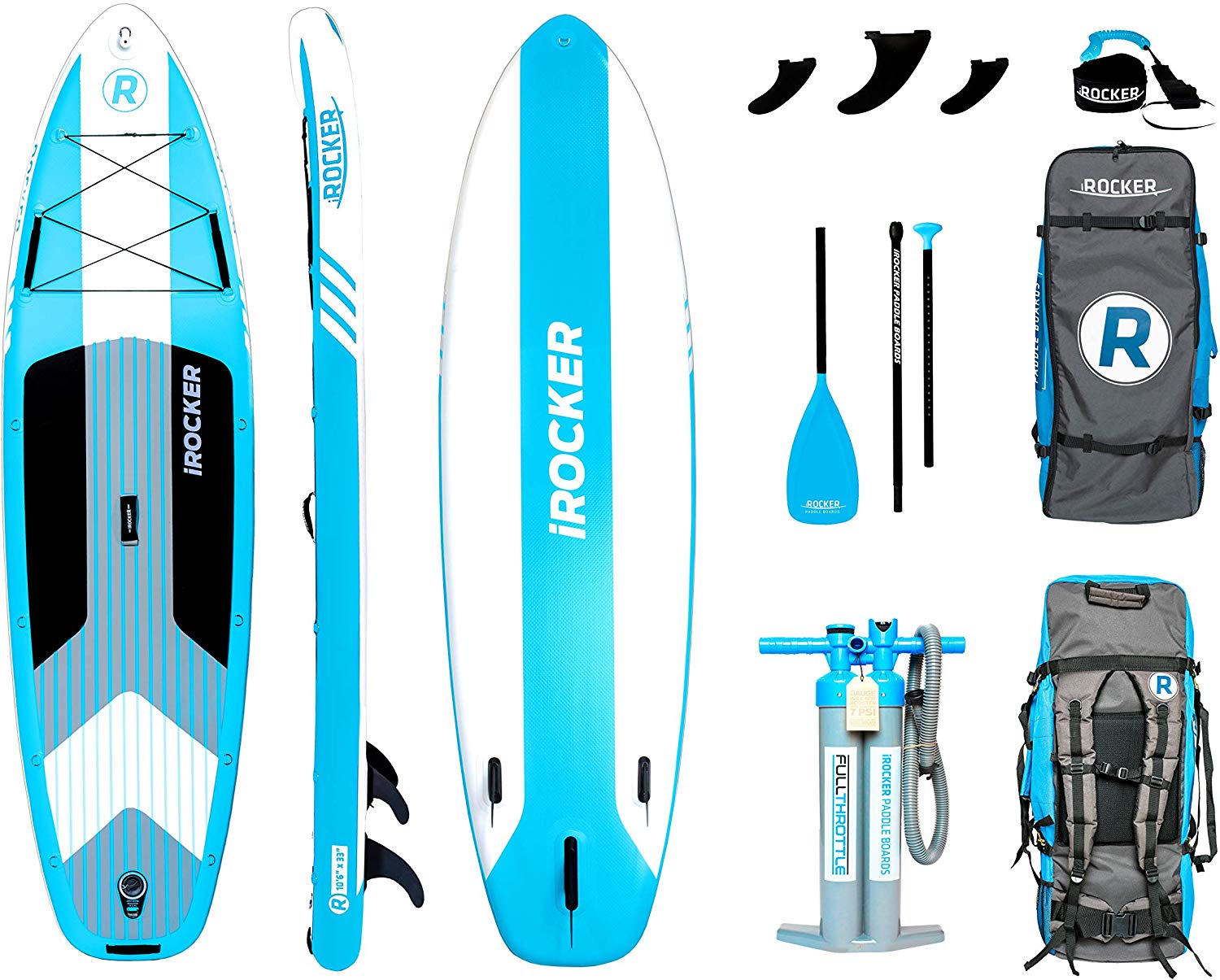 The outer protective PVC layer is a great choice for those who intend to use the board for a long time.
It will protect the deck pad, but it cannot be left in the sun for too long since it'll leave an impact.
The 4 layers of protection do a great job at keeping the drop stitch core safe, though.
The back will keep all of the things you get with the board safe and sound, and they all fit in!
The board comes in many colors, and the designs are all minimalistic.
A 2-year warranty is also a part of the deal, which is great for all of you who like to play it safe.
Long story short, this is a great board for both professionals and beginners.
It has great stability because of its dimensions, but it could use some extra "fin" help.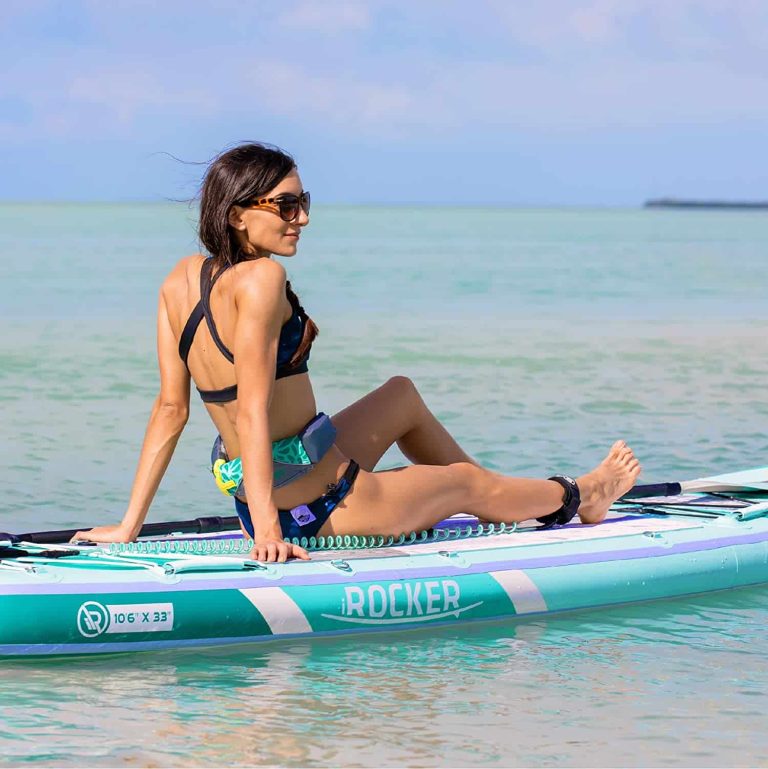 You can find IRocker Cruiser sup on sale here.
EXTREMELY STABLE iROCKER CRUISER INFLATABLE PADDLE BOARD
320 cm Long 84 cm Wide 15 cm Thick – Board Weight 11 kg Weight Limit of up to 181 kg.
84 cm Wide throughout the entire board with an extra-wide tail makes for extra stability, while the shape of the board still allows for a smooth tracking experience.
It is similar to a hardboard when fully inflated to 15 PSI but only half the hardboard and super durable weight.
HIGH-QUALITY ADJUSTABLE CARBON PADDLE
A floating carbon paddle is less than half the weight of a standard aluminum paddle, designed to make you enjoy your paddle session.
Easily converted to a kayak paddle with a blade on each end with an optional kayak blade, sold separately.
It breaks down into 3 separate pieces to easily fit into your provided bag.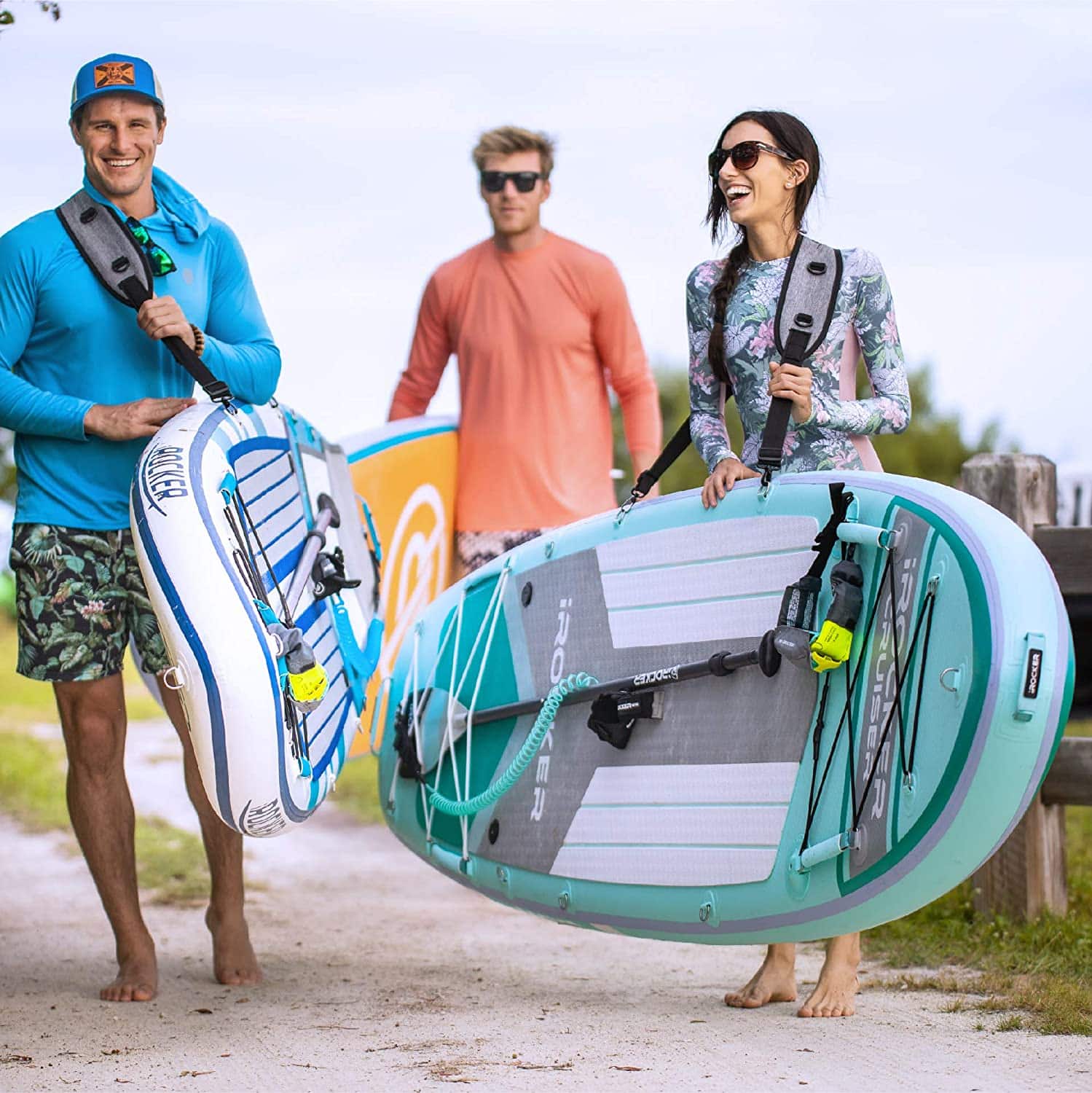 FULL THROTTLE, DUAL CHAMBER, TRIPLE ACTION HAND PUMP by iROCKER
Easy to use, a 64 cm triple action dual chamber hand pump comes with an integrated pressure gauge and inflates your board up fast.
BACKPACK CARRY BAG by iROCKER
Most comfortable iSUP bag on the market.
There is no need to worry about how you will carry your board from the car to the water to begin your SUP adventure.
Your iRocker SUP and all the accessories fit into the provided backpack with ease. There's even room to spare for extra gear.
Padded adjustable shoulder straps and waist support.
It is also equipped with an inner stabilizing board strap and outer clinching straps to keep your board from shifting inside the bag.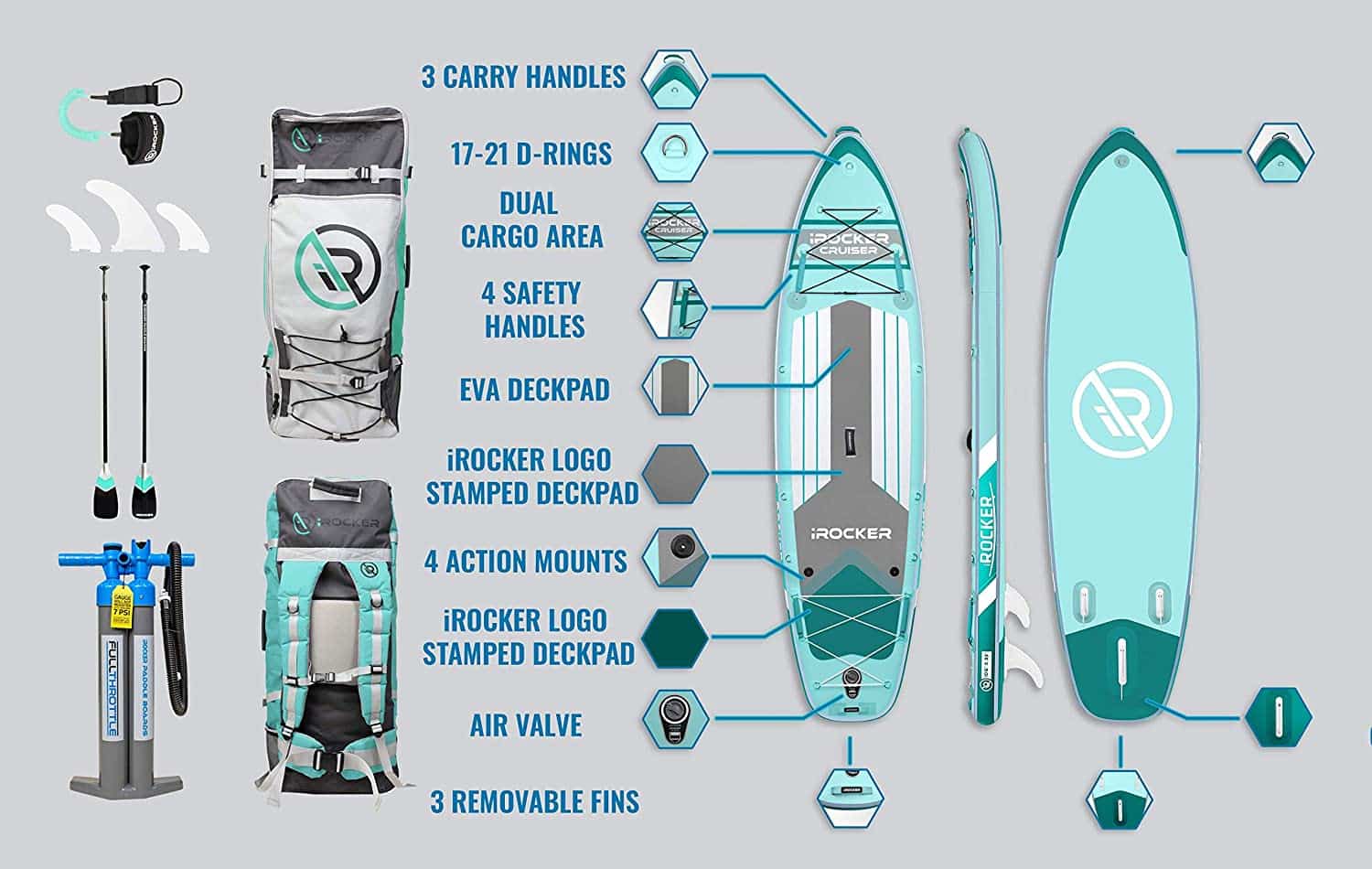 WHATS NEW for 2021
Updated paddleboard features include four Action Mounts for securing valuables, four more D-rings, and an additional bungee-cord cargo area.
All backed by our 2-year warranty. We stand 100% behind our products so you can buy with confidence.
Read Next – South Bay Board Big Cruiser Premium Top SUP
iROCKER CRUISER SUP: A Review of What's New
Read Next – Bluefin vs Irocker SUP Comparison Guide