You have probably heard about the iRocker Cruiser 10.6′ paddleboard before since it is one of the top inflatable boards you can buy now.
We've taken a very close look at the iRocker Cruiser inflatable SUPs. iRocker, a relatively new brand, is owned by SUP riders who know your need for escape and have jointly put a super top-quality range of SUPs.
These riders know the desire to be on the water. They feel its calling; they're also real people, without mermaids, and also understand work, time, and space constraints, so they've worked hard to define a board that everybody can enjoy, not just the pros.
We've seen several paddleboards over the past couple of years and can honestly say we've been highly impressed by the company and iRocker Cruiser inflatable SUP.
This may be the perfect one if you're looking for a professional board and are ready to pay more cash.
We will tell you a little more about this board in this IRocker Cruiser sup review.
It's a very stable paddleboard: 10'6″ long, 33″ wide, and 6″ thick.
These are the perfect dimensions since you can do various things with the board: fitness, Yoga, sunbathing, adrenaline cruising, touring…
Review iRocker Cruiser Inflatable Paddle Board
IRocker Cruiser SUP takes up to 400 lbs, which is fantastic for a board of this size.
The fiberglass paddle you're getting with it floats in cases of "accidents" (if you drop it in the sea).
You can convert the board to a kayak as well.
You're getting a triple-action dual pump, which improves the inflating process.
You're also getting a backpack, a bungee cargo storage to turn the paddleboard into a nice touring board, an ankle leashes D-Ring, a rear grab handle, a place for an optional kayak seat, and so on…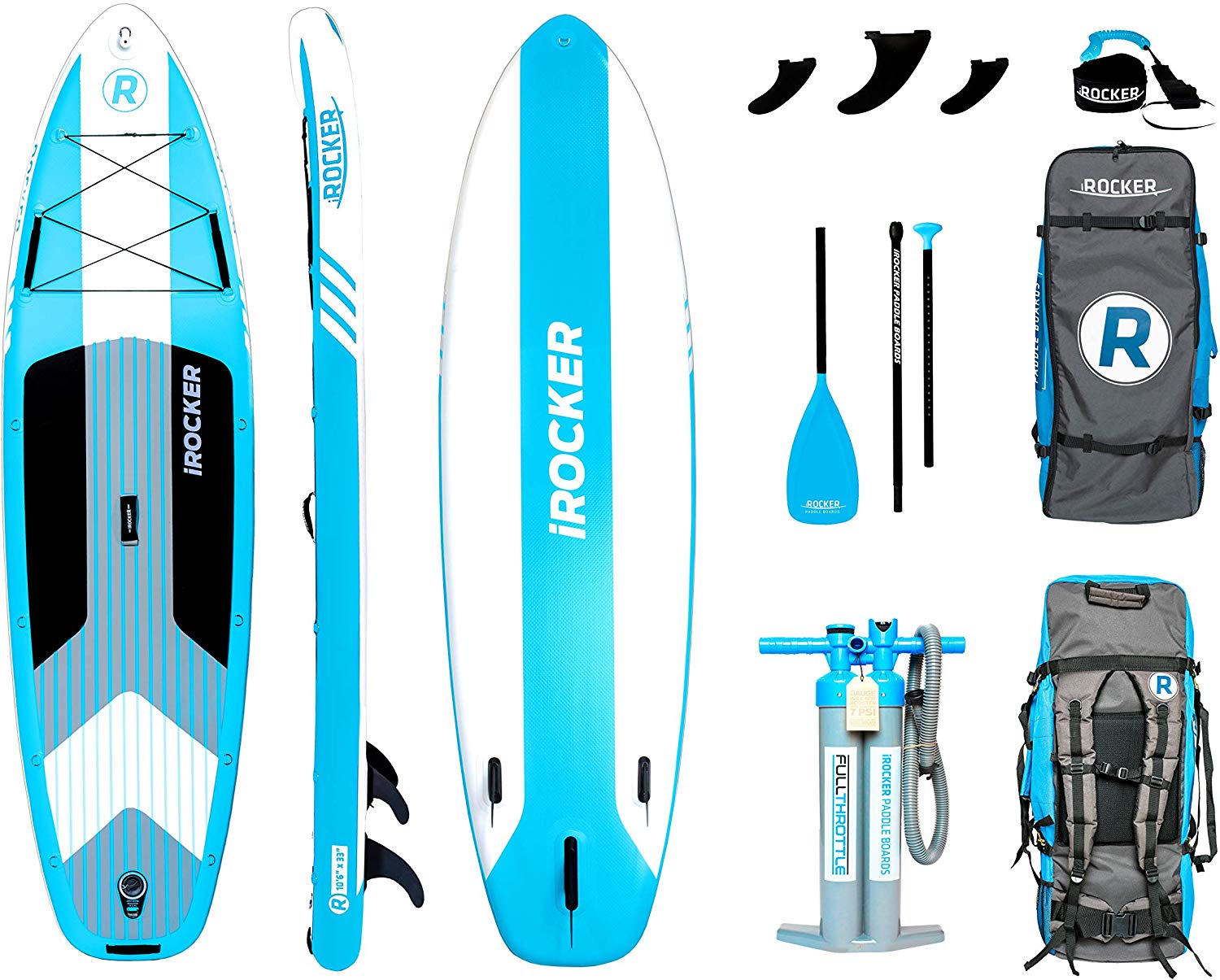 The outer protective PVC layer is an excellent choice for those who intend to use the board for a long time.
It will protect the deck pad but cannot be left in the sun for too long since it'll leave an impact.
The four layers of protection do a great job keeping the drop stitch core safe, though.
The back will keep everything you get with the board safe and sound, and they all fit in!
The board comes in many colors, and the designs are all minimalistic.
A 2-year warranty is also a part of the deal, which is excellent for all who like to play it safe.
Long story short, this is an excellent board for both professionals and beginners.
It has excellent stability because of its dimensions, but it could use extra "fin" help.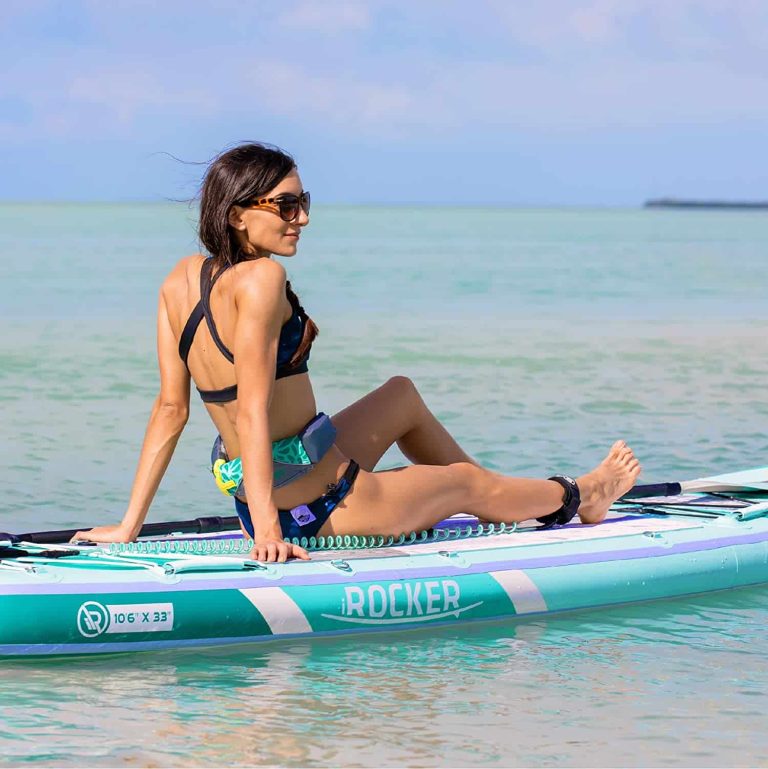 You can find IRocker Cruiser sup on sale here.
Read Next –  Your Guide to Paddle Board Size and Weight Chart
Designed 
Being 10′ and 6″ in length, 6″ thick, and 33″ wide with a squash tail makes the iRocker Cruiser inflatable SUP incredibly stable and additional stable all-round.
It is wide enough to make a beginner paddler feel ultra-comfortable and let more experienced riders take time off by paddling around at a slower speed with a pet or child or additional equipment for practicing Yoga or fishing.
I would not recommend it for racing or surfing unless you prefer going slow, not actually for touring either. Because it's so stable, it might feel less challenging to ride than most other models in typical conditions, so it is for ultra relaxation overall.
iROCKER Cruiser Inflatable Stand Up Paddle Board, Ultra Series, 10'6" Long 33" Wide 6" Thick Premium SUP with Enhanced Backpack, Fins, 12V Electric Pump & Accessory Pouch, 10' Leash, Gray/Pink/Aqua
out of stock
as of September 27, 2023 8:37 pm
Read Next – iROCKER 11 All-Around paddleboard Review
Build Quality
SUPs have built their way to the top of the water activities announcing that durability and quality come in various shapes, which are inflated this time.
The company knows it cannot compromise performance or quality to produce something practical and straightforward. That is how a great paddleboard like the iRocker Cruiser inflatable SUP comes to life.
This paddle board is made of a triple-layer military-grade highest-quality drop stitch known for its extreme rigidity and durability. I certainly make it nearly impossible to bend the paddleboard even without it reaching. Combined with the EVA pad, it is almost impossible to turn the SUP even with its max weight capacity of 350 pounds. Once the paddleboard is wholly inflated, you will feel similar to an authentic one.
The iRocker provides a two-year warranty if your paddleboard fails to fulfill what is expected. That is another way to say that rocker trusts their products and knows what they are doing.
Read Next – An Honest Review Of iROCKER Backpack
Performance
The length of the iRocker Cruiser inflatable SUP is its balance. This SUP is excellent. This paddleboard performs better in flat water; it is swift, simple to control, and ultra-responsive. It is guaranteed to make standing on the lake easy, even for newbies.
I cried. The iRocker Cruiser inflatable SUP is somewhat choppy water, and I was pleased with how the bard went. It was not very fast, which is not the purpose of this paddle board.
My close buddy suggests I use it for Yoga, but I am honestly not a Yoga person, yet, it is worth the shot for anybody who is into Yoga. The board is a balanced monster with that 33″.
Read Next – IROCKER vs. ISLE Explorer SUP
Main Features
This'll forever be my favorite about paddleboards. Besides the central fact that you can SUP anytime you like with the minimum issue, you will also get many functional and practical features that will serve you just might come once in the water.
That being said, you will find this on another rocker Cruiser inflatable SUP.
An EVA foam traction pad is essential on any SUP; it adds to the thickness and rigidity of the paddleboard as a whole, as it does the main job needed to keep you standing on the paddleboard even when it is wet.
Six stainless steel d-rings on the front are linked with a strong bungee cord. This function is convenient for anybody who needs storage on a paddleboard.
Another four d-rings on both sides for anybody who would like to use a kayak seat, with an eleventh D-ring on the tail to connect a safety leash.
You'll also find a perfect carry handle which, the least I can say about it is firm, supportive, and rigid. Using this handle, you can easily carry the iRocker Cruiser inflatable SUP or use it to get on the back while in the water.
The tracking unit system on this one is simply fantastic. It consists of three fins. One is oversized and removable, while the other is fixed and more minor.
They add up more incredibly to the SUP's performance in flat water. You would be able to feel the difference if you tried using the inflatable SUP without a more prominent fin. It will feel way smoother when connected.
Read Next – Nautical SUP Board by iROCKER Review
What I like 
Rigidity and width make it very stable
21 d-rings
It has a pleasing storage space at the front and the back
Ideal for fishing and Yoga with another person on the SUP
Adjustable fins make it simple to transport, pack and store the SUP
Can carry an obscene amount of weight
What I don't like 
The plastic handle on the paddle could utilize a rubber coating for improved comfort
Read Next – IROCKER Cruiser vs. IROCKER Nautical
EXTREMELY STABLE iROCKER CRUISER INFLATABLE PADDLE BOARD
320 cm Long 84 cm Wide 15 cm Thick – Board Weight 11 kg Weight Limit of up to 181 kg.
84 cm Wide throughout the entire board with an extra-wide tail makes for extra stability, while the board's shape still allows for a smooth tracking experience.
It is similar to a hardboard when fully inflated to 15 PSI but only half the hardboard and super durable weight.
iROCKER Cruiser Inflatable Stand Up Paddle Board, Ultra Series, 10'6" Long 33" Wide 6" Thick Premium SUP with Enhanced Backpack, Fins, 12V Electric Pump & Accessory Pouch, 10' Leash, Gray/Pink/Aqua
out of stock
as of September 27, 2023 8:37 pm
Read Next – iROCKER 11 All Around paddle board Review
HIGH-QUALITY ADJUSTABLE CARBON PADDLE
A floating carbon paddle is less than half the weight of a standard aluminum paddle, designed to make you enjoy your paddle session.
It is easily converted to a kayak paddle with a blade on each end with an optional kayak blade, sold separately.
It breaks down into three pieces to easily fit into your provided bag.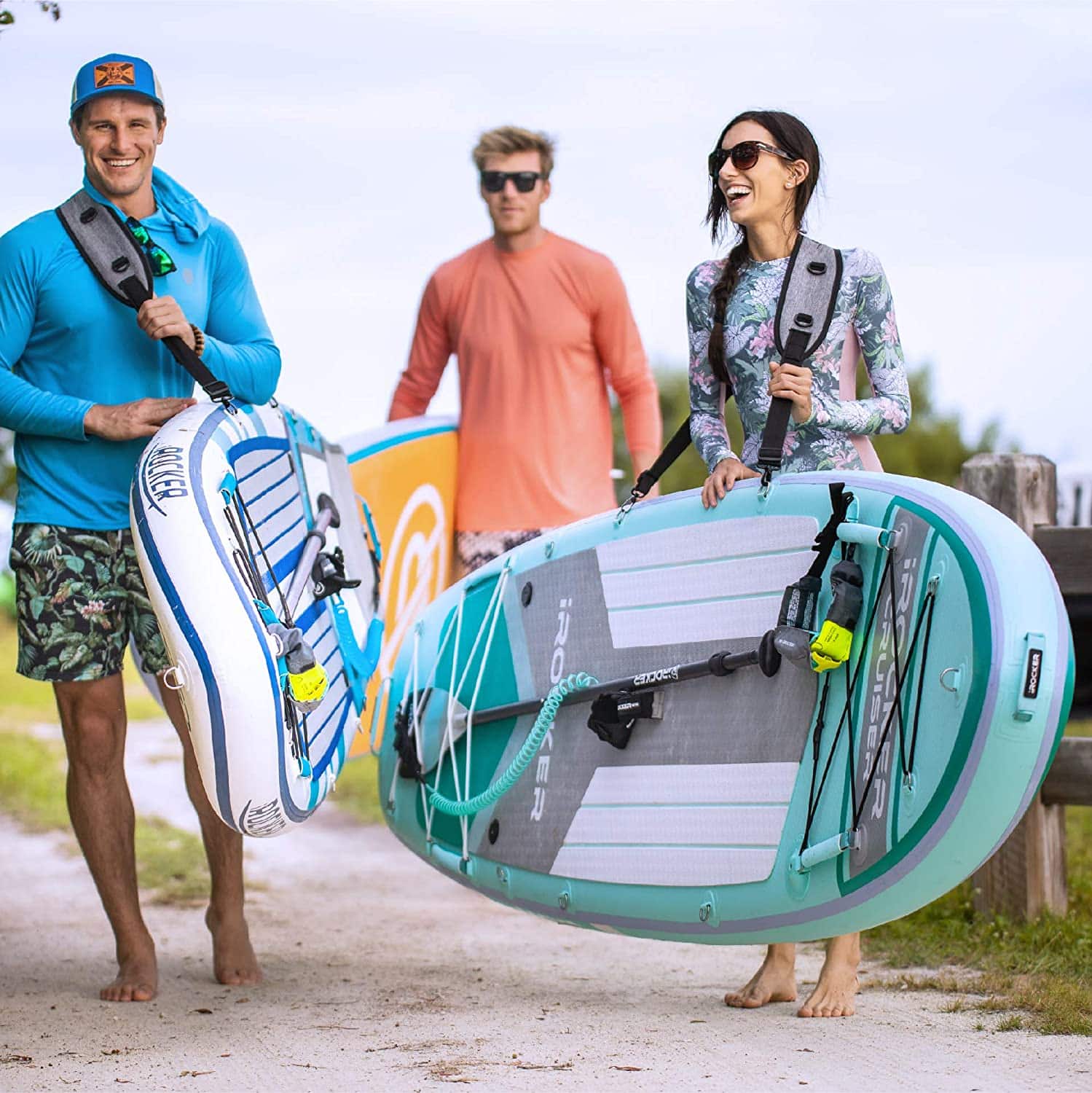 FULL THROTTLE, DUAL CHAMBER, TRIPLE ACTION HAND PUMP by iROCKER
Easy to use, a 64 cm triple action dual chamber hand pump comes with an integrated pressure gauge and inflates your board quickly.
Read Next – Best Irocker Sup Australia
BACKPACK CARRY BAG by iROCKER
Most comfortable iSUP bag on the market.
There is no need to worry about how you will carry your board from the car to the water to begin your SUP adventure.
Your iRocker SUP and all the accessories fit easily into the provided backpack. There's even room to spare for extra gear.
Padded adjustable shoulder straps and waist support.
It also has an inner stabilizing board strap and outer clinching straps to keep your board from shifting inside the bag.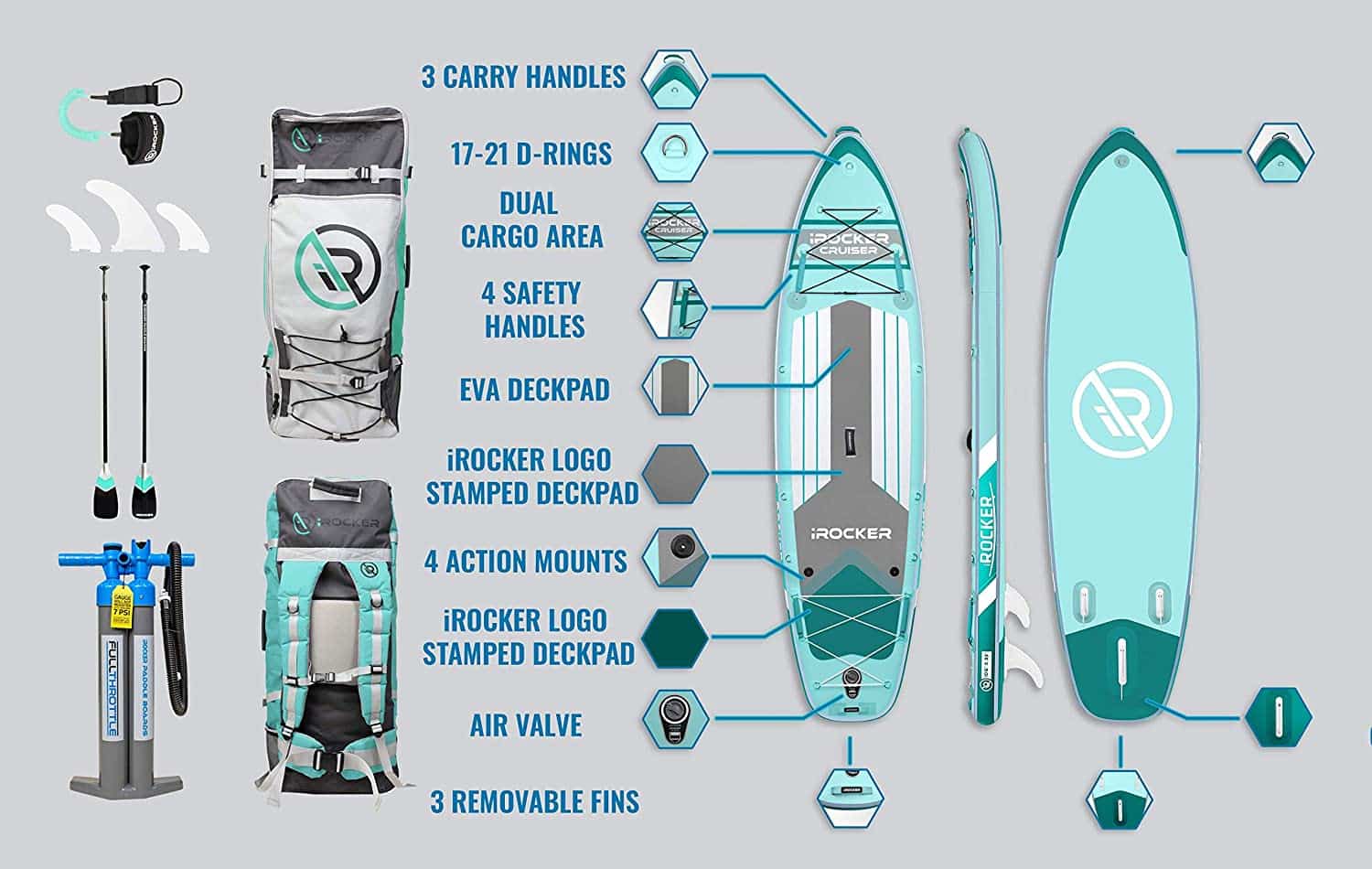 Read Next – Top 10 Best Inflatable SUP Boards
WHATS NEW for 2023
Updated paddleboard features include four Action Mounts for securing valuables, four more D-rings, and an additional bungee-cord cargo area.
Our 2-year warranty backs all. We stand 100% behind our products so that you can buy confidently.
Read Next – South Bay Board Big Cruiser Premium Top SUP
What are iRocker Paddle Boards?
iRocker paddle boards are inflatable stand-up boards that are gaining popularity in the SUP world. They are known for their high quality, durability, and performance.
Many people who have tried iRocker paddle boards say they are some of the best on the market.
Read Next – Best Blackfin SUP Paddle Board
Features of iRocker Paddle Boards
iRocker paddle boards are known for their high-quality construction, durability, and performance.
Here are some of the features that make iRocker paddle boards stand out:
Heavy-duty, drop-stitch construction for a rigid board that can handle up to 400 lbs.
High-pressure capacity (up to 20 PSI) for a durable board that can be used in all conditions.
Non-slip deck pad for a comfortable and stable ride.
Multiple carrying handles for easy transport.
Adjustable fin system for customized performance.
Read Next – Peak Titan Multi-Person Inflatable Stand-Up Paddle
Pros and Cons of iRocker Paddle Boards
When it comes to paddle boards, there are a lot of options on the market. So, deciding which is right for you can be challenging.
If you're considering an iRocker paddle board, you should know a few things.
In this article, we'll review the pros and cons of iRocker paddle boards so you can make an informed decision.
iRocker Paddle Boards Pros:
They're durable and stable, perfect for beginners or those who want a reliable board.
They have a great warranty, so you're covered if anything happens to your board.
They offer various models to choose from, so you can find the perfect one for your needs.
iRocker Paddle Boards Cons:
They're a bit more expensive than some other brands on the market.
Some people find their customer service to be lacking.
Alternatives to iRocker Paddle Boards
There are plenty of great options if you're looking for an alternative to iRocker paddle boards.
For example, the Tower Paddle Boards Adventurer 2 is a great all-around paddle board that's perfect for both beginners and experienced paddlers alike. It's also very affordable, making it a great option if you're on a budget.
Another great option is the Riviera Paddlesurf Maya SUP. This board is perfect for those who want more performance from their paddle board. It's lightweight and easy to maneuver, making it ideal for those who want to get the most out of their paddling experience.
Finally, if you're looking for a top-of-the-line paddle board, the Naish Nalu 12'6" Stand Up Paddle Board is a great option.
It's loaded with features and performs exceptionally well in all conditions.
Are iRocker Paddle Boards any Good?
A lot of people ask me about iRocker paddle boards and whether or not they are any good. And my answer is always the same: yes, they are! iRocker is a company that specializes in inflatable paddle boards.
They are based in the United States and have been in business since 2008.
Inflatable paddle boards (or iSUPs) are an excellent option for those who want to enjoy paddle boarding without investing in a traditional, rigid board.
iROCKER CRUISER SUP: A Review of What's New
Read Next – Bluefin vs. Irocker SUP Comparison Guide
The iRocker Brand quality
IRocker contains boards geared towards medium and high-range inflatable paddleboarding markets. There are also "Big Boards."
This list includes many people in it, but we won't discuss these because they are only novelty paddleboards. The unfortunate significant disadvantage of this motherboard is that it consistently exceeds its carrying capacity, which is probably the most critical disadvantage.
This is common for cheaper boards, but it is less common for manufacturers in the mid or upper market. How does the situation go about?
The fact that you're an excellent board maker naturally brings a high demand for quality.
Review Summary
The ProS board is lightweight, comfortable (25 lbs), and stable on the water. The premium wheeled bag is helpful for easy transportation and is easy to store and transport. The electric pump is such a worthwhile investment.
It also comes with a cylinder pump and a dual-motor system. The Carbon paddle is extended, floats, and is light and robust CONS. Although the Cruiser has seven different color combinations, I would like a more fun pattern for Sale. I can't fault this package for this price; I hope your experience has been good!
Why do we recommend iRocker SUPs?
We like iRocker's ability to provide paddle boards on practically any budget – from the entry-level nautical to the premium blackfin.
They are among the few brands to offer local customer service and warranty support to most global markets.
This is crucial for readers outside the USA as SUPs are primarily offered in the United States but are also available in North American regions. Rockers have taken great strides in improving its excellent Customer Service over the past year.
IRocker iSUP Reviews (2023)
This paddleboard is no longer available on the site. We're not 100% confident, but we're concerned that these iRocker's original boards can replace the Ultra board (above).
So stay tuned when the information is discovered.
IRocker SPORT 11′
Performance iSUP | 11′ x 31′′ x 6′′. The first board released by iRocker, the iRocker Sport 11′ measures 12'x31'x6′. IRocker Sport supports a weight capacity of 330 kg. Sport is quicker in size, but at 31 inches wide, it's less stable.
For experienced paddlers and adventurous newcomers who are comfortable getting wet, this sports 11′ will provide great entertainment and entertainment. Its large and narrow dimension makes it flexible and responsive to all your movements.
Instead of an interior compartment, the car's rear is equipped with an EVA foam kick-back tipped to improve the grip.
IRocker CRUISER
Cruiser iSup | 6.5′′x 33′′ x 6′′ The iRocker CRUISER is designed for larger-sized cars. It offers more rigidity and larger body size.
It measures 8 x 3 x 8 inches and weighs 25 lbs. The width of all-round boards would not affect the quality of the board, but it makes sense.
A cruiser is a great option when a beginner or paddler requires extra gear or passengers. There's some trade-off between speed, but it's unlikely most paddlers will notice this as much. The Cruiser's maximum weight was 450 pounds.
IRocker ALL AROUND 11′
All round iSP | 10′ x 32 x 6′′ x The longest in its All-Around sister, the iRockers All around 11′ weighs 27 pounds measuring 11 X 32 X 6 inches.
The board can support a weight of up to 435 kg. Our experience shows how it becomes an essential recommendation in paddlesport, regardless of size, owing to its longer length and excellent stability.
The extra room makes it useful for passengers (two-legged), coolers, or other equipment. It is longer than the 10′ model above the 11′ version.
IRocker ALL AROUND 10′
It measures 10'x32′′x6 inches and weighs 24 kg. iRocker, All Around 10. The board can weigh up to 370 kilograms. It offers two large bungee cord storage spaces at the head of the nose and head.
It also has 21 D -rings to secure valuables and anchor or tow. IRocking All around features four neoprene grips at the back, which are great for scuba paddlers with little children.
Four action mounting devices can be installed on your fish rod or camera to attach your camera to the mounts.
Blackfin Ultra CX
It combines the carbon fiber reinforced rails and designs inspiration by the Blackfin series with the innovative materials and compact folding design of the Ultra series.
It is lightweight (less than 20 lbs), robust, stable, and ready to adventure. At 31.15 inches, the blackfin UltraCX is Blackfin's giant board.
The dual fins help it run straight through the water and increase stability. See the Blackfin UltraCX review for further details.
Nautical Kids
Budget All Round SUP | 9' x 30′′ x 6.2". It was created in 2022 specifically for kids and teenagers. It has an overall 280 lbs weight capacity that is scalable and expandable.
The Nautical Kids – iSup is still 32″ wide for excellent stability for the younger paddler. It is constructed in the same double layers as the largest Nautical iSup model. Besides that, iRocker never skipped out on accessories.
The boat includes two loading areas, cargo dividers, passenger handles, threaded action mounts, and an attachment point for kayak seats.
Go-pro and other accessory mounts
Anywhere in the iRocker's pedal boards that feature such metal screw thread, there's an option to add GoPro or other compatible iRocker accessories like an iRocker cup holder and phone holder for your device. It has four parts that allow you to attach accessories.
Are iRocker boards any good?
The IRocker All Around is an excellent choice. This is a great board for those who want well-made, sturdy, inflatable SUPs for beginners and intermediate paddlers in a wide range of water conditions.
Is iRocker a good paddleboard brand?
We think this is an excellent choice for those seeking stable, cruiser-style inflatable SUPs by 2023.
How long do iRocker boards last?
The most commonly used boards should last at least a decade if properly maintained. The board will last three years or less, and all boards that have been used or are not properly maintained will have a lifespan of 3 years.
IRocker Paddle Board Review: The Inflatable 10'6 Cruiser SUP
The iRocker paddle boards reviewed here are the iRocker Cruiser 10 ft inflatable. Its irocker board has proven very successful as its design is perfect for beginners to paddle.
During this time, the Cruiser 10'6′′ was discontinued from my store, and I'm recommending the new Cruiser Ultra Boards, which are very similar but smaller and portable. This paddle board is excellent in novice waters because of its outstanding stability.