WOWSEA iSUP is a classic example of a mid-range SUP board whose quality of production comes from a double PVC layer reinforced with a double layer of PVC foil on the side of the board.
At the top of the board there is a diamond non-slip pad and a flexible rope for luggage and stuff fixing.
On the bottom there are three fins from which the largest can be removed from the board.
Features WOWSEA iSUP Paddle Board
The WOWSEA iSUP comes in a package with a pump that has an integrated pressure indicator, and a portable backpack with all the accompanying stuff from the package.
It can handle weight up to 280 lbs.
The 11 and 10.6 long version versions have 4 D-rings that can be mounted on the chair that the SUP turns into a kayak.
Variations of the board of 11 have excellent water stability, and we recommend them to practice Yoga SUP.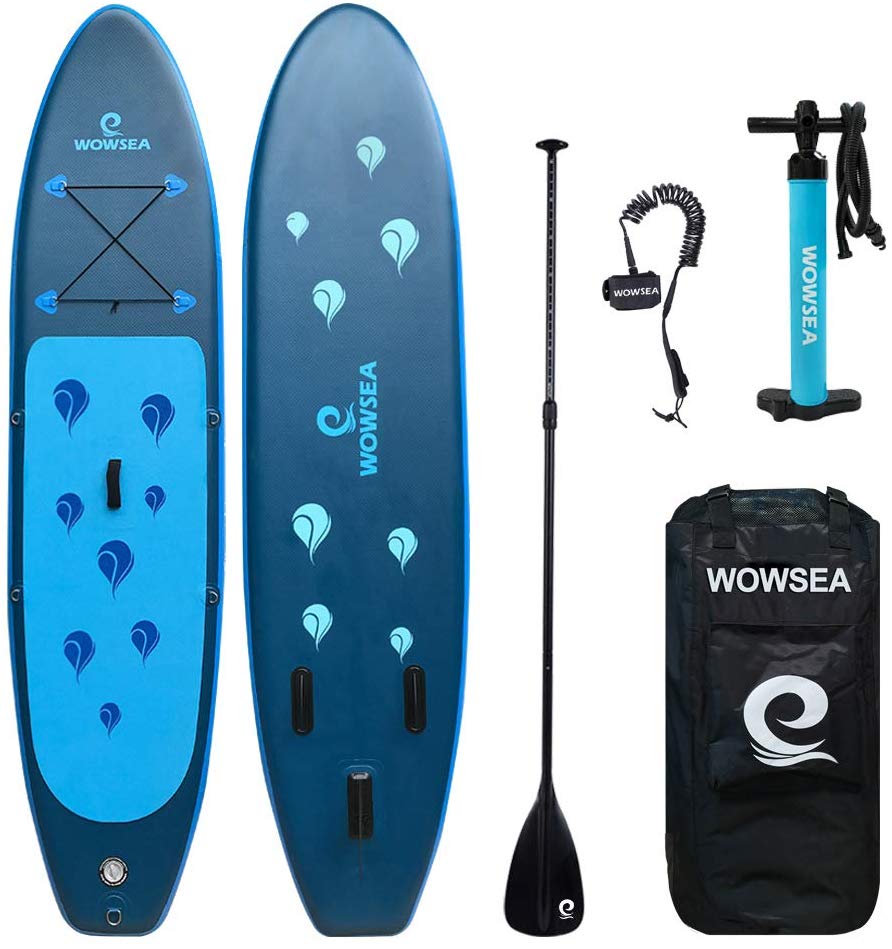 We also have to mention that you rarely find a mid-range manufacturer's public contact for customer support.
In the event of any technical difficulties with the board, you can contact the customer service at [email protected] and you will receive a response within 24 hours.
What do you get in the WOWSEA iSUP package?
high-pressure air pump with pressure gauge

aluminum telescope paddle

transport bag

leash

repair kit

fins
There are 4 versions of this board, and the basic differences are in dimensions and design. The design of boards tell about their purpose.
The boards that are spiky shape at the top are faster on the water.
The boards that are wider are more stable on the water.

Common technical specifications:
Size: 11'x 32″x 6″, 10.6′ x 32″x 6″, 10′ x 32″x 6″
Weight limit: 280 lbs
Layers: Double PVC layer with double reinforced lateral sides
Recommended for: Beginners, short trips, holidays, yoga, fishing
Transferability: Board weight 20 lbs and got handle for easy manipulation and transport
Warranty: 1 year + 30 days free return
Pros:
Customer service
Double PVC layer quality
backpack
diamond texture pad
Cons:
Hand pump not good quality after some time of use
Middle fin sometimes fall off

In fine weather, you can enjoy surfing in the open waters.
When you use the SUP, there's nothing quite like enjoying it as you're standing atop your very own paddle board, get some fun exercise, choose
WOWSEA paddle boards
, you will get a lot of joy.
The maximum PSI value is 15 PSI.

In strong sunshine, a value of 12 PSI is recommended.

Please note that the SUP boards are hand glued and all are checked for function and pressure before shipping.
Sturdy Material

The product is made up of EVA+PVC+AL, which is light and durable, extremely tough, UV-resistant decks. Throw yourself in, they last a lifetime. We use the densest drop stitch pattern on the market because we have the best board engineers and the most advanced materials.

Storage Area

Your cruise board is also equipped with a secure luggage net for your valuables and extra gear as well as multiple D-rings for extra customization and functionality.

Removable Caudal Fin

The tail fins can be quickly installed or removed along the guide rails, and special safety clips prevent the tail fins from falling out during use.

Diamond Anti-slip Mat

Non-slip Diamond Deck Pad is comfortable underfoot and provides extra grip and traction. With the kickpad function at the end of the board you can draw fast sharp corners.
Double action pump

Inflating & pumping

High pressure PSI measurement

Slim and light

Ergonomic handle

Fits easily in the backpack

Robust WOWSEA SUP backpack

Extra back and shoulder padding

Extra wide shoulder straps

Reinforced zipper

Practical outer pockets

Organization of luggage

Suitable for all accessories + SUP

Can be attached to the top of the board as a cargo holder

Resist high pressure and not leak

Even if it is stressed by a car, the surfboard will not be deformed and leaked, and it can still be used normally and intact.

It is very strong after being filled with gas, and you don't have to worry about any damage even after the car has been stressed. In water, it can withstand up to 280 pounds and does not sink into the water, so you can use it with confidence.
| | | | |
| --- | --- | --- | --- |
| | Blue and White | Sky Blue | Water Droplet Blue |
| SIZE | 10′ / 11′ | 10′ / 10.6′ | 10′ / 10.6′ |
| Dimensions | 10′(L)×32″(W)×6''(H) / 11′(L)×32″(W)×6''(H) | 10′(L)×32″(W)×6''(H) / 10.6′(L)×32″(W)×6''(H) | 10′(L)×32″(W)×6''(H) / 10.6′(L)×32″(W)×6''(H) |
Last updated on January 20, 2021 4:58 am