Stand-up paddling has been one of the most engaging activities on the water in the last few years.
SUP paddle board manufacturers are racing to make more quality, stable accessories, and designs. Wattsup SAR takes SUP one step additional.
Longer than its present rivals (10''/305 cm), this latest all-water board is a making wave in the iSUP world thanks to its actual volume.
Wider (32″/81 cm) and thicker (6''/15 cm), the SAR is a versatile board, stiffer and very stable. Those are tiny different dimensions than usual but are beneficial for paddlers regardless of the skill, beginners and skilled ones.
WattSUP SAR paddleboard comes with everything you might need that usually comes in the set with the paddleboard, so you don't have to purchase extra stuff for the SUP experience.
Added: three-part paddle, backpack, HP pump, repair kit, and leash.
In our review, you can read all about Wattsup SAR 10 paddleboard.
Read Next – F2 Star SUP Review
Features WattSUP SAR 10 Paddle Board
The width that makes stability over long distances – long paddling can get you tired. With this paddleboard, you will paddle for longer and keep balance with less effort. The extra width provides enough space to do various activities on the board, like water yoga, pilates, or fishing.
The thickness that offers stiffness and excellent stability – high-quality production that resulted in more significant dimensions of this SUP paddleboard made it extra sturdy. Because of its thickness is reliable and safe and helps you keep balance on it. Paddleboards with more significant dimensions are easier to paddle for beginners. The paddleboard maintains balance.
Paddling requires stability, coordination, and repeatable movements to move forward correctly. The length that permits smooth cruising without causing tiredness – like width and thickness, length is another measure that provides you additional benefits while on the paddleboard. Because of the length, your paddleboard has more strength and will move forward even in more complicated water conditions.
Handle at the back for placing in the water – paddleboard manufacturers pay attention to the transportation of the paddleboards. Because of their size, they are not most convenient when inflated. Because of the handles, you quickly move it around without feeling the discomfort of its size. Handles and straps are different from manufacturer to manufacturer.
Place everything you might need on your day cruising trip or fishing, and your things will stay in place. Stretchy net on the front for saving belongings – the size of the paddling board provides you with storage space in front. This manufacturer made it from an elastic net, making it easy to carry essentials.
Converts into a kayak: four D-rings for attaching a kayak seat – 2 in 1 paddleboard that converts to a kayak is excellent for water lovers. Quickly secure a seat on it, and you can paddle while comfortably sitting on your non-slip board. This convertible piece will have various water activities packed in one great design.
Raised kick pad at the back for better handling – kick pad helps you to manoeuver with the SUP paddleboard more easily while in the water. It also gives more comfort while paddling for some paddlers. Some SUP manufacturers add it to their paddleboards to make them more comfortable. With WattSUP, it is all about comfort and quality.
Extra-large non-slip pad for stability – Eva foam padding is made with innovative technology to provide non-slip material even when wet. With non-slip material on water sports elements, you get an extra layer of stability, especially for kids, pets, and all beginners in Stand Up paddling who need to feel safe.
Area for attaching a leash – coil leash is an excellent addition for all paddlers regardless of skill, from beginners who will wear it to feel safe to experienced paddlers that love adrenalin and extreme water conditions from wild rivers to wavy sea. Just attach it to the paddleboard and put it around the leg.
Inflation valve at the back – when positioned in the back, you get more accessible access to it while adjusting your paddleboard. It is made of high-quality material and won't leak air or get opened easily, even if touched. In addition to that, kids won't play around with it.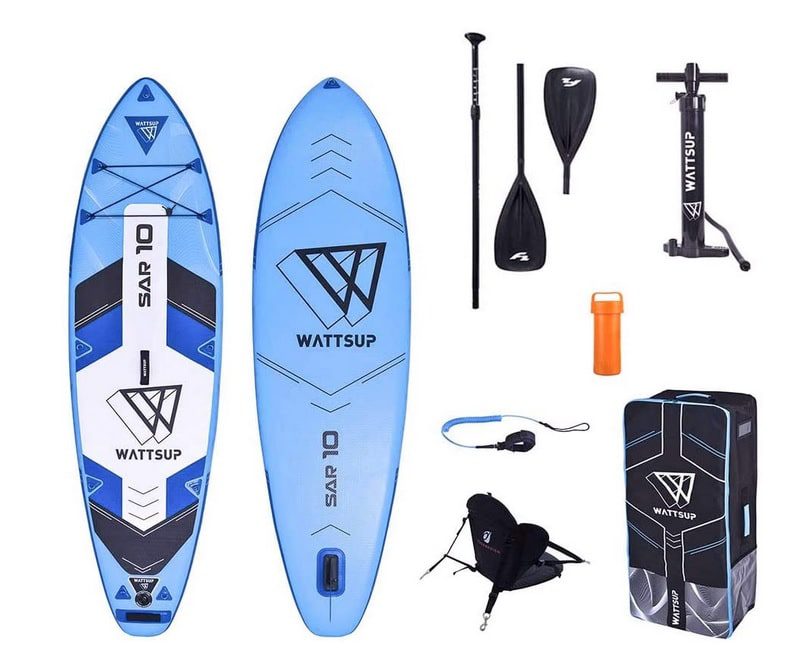 Read Next – DRIFT Inflatable Stand-Up Paddle Board Review
Advantages
Durability
The top inflatable SUP boards are made from heavy-duty stuff that is virtually indestructible.
The hard outer skin is made from ultra-durable PVC stuff resistant to cuts, punctures, and abrasions.
While dings and cracks are forever a big worry with hard SUPs, inflatables are hesitate-free in this respect.
Military PVC material is high quality. It is layered in rails to provide thicker material that will not release air and is sturdy enough to provide stable ground. PVC is high quality but makes a lightweight, easily transportable finished product.
Drop stitching connects rails of PVC material in a solid, finished piece.
The top layer of the paddleboard is made of innovative EVA foam technology. This non-slip material is stable and safe for standing and gives comfortable padding for paddlers, especially for kids and pets enjoying stand-up paddling sport.
Read Next – Fastest Inflatable SUP Review
Wattsup SAR 10 Combo 10'0 Inch Inflatable Sup Board Stand Up Paddle Complete Pack 305 x 81 x 15 cm with Kayak Seat and Double Paddle
out of stock
as of November 22, 2023 1:09 pm
Read Next – Onyx Movevent Dynamic Life Vest
Portability
With iSUPs, you never worry about trailers or car roof racks.
The inflatable WattSUP SAR 10 paddleboard is compact and easy to carry and adjust. The paddleboard comes in the backpack, so it is easy to have around and store while you don't use it.
Because of the weight, it is easy for teens and adults to take it on public transport. When you want to use it, take it out of the backpack, unfold it and inflate it with the hand pump from the set. Your SUP paddleboard will be ready in less than 10 minutes and prepared for the water.
An inflatable SUP deflates and rolls up like a sleeping bag, permitting you to transport it in your vehicle's trunk, backseat, or even on the scooter, ATV, or bicycle.
Read Next – COSTWAY Go Plus SUP Review
Read Next – Bestway Hydro-Force Wave Edge Review
More affordable
While there are some exceptions, for the most part, inflatable paddle boards price less than equivalent rigid boards.
To be less costly to buy, an inflatable is also affordable to maintain as you would not have to spend a lot of extra money on expensive future repairs.
If you are looking for an affordable paddleboard, SUP inflatable ones are, in most cases, lower prices than hardboard ones.
Depending on the price range, specifications of the paddleboard, and other details, you can find paddleboards that come with affordable prices to high costs depending on the manufacturer.
Set the price range you would like to spend on the paddleboard and look for the highest quality SUP paddleboard that fits that price range. All paddleboards are quality and provide a safe, comfortable water experience.
Read Next – Best Aldi Paddle Board For You in 2023
WS WattSUP SAR 10'0" SUP Board Stand Up Paddle Surf-Board Paddel ISUP 305cm
as of November 22, 2023 1:09 pm
Read Next- Best Solid Paddle Boards in 2023
Stand-up paddle boarding is excellent sports activity for all, regardless the age. SUP is not a strain on the body. From kids to adults spending time in nature on the water is beneficial. It will lower stress levels, improve posture and balance and provide family time for all family members and pets.
On the paddleboard, you can stand up paddle, do yoga, fitness, and pilates but also take your fishing gear and fish in the middle of the lake.
Choose the paddleboard that will fit all your needs, and enjoy spending quality time with your family on the water.
Read Next – Wattsup Espadon 11 SUP Review
Wattsup SAR 10 Combo 10'0 Inch Inflatable Sup Board Stand Up Paddle Complete Pack 305 x 81 x 15 cm with Kayak Seat and Double Paddle
out of stock
as of November 22, 2023 1:09 pm
WS Wattsup Sar 10'0" Sup Board Stand Up Paddle Surf-Board Paddle Isup 305cm
out of stock
as of November 22, 2023 1:09 pm
WattSUP Unisex's SAR 10' SUP, Multicolored, U
as of November 22, 2023 1:09 pm
Wattsup SAR 10 Combo 10'0" Aufblasbar Sup Board Stand up Paddle Komplette Packung 305x81x15 cm mit Kajak Sitz und Doppelpaddel
as of November 22, 2023 1:09 pm
WS WattSUP SAR 10'0" SUP Board Stand Up Paddle Surf-Board Paddel ISUP 305cm
as of November 22, 2023 1:09 pm
WS WattSUP SAR 10'0" SUP Board Stand Up Paddle Surf-Board Paddel ISUP 305cm
as of November 22, 2023 1:09 pm
Wattsup Sup Board SAR 10 mit Kajaksitz im Pack
as of November 22, 2023 1:09 pm
Wattsup, SAR 10' , Sup, Mehrfarbig, U, Unisex-Erwachsene
3 new from €259.00

as of November 22, 2023 1:09 pm
Read Next – Best Sup Board Roof Rack For You