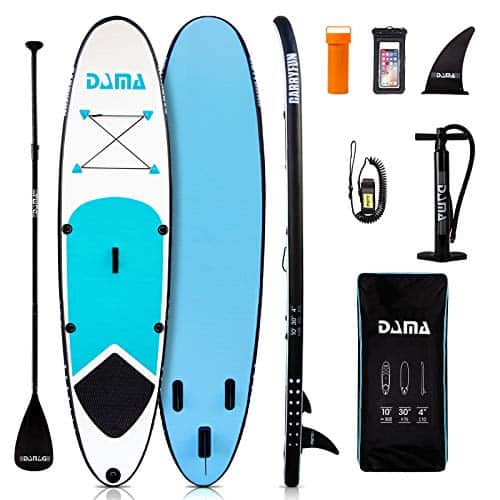 An inflatable stand-up paddleboard, the Dama Youth 10′. A complex, stiff paddle board is not the same as an inflated paddleboard.
If you're looking for a rigid board, this isn't the one for you.
The DAMA Inflatable SUP Board is a terrific gift for your favorite adolescent. If your child is interested in paddleboarding or you want to make them spend some quality time with you, this is their activity.
This board can pique their interest in spending quality time with you and your family. The teenager's board is the best and most cost-effective option for novices who want to try stand-up paddling and are near water.
It is also ideal for sharing with children, friends, and pets, allowing you to have even more fun.
If you're not sure if paddleboarding is something your family might enjoy and you're just getting started, this quality and affordable board is an excellent place to start.
FEATURES DAMA Youth 10′ Stand Up Paddle Board
The Dama Youth 10′ Inflatable Stand Up Paddle Board is designed for teenagers and young adults. It's a stable board that allows teens and young people to maintain total balance while riding it.
The producer employed a drop stitch on a military-grade light PVC fabric. This is a paddleboard that is tough, solid, and lasting.
It features a cushioned deck on which you will not slip. Your child will be safe and comfortable on this paddleboard.
DAMA is an inflatable stand-up paddleboard. Because of the tiny form of this inflatable board, you may SUP anywhere around the world with ease on trains, buses, and flights. When not in use, it deflates and fits into the additional backpack.
When it comes to sporting equipment for youngsters and teenagers, size matters, additional features make transportation more accessible by customizing the dimensions and weight.
Only DAMA SUP paddle boards for kids come with extra handles and shoulder straps. This makes it easy to travel and continue doing what you enjoy while visiting a Lake, River, or the sea. Because of this, and because it is lightweight, your adolescent can travel with friends or family on this paddleboard as explicitly designed for them.
It comes with a paddle that breaks down into three sections. You will never lose it because it does not sink. The Dama is also relatively light and comfortable to hold, taking only 10 minutes to inflate and 5 minutes to deflate. Steel D rings are included to carry whatever you want on your board. You can even link your board to another person.
16.5-pound board weights are easy to transport, have a drop stitch material that resists leaking, and check each board for perfect tightness. With its lightweight and compact dimensions when folded, an inflatable paddle SUP board is a beautiful complement.
It's simple to transfer in either situation. It is made of high-quality materials and will last for many years. You don't have to be concerned about taking it out of the suitcase after months of storage while you wait for your vacation.
The D rings will keep your youngsters safely attached to your paddleboard while you enjoy a relaxing day on the lake. It comes with a waterproof bag in which you may store your belongings.
This board's paddle is detachable and floating. It is made of lightweight aluminum fiber that is simple to use by adults and children. It will prevent injuries due to its ergonomic shape and lightweight. A paddle is filled with foam that prevents water from entering.
This paddle floats in the water due to its materials and design, making it easier for children to manage.
Read Next – DAMA Inflatable Stand up Paddle SUP Board
SPECIFICATIONS
Ten ft. in length 2. 30 ft. in width
4-inch thickness
Weight: 16.5 lbs
176-pound weight-bearing capacity
Paddle (adjustable)
One pump
Fins (removable)
A strap around the shoulder
Leash for safety
Backpack
Additional equipment
Read Next – Best Dama Inflatable Stand Up Paddle Board in 2022
QUALITY
DAMA has twelve years of inflatable SUP board, kayak, Gymnastics Tumbling Mat, floating dock, inflatable swimming pool, roof tent, and other inflatable products experience.
Their products are shipped to over 30 countries, including Europe, the United States, Russia, and Japan. They thoroughly inspect each board and accessory, ensuring high quality.
5L Water-Proof Bag

The Thigh-quality dry bag with a capacity of up to 5L is also exclusive of DAMA. It allows you to carry mobile equipment, energy drinks, food supplements, or clothes with you and make you carefree about getting wet, especially during a longtime tour or photographic expedition.

Exclusive Shoulder Strap

A shoulder strap is added to its accessories as an exclusive offer of DAMA paddleboard. The belt can be tied to the conjoint D-rings on either side of the sup board as you could carry an inflatable stand-up paddleboard in a much easier and comfortable way before or after your journey on the water.

Safety connecting rings

4 D-rings of DAMA between two paddleboards are added to ensure that the child can be controlled well with a short distance. A child can play happier with the parent and learn more skills under the safe circumstance when a family enjoys themselves on water.
UV-proof & Anti-corrosion

The anti-corrosion and UV-proof material allow a high endurance and broader application, such as lake, sea, canyon, etc., withstand saltwater or freshwater. Double bungee provides ample space for backpacks, mobile equipment, or energy supplements, ideal for day-long tours, wild expenditures, or exploration.

Environmental Activity

We DAMA are taking initiative actions in different kinds of ecology campaigns. All DAMA products are friendly. And our children using trying their best to do what they can do and improve their love for this world. As we grow up, we sincerely invite you to join us in our action to better the home of lives.

Floating paddle

The detachable floating paddle is of aluminum alloy hollow design. The interior of the sup board paddle is filled with foam material to avoid water infiltration, while the exterior is thermal-sealing to enhance waterproof. This ensures that the blowup board paddle floats on the water. No worry about the oar will sink and be lost.
| | | | | | | |
| --- | --- | --- | --- | --- | --- | --- |
| | DAMA Nature | DAMA Youth | DAMA Fresh life | DAMA Flywater couple | DAMA Flywater single | DAMA Adventurer |
| Size | 9'6″ *30″ *6″/10'6″ *32″ *6″/11′ *33″ *6″ | 10'*30″*4." | 11'*33″*6" | 12'2″*34″*6" | 10'6″ *33″ *6″ | 10'6″ *32″ *6″ |
| People | Men or women who like nature | Youth or children who enjoy the sports | Men or women who like challenges | A couple who like to cooperate | A family who can have fun together, including kids or pets | Men or women who like challenges |
| Place | Lake, seaside, River | Lake, seaside, River | Lake, seaside, River | Lake, seaside, River | Lake, seaside, River | Lake, seaside, River |
| Suitable for | All round, Surfing, Yoga, Travel | All-round | All round, Surfing, Yoga, Travel, Fishing | All round, Surfing, Yoga, Travel, Fishing | All round, Surfing, Yoga, Travel, Fishing | All round, Surfing, Yoga, Travel, Fishing |
| Max user weight | 275lbs/330lbs/352lbs | 176lbs | 350lbs | 550lbs | 400lbs | 330lbs |
| Paddle | Aluminum | Aluminum | Aluminum | 2 pcs Aluminium | Aluminum | Aluminum |
| Pump | Hand Pump | Hand Pump | Hand Pump | Hand Pump | Hand Pump | Hand Pump |
| Pet friendly | ✓ | ✓ | ✓ | ✓ | ✓ | ✓ |
MEASUREMENT
This stand-up paddleboard is approximately 10 feet long. It measures 4 inches in thickness. The paddle board's width is 30 inches.
Read Next – 7 Best Inflatable Paddle Board 2022
PERFORMANCE
According to individuals who have purchased and used this stand-up paddleboard, the board tracks nicely.
This paddleboard is not designed for racing or surfing rather. It is more of a touring board. It only has one fin. Thus it'll probably be utilized for conventional paddle boarding.
The board is made of a light PVC material 4 inches thick, making it even more stable. The board is also equipped with a non-slip grip for added stability and high-quality military PVC material.
Thanks to the additional triple fins on the bottom, it's a beautiful paddle SUP board for beginners and advanced surfers alike.
The board includes a thermal seal on the outside, which improves its water resistance. This makes the board be able to move more freely. It is also foam-filled, which prevents water from entering the board.
Read Next – Best Ultra-light Inflatable Paddleboard Our Top Picks
PACKAGING
It includes everything you'll need to get started, including a 10'6″ inflatable paddleboard, a sports camera mount on the paddleboard, a 4-piece length adjustable floating paddle, a double-action hand pump, a removable fin, a safety ankle leash, a 5L waterproof bag for essentials like keys and food, a comfortable backpack to carry everything and a waterproof bag for cell phone.
Read Next – Best Ultra-light Inflatable Paddleboard Our Top Picks
ADVANTAGES
Inflation is quick and straightforward.
Provides a significant amount of balance
Paddle that floats
It's small and light, making it ideal for more miniature adults.
It comes with a slew of extras
DISADVANTAGES
The accessories aren't very durable.
The pump itself is of poor quality.
Read Next – ISLE Versa Rigid Stand Up Paddle Board Review
DAMA Youth 10' Inflatable Sup Stand Up Paddle Board, Youth Board, Premium Board Accessories, Floating Paddle, Lightweight Lady, Kids Gift, All Round Board Blue
out of stock
as of September 27, 2023 6:42 pm
DAMA Sup Paddle Board Inflatable 10' Length Youth Board, W/Premium SUP Accessories & Backpack, Non-Slip EVA Deck. Waterproof Bag, Safe Leash, Floating Paddle, Single Hand Pump, Beginner Board Blue
out of stock
as of September 27, 2023 6:42 pm
DAMA 10'x30''x4'' Inflatable SUP for All Skill Levels Stand Up Paddle Board, Adjustable Paddle, Single Action Pump, Waterproof Bag, Leash, Shoulder Strap, Youth Inflatable Paddle Boards Green
out of stock
as of September 27, 2023 6:42 pm
DAMA 10'6"x32"x6" Inflatable Stand Up Paddle Board, Yoga Board, Camera Seat, Floating Paddle, Hand Pump, Board Carrier, Waterproof Bag, Drop Stitch, Traveling Board for Surfing
2 new from $299.99
5 used from $242.28
Free shipping
as of September 27, 2023 6:42 pm
DAMA 10'6"x32"x6" Premium Inflatable Stand Up Paddle Board (6 inches Thick) with Durable SUP Accessories, Wide Stance, Surf Control, Non-Slip Deck, Paddle and Pump
out of stock
as of September 27, 2023 6:42 pm
DAMA Inflatable Stand Up Paddle Board 11'*33'' *6'', Inflatable Yoga Board, Dry Bags, Camera Seat, Floating Paddle, Hand Pump, Board Carrier, Durable & Stable for 3 People
4 used from $242.54
Free shipping
as of September 27, 2023 6:42 pm