Are you looking for more paddleboards for your family members? Look for Fbsport SUP inflatable paddleboards. They come in various colors to fit your whole family and friends.
With eight different color options and a surprisingly sleek and new design, it is simple to view why the FB sport premium inflatable stand-up paddleboard is so unique.
This paddleboard, with its specifications, fits all family members, from kids to adults, regardless of the skill.
From beginners to advanced paddlers, all will enjoy paddling on this board and find it comfortable.
With its size, weight, and carrying capacity, this paddleboard will fit everybody because it is easy to use and medium weight. Teens can take it without effort and have a high carrying capacity. It can be used in pairs.
Features Fbsport Paddle Board Review

Specifications of the Fb sport SUP inflatable paddle board:
Dimensions: 10′ x 30" x 6"
Weight: 22lb / 10kg
Max carrying capacity: 280lb / 128kg
Max psi: 15 psi
Designs: dark/light blue
Specifications of the Fb sport SUP inflatable paddle board make it easy for all, from kids to adults, regardless the age or skill level. Because of the weight of the SUP inflatable paddleboard, it is easy to store and carry around without any problems.
Easy transport and compact design are the main benefits of SUP sports gear. Just inflate and fold into a backpack, and you are ready to go.
FB sport SUP inflatable paddleboard comes with all essentials you might need. From safety to comfortable transport and easy adjusting, you will find everything in this set.
You will also obtain the standard accessory kit for the paddle, a manual pump, tracking fin, and ankle leash.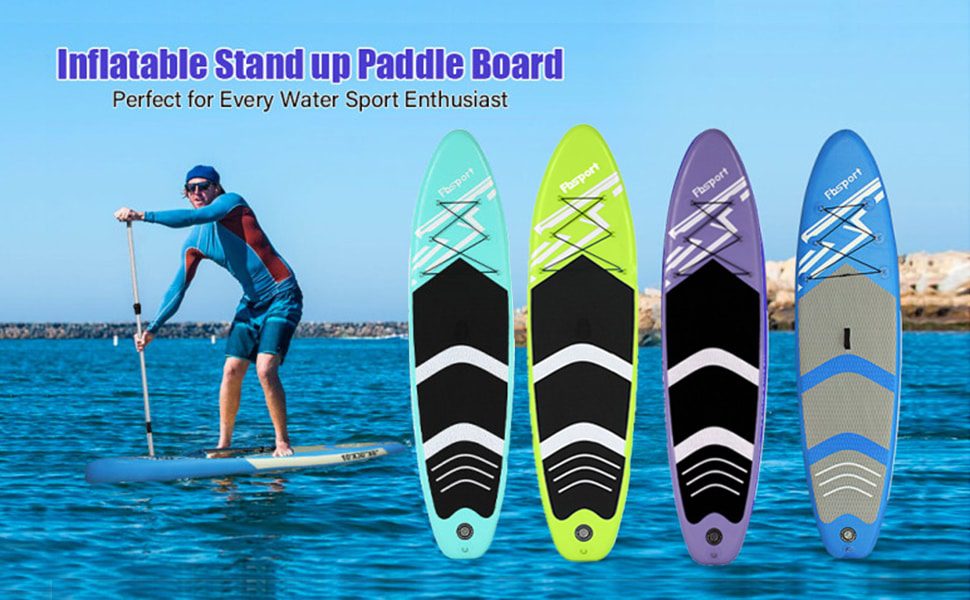 Materials
Military PVC material is made with intelligent technology. Made from military-grade solid PVC, it is mighty, and this translates well into the entire design and feel of the board on the water.
Designed in rails, it is layered to build sturdy material that won't let the air out. Strong seams are critical because of the inflating and deflating but most importantly because of the folding and storage. Drop stitching with strong threads makes the material even stronger on seams.
When PVC material is folded, it tends to crack on the sides, but military PVC material of SUP inflatable paddle boards won't crack on the sides.
Another layer, the top one on the paddleboard, is the EVA foam layer made with smart technology. EVA foam padding provides a non-slip layer when the paddleboard is wet.
Paddleboard's premium inflatable paddleboard is produced of the highest standard military grade material. It adds to the safety of the paddleboard and level of comfort. Kids and pets will feel safe while having solid padding.
FBSPORT 10.6' Premium Inflatable Stand Up Paddle Board, Yoga Baord with Durable SUP Accessories & Carry Bag | Wide Stance, Surf Control, Non-Slip Deck, Leash, Paddle and Pump for Youth & Adult
4 new from $169.99
Free shipping
as of May 27, 2023 2:52 pm
Read Next – 7 Best Inflatable Paddle Board 2022
Paddle
Anyway, something to note with this paddleboard kit is that the paddle is produced of lightweight alloy.
This is a huge positive given that most of the added paddles with these paddleboard kits are somewhat unbalanced, heavy, and hard to use. An adjustable paddle that is lightweight is a significant part of the set.
You can easily adjust it to your size and paddle around without getting injured or tired after some time. Because of the alloy material used in manufacture, it is very light and floatable.
When it falls into the water, it will float near you to easily pick it up and continue paddling. The FB sport feels more akin to an expensive paddle, making it a stunning included accessory.
An extendable paddle makes the board well matched for a wide range of rider heights. You will also find a high-force pump with a gauge along with a carrying backpack.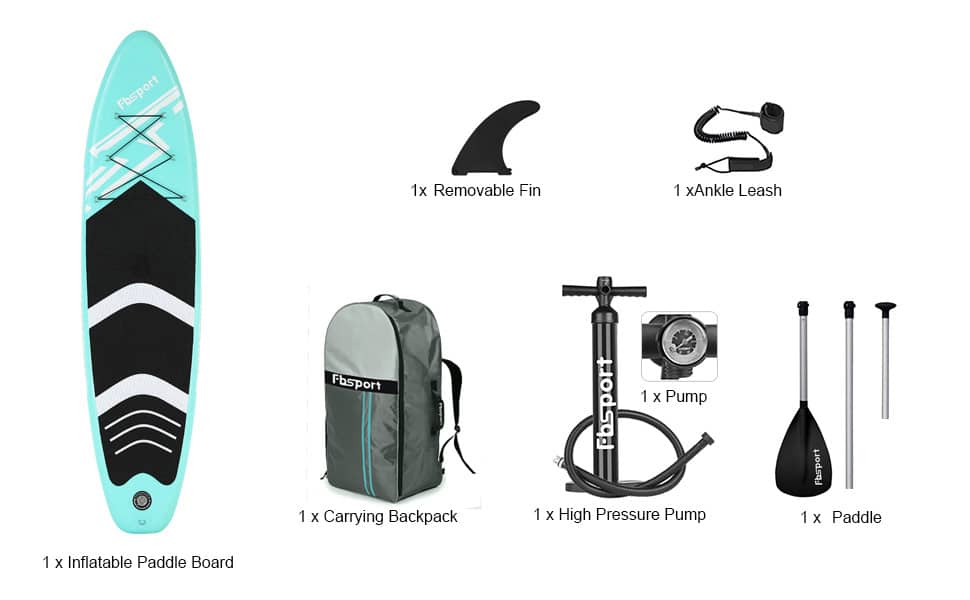 Read Next – Best Inflatable Paddle Board Under 400
Fins
You will get three additional fins in the Fb sport SUP inflatable paddleboard in the set. The fins are simple to attach and provide included stability on rough waters, and the board is surprisingly light, making it simple to handle.
Fins are an excellent addition for skilled paddlers and beginners. One fin is extensive and goes in the center back part of the paddleboard. Two smaller additional fins go on the left and right sides of the enormous fin.
Fins can help you navigate more efficiently and give you additional balance depending on the water conditions. Also, with fins on the SUP inflatable paddleboard, the paddler will provide extra speed, which is good news for adrenalin lovers or SUP racers.
Three removable fins are added with the paddleboard, along with an ankle leash to keep you linked to your board.
Pump
SUP inflatable paddle board comes with a hand pump part of the basic set. You will need less than 10 minutes to get it ready for paddling around.
This kind of board is an excellent benefit to have that inflate-deflate system built-in. Fb sport SUP inflatable paddleboard comes with a high force pump with a gauge for even easier inflation.
Read Next – FBsport Inflatable Stand Up Paddle Board
Coil leash
If you are a beginner and don't feel safe on the paddleboard, you can use a coil leash that comes in the set.
That leg bracelet is connected with the SUP inflatable paddleboard. Put it around your leg, and if you fall into the water, you will stay connected to the board, and it cants float away from you.
Coil leash is made of high-quality, comfortable materials that will provide you with safe and gentle materials for your skin, even for more prolonged use.
Transportation backpack
The main characteristic of the Fb sport (and other) SUP inflatable paddle boards is their compact design that allows you to fold it when deflated and put it in the backpack that comes in the set.
This is one of the most compact sports gear designs on the market. This backpack is not much bigger than usual ones and allows easy transport even with public transportation. Also, you can easily store it in the garage or wardrobe, and it will not use a lot of space.
Lightweight and wide SUP design
The Fb sport stand-up paddleboard is ten long and offers thirty of deck width for better stability and balance while standing. A thick PVC exterior makes this iSUP a strong choice for the full family.
The board itself sits truly well on the water. It is strong, balanced, and can hold a shocking amount of weight for its size. As an included bonus, the board caters to both adult and young riders and can support a total of 280 pounds.
The extra width of the board gives you added safety and security because it is easier to keep balance on the wider paddle board. Width and size determine the carrying capacity of the paddle board.
The total carrying capacity of this one gives you the possibility to paddle around in pair with your kids or family. Enjoy your water activity with your loved ones on the water. We are sure that you will have so much fun.
In addition, extra width gives you space for yoga, fitness, fishing or something similar that you will have enough space for on paddle board. Extra width and nonslip decking are perfect for all expertise levels for fewer injuries or accidents should you fall.
Brushed thickening inflatable stands up paddleboard best for touring, fishing, spearfishing, snorkeling, or recreational paddling in all weather situations.
Read Next – Retrospec Weekender review from Ten Toes Paddle Board
Non-slip soft top deck
Perfect for all expertise levels for fewer injuries or accidents should you fall.
Brushed thickening inflatable stands up paddle board best for touring, fishing, spearfishing, snorkeling, or recreational paddling in all weather situations.
Read Next – Australian Made Stand UP Paddle Boards
Choosing the RIGHT Inflatable Paddle Board
Read Next – DAMA Inflatable Stand up Paddle SUP Board
Superior maneuverability
The triple base panel fins help board better full board, handling, and steering for easier use by teens, kids, and adults alike.
This inflatable paddle board caters to all expertise levels and works equally well for fishing, fitness, cruising, and just exploring your surroundings.
If you are looking for a SUP inflatable paddle board that is good in all water conditions, look up to this one.
From salty water to freshwater this Fb sport SUP paddle board is great for all because of the high-quality design and materials that are made of. With the fins that come in the set, you can easily adjust it to get the best out of it depending on the conditions for the paddling.
Read Next – Pexmor 11′ Inflatable Paddle Board Review
Overview
If you are looking for a paddle board that will be a good fit for every family member, purchase this one. From kids to adults everybody can carry it because of the small weight and everybody can paddle easily on it.
In addition, it is wide enough so you will not feel like you will slip off and like you don't have enough space for standing.
The width of this paddleboard gives you enough space for doing water yoga or fishing on the lake.