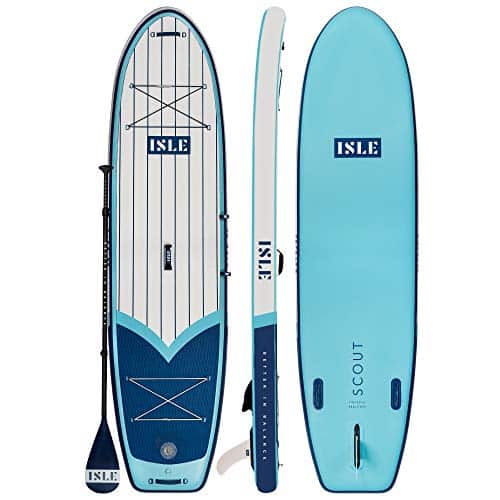 The ISLE Scout is different from the rest of the ISUPs because of its unique design.
The Scout has a broad, squared-off tail and rounded nose design for maximum stability, measuring 10'6″ x 32″ x 6″ and weighs 21 pounds.
The fin configuration is another significant distinction between the ISLE Scout, the Explorer 11′, Explorer 12′, and ISLE Pioneer.
The Scout lacks the permanent side fins found on other ISLE boards instead of a single removable fin in the middle.
On the Scout, the firm used a universal US fin box, which offers versatility by allowing you to try out different fins.
The traction pad on the ISLE Scout SUP is another feature that distinguishes it.
This board has a large deck cushion that covers the entire board from nose to tail, and this is ideal for paddlers who enjoy cruising with their canine companions.
Although the extended deck pad is comfortable for children, there is nothing for them to hang onto, which is why we prefer the BLACKFIN Model X (10'6′′ x 35′′ x 6′′), iROCKER CRUISER (10'6′′ x 33′′ x 6′′), or iROCKER ALL-AROUND 11′ (11′ x 32′′ x 6′′) for families with children.
Each board has a nose with kid safety grips, which is very useful for minor children.
Features ISLE Scout Yoga Inflatable Stand Up Paddle Board
This board is also a fantastic choice for on-the-water SUP fitness activities because the traction pad has a soft brushed surface easy on the hands and feet.
ISLE's newly revised center carrying handle, which is coated in a soft neoprene for greater comfort, is located in the middle of the Scout.
The Scout has a single bungee cargo compartment, but instead of placing the 4-point tie-downs and elastic shock cord at the board's nose, ISLE has placed them at the board's tail.
When the front of the board is filled, this keeps the nose clean for passengers and gives you a place to store your dry bag and other gear.
Read Next – FITWAVE Paddle Board Inflatable Paddle Boards for Adults
Key FEATURES
Eva Traction Pad with Grooves
Two grab handles with reinforcements
One large fin that can be removed
The tail has a tie-down system
D-ring on the ankle leash
High-pressure, high-quality inflation Eva Traction Pad with Grooves
The package includes:
Carry Bag
Paddle made of aluminum that can be adjusted
Gauge & High-Pressure Pump
Center Fin Repair Kit (removable)
Read Next – Best ISLE Paddle Board Inflatable
SPECIFICATIONS
Dimensions: 10'6″ long x 32″ wide x 6″ thick
Material: Military-grade PVC with a drop stitch.
Weight limit: 240-pound weight limit
D-rings: 5 D-rings on the head, 4 D-rings on the tail attached with a bungee cord, and one extra D-ring on the tail
Recommended PSI: 15 PSI
Fins: 1 big detachable fin
Volume: 268 liters
Carry handles: There are two carry handles.
Warranty: 60 days guarantee and one year warranty on materials
ISLE 11' Scout - Inflatable Stand Up Paddle Board - 6" Thick iSUP and Bundle Accessory Pack - Durable and Lightweight - 33" Stable Wide Stance - Up to 315 lbs Capacity (Blue, 11')
out of stock
as of November 29, 2023 6:43 pm
Read Next – Best Isle SUP Boards in 2022
QUALITY
The most important thing to look for in any product, but especially in inflatable stand-up paddleboards, is quality because the last thing you want is a board that is faulty or easily punctured. Not to fear, though, because most well-known companies in the market use the highest-quality materials available, which are typically far more durable than you may expect.
As a result, the ISLE 10'6′′ Scout Inflatable stand-up paddleboard comprises highly durable materials, notably military-grade PVC, the same material used in army zodiacs, and some bulletproof vests. I'm not sure what else to say about the board's rigidity if that doesn't say it all.
Furthermore, the board has an industrial drop stitch construction that makes it almost indestructible. That may not imply much on paper, but this board's structure is capabl in practicee.
In addition, all ISLE iSUP boards must pass a torture test in which they must support the weight of an entire car while being run over.
Read Next – ISLE Explorer 11'6 Inflatable SUP review
MEASUREMENT
First and foremost, the ISLE measures a completely acceptable 10.6 feet in length. This is one of the most popular size variants in the business because it can accommodate a wide range of users, allowing you to share your board with friends and family of all shapes and sizes.
In addition, the length of the board has an effect on performance, which will be explored further under the performance tab.
You'd think that this board would be thick with a width of 32 inches, but that's not the case. In reality, the 32 inches fit perfectly within the board's 10'6′′ length, giving it a consistent and authentic appearance. Furthermore, the width of the board will make things a lot easier.
As a result, the board will make it much easier to concentrate on navigation rather than constantly striving to stay on top.
Thickness is necessary to consider, especially when it comes to inflatable paddleboards. Indeed, as we'll see in the next section, the thickness can reveal a lot about the quality of your board.
As a result, the ISLE 10'6′′ Scout paddleboard has an excellent 6-inch thickness, which is exactly what you want to hear, given that most cheap paddle boards under 6 inches are prone to bending at the center under extreme strain.
PERFORMANCE
The ISLE 10'6′′ Scout inflatable paddleboard is one of the best boards available, especially for those just getting started.
If you're new to the sport, you'll appreciate the skillfulness of this board because it will make it exceedingly easy for you to manage it thanks to the innovative tracking system and general design, which makes it substantially more stable than most boards on the market.
Another reason it's a fantastic board for yoga and meditation is because of this.
PACKAGING
Because of how vital the components of a package may be, the packaging is nearly a ritual for iSUPs.
As a result, ISLE planned and ensured to provide its consumers with nearly everything they'll need to maintain and enjoy their investment.
ADVANTAGES
The ISLE Scout is a high-quality inflatable paddleboard.
It's fashionable.
It is the ideal size for the majority of users.
It's highly stable and tracks well.
It is available as part of an all-inclusive package.
ISLE 11′ Scout – Inflatable Stand Up Paddle Board Review
Read Next – What is the best stand-up paddleboard for beginners?
ISLE 11' Scout - Inflatable Stand Up Paddle Board - 6" Thick iSUP and Bundle Accessory Pack - Durable and Lightweight - 33" Stable Wide Stance - Up to 315 lbs Capacity (Blue, 11')
out of stock
as of November 29, 2023 6:43 pm
ISLE Explorer Inflatable Stand Up Paddle Board & iSUP Bundle Accessory Pack — Durable, Lightweight with Stable Wide Stance — 300 Pound Capacity, 11'6" Long, 6" Thick (Blue)
out of stock
as of November 29, 2023 6:43 pm
ISLE Pioneer Inflatable Stand Up Paddleboard & iSUP Bundle Accessories & Backpack — Wide Stance, Durable, Lightweight — 285 lbs Capacity (Coral Pink, 10'6" x 34" x 6")
out of stock
as of November 29, 2023 6:43 pm
ISLE Megalodon Inflatable Stand Up Paddle Board & iSUP Bundle Accessory Pack — Up to 1,050 lbs Capacity — Durable, Lightweight with Stable Stance — 15' L x 56" W x 8" Thick
out of stock
as of November 29, 2023 6:43 pm
ISLE Cruiser Stand Up Paddle Board & SUP Bundle — Rigid Board with Lightweight Foam Core and Soft, Comfort-Top Deck Pad — 235 Pound Capacity, 10'5" Long x 32" Wide x 4.5" Thick (Green, 10'5")
out of stock
as of November 29, 2023 6:43 pm