In this fast review, we take a look at the most important things of the SUP board. Bestway  HydroForce White Cap paddleboard is more than a paddle board. It can be used as a kayak too since it is really fast and lightweight. You can move it around easily since it's inflatable and weighs 37 lbs.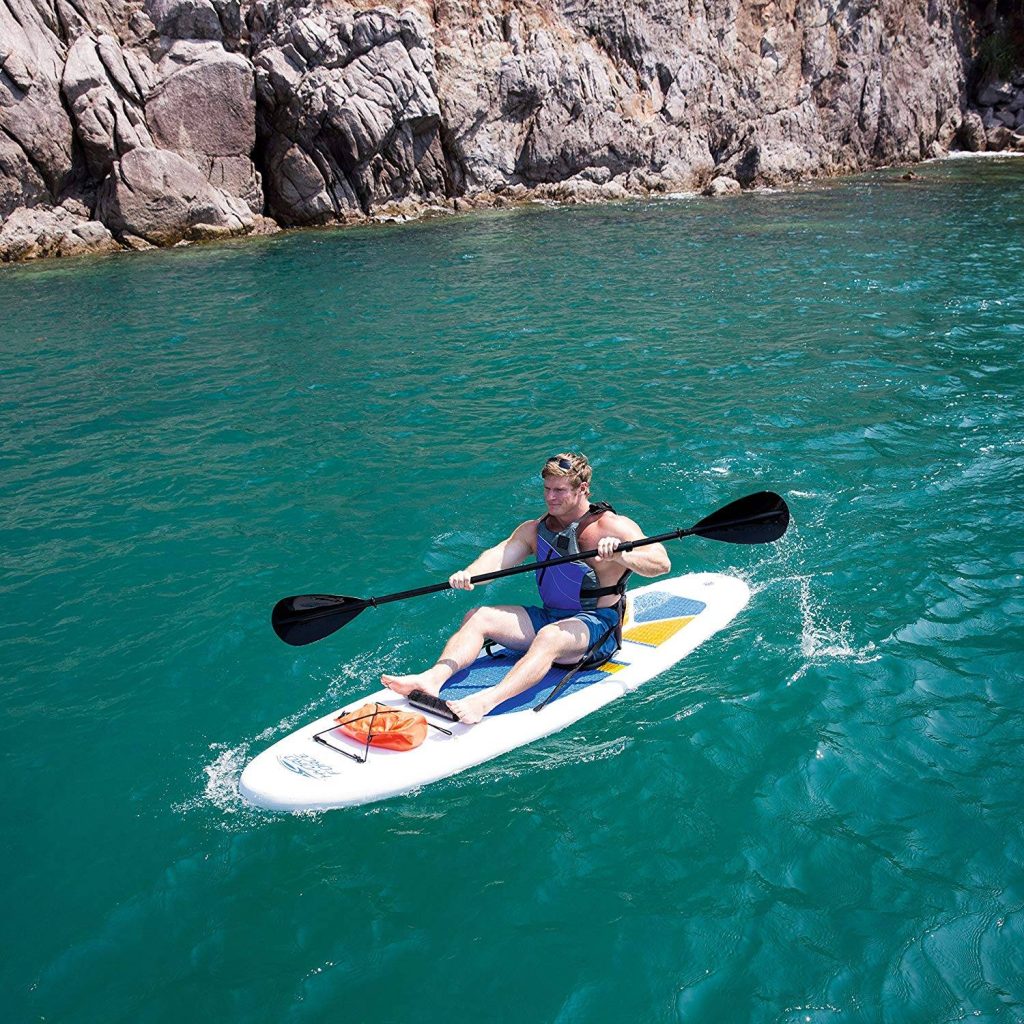 Technical characteristics:
It is pretty durable, we give it that. The polyester mesh-core is encased with two layers of laminated PVC and drop-stitch construction. Bear in mind that PVC can change a bit if you leave the equipment in the sun too much. If you usually do this, you either have to stop or get another product.
However, this product can't hold more than one regular person. It carries up to 209 lbs, which is usually enough to fit just two children/teenagers. If you like to enjoy paddle boarding in a pair, you won't be able to do this.
In this set, you won't get only the paddle board, but the aluminum oar, the travel bag, the pump and the gauge along with the kayak seat with a backrest. This is great for those who enjoy doing various activities on their vacation. Being able to turn a paddle board into a kayak is a pretty cool option.
HydroForce White Cap Inflatable SUP package includes:
Aluminum oar with two paddles

Travel bag

Pump

Gauge

Kayak seat with backrest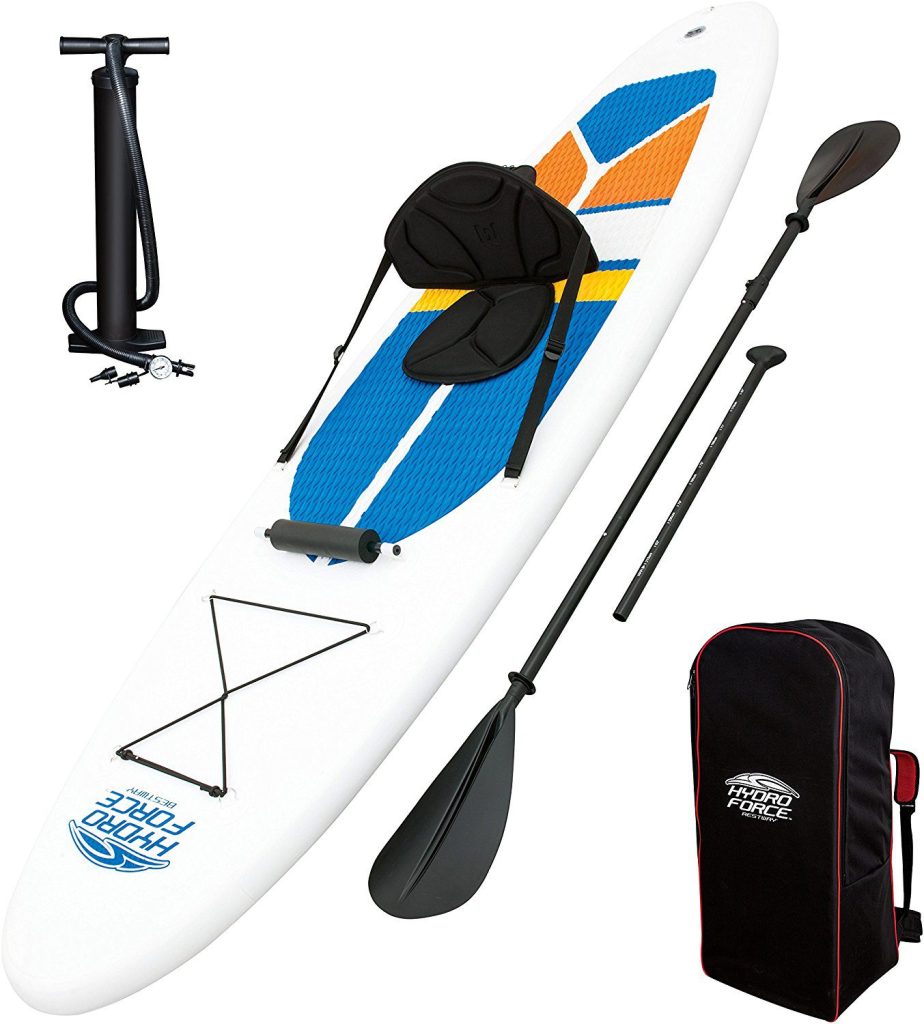 However, the thickness is a bit smaller than the usual, expected one. It's 4" only. Keep that in mind. You get three fins too, which means that you can improve the stability of the product. This is very important because it makes sure that newbies can use it too, without much fear of falling off.
If you think that you'll be able to repack and store all of the equipment in the backpack, you are wrong. It's pretty hard to fold the paddle board back into the state in which it was when the manufacturer made it. You have to take that into consideration.
HydroForce White Cap Inflatable Stand Up Paddleboard SUP and Kayak 10'
Buy Now

Amazon.com
as of May 26, 2020 5:02 pm
Features
Can be used as an SUP or kayak, Sleek, lightweight and fast
Extremely rigid and strong - Weight limit of up to 209 lbs. on the water
Durable 3 ply reinforced polyester mesh-core encased in two layers of laminated PVC and drop-stitch construction
Kit Includes: Aluminum oar, travel bag, pump, gauge and kayak seat with back rest
Dimensions: 120" x 32" x 4"
Bestway Hydro-Force White Cap Inflatable SUP Stand Up Paddle Board (2 Pack)
Buy Now

Amazon.com
as of May 26, 2020 5:02 pm
Features
Hydro-Force White Cap inflatable stand up paddle board & kayak
Drop stitch material provides unparalleled strength and durability
3-ply reinforced polyester with double PVC wall for durability
Non-slip traction pad
3 modeled side fins directional stability