Picture this: you and your favorite adventure buddy, standing on the beach, gazing out at the calm, inviting waters. The sun is shining, the breeze is gentle, and you can't help but wonder – can two adults actually go on a paddleboard together? The answer might surprise you. In this article, we'll explore whether or not it's feasible for two fully grown adults to embark on a paddleboarding adventure, and discover the joys and challenges that come with navigating the open water as a dynamic duo. Get ready to dive into a world of shared excitement and potential balancing acts!
Can 2 Adults Go On A Paddle Board?
Considerations for 2 Adults On A Paddle Board
When it comes to paddleboarding with two adults, there are several factors to consider. The weight capacity of the paddle board, the size of the paddle board, as well as the weight and size of the adults, all play a crucial role in determining whether two adults can comfortably and safely go on a paddle board together. Additionally, the type of paddle board, whether it's a tandem or inflatable board, also affects the feasibility of two adults paddling together. Let's dive deeper into each consideration.
Weight Capacity of the Paddle Board
Before embarking on a paddleboarding adventure with another adult, it's important to consider the weight capacity of the paddle board. Every board has a recommended weight limit which indicates the maximum weight it can support without compromising stability and safety. It is essential to check the manufacturer's guidelines or consult with a paddle board expert to ensure that the combined weight of both adults falls within the weight capacity limit of the board. Overloading the board may lead to decreased stability and increase the risk of capsizing.
This image is property of stand-up-paddle-board.net.
Size of the Paddle Board
In addition to weight capacity, the size of the paddle board is another crucial factor to consider. Paddle boards come in various lengths, widths, and thicknesses, and each dimension impacts its stability, maneuverability, and weight capacity. For two adults, it is generally recommended to opt for a wider and longer board, as it provides better stability and has a higher weight capacity. A wider board offers more surface area, which distributes the weight of both adults evenly and reduces the chances of tipping over.
Weight and Size of the Adults
The weight and size of the adults planning to paddleboard together must also be taken into account. If both adults are of average weight and size, finding a suitable paddle board may be easier. However, if one or both adults are on the heavier side, it becomes even more critical to ensure that the combined weight falls within the paddle board's capacity. Similarly, if the adults are taller or have a larger build, a longer and wider board may be necessary to accommodate their size comfortably.
This image is property of standuppaddleboardworld.com.
Types of Paddle Boards Suitable for 2 Adults
When it comes to paddleboarding with two adults, there are two main types of boards to consider: tandem paddle boards and inflatable paddle boards.
Tandem Paddle Boards
Tandem paddle boards, also known as two-person paddle boards, are specifically designed to accommodate the weight and size of two adults. These boards are typically longer and wider than standard paddle boards, providing the necessary stability and weight capacity for two individuals. Tandem boards often have separate standing areas and handles for each paddler, allowing for comfortable and coordinated paddling. They are an excellent choice for couples or friends who want to enjoy the paddleboarding experience together.
This image is property of standuppaddleboardworld.com.
Inflatable vs. Solid Paddle Boards
Whether to choose an inflatable or solid paddle board is another important consideration for two adults. Inflatable paddle boards have gained popularity in recent years due to their portability and ease of storage. They are made from durable materials and can be inflated to the desired firmness using a pump. Inflatable boards are often designed to handle the weight of two adults and provide sufficient stability on the water. On the other hand, solid paddle boards, typically made from epoxy or fiberglass, offer a more rigid and stable experience but may require more storage space and transportation logistics.
Tips for Paddling as 2 Adults
Once you have chosen the appropriate paddle board for two adults, it's essential to keep a few tips in mind to ensure a safe and enjoyable experience.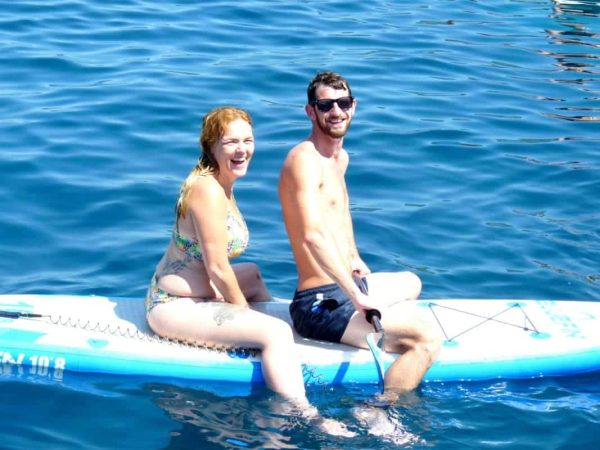 This image is property of stand-up-paddle-board.net.
Ensuring Stability and Balance
When paddling with another adult, maintaining stability and balance on the board becomes even more crucial. Both adults should position themselves properly and distribute their weight evenly to prevent tipping over. Placing one adult towards the front and the other towards the back can help with stability. It's important to communicate and make small adjustments to maintain balance as you paddle.
Communication and Coordination
Effective communication and coordination between both adults are key to a smooth paddleboarding experience. Sharing information about which direction to paddle, when to turn, and adjusting positions helps in maintaining a synchronized rhythm. Additionally, keeping an open line of communication ensures that both adults are comfortable and can address any concerns or needs while on the water.
In conclusion, two adults can definitely go on a paddle board together, provided they consider the weight capacity and size of the paddle board, as well as the weight and size of both individuals. Tandem paddle boards or inflatable boards designed for two adults are excellent options for paddling together. By prioritizing stability, balance, communication, and coordination, two adults can have a fantastic time exploring the waters and enjoying the paddleboarding experience as a team. So gather your paddle board, grab a partner, and get ready to embark on a memorable adventure together!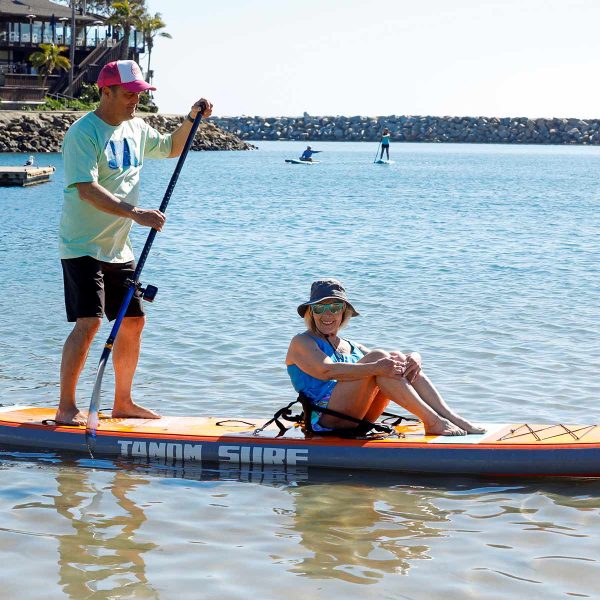 This image is property of tandmsurf.com.