Goplus 10' Inflatable SUP review
Technical characteristics:
This Goplus set is one of the most affordable inflatable stand up paddle board you will get, and the board is still 6" thick! Boards this thick have much greater stability and that's why many people decide to get them, especially beginners.
The whole set includes the board which we will talk about more later, a pump, a fin, a backpack and a repair kit. This means that you are getting everything you need together, which is great if you're a newbie who doesn't know what to look for exactly.
The high-quality EVA, along with the drop-stitch construction, is great when it comes to durability. The air will stay where it is, no issues with that, and the board is pretty sturdy so those who used to have a hard board won't have a hard time moving along.
The large space is a great thing since many people like to bring along their pet, and those who don't usually do yoga, fitness or sunbathing. The equipment is easy to carry and you get to personalize the experience.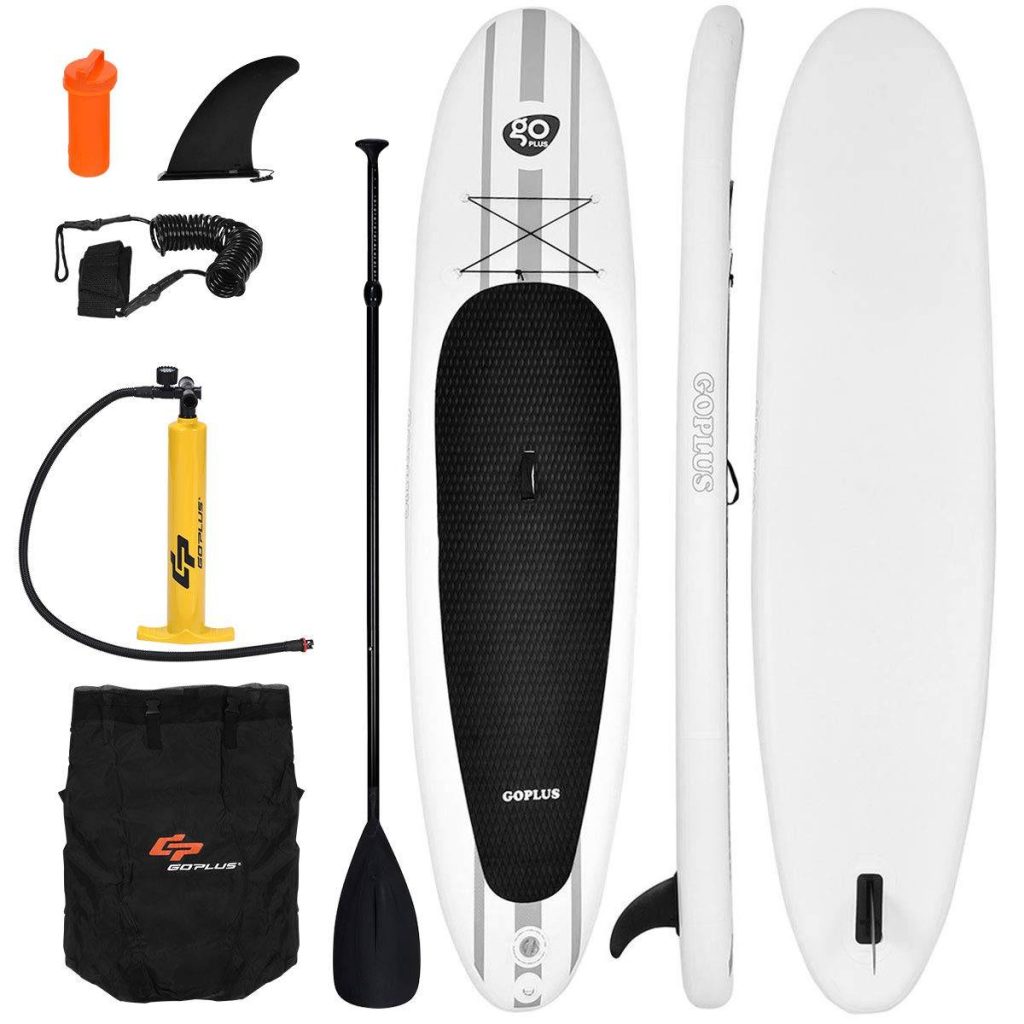 What package of Goplus stand up paddle board includes:
carrying handles
backpack for transportation
hand pump with PSI gauge
repair kit
fin
leash for safety
lightweight aluminum paddle  (68″ – 83″) .
You can change the length of the paddle since it is extendable (from 67″ up to 83″) and you can decide how many fins do you want to use. Many people that are new to the hobby like to use three fins because you will have much greater stability, but those who are already pretty good at the sport like to use less.
Using fewer fins helps you get more control over what you are doing!
People say that the pump you get with the board is better than those you get in other sets, but it's still pretty exhausting to inflate the board, so you may consider an automatic or a car pump. It's all up to you and your personal preferences.